- Chitetsu Watanabe has been officially confirmed as the oldest person alive
- The man from Niigata, Japan, is reported to be 112-year-old
- An official certificate from Guinness World Records was presented to him at a nursing home in Niigata
Many people hope to live a long and healthy lifestyle and to achieve this, people often take up fitness classes and go on diets to maintain a clean health. However, not everyone is lucky to live long.
Chitetsu Watanabe is definitely living the dream of many people. Watanabe who hails from Niigata in Japan was recently confirmed as the world's oldest man living at age 112.
Born on March 5, 1907 in Niigata as the first of eight children of his father Haruzo and mother Miya. While working as a sugar plantation contractor, he met his wife Mitsue and four out of five of their children were born there.
PAY ATTENTION: Do you have news to share? Contact Legit.ng instantly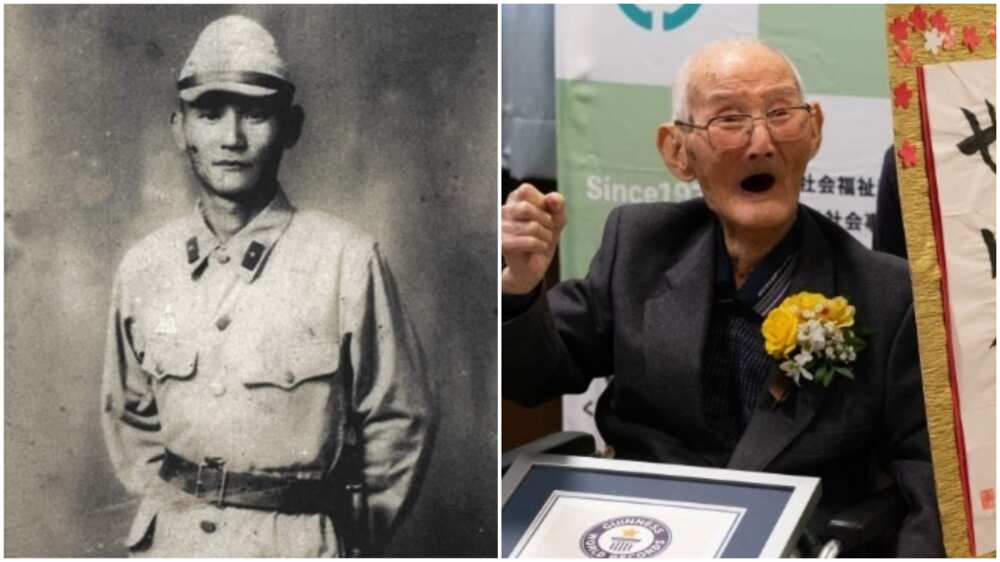 Chitetsu also served in the military towards the end of the Pacific War in 1944. After the war, he returned to his hometown in Niigata, where he worked at an agricultural office - a branch of the Niigata Prefectural office - until retirement.
However, it didn't stop him from being active. He grew fruits and vegetables of all kinds at the farm - from potatoes, tomatoes, strawberries, plums. He kept this going until he was 104.
PAY ATTENTION: Get the Latest Nigerian News on Legit.ng News App
Chitetsu said in an interview, that the secret to his longevity is "not to get angry and keep a smile on your face".
Yoko, the wife to his first son explained further: "I've lived together with him for over 50 years, and I've never seen him raise his voice or get mad. He's also caring. When I was working on my patchwork hobby, he was the one who praised my work the most. I think having lived with a big family under one roof, mingling with his grandchildren and great-grandchildren helped keep a smile on his face as well."
To celebrate this announcement of his confirmation as the world's oldest person, an official certificate was presented to him by Guinness World Records, at a nursing home in Niigata, where he currently resides.
In similar news, a Japanese woman identified as Kane Tanaka has been recognised as the oldest person living in the world. The woman was officially confirmed by the organisation at the nursing home where she resides in Fukuoka, Japan.
The 116-year-old woman was confirmed as the oldest person alive on Wednesday, January 30. Tanaka had been presented with the certificates for the record and oldest woman living.
Woman with 9 Children, 48 Grandchildren, 51 Great Grandchildren Clocks 100 | Legit TV