For most artists in Hollywood and beyond, winning a Grammy award is a dream come true. Over the last few weeks, Finneas O'Connell, Billie Eilish brother, has been the talk of the town after he bagged five Grammys during the 2020 Grammy Awards ceremony that was held in Los Angeles in late January. Many people want to know more about this talented young man.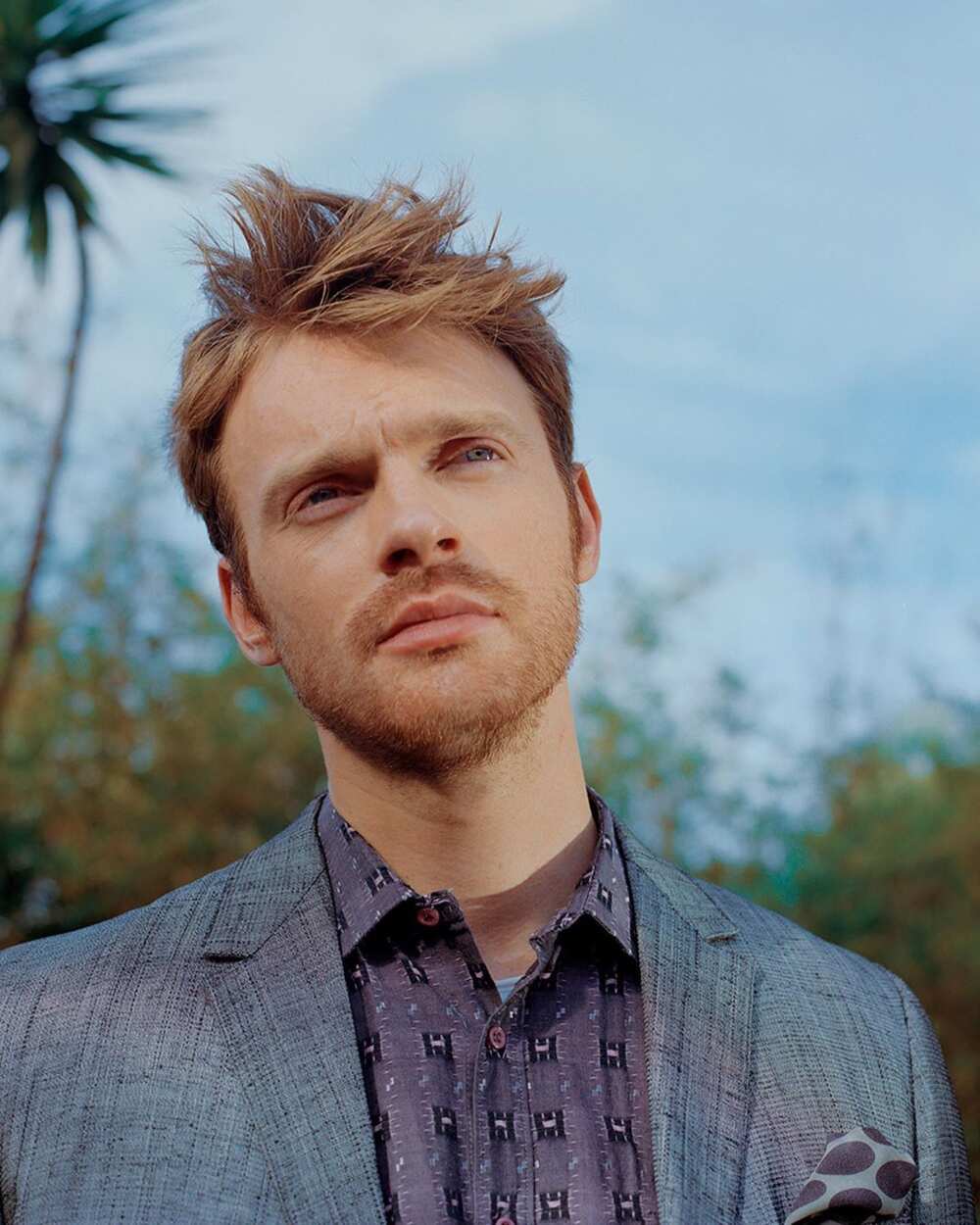 Is Finneas Billy's brother? Numerous people are curious about the relationship between singer Billy Elish and Finneas O'Connell. Well, he is the older brother and only sibling of the famous American songwriter and songstress. While the two siblings are multi-talented, Billie Eilish brother caught the world by surprise when he won five awards during the recently held 62nd annual Grammy Awards.
Profile summary
Name: Finneas O'Connell
Date of birth: July 30, 1997
Place of birth: Los Angeles, California, U.S.A.
Current residence: Los Angeles. California, U.S.A.
Age: 22 years
Zodiac sign: Leo
Nationality: American
Ethnicity: Irish-Scottish
Height: 6 feet (1.83 metres/ 183 centimetres)
Weight: 75 kg
Eye colour: Blue
Hair colour: Light brown
Father: Patrick O'Connell
Mother: Maggie Baird
Sister: Billie Eilish
Girlfriend: Claudia Sulewski
Occupation: Singer, record producer, songwriter, actor & musician
Billie Eilish brother family background and early life
Finneas Baird O'Connell was born in Los Angeles, California, the United States of America, on the 30th of July 1997. How old is Finneas? Currently, Finneas O'Connell age is 22 years.
He is the first child and only son of actor Patrick O'Connell and actress Maggie Baird. Patrick and Maggie are also musicians.
Are Billie Eilish and Finneas related? Well, the actor, musician and record producer is Billie's older brother. Billie Eilish and brother are very close, and they have an age gap of about four and a half years.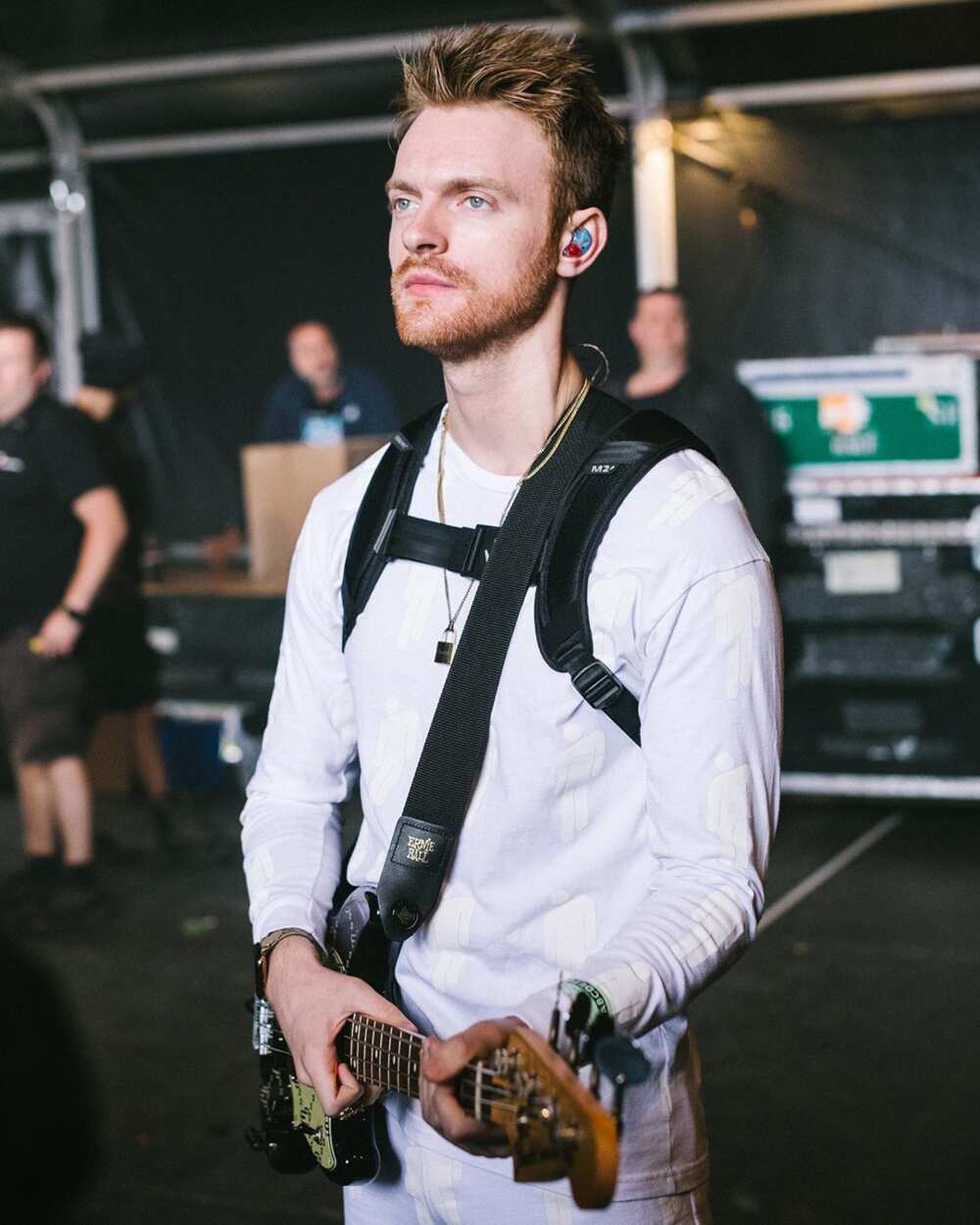 Finneas O Connell comes from Irish-Scottish ancestry, and his Zodiac sign is Leo. Billie Eilish family has always supported each other's interest.
When Finneas was 12 years old, he took songwriting classes together with his mother, Maggie Baird. Afterwards, he started writing and producing music.
What does Finneas O'Connell do? Currently, he is a singer, record producer, songwriter, actor and musician who is based in Los Angeles, California, United States of America.
Finneas O'Connell height & body statistics
The multi-gifted young man is 6 feet (1.83 metres/ 183 centimetres) tall, and his weight is about 75 kg. The star has blue eyes and light brown hair.
Career
The young man is actively involved in music writing, song production, acting and singing as a solo artist.
Acting career
The young actor made his acting debut in the comedy titled Bad Teacher in 2011. In his acting career, he has featured in a few films and television shows. These include;
Bad Teacher (2011): He acted as Spencer, who was a student in the film. Finneas O'Connell Bad Teacher performance ushered him into the world of acting, and he has since bagged roles in other movies and shows.
Life Inside Out (2013): He acted as Shane, and one of his co-stars and writer of the film was Maggie Baird, his mother. His songs were used as soundtracks in this film.
Tomorrow (2013): He starred in this short film as Tom.
Modern Family (2013-2014): The actor appeared in two episodes of this comedy series as Ronnie Jr.
happySADhappy (2014): He acted in this short film as Andrew.
Glee (2015): In 2015, the sixth season of Glee, which was also the last, started airing. The season featured the young actor as Alistair Glee. Alistair was in four episodes of the musical-comedy, and Billie Eilish brother Glee performance was excellent.
Aquarius (2015): In addition to Finneas O'Connell Glee feature, the actor starred in two episodes of this show as Earnest Boy.
Confessions of a Teenage Jesus Jerk (2018): He acted as Tom.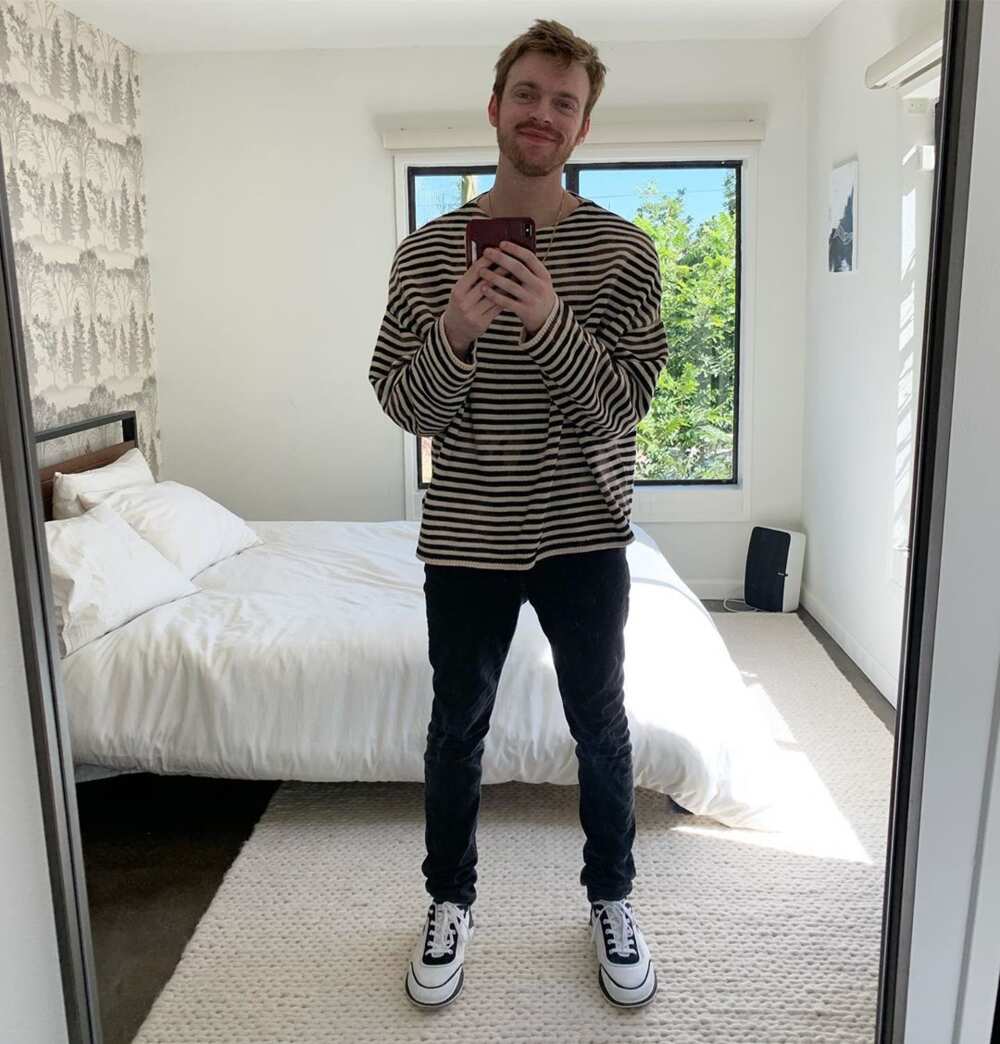 Finneas O'Connell songs
Several Billie Eilish brother songs have been released so far. What most people do not know is that he is the lead singer and the primary songwriter of the band named The Slightlys. The singles that he has released so far include;
Maybe I'm Losing My Mind – He released the jam in 2015, and it is the soundtrack for Life Inside Out.
Call Me When You Find Yourself – Also released in 2015, the song is one of the soundtracks in Life Inside Out.
Your Mother's Favorite – This 2015 single features as a soundtrack in Life Inside Out.
New Girl – 2016
I'm in Love Without You – 2017
Break My Heart Again – 2018
Heaven – 2018
Life Moves On – 2018
Landmine – 2018
Hollywood Forever – 2018
College – 2018
Luck Pusher – 2018
Let's Fall in Love for the Night – 2018
Claudia – 2019
I Lost a Friend – Finneas O'Connell I Lost A Friend was the first single in his debut EP. It was released on the 25th of June 2019.
Angel – 2019
Shelter – 2019
I Don't Miss You at All – 2019
On the 4th of October 2019, the musician and singer released his first-ever EP titled Blood Harmony. Shelter and I Don't Miss You At All are some of the songs that feature in this EP. As a solo artist, the musician uses the name FINNEAS.
Songwriting and production
Finneas writes most of his younger sister's songs, and he attributes his ability to write songs to his experience in portraying characters. When writing songs for Eilish, he usually considers her vocal range and words that she will enjoy singing.
The two siblings often consult each other when writing music. Besides writing for his sister, he has written songs for his band, The Slightlys.
He also assisted his sister in getting signed with A&R company Platoon and helped her in writing and producing When We All Fall Asleep, Where Do We Go?, which is his sister's debut album.
He also produced the single Lose You to Love Me by Selena Gomez in 2019 and two jams on the album dubbed Romance by Camila Cabello. Another single that he produced was Ashe's Moral of the Story.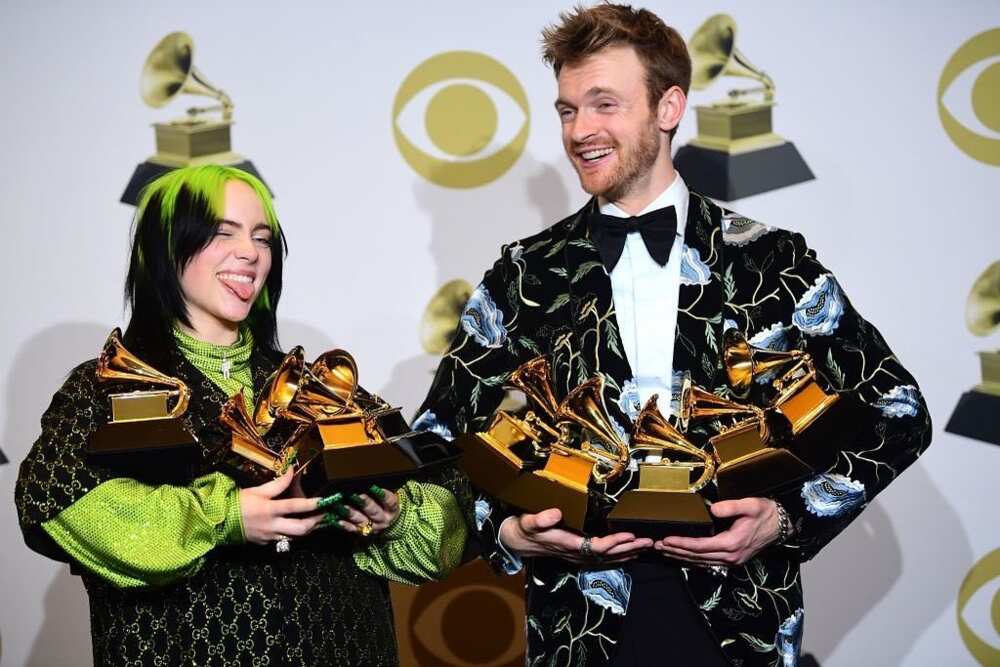 Billie Eilish brother Grammy awards
Did Billie Eilish win a Grammy? Well, during the 2020 Grammy Awards event that was held at Staples Centre in Los Angeles on the 26th of January, Billie and her older brother dominated the list of winners. Finneas O'Connell Grammy awards were five in total. These were;
Record of the Year (Bad Guy)
Song of the Year (Bad Guy)
Album of the Year (When We All Fall Asleep, Where Do We Go?)
Producer of the Year, Non-Classical (When We All Fall Asleep, Where Do We Go?)
Best Engineered Album, Non-Classical (When We All Fall Asleep, Where Do We Go?)
Billie's album titled When We All Fall Asleep, Where Do We Go? catapulted the 18-year-old singer into the limelight. The single Bad Guy is still a top hit globally.
Finneas co-wrote and produced the album. They wrote the album in a bedroom in their Los-Angeles home. The main themes of the songs therein are depression, climate change and suicidal thoughts.
Did you know that the two siblings suffer from synaesthesia? This is a condition in which a person experiences involuntary responses when one of their cognitive pathways of sensory pathways is stimulated.
Finneas O'Connell net worth
Do not let his young age fool you; the young man has an estimated net worth of $5 million. His hard work inspires many other young people across the globe to work on their dreams because it is possible to become rich and wealthy at a young age.
Billie Eilish brother girlfriend
Who is Billie Eilish brother's girlfriend? The actor and musician is currently dating Claudia Sulewski, who is a YouTube star. Claudia is a fashion and beauty expert and her YouTube Channel, Claudia Sulewski, has at least 2.16 million subscribers.
Billie Eilish brother gf was born and raised in Chicago, Illinois. She previously dated Jonah Green, who is also a YouTuber. She started dating the singer and actor in 2018, and Billie Eilish brother song titled Claudia was written after the couple first met.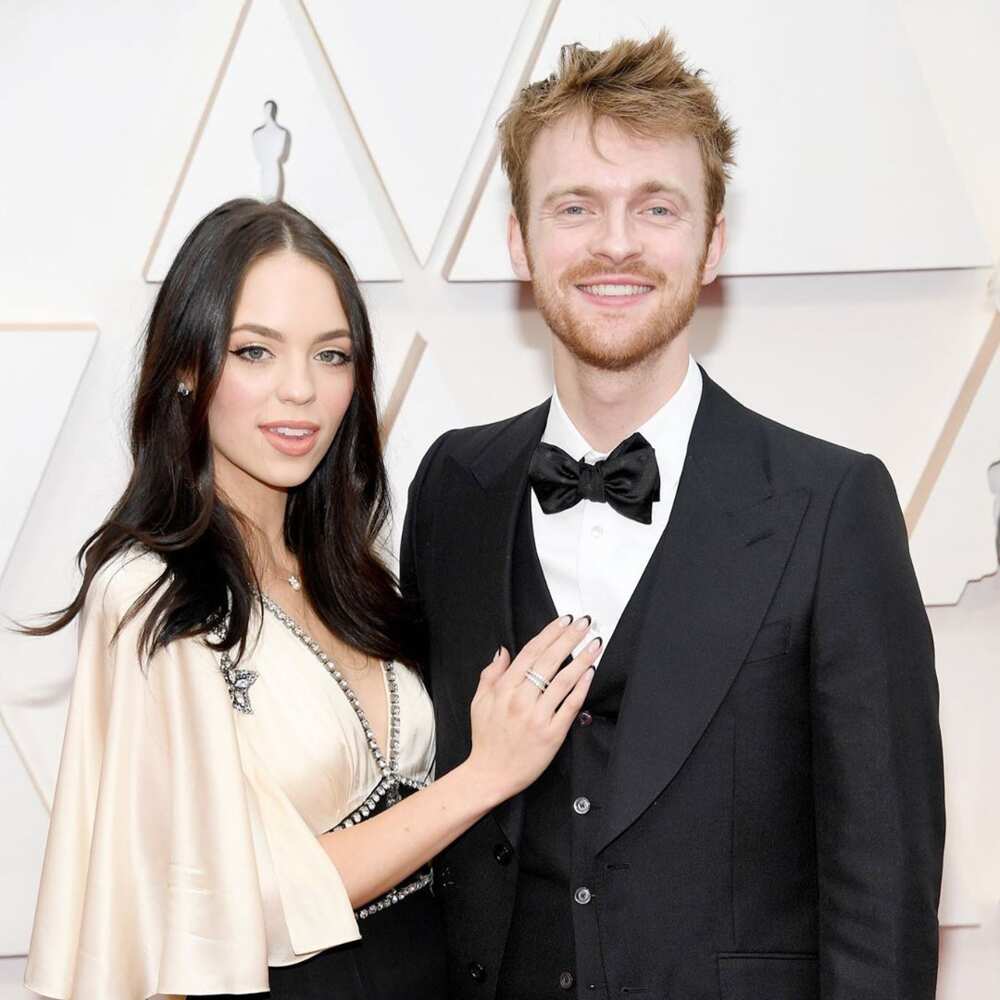 Billie Eilish brother Instagram
The actor, record producer, songwriter and musician has an official Instagram account with over 2 million followers. He often uses this platform to promote his music and to update his fans about any developments in his career.
From this platform, followers also get to see cute pictures of Finneas O'Connell girlfriend, Claudia. The star also has a Twitter account with at least 245k followers.
Who is Finneas O'Connell? He is a singer, record producer, songwriter, actor and musician who is best known to many as Billie Eilish brother. At Billie Eilish brother age of only 22 years, the young man has achieved a lot. He recently bagged five Grammys for his work in his sister's album, When We All Fall Asleep, Where Do We Go? It is apparent that the young man's star will continue shining brighter in future.