Thurgood Marshall bio: career, quotes, accomplishments, life story
Thurgood Marshall was the first African American Supreme Court justice. His actions led to significant changes in the landscape of American society. What were Thurgood Marshall accomplishments?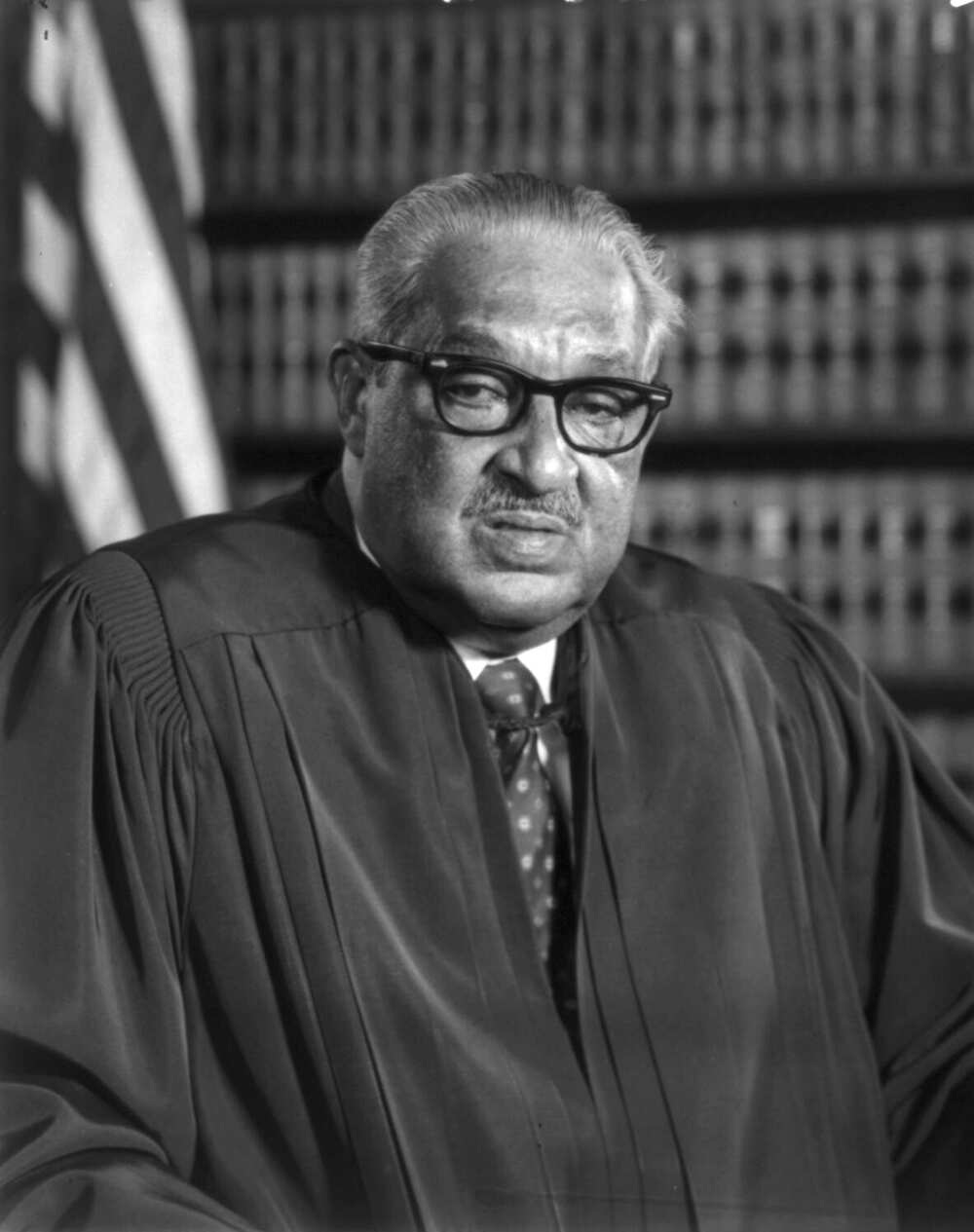 Thurgood Marshall is one of the most outstanding figures in the legal history of the USA. He was the first African American who managed to become a Supreme Court justice
Furthermore, Thurgood Marshall civil rights movement made a noticeable contribution to the achievement of racial equality within the country.
How did Thurgood Marshall impact society?
Profile summary
Date of birth: July 2, 1908
Thurgood Marshall ethnicity: African American
Profession: Judge, Jurist
Date of death: January 24, 1993.
Who was Thurgood Marshall?
Thurgood left his mark in a history as a high-profile American lawyer. He got the position of Associate Justice of the Supreme Court in 1964. Later, he took the position of a counsel to the NAACP, advancing the civil rights of African Americans.
In 1954, he won the case Brown v. Board of Education of Topeka. It was one of the most remarkable Thurgood Marshall achievements, which brought an end to racial segregation in schools in the USA.
Thurgood Marshall early life
His roots come from Baltimore, Maryland. He was the second child born to William and Norma Marshall. His father worked as a steward at an exclusive club, serving for entertainment of white people.
His mother worked as a kindergarten teacher. His father liked to visit the local courthouse to listen to legal cases.
Top 5 exciting facts about Thurgood Marshall education
He attended Frederick Douglas High School in Baltimore. Although he was a good student, he liked to argue with people. Due to this personal trait, he often got into trouble. The brightest Thurgood Marshall school accomplishment was the memorization of the entire United States Constitution, which was one of the ways his teacher punished him for being naughty.
Once he finished school in 1926, Thurgood applied to Lincoln University in Pennsylvania.
In 1930, as an aspiring lawyer, he applied to the University of Maryland Law School, but the institution rejected him due to his race.
Later, he enrolled in Howard University School of Law in Washington, D.C. In 1933, he graduated from the university.
Thurgood Marshall facts about his career
He initially wanted to start his private practice to help people in his native city. Unfortunately, his attempts failed as he had a lack of experience in this field.
In 1934, he started to work for the Baltimore department of the National Association for the Advancement of Colored People (NAACP). Two years later, he left for New York. He got a full-time position as a legal counsel for the NAACP there.
In 1961, he was chosen as a judge for the United States Court of Appeals for the Second Circuit.
In 1965, he got the post of the Solicitor General of the United States. He held this position for two years. Thurgood won 14 out of 19 cases.
Marshall officially took the oath of office for the post of Supreme Court justice on October 2 in 1967. He became the first African American to hold such a position.
On October 1st 1991, Marshall retired.
Thurgood Marshall accomplishments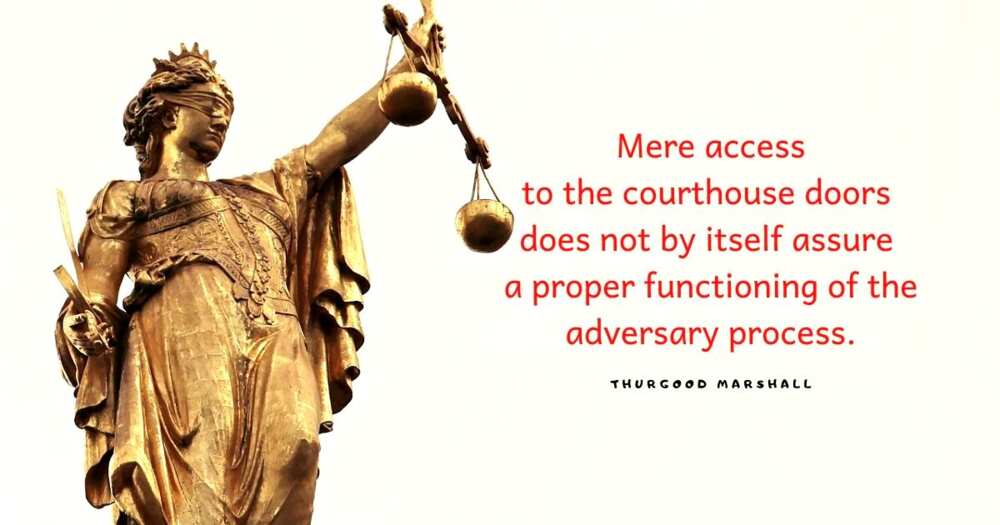 Thurgood won a lot of lawsuits. A lot of them were concerned with legalized racism:
As the Supreme Court justice, he made a significant contribution to the official ending of the legal punishment of death for illegal acts (Furman v. Georgia, 1972).
Thurgood Marshall family
Who did he marry? Over a lifetime, he had two wives:
Vivian Burey. They met each other at Lincoln University. In 1929, the young people held a wedding ceremony. In 1955, the judge suffered a loss - the death of Vivian. She died of cancer.
In December 1995, he married for the second time. Her name was Cecilia Suyat. They met each other thanks to the NACAAP, where she worked as a stenographer. The couple had two sons. John became a member of the state police in Virginia. His brother, Thurgood Jr., decided to follow in the steps of his father. He chose the profession of a lawyer. Later, he was appointed to be a legislative-affairs coordinator for the Office of the Vice President.
He passed away on January 24 in 1993.
The interest of people was draw to this legendary leader after the release of the movie Marshall. It was presented to public in 2017. People got the possibility to learn more about the life of the human rights defender, his professional engagement and a sensational legal battle of Eleanor Sturbing (1941).
Thurgood Marshall famous quotes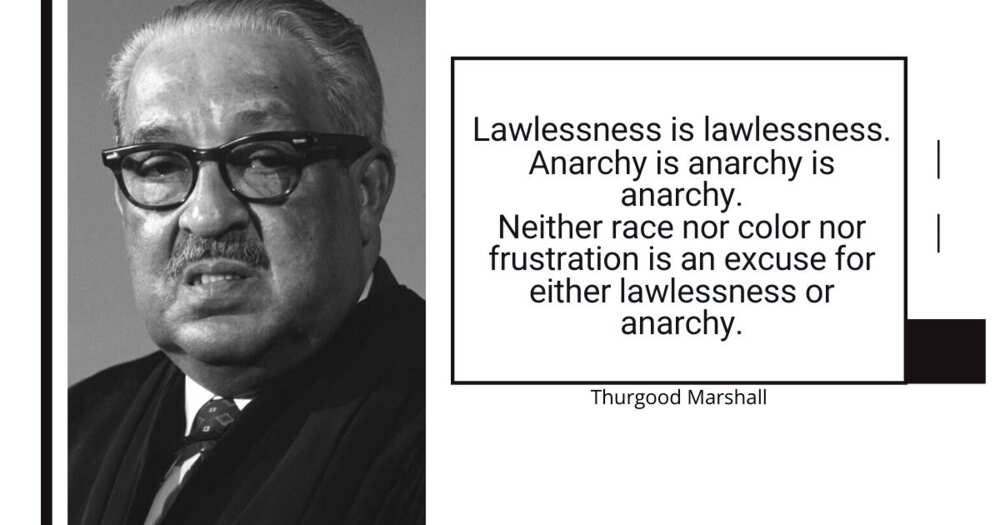 Each of you, as an individual, must pick your own goals. Listen to others, but do not become a blind follower. Do not wait for others to move out – move out yourself – where you see wrong or inequality or injustice, speak out, because this is your country. This is your democracy. Make it. Protect it. Pass it on.
The common Calvinist experience of life as a refugee, or of being part of a host community that received refugees, led to lasting international connections between individuals and communities...As churches became established in Switzerland, the Palatinate, Scotland, England and Bearn, and the churches in the Netherlands, France, Hungary and Poland battled for legal recognition and survival, princely courts, noble houses, universities and colleges also became locations for interactions between many Calvinists. Theologians, clergy, students, booksellers, merchants, diplomats, courtiers and military officers became involved in networks of personal contacts, correspondence, teaching and negotiation.
Racism separates, but it never liberates. Hatred generates fear, and fear once given a foothold; binds, consumes and imprisons. Nothing is gained from prejudice. No one benefits from racism.
When the prison gates slam behind an inmate, he does not lose his human quality; his mind does not become closed to ideas; his intellect does not cease to feed on a free and open interchange of opinions; his yearning for self-respect does not end; nor is his quest for self-realization concluded.
Our Constitution is the envy of the world, as it should be for it is the grand design of the finest nation on earth.
Today's Constitution is a realistic document of freedom only because of several corrective amendments. Those amendments speak to a sense of decency and fairness that I and other Blacks cherish.
We must dissent from the indifference. We must dissent from the apathy. We must dissent from the fear, the hatred and the mistrust. We must dissent from a nation that has buried its head in the sand, waiting in vain for the needs of its poor, its elderly, and its sick to disappear and just blow away. We must dissent from a government that has left its young without jobs, education or hope. We must dissent from the poverty of vision and the absence of moral leadership. We must dissent because America can do better because America has no choice but to do better.
Ending racial discrimination in jury selection can be accomplished only by eliminating peremptory challenges entirely.
The process of democracy is one of change. Our laws are not frozen into immutable form, they are constantly in the process of revision in response to the needs of a changing society.
Truth is more than a mental exercise.
If the First Amendment means anything, it means that a state has no business telling a man, sitting alone in his house, what books he may read or what films he may watch.
You do what you think is right and let the law catch up.
Surely the fact that a uniformed police officer is wearing his hair below his collar will make him no less identifiable as a policeman.
Mere access to the courthouse doors does not by itself assure a proper functioning of the adversary process.
Classifications and distinctions based on race or color have no moral or legal validity in our society. They are contrary to our constitution and laws.
We deal here with the right of all of our children, whatever their race, to an equal start in life and to an equal opportunity to reach their full potential as citizens. Those children who have been denied that right in the past deserve better than to see fences thrown up to deny them that right in the future.
Sometimes history takes things into its own hands.
I never worked hard until I got to the Howard Law School and met Charlie Houston... I saw this man's dedication, his vision, his willingness to sacrifice, and I told myself, 'You either shape up or ship out.' When you are being challenged by a great human being, you know that you can't ship out.
The Ku Klux Klan never dies. They just stop wearing sheets because sheets cost too much.
I'm the world's original gradualist. I just think ninety-odd years is gradual enough.
A man can make what he wants of himself if he truly believes that he must be ready for hard work and many heartbreaks.
What is the quality of your intent? Certain people have a way of saying things that shake us at the core. Even when the words do not seem harsh or offensive, the impact is shattering.
This is a great country, but fortunately for you, it is not perfect. There is much to be done to bring about complete equality. Remove hunger. Bring reality closer to theory and democratic principles.
The death penalty is no more effective a deterrent than life imprisonment... It is also evident that the burden of capital punishment falls upon the poor, the ignorant and the underprivileged members of society.
My father had a flat rule. He believed that every man's house was his castle. He had a flat rule: no man could come in his house without his permission.
I have a lifetime appointment and I intend to serve it. I expect to die at 110, shot by a jealous husband.
Thurgood Marshall was a gifted leader of the American civil rights movement who had a unique strategy of attacking racial inequality.
Source: Legit.ng News