Trump ban on immigrants from Nigeria gets Nigerians support
- The U.S government's decision to place Nigeria on a travel ban is somewhat getting support from Nigerians
- Most Nigerians are angry at the government of Muhammadu Buhari, rather than at Trump
- It has been revealed that U.S authorities tried for more than a year to work with the Nigerian government to avoid the ban
A recent policy by President Donald Trump placed a ban on Nigerians flooding into the United States of America.
A report by the Washington Post revealed that Nigerians are generally dismayed by the travel ban, which severely restricts immigration to the United States.
A recent survey, published by the Pew Research Center in January, shows that almost 6 in 10 Nigerians believe that Trump will "do the right thing regarding world affairs."
A hairdresser, Yimi Kolo, a 37-year-old mother of four who speaks little English but listens almost all day to a radio station said she just loves Trump for his toughness.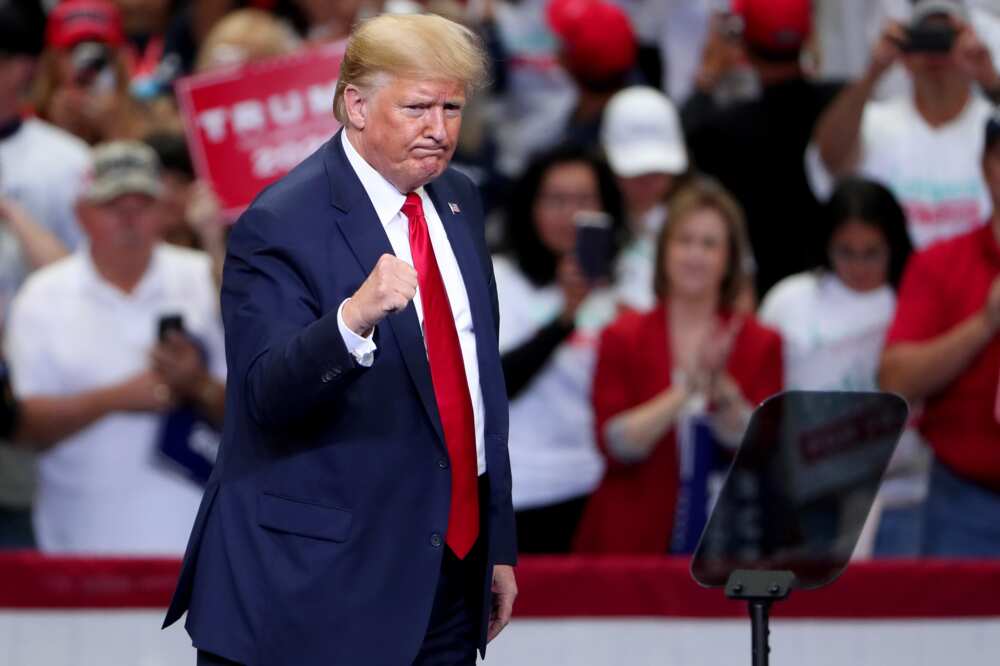 PAY ATTENTION: Install our latest app for Android, read best news on Nigeria's #1 news app
"He says what he is going to do, and he goes ahead and does it," she said.
While utterances of Trump make Americans cringe because they consider some of his remarks racist, and embarrassing, the American president's approval rating is sky-rocketing in Nigeria.
But Trump has so far not done or said anything that Nigerians have not been able to rationalize even with the travel ban.
Trump once described African nations as "shithole" countries. Many Africans agree.
The multitudes risking death by drowning to escape to Europe from the Mediterranean Sea, most likely share the sentiment of the American leader.
Nigerians have never been under any illusion about the world wanting to welcome random Africans with wide-open arms, but that has not stopped them from dreaming and trying anyway.
In a 2018 Pew survey, 45 per cent of Nigerian adults said they planned to move to another country in the next five years — the highest percentage of any nation surveyed.
International media reports on the travel ban have described Nigeria with glittering phrases: It's "Africa's largest economy" with a "booming tech ecosystem," whose migrants are "among the most educated and successful immigrants in the United States."
But it is also a greatly diverse country that has produced the Boko Haram terrorist group, which has pledged allegiance to the Islamic State and now parades as its West Africa arm.
Most local frustrations about the travel ban are directed at the government of Muhammadu Buhari, rather than at Trump.
Multiple local media reports have said that the Trump administration tried for more than a year to work with the Nigerian government to upgrade the country's information-sharing procedures and avoid the ban. But Nigeria failed to meet the minimum security requirements for verifying travellers' identities and singling out those who may pose a national security threat.
Meanwhile, the U.S government recently killed Qasim al-Raymi, the leader of Al-Qaeda, who has led the jihadist group since 2015.
Al-Raymi, 41, was killed by a US operation in Yemen after featuring prominently on the United States' radar for years.
U.S authorities had in the past linked Raymi to the 2009 attempt by Nigerian-born Umar Farouq Abdulmutallab to bring down a Northwest Airlines flight en route to Detroit with a bomb hidden in his underwear.
NAIJ.com (naija.ng) -> Legit.ng We keep evolving to serve our readers better
Kogi, Bayelsa elections: Primate Ayodele reveals winners, slams Trump's second term bid | Legit TV
Source: Legit.ng