Muhammad Ali is one of the most famous boxing champions of all time. If you enjoy the sport, then the chances are that you know who the legend is, or you have heard about him. The former heavyweight champion boxer rose to become one of the greatest sporting figures of the 20th century. Top on the list of his achievements is his impressive 56-win record, as well as his brave public stance against the Vietnam War.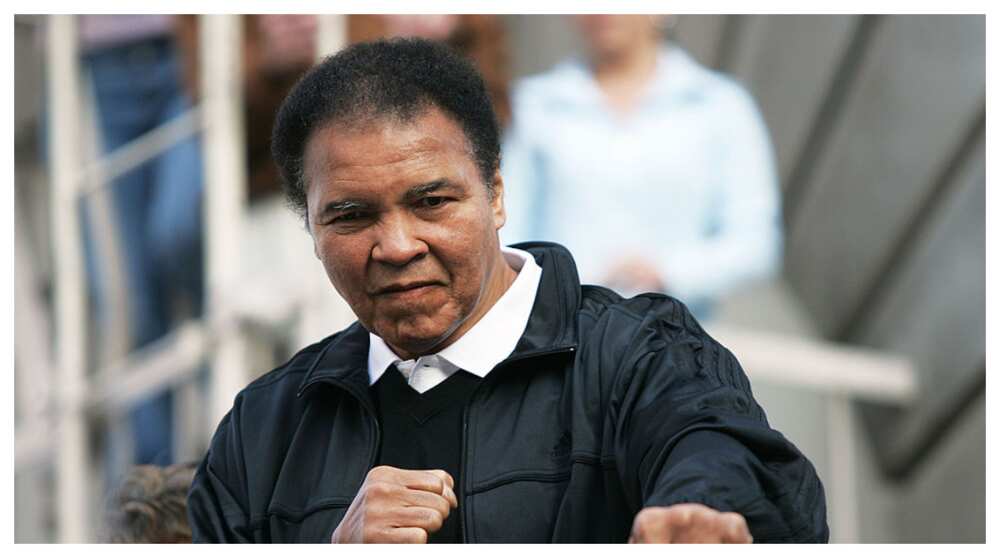 Who was Muhammad Ali? He was a philanthropist, boxer, and social activist. Who is the greatest boxer of all time? Ali was considered one of the greatest athletes of the 20th century. He became an Olympic gold medalist in 1960 and went on to become the world heavyweight boxing champion in 1964.
Muhammad Ali profile summary
Birth name: Cassius Marcellus Clay Jr.
Professional name: Muhammad Ali
Date of birth: January 17, 1942
Place of birth: Louisville, Kentucky
Famous for: Boxing
Death date: 3 June 2016
Muhammad Ali background and early life
Ali's date of birth is given as January 17, 1942. His hometown is Louisville, Kentucky. He was given the name Cassius Marcellus Clay Jr. at birth.
His boxing journey started at 12 years when his bike was stolen, and he told the police that he wanted to beat up the thief himself. The officer, Joe Martin, encouraged him to begin training, and soon, he joined the list of young men he trained at a local gym.
His first amateur bout was in 1954, where he won the fight by split decision.
He continued his success in boxing by winning the 1956 Golden Gloves tournament for novices in the light heavyweight class. Three years later, he went on to win the National Golden Gloves Tournament of Champions, and the Amateur Athletic Union's national title for the light heavyweight division.
Career highlights
When looking into Muhammad Ali record, his Olympic gold medal features prominently. In 1960, Clay got a chance on the U.S. Olympic boxing team, which saw him travel to Rome, Italy, for the competition.
He was six feet, three inches tall, and an imposing figure in the ring. Thus, he became known for his lightning speed and fancy footwork. He won his first three bouts and defeated Zbigniew Pietrzkowski of Poland. This made him the light heavyweight Olympic gold medal winner.
This win put him on a pedestal as an American hero. He soon turned professional with the backing of the Louisville Sponsoring Group.
Becoming a Muslim
Clay chose to be part of 'Nation of Islam' in 1964. He first referred to himself as Cassius X before picking Muhammad Ali.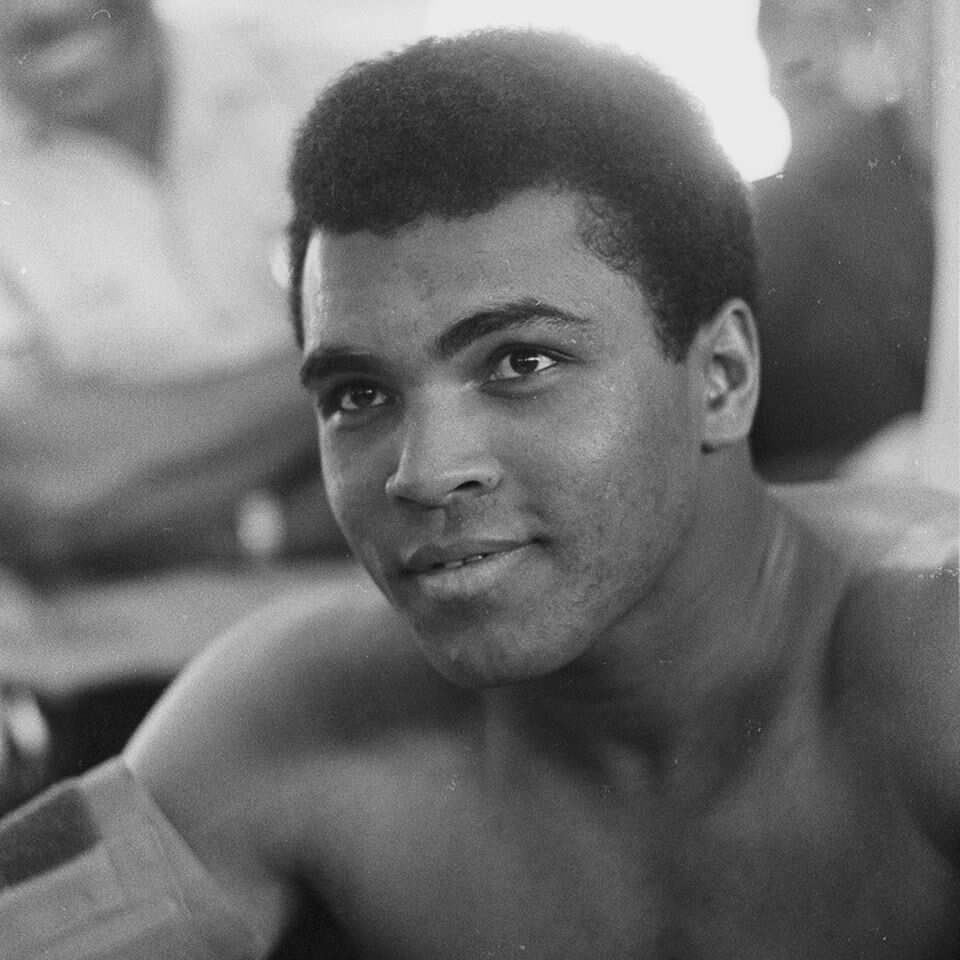 He finally converted to orthodox Islam in the 1970s.
Vietnam and the Supreme Court case
While most people knew him for his excellent boxing skills, he began a different kind of fight with his outspoken views against the Vietnam War. He was drafted into the military in April 1967, but he refused to serve because he was a practising Muslim minister with religious beliefs barring him from fighting. He got arrested for committing a felony and was stripped of his world title and boxing license.
He went up against the U.S. Department of Justice, which pursued a legal case against him, denying his claim for conscientious objector status. The boxer was found guilty of violating Selective Service laws and was thus sentenced to 5 years in prison in June 1967.
However, he remained free while appealing his conviction. He was unable to compete professionally for about 3 years. He returned to the ring in 1970, winning over Jerry Quarry. The U.S. Supreme Court eventually overturned the conviction in June 1971.
Muhammad Ali's record
Muhammad had a career record of 56 wins, 5 losses, and 37 knockouts before his retirement from boxing in 1981 at the age of 39. These are some of Muhammad Ali accomplishments at a glance.
Famous bouts
To understand Ali's success, it helps to focus on some of his best fights of all time. He referred to himself as the greatest and did not shy away from singing his own praises. The following are a few of his more well-known matches:
1. Sonny Liston
After his 1960 Olympics win, Muhammad went on to take out British heavyweight champion Henry Cooper in 1963. He then knocked out Sonny Liston in 1964. After this, he became the heavyweight champion of the world.
2. Joe Frazier
In 1971, he took on Joe Frazier in what was called the "Fight of the Century." Frazier and Ali went toe-to-toe for 14 rounds before Frazier dropped Muhammad with a vicious left hook in the 15th.
He recovered quickly, but the judges awarded the decision to Frazier, handing the great boxer his first professional loss after 31 wins. This answers the question, 'Who did Muhammad Ali lose to?' The great boxer lost his first match to Frazier. After suffering another loss to Ken Norton, Muhammad went on to beat Frazier in a 1974 rematch.
In 1975, Muhammad and Frazier locked horns again for their grudge match in Quezon City, Philippines. Dubbed the "Thrilla in Manila", the bout nearly went the distance, as both men delivered and absorbed tremendous punishment. However, Frazier's trainer threw in the towel after the 14th round, giving the hard-fought victory to Ali.
3. George Foreman
One of his other legendary fights happened in 1974 when he went against the undefeated heavyweight champion George Foreman. Commonly known as "Rumble in the Jungle," the bout was organized by promoter Don King and was held in Kinshasa, Zaire.
For the first time, Ali was seen as the underdog to the younger, massive Foreman. However, he silenced his critics with a masterful performance. His "rope-a-dope" technique, coupled with a stunning performance saw him put out his opponent with an eighth-round knockout, reclaiming the heavyweight title.
4. Leon Spinks
After losing his title to Leon Spinks in February 1978, Muhammad retaliated and beat him in a September 1978 rematch. This made him the first boxer to win the heavyweight championship three times.
5. Larry Holmes
After a brief retirement period, the boxer returned to the ring to face Larry Holmes in 1980. However, he was over-matched against the younger sportsman.
He tried one more time and lost to Trevor Berbick in 1981. He decided to retire from the sport at 39 years.
Muhammad Ali awards
As one of the greatest in sports history, the boxer has a number of accolades to his name.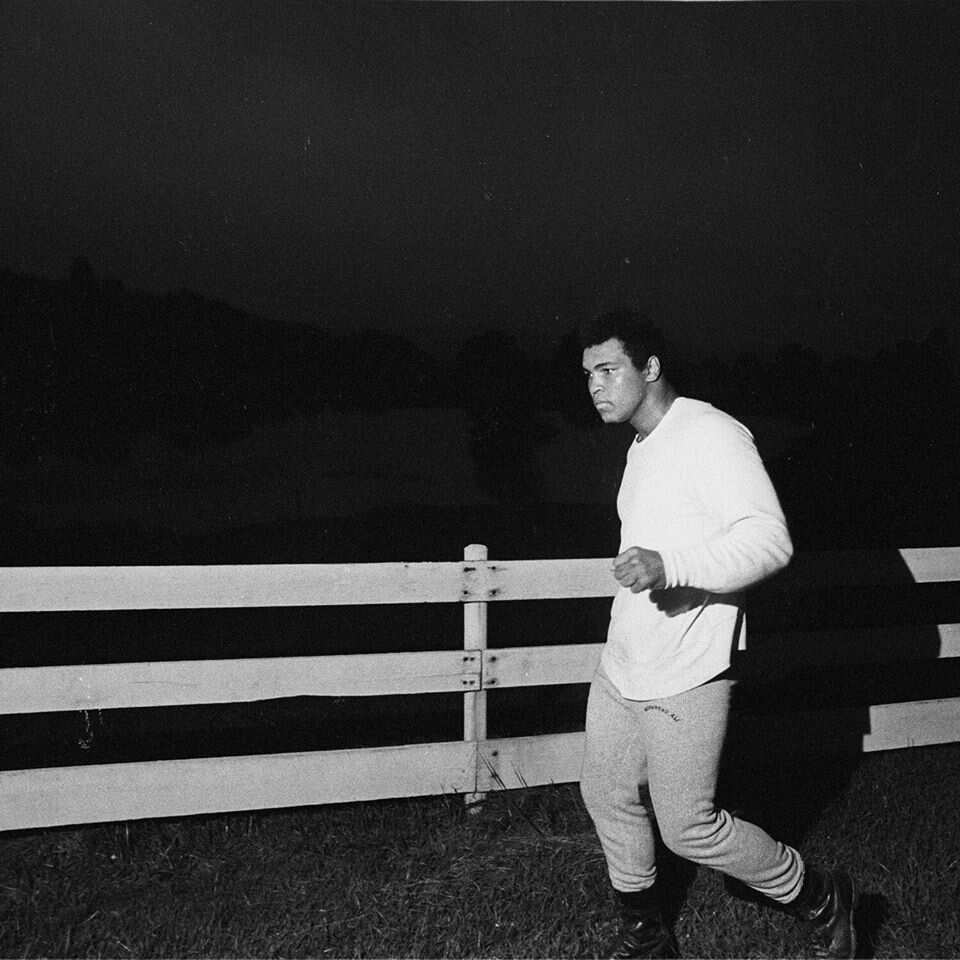 These include:
1959 - National Golden Gloves Light Heavyweight Champion
1959 - National Amateur Athletic Union champion
1960 - National Golden Gloves Light Heavyweight Champion
1960 - National Amateur Athletic Union champion
1960 - Gold medal, Rome Olympics, light-heavyweight boxing
1964-67 - World Heavyweight Champion
1970 - Dr. Martin Luther King Memorial Award
1974 - Sportsman of the Year, Sports Illustrated
1974 - Fighter of the Year, Boxing Writers Association
1974-78 - World Heavyweight Champion
1978-79 - World Heavyweight Champion
1979 - Honorary Doctorate of Humane Letters, Texas Southern Univesity
1979 - Street named after him in Louisville, Kentucky
1985 - Recognized for long, meritorious service, World Boxing Association
1987 - Elected to Boxing Hall of Fame
1990 - Inducted into International Boxing Hall of Fame
1996 - Lights Olympic torch, Atlanta
1997 - Arthur Ashe Award for Courage, ESPN
1997 - Essence Living Legend Award
Muhammad Ali wife and children
The boxer's life was not just about boxing and sports, he also had a serious passion for family. He married four times and had a total of nine children, two of whom he fathered outside marriage.
Muhammad's first wife was Sonji Roi, who he married in 1964. They later divorced after a year when she chose not to adopt the Nation of Islam dress and customs.
He then married his second wife, 17-year-old Belinda Boyd, in 1967. Together, Boyd and Ali got four children together. These are Maryum, who was born in 1969; Jamillah and Liban, both of whom were born in 1970; and Muhammad Ali Jr., who was born in 1972. However, his second marriage also did not last as Boyd and Ali divorced in 1976.
Even though he was married to Boyd, the boxer travelled openly with Veronica Porche, whom he went on to marry as his third wife in 1977. They got two daughters together. One of them was Laila Ali, who followed in her father's footsteps in the boxing world. Porche and Ali divorced in 1986.
He married his last wife Yolanda (Lonnie) in 1986. The two knew each other ever since Lonnie was 6 and the boxer was 21 since their mothers were best friends. They grew up in the same street. Yolanda was his wife until his death, and the two had a son named Asaad.
What did Muhammad Ali die of?
In 1984, the boxer announced that he was suffering from Parkinson's disease. This is a degenerative neurological condition. Even though the disease progressed, he still remained active in his public life. He also suffered from spinal stenosis.
Some years before he died, Muhammad underwent surgery for spinal stenosis. The condition was causing the narrowing of the spine, which limited his mobility and ability to communicate.
Death
Ali died on June 3, 2016, in Phoenix, Arizona. He was hospitalized for what was reportedly a respiratory issue. He passed on at the age of 74 years old. It was common knowledge that the boxing legend had Parkinson's disease and spinal stenosis. In early 2015, Ali battled pneumonia and had been hospitalized for a severe urinary tract infection.
What is Muhammad Ali's net worth?
Ali was a rich man. Celebrity Net Worth gives his worth to be $50 million. Apart from accumulating good money from his matches; he also made smart business choices that would guarantee his earnings.
Selling the rights to his name and image got him $50 million. He also held on to 20% interest in his licensing. This 20% stake resulted in $7 million in revenue per year.
Muhammad Ali facts at a glance
Ali was an accomplished sportsman. He was undefeated for a long time and went on to leave a legacy in philanthropy as well. He valued his family. The following are a few interesting facts you may want to note at a glance.
He was an Olympic gold medalist
He refused military service
He was a World Heavyweight Boxing Champion
He joined the Nation of Islam
He had 37 knockouts
He received a presidential medal of freedom
Muhammad Ali was one of the best boxers the world has ever seen. His steady rise into becoming one of the world's finest sportsmen was one that fans watched in awe. He grew to become one of the best and the richest in the industry.
Source: Legit.ng