What are the most expensive shoes in the world?
They are very rare, and this is one of the reasons why the most expensive shoes come at a ridiculous price. You will find them with the wealthiest, most famous, and most ostentatious individuals. Did you know that there are shoes that cost more than $10 million?

Shockingly, six of the top costliest shoes are for women. So, it is not just jewelry and gowns that ladies spend a fortune on. They also spend insanely on footwear.
But why would something like footwear be this ludicrously expensive? Because these shoes are embellished with rare metals like gold, platinum, and diamond. Thus, they are mostly a status symbol.
The costliest shoes are often associated with royalty and A-list celebrities. A good number of such footwear was first worn at the Oscars.
Some expensive footwear is not regarded as a fashion statement. Instead, it is a prized collectible that features in auctions. In this case, it is hardly ever worn by its owners.
How much do the most expensive shoes cost?
These 15 shoes have shocking price tags thanks to their design and intricate details that most people could only dream of.
15. Nike So Cal Air Force 1 Supreme Max ($50,000)
Nike's second most expensive pair of shoes is without a doubt the So Cal Air Force 1 Supreme Max sneakers. The iconic Air Force 1 was launched in 1982 and has had about 1700 varieties to date. However, the brand's height of innovation is in the Supreme Max.
These were only a one-off design created by P&C Diamonds and Laced Up. The two firms came up with the idea of incorporating gold and diamond accents to the sneakers, and this explains the $50,000 price tag.
The first pair of Supreme Max was presented to American rapper Big Boi. The sneaker design integrates bright neon, bright green laces, and premium grade leather.
14. Air Jordan Silver Shoes ($60,000)
The most expensive shoes in the sports world come at number 14 on our list and are none other than the Air Jordan Silver Shoes. This pair is just worth every dollar it commands thanks to Michael Jordan who added his signature to the finished design.
What is unusual about these Air Jordans is that they weigh about 10 pounds due to their sterling silver construction. So, they may not feel comfortable when wearing.
However, they make a perfect collectible. If you are a true MJ fan, you can easily be tempted to pay $60,000 and bring these sneakers home.
13. Nizam Sikandar Jah's Shoes ($160,000)
Inspired by the 18th Century Indian ruler Nizam of Hyderabad, the Nizam Sikandar Jah's shoes are the 13th on our list for a reason. They come in a delicate but sophisticated design.
The entire footwear is gold-threaded and has a vast number of diamonds, rubies, and emeralds. With an Aladdin-like design and all the costly gemstones you can think of, Nizam Sikandar Jah's shoes are a perfect pick.
At some point, the $160,000-priced footwear was reportedly stolen from a Toronto museum where it was displayed. Luckily, the pair was successfully recovered and is now back at the museum.
12. Kathryn Wilson's Charity Pumps ($400,000)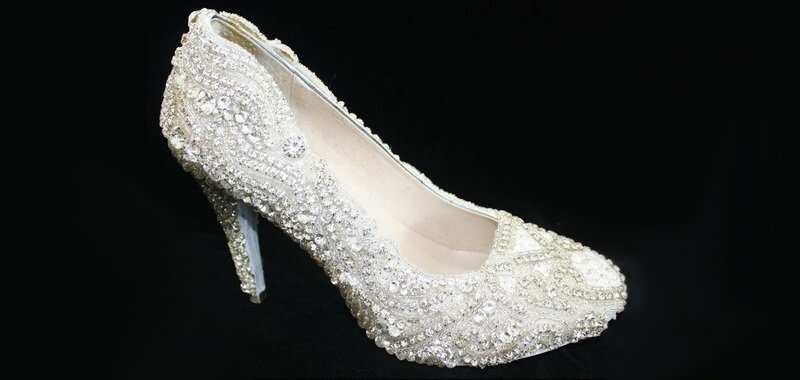 Kathryn Wilson's Charity Pumps are the perfect combination of glamor and value. These ostentatious shoes are fully coated with diamonds. There are 21.18 carats of diamonds in total.
Kathryn Wilson designed the pumps for a Macdonald House charity function. The event is reported to have raised at least $400,000 which is the amount that the heels are currently worth.
The New Zealand designer spent 50 hours to handcraft these pumps. It was truly a lot of work to arrange the sparkly diamonds on the footwear, and this explains the high price.
Kathryn Wilson's Charity Pumps are just the perfect footwear for any style-obsessed woman. Though Wilson's initial plan was to raise money for the charity event, there is no doubt about that this pair can fetch a handsome amount from any buyer.
11. Stuart Weitzman Diamond Dream Stilettos ($500,000)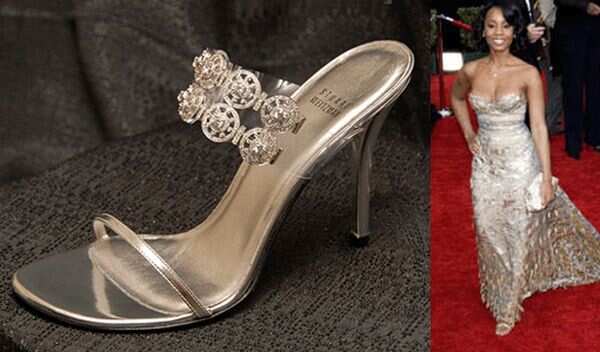 The Diamond Dream Stilettos are another ostentatious pair in Stuart Weitzman's collection. Dreamgirls movie star Anika Noni wore the glamorous stilettos to the 2007 Oscars. The 11th world's most expensive shoes are priced at half a million dollars and are every girl's dream.
Design-wise, they feature more than 1,420 platinum-set diamonds. Their two straps are encrusted with diamonds, and they have is a platinum toe band. For a lady who is looking to own the ground that she steps on, Diamond Dream Stilettos are just perfect.
10. Stuart Weitzman Marilyn Monroe Shoes ($1 million)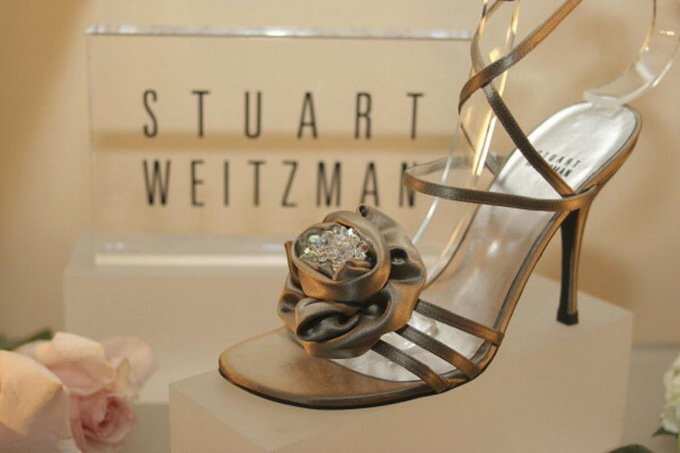 It is at the Oscars that people tend to make a fashion statement, especially with shoes. What grabbed the headlines during the 2005 Oscars were these Marilyn Monroe shoes that Regina King wore.
These shoes not only made their presence felt at the Academy Awards, but they also fetched a million-dollars at an auction. Stuart Weitzman must have done an exemplary job on them, as this is quite evident in their appearance.
At the slipper's front is a dainty rose with jewels at its center. The rose itself is made of soft, rustic-colored satin. The thin straps enhance the heel's dainty appearance.
9. Stuart Weitzman Platinum Guild Stilettos ($1.09 million)
Stuart Weitzman is one of the most expensive shoe brands and fashion critics acknowledge its love for insanely expensive shoes. The Platinum Guild Stilettos are another over-the-top luxurious pair.
The stilettos became public knowledge for the first time during the 2002 Oscars when they were worn by Hollywood celebrity Laura Harring.
They are made from platinum fabric and feature 464 super-sparkling diamonds. Interestingly, they come with removable pear-shaped diamonds that you can wear as jewels.
8. Stuart Weitzman Wizard of Oz Ruby Stilettos ($1.6 million)
Following Harry Winston's famous Ruby Slippers, a trend was born. Stuart Weitzman, like most designers, came up with an updated version of Wizard of Oz-inspired footwear. However, instead of slippers, the designer crafted a stunning pair of heels.
Weitzman's rendition of the famed footwear is glamorous in every sense. The heels are made from 123-carats of platinum and 642 Burma rubies. Their insole is cherry red, and the upper construction is red satin.
The stilettos were first displayed publicly in 2003 in Harrods, London.
7. Tom Ford Custom Loafers by Jason Arasheben ($2 million)
What most people remember most from the 2014 America's Got Talent show are the shoes that Nick Cannon wore on one episode in September of that year. The ATG host wanted to make a statement, and he did just that when he graced the event with a pair of $2 million-priced diamond shoes.
The shoes in question are the Tom Ford Custom Loafers that were designed by jeweler Jason Arasheben. They feature at least 1400 well-cut round diamonds set on white gold. The carat number is an overwhelming 340.
The Tom Ford Custom Loafers are just a masterpiece to behold and are the most expensive shoes for men. They took at least two years to make, and clearly, they were worth the wait.
6. Stuart Weitzman Tanzanite Heels ($2 million)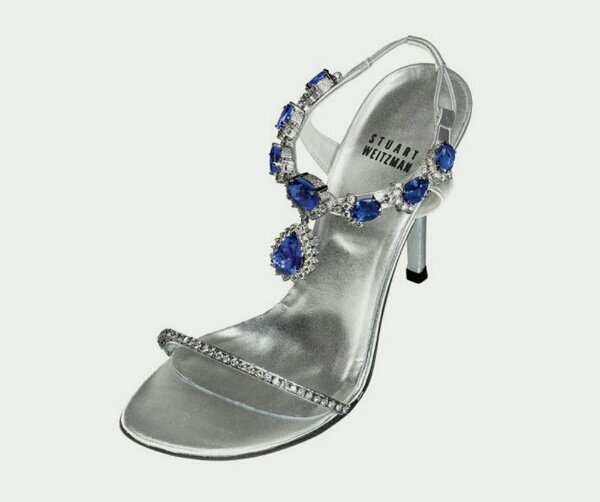 Like the Cinderella Slippers, the Tanzanite Heels by Stuart Weitzman cost an incredible $2 million. Stuart Weitzman designed these shoes in 2006 with the help of jewelry creator Eddie LeVian.
They have a silver leather construction and feature platinum heels. The footbed is silver-colored to demonstrate a luxurious and extravagant backdrop. The standout feature is the 16-carat elongated tanzanite that dangles from the diamond ankle straps.
Since 2007, the Tanzanite Heels have been made available for public viewing at the New York Public Library. These shoes are a rare collectible. They are the only pair, and this explains the hefty price tag.
5. Stuart Weitzman Cinderella Slippers ($2 million)
Stuart Weitzman also has another unbelievably expensive creation in their collection. The inspiration for this pair is Cinderella, the fairy tale character. It is easy to understand why these heels cost $2 million by looking at its construction.
The classic shoes are made from premium grade Italian leather. The toe straps have a lace-like design that features 55-carat diamonds and a platinum setting. The rocks give it a unique spark and lavish touch.
Songstress Alison Krause chose to wear them during the 2004 Oscars.
4. Stuart Weitzman Rita Hayworth Heels ($3 million)
American shoe designer Stuart Weitzman was so impressed by the earrings worn by American actress Rita Hayworth that they used them as inspiration to create one of the most expensive heels in their collection.
These $3 million-priced shoes are very different from Weitzman's traditional designs. Weitzman is known for bold and bright shoes, but the Rita Hayworth Heels are just the opposite. They come in a rustic, chocolate brown finish.
The unique Sienna Satin shade that makes up their construction is a sight for sore eyes. As a permanent reminder of the prominent actress's legacy, her earrings make the centerpiece of these shoes. Currently, these heels are owned by Hayworth's daughter and are not available for sale.
3. Harry Winston Ruby Slippers ($3 million)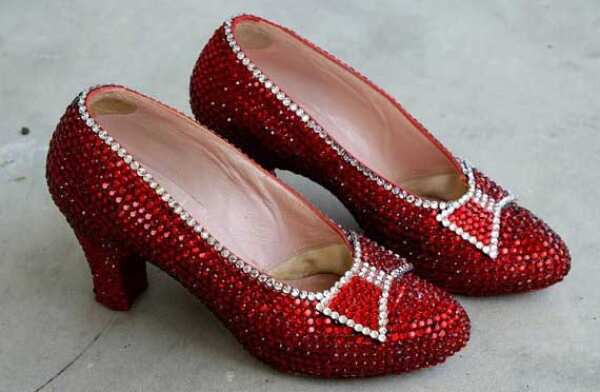 When marking the Wizard of Oz's 50th anniversary, Ronald Winston, son of renowned jeweler Harry Winston came up with the third most expensive footwear in history. The Harry Winston Ruby Slippers took more than two months to design and make.
Coming at the cost of $3 million, they are such an exceptional pair. The shoes are inspired by the 1939 classic movie, the Wizard of Oz. According to Elegantine, the design used at least 1350 carats of rubies and an additional 50 carats of diamonds.
These low heels are more flashy and lavish than the original Dorothy Gale version. They are adorned with minimalist red sequin to live up to the hefty price tag.
2. Debbie Wingham High Heels ($15.1 million)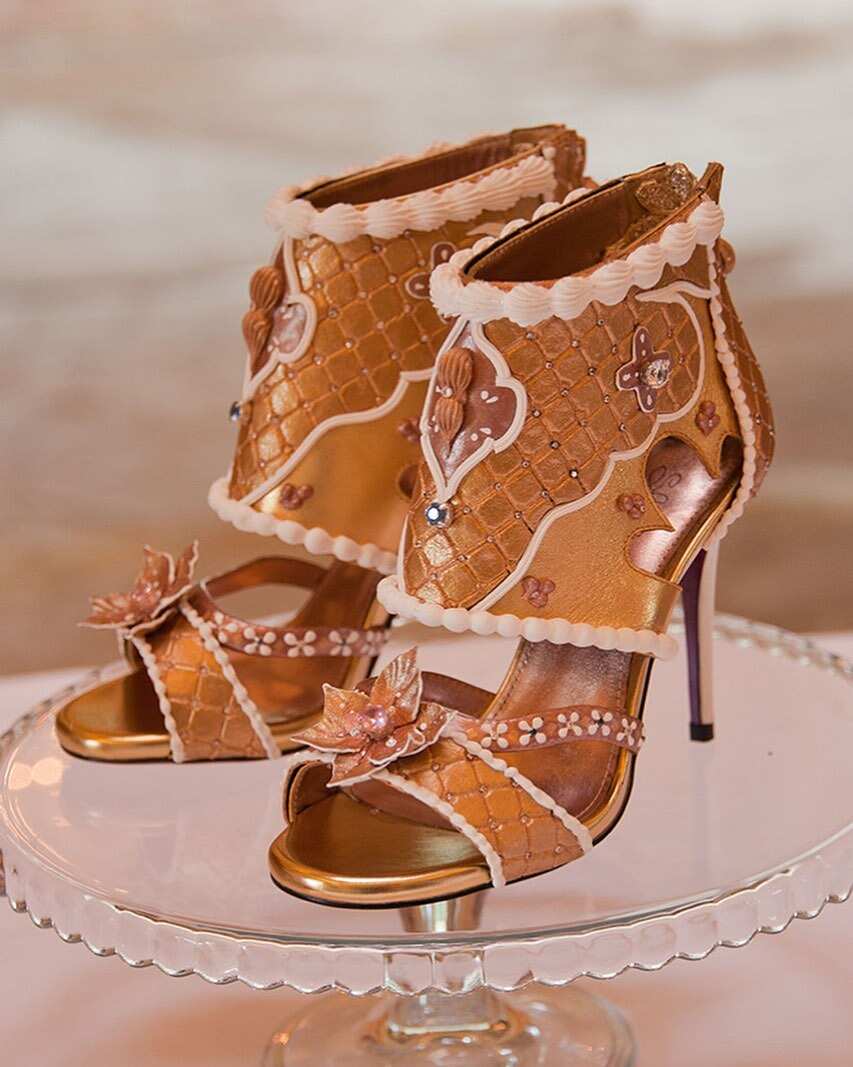 Famous designer and creator Debbie Wingham caught the attention of everyone in the design industry when she designed the 2nd most expensive shoes in the world. Until the unveiling of the Passion Diamond Shoes, Wingham's high heels were the costliest shoe known to man.
The heels feature 24-carat gold-painted leather and a mixture of colored diamonds. Even the thread used at the seams is gold. What's more, the body construction is platinum; its plaque is gold, while the rest of the surface is leather.
Unlike most expensive heels that have an open-top slipper design, these have a closed top. They are better described as open toe, ankle-length boots with a high heel. This makes the very unique.
According to Daily Mail, Debbie is known for outrageously expensive creations. She had previously created a Red Diamond Abaya gown that was priced at $15.45 million.
1. The Passion Diamond Shoes ($17 million)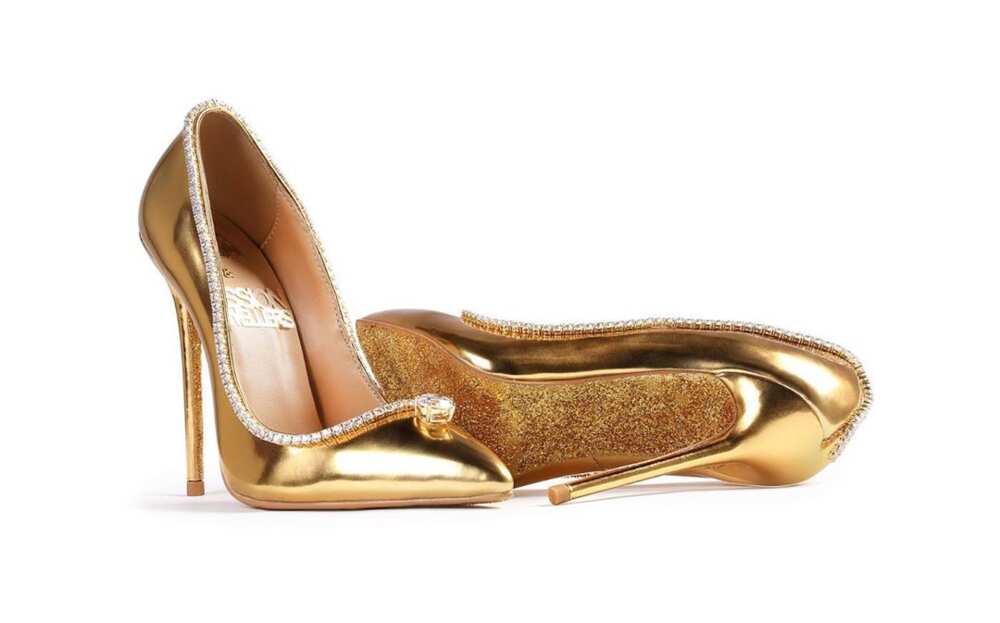 The most expensive footwear costs a shocking $17 million. You can try to imagine how many cars one can buy with $17 million. How about the number of mansions that can be built with that amount of money?
This luxurious design was unveiled in October 2018 at Burj Arab Hotel in Dubai. The heels are a collaborative effort between Passion Jewelers and Jada Dubai. They took more than nine months to make and are made from both gold and diamond.
Business Today confirms that the Passion Diamond Footwear features 15 carats D-grade diamonds. Although the record-setting heels come at a size 5.5, you can order customized sizes.
In reality, very few people can pay $17 million for a pair of heels. This explains why they are still on display at the Burj Arab hotel.
You now have the latest list of the most expensive shoes in history. Judging by the changes in fashion, we might have some new contenders for this title very soon. There is no limit to how far designers are willing to go to craft footwear worth jawdropping prices.
Source: Legit.ng