- A rare handwritten note by Martin Luther King Jr explaining the meaning of love has been discovered
- In the note, the Christian minister and activist said love is the greatest force in the universe
- The note which is up for sale is to be sold for $42,000 (N15,246,000)
A rare handwritten note by American Christian minister and activist Martin Luther King Jr on the meaning of love has been discovered.
The note is believed to be from the mid 1960s, and it is up for sale through Moments in Time, a memorabilia company, CNN reports.
Legit.ng gathers that the note is to be sold for $42,000 (N15,246,000) because it is rare to find a handwritten note by the renowned activist.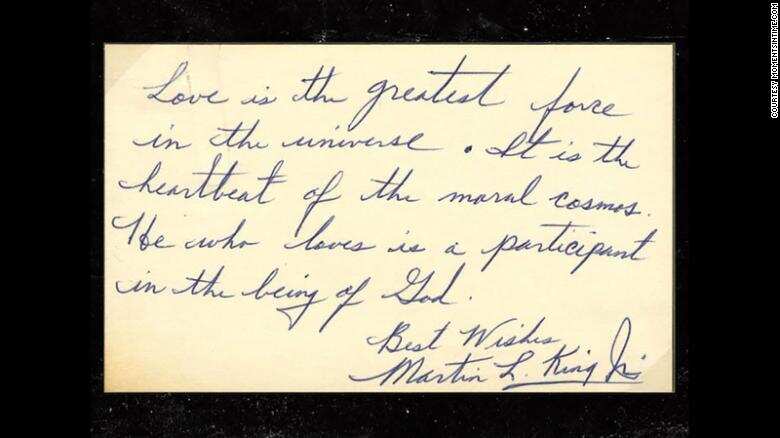 Gary Zimet, CEO of Moments in Time, said: "It is extremely rare. Other than inscriptions in (typed) letters and books, finding a handwritten note is very rare.
"This note encapsulates the philosophy of King's life and that's why it's so important."
The note was said to have been written after someone asked King what he believed was the meaning of love.
The note reads: "Love is the greatest force in the universe. It is the heartbeat of the moral cosmos. He who loves is a participant in the being of God."
PAY ATTENTION: Install our latest app for Android, read the best news on Nigeria's #1 news app
Meanwhile, Legit.ng previously reported that at 107, owner of Atlanta's historic Leila Dinette, Leila Williams, has lived many monumental periods including World War II, assassinations and notable elections.
Williams and her late husband Charlie opened Leila's Dinette in the late 1940s.
For over 40 years, people from all over, flocked to Southwest Atlanta to taste her good food but more importantly, to be in the good community.
At a time when segregation was still rife and there were not many places people could go, Leila created a space where Blacks could be served with dignity.
The dinette was also a place where civil rights leaders came to ''strategise and spend quality time,'' Charlotte Webb, Leila Williams god-daughter is quoted to have said.
Leila Williams' eatery hosted the Black community with renowned names such as Dr Martin Luther King Jr, Ralph Abernathy, Julian Bond, Congressman John Lewis, and a host of other movement leaders visiting the place.
The diner closed in the early 1990s, staying vacant over a decade before being bought and renovated by Keitra Bates.
It has now been transformed into a shared kitchen called Marddy's, where chefs of colour can come to make their food to sell to their customers.
While the dinette was known for its amazing food, people remember Williams for her caring nature and generosity.
Top 5 Nigerian couples proving love does exist in this world | Legit TV