Mo Farah bio: age, wife, twin, nationality, net worth
Mo Farah is the most successful and celebrated British distance runner. In 2012 and 2016, he emerged as the Olympic gold medalist for both the 5,000m and 10,000m races. He is the second athlete in the history of modern Olympic Games, after Lasse Virén, to win both the 5,000m and 10,000m titles at successive Olympic Games.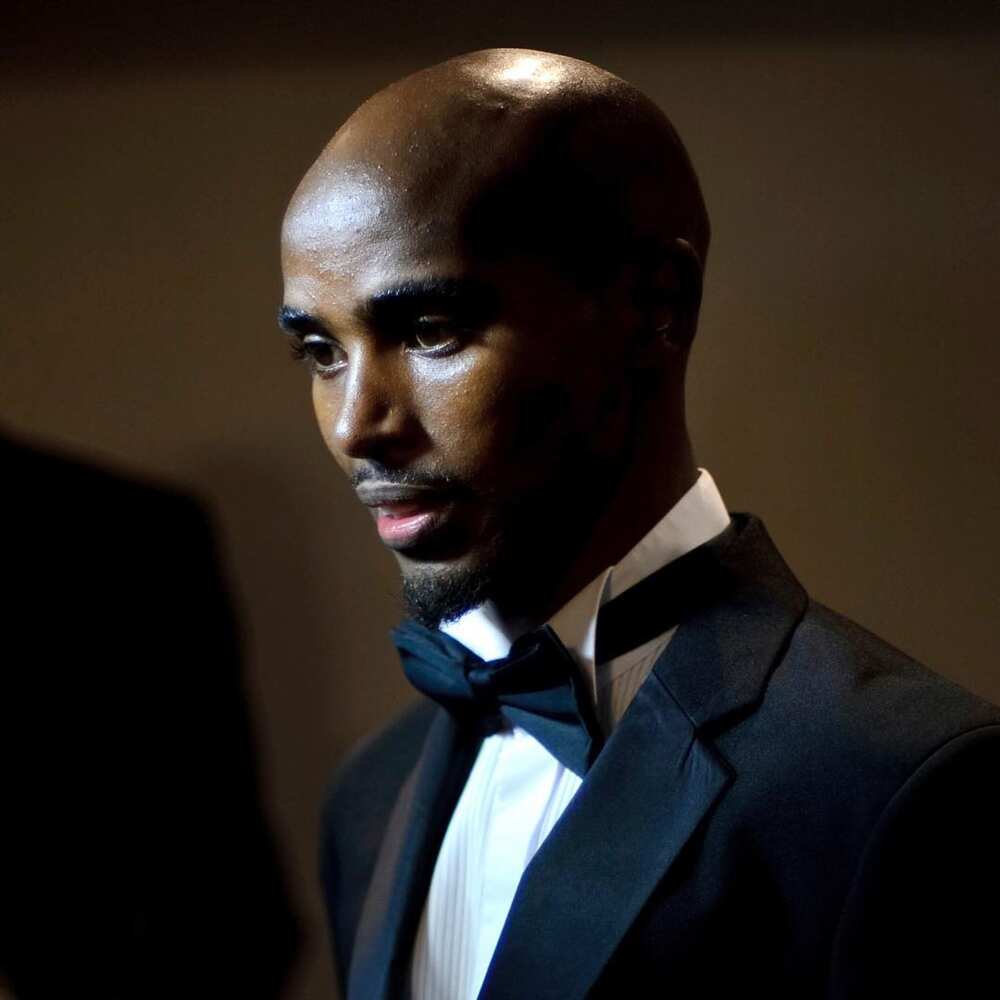 Farah became the second individual in history to win long-distance doubles at consecutive Olympics and World Championships, after Kenenisa Bekele, and the first in history to defend both distance titles in both major world competitions.
Mo Farah profile summary
Full name: Mohamed Muktar Jama Farah
Date of birth: March 23, 1983
Mo Farah age: 37 years
Place of birth: Mogadishu, Somalia
Profession: Athlete
Horoscope: Aries
Mo Farah height: 175 cm
Weight: 58 kg
Mo Farah Instagram: @gomofarah
Facebook: @MoFarahGold
Twitter: @Mo_Farah
His early life
Mohammed Farah was born in Mogadishu, Somalia, on March 23, 1983. While Farah's family originally came from Gabiley, they lived in Mogadishu, where his father was a businessman. After fleeing with his family from Mogadishu to Gabiley, Mo spent his early childhood with his twin brother as a refugee in Djibouti.
At the age of eight, he moved to Britain to join his father. At this time, he did not know how to speak English.
His dad, Mukhtar Farah, is an IT consultant and British citizen born in London and raised in Hounslow. Mo Farah nationality is British.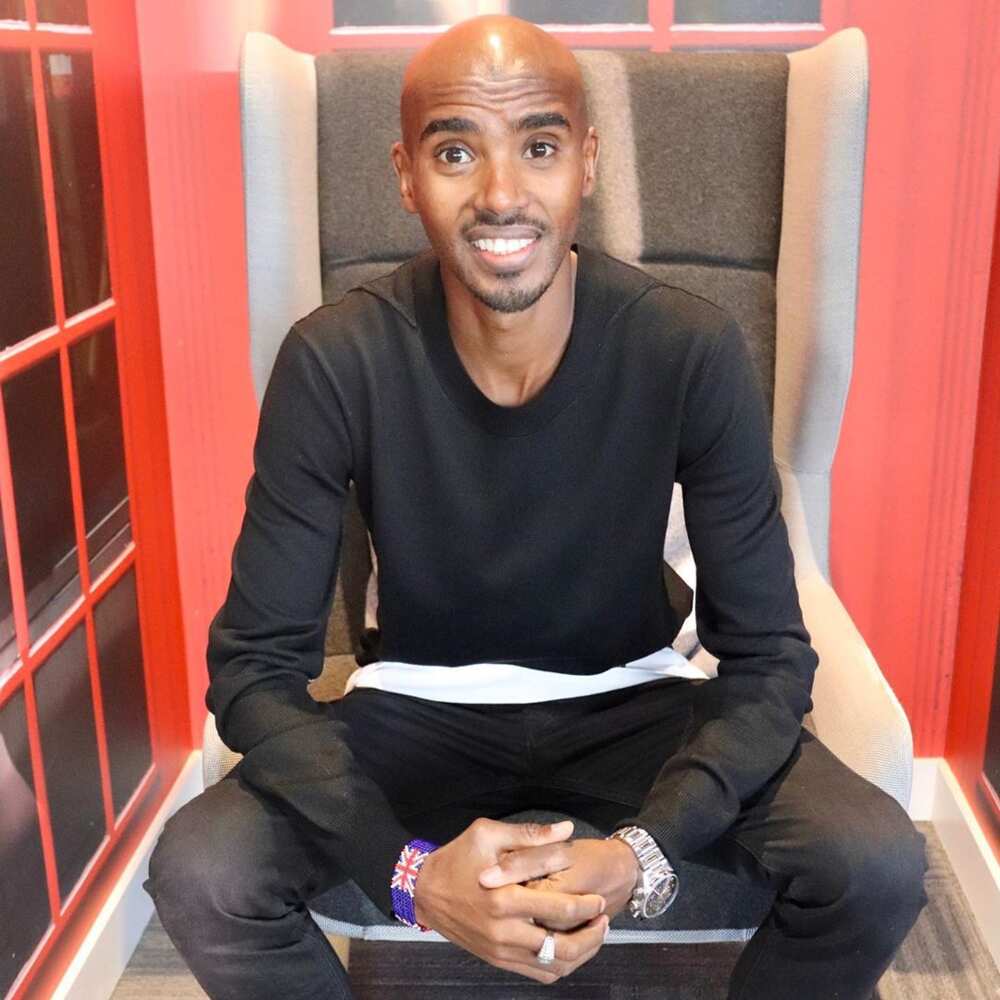 Growing up, he worked at McDonald's for some time. He attended Isleworth and Syon School and later joined Feltham Community College. Alan Watkinson, a physical education coach, was among the first people to notice his athletic abilities.
Farah's dreams and aspirations were to either play for the Arsenal football club as a right-winger or work as a car mechanic. After college, he became part of the Borough of Hounslow Athletics Club based in West London.
Career
At the London Youth Games, Farah participated as a Hounslow representative at cross-country. He entered the English schools cross-country at the young age of 13 in 1996 and completed at the ninth position. He then won the first of five English school titles in 1997.
Athletics philanthropist, Eddie Kulukundis, recognized his talent and paid Farah's legal fees to finalize his naturalization as a British citizen. This was to enable him to participate in competitions that required traveling. This helped him evade visa problems that would complicate his participation in international games.
In 2005, he settled in with a couple of disciplined Kenyan runners, such as Micah Kogo, and Australian Craig Mottram. During their stay together, they would sleep, train, rest, and eat on repeat. At this point, Farah decided to put more effort and focus into his running ability as it was a natural talent.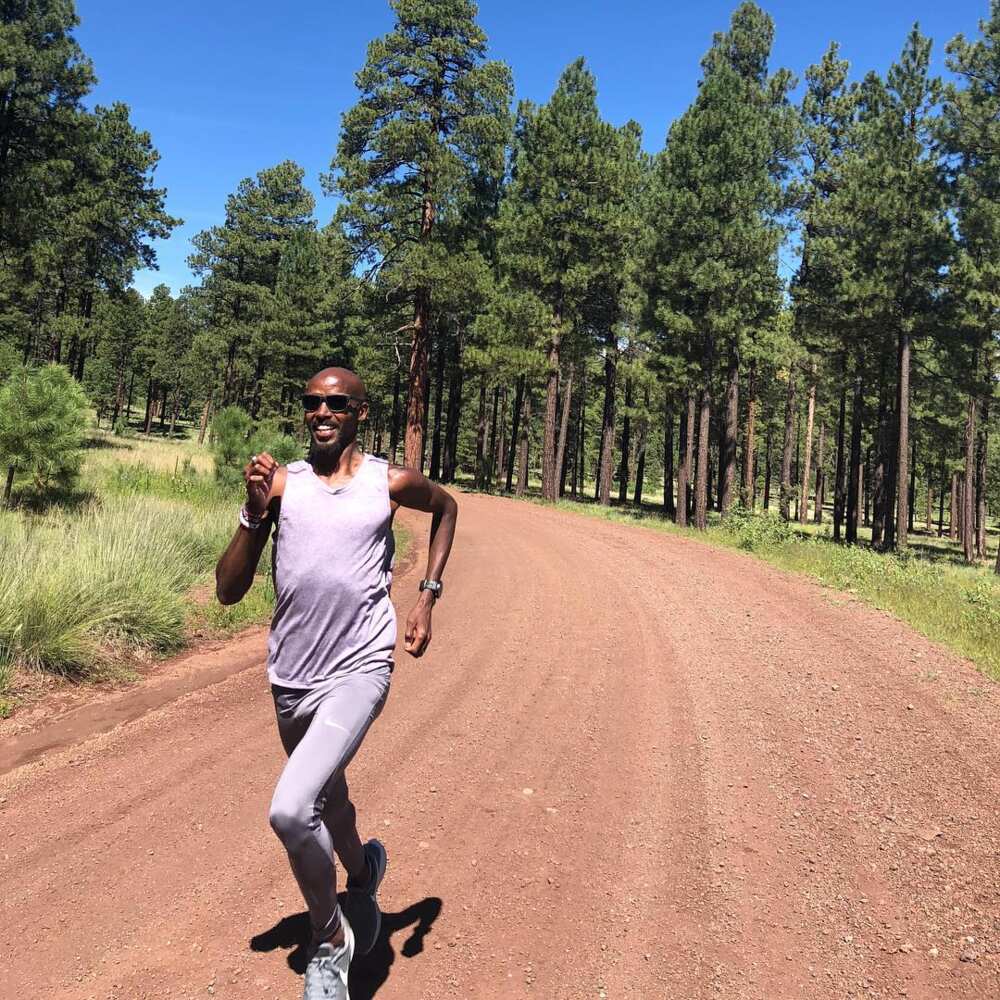 Over the years, he has won many medals and championships such as the 10,000m gold after finishing first at the London Olympics on August 4, 2012. He then amazed the masses after winning the 5000m seven days later. He dedicated the two gold medals to his twin daughters.
Mo won a gold medal in the 10,000m at the Rio Olympics on August 13, 2016, making it the first time a Briton won three Olympic gold medals in athletics. It did not stop here as he went on to win another gold medal for the 5000m at the Rio Olympics, which took place on August 20 of the same year.
His last appearance was on September 8, 2019, where he won the Great North Run after marking a personal best of 59:07. Fans are eager to see him on the track to cheer him up as he breaks the next record. With no doubt, the United Kingdom is proud to have Mo represent them in the sports world, despite the fact that he is not a British citizen by nationality but by naturalization.
Mo Farah accomplishments
The incredible marathon and track runner has won numerous awards and honors since the start of his career. He has broken records and defeated some of the best athletes worldwide, resulting to him receiving some of the most prestigious awards in sports. These are some of them.
2006 British Athletics Writers' Association Award
2010 British Athletics Writers' Association Award
2010 Best Senior Athlete of 2010 (UK Aviva Athletics Awards)
2010 London Youth Games Hall of Fame
2011 British Athletics Writers' Association Award
2011 European Athlete of the Year
2011 BBC Sports Personality of the Year Award, 3rd place
2013 British Athletics Writers' Association Award
2013 Athletics Weekly International Male Athlete
2013 Laureus World Sports Award for Sportsman of the Year, nominee
2013 British Olympic Association Olympic athlete of the year
2013 AIPS Europe Sportsmen of the Year – Frank Taylor Trophy
2013 Rodale, Inc., Running Times – Runner of the Year
2014 Jesse Owens International Athlete Trophy, nominee
2014 Laureus World Sports Award for Sportsman of the Year, nominee
2015 World Record, 2-mile run, Birmingham
Runners World top 50 influential individuals in running
LetsRun.com number 1 in 2015-year end world ranking for long-distance runners
2015 fastest men's 10,000-meter runner
2016 BAWA Athlete of the Year
2016 British Athletics Supporters Club athlete of the year
2016 Athletics Weekly International Male Athlete of the Year, ahead of Usain Bolt
2016 Athletics Weekly British Male Athlete of the Year
2017 Sportsman of the Year at the Lycamobile British Ethnic Diversity Sports Awards (BEDSAs)
2017 BBC Sports Personality of the Year Award, 1st place
Mo Farah wife and family
Family is a very crucial aspect in the lives of most people. This is not any different for Farah as he highly values and loves his family. He is blessed with a beautiful wife and children who support his career and appreciate his efforts to provide for them a comfortable and happy life.
One of the things that make a man most proud is a beautiful family, and Farah is nothing less than proud of his.
In April 2010, he exchanged vows with longtime girlfriend, Tania Nell, in Richmond, London. Several athletes were present in the ceremony, some of them including Mustafa Mohamed, Hayley Yelling, Paula Radcliffe, Jo Pavey, Scott Overall, and Steve Cram.
Mo Farah children are Aisha and Amani, who are twin daughters, and Hussein, who is the last born. The twins were born in August 2012 while Hussein was born in 2015. He also has a step-daughter called Rihanna.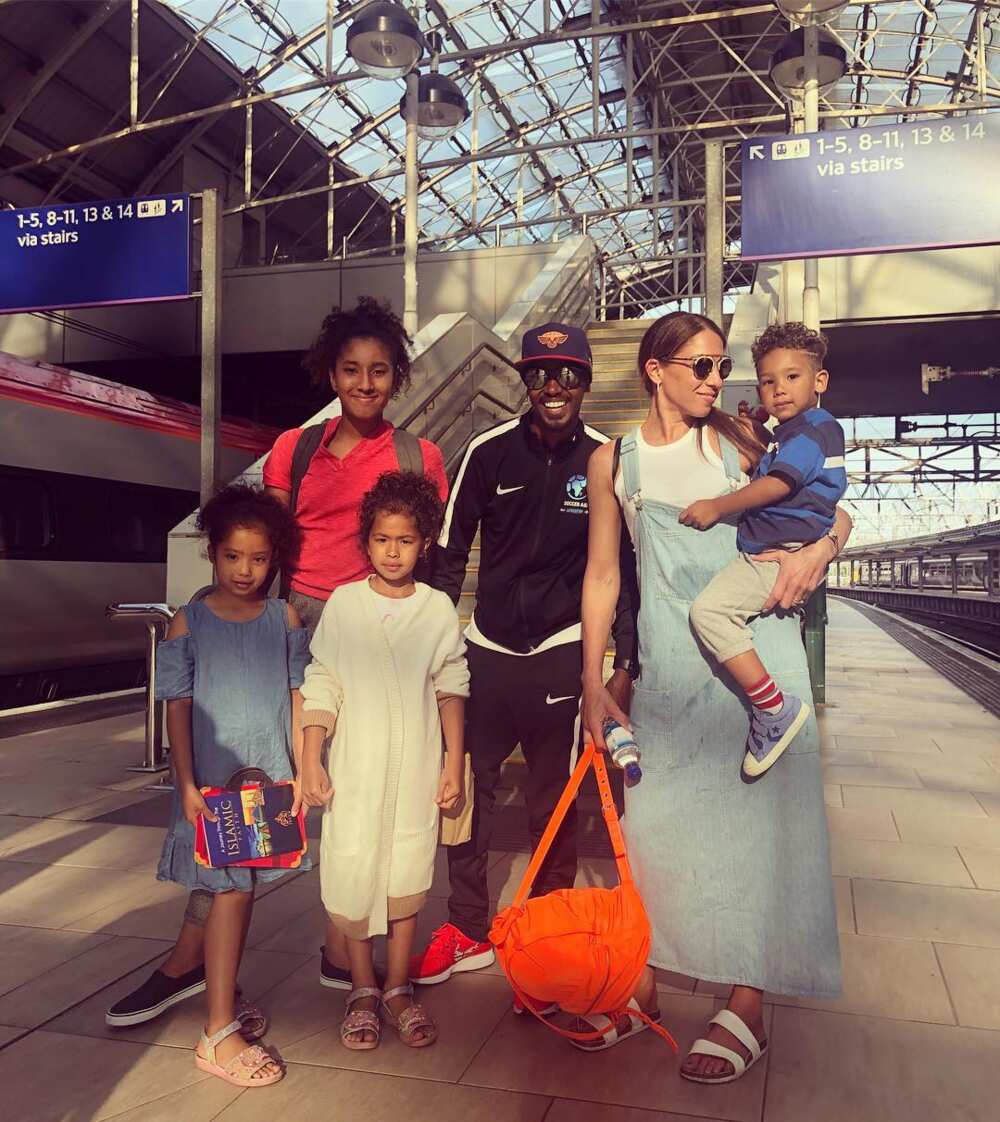 Mo Farah twin brother, Hassan, resides in Somalia with his wife and five children. The two were separated at the age of eight as Mo, his mother, and two younger brothers moved to the UK to join their father, who was studying and working there.
At that time, Hassan had to be left with family in Djibouti as he could not travel due to health issues. After a while, their father went to collect Hassan but failed to find him as the family he was living with had changed their residence, and no one knew where they had moved to. They got reunited after 12 years.
Currently, Hassan works as a telecom engineer. Mo has a third brother who was born after they had moved to London. He also has a cousin known as Yonis, who plays for Somalia in international football.
How much is Mo Farah worth?
Mo Farah net worth is valued to be around $5 million. Most of this wealth is as a result of his successful running career, a talent and ability he chose to nurture at an early age.
In most developed countries today, athletes and people in sports are highly valued. As a result, most of the successful ones are paid a significant amount of money. Therefore, it is advisable for people with related talents and skills to nurture them as they could be the next millionaires of the world.
However, to excel in such careers, it is important to that note that you will need to do a lot of practice and have a high level of discipline, consistency, hard work, energy, and passion. In order to be the greatest and stand out of the crowd, you need to do what everyone else is not willing to do.
Mo Farah latest news
On November 29 last year, he revealed his intention to get back on the track to defend his 10,000m Olympic title at the 2020 Olympic Games set to happen in Tokyo. He plans to take a break from his marathon career to focus on track-oriented training.
Mo Farah proved that there is nothing you cannot achieve if you put in the right amount of energy, focus, and hard work. Great success does not come easy, and every person aspiring to be great can look up to this admirable gentleman. This does not only apply to those in the sports industry but to all people who want to achieve extraordinary results in their field of work or career.
Source: Legit Nigeria