February is here! And you know what that means… Valentine's is fast approaching!
Romantics everywhere start wondering the same thing: how can I make Valentine's Day special this year? Of course, there's the traditional candlelit dinner and typical chocolate gifts — but sometimes you may want to mix it up a little (or a lot) and ditch the usual "dinner and chocolates" for something a little more creative and one-of-a-kind.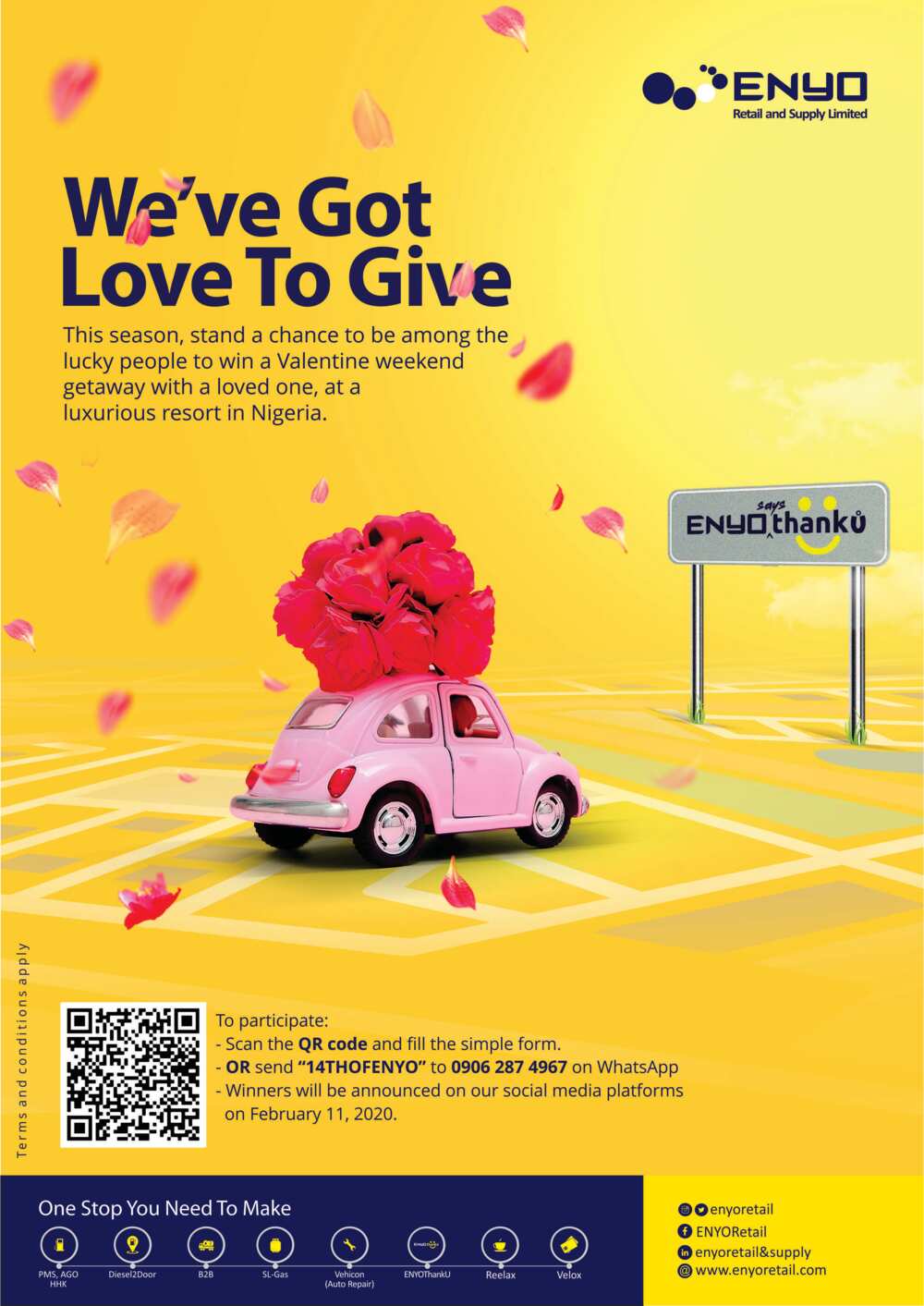 In the spirit of love, your favourite energy solutions provider Enyo; is ready to make your day even more special! Its #14thof Enyo season 2 and this season there is so much love to spread!
Luckily, you have the chance to win a valentine weekend getaway in a luxurious resort in Nigeria for you and your partner, so you and your beau don't have to settle for a typical and unmemorable date on Valentine's. Who wouldn't want a truly unique weekend full of love that you'll both remember for years to come?
So instead of stressing over V-Day plans this year, simply follow the steps below, and you and your sweetheart will be feeling the love in no time!
It's quite simple! All you have to do is:
1. Send the word "#14thOfEnyo" to 0906 287 4967 on WhatsApp OR
2. Scan the QR Code which can be found on the posters and handbills and at all 84 Enyo retail stations OR
3. Visit www.enyoretail.com and follow the instructions
Participants must follow @enyoretail on Instagram or Facebook. Winners will be announced on social media on the 11th of February 2020.
So, what are you waiting for? Do it now and be on your way to an unforgettable experience, courtesy, your favourite energy solutions provider, Enyo Retail.
Terms and conditions apply!
[Sponsored]