Nikki Bella bio: sister, net worth, engagement, pregnancy
If you are interested in the world of wrestling, you might know who the Bella twins are. Here is a unique opportunity to learn more about Nikki Bella, one of the famous sisters. What are the most interesting facts about her career and private life?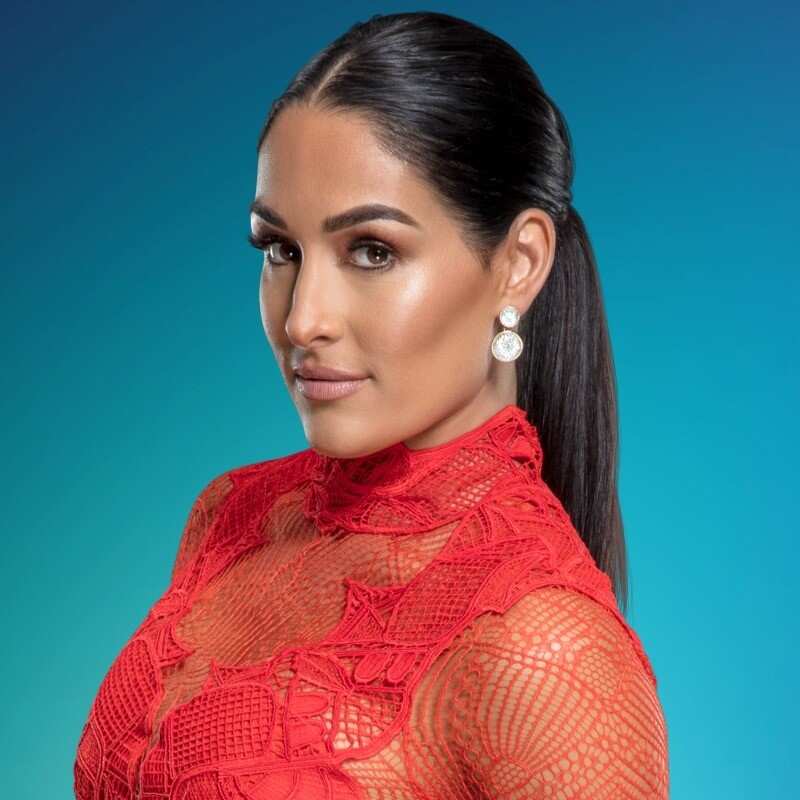 Today, Nikki and Brie Bella are both making headlines because of their pregnancies. Back in the day, they used to be professional wrestlers who took on a lot of worthy opponents. The older twin's life and career journey are fascinating, as this beautiful athletic woman has everything it takes to be successful.
Profile summary
Full name: Stephanie Nicole Garcia-Colace
Birthday: November 21, 1983
Age: 36 years old
Height: 5 feet 6 inches (1 m 68 cm)
Nationality: American
Birthplace: San Diego, California, United States
Occupation: Retired professional wrestler in WWE, model, actress
Parents: Jon Garcia and Kathy Colace
Ex-boyfriend: John Cena (2012-2018)
Fiance: Artem Chigvintsev (2019 - present time)
Biography
The wrestler and her twin sister were born in San Diego, California, on November 21, 1983. Nikki was 16 minutes older than Brie. Their parents, Jon and Kathy, relocated to Scottsdale, Arizona, to raise the girls. When they were children, they played for the local soccer team.
Later, the older sister moved to San Diego, where she went to college. However, the next year, she decided to change her residence to Los Angeles, where she worked as a waitress. The whole time, she and her sister did some modelling and acting work.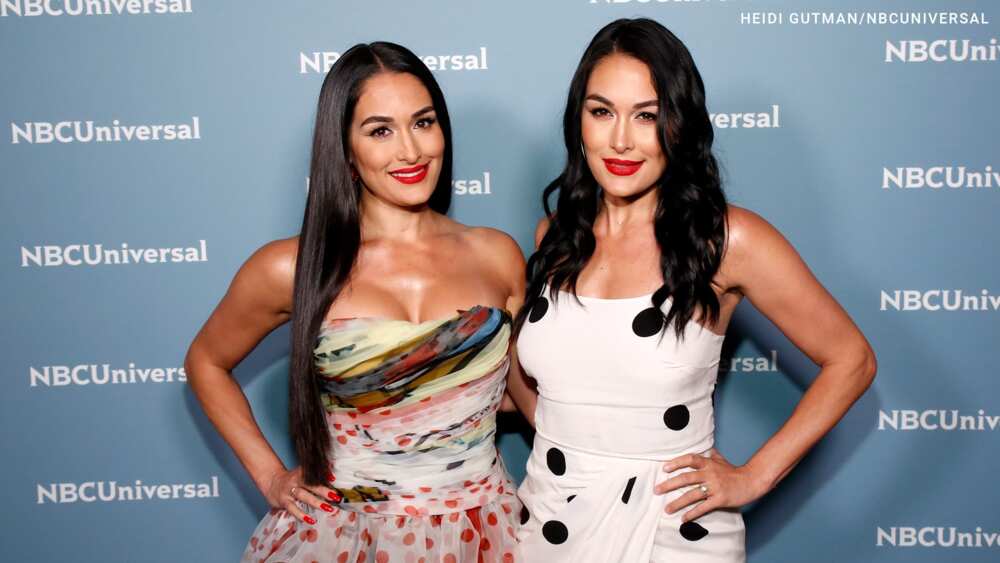 2007 was the start of their professional career, as the twins were finally signed to WWE. In their debut match, they became victorious over Nattie Neidhart and Krissy Vaine. Since then, they began competing in various championships.
In 2008, the older twin debuted in SmackDown. Four years later, she managed to achieve a large victory - the WWE Divas Champion belt. She got named "Diva of the Year" by Rolling Stone magazine in 2015. Overall, her career consisted of many glorious moments.
Her professional career also included modelling and acting gigs. For instance, she debuted on the Fox series "Meet My Folks", and graced the Budweiser advertisement for FIFA World Cup together with her sister. The Bella twins also starred on the show "Total Divas" from 2013 to 2017, where viewers had a chance to observe their everyday life and relationships.
Nikki Bella height
The popular wrestler is a woman of average height. She is 5 feet 6 inches tall, which is an equivalent of 1 m 68 cm. She and her sister are of the same height.
Nikki Bella net worth
Celebrity Net Worth states that the famous athlete is worth $6 million. She has earned her fortune through years of wrestling competitions, acting opportunities, and modelling work.
John Cena and Nikki Bella: Everything about their romance
The relationship between Nikki Bella and John Cena was one of the most discussed ones in the wrestling world. They began dating in 2012 and quickly moved in together. The two have been through some rough patches in their union but eventually worked them out.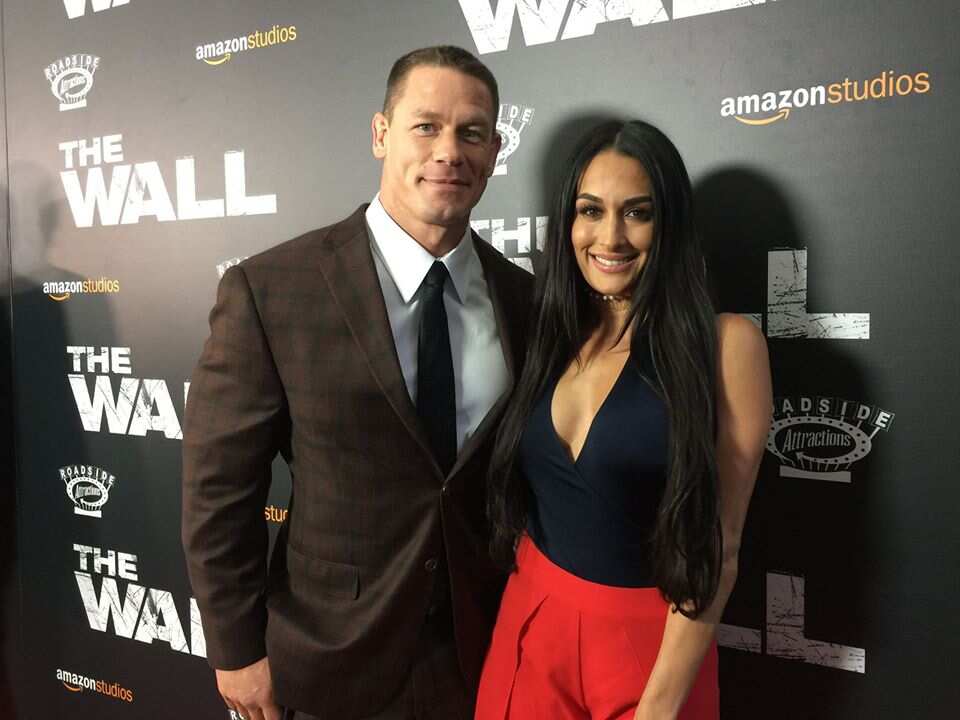 From the beginning, John Cena was very upfront in his intentions - he always said that he had no desire to get married or have children. His girlfriend, on the other hand, wanted all these things, which created a rift between them. Even though John proposed to his love in 2017 at Wrestlemania in front of a huge crowd, he never changed his mind on having kids.
John Cena Nikki Bella relationship unexpectedly came to a close in April 2018, when they announced their split. Both athletes had a hard time dealing with the breakup, and there were hopes of them getting back together. However, their different goals in life and the busy schedule made them drift apart. After their split, they remained in good terms.
Nikki Bella and Artem Chigvintsev relationship
While she was still with John Cena, the female wrestler participated in the 25th season of "Dancing with the Stars." She was paired with the Russian dancer Artem Chigvintsev. Nikki Bella and Artem quickly hit it off both on the dance floor and in real life.
Nikki Bella Dancing with the Stars journey was full of ups and downs. She and Artem became the sixth couple that was eliminated, but they managed to stay in touch outside the show.
Eventually, when things did not work out with John Cena, the wrestling star decided to start a romance with her dance floor partner. Their relationship was confirmed in March 2019. In January 2020, after months of spending time together and being happy in love, the two announced their engagement. It came as a surprise to see Nikki Bella engaged again, but her wrestling fans were happy for her.
The same month, US Magazine reported that Artem Chigvintsev got Nikki Bella pregnant, and the couple is expecting their first baby. The athlete's dream finally is about to come true, as it became clear from her previous relationship that she always dreamed of becoming a mother. Perhaps, we will see Nikki Bella wedding in the nearest future. An even more interesting fact is that her twin sister Brie is also expecting a baby, though, for her, it is not the first child.
From what we can see, Nikki Bella is finally settling down and making a family of her own. This wrestling star deserves personal happiness after the many years that she has spent making a career for herself by fighting her opponents on the ring.
Source: Legit.ng