Shiloh Pitt: see the transformation of the Jolie-Pitt kid
Shiloh Pitt was introduced to the world long before she was born. Other than having celebrity parents, her transformation caused so much talk among those who watched her grow. The teenager does not conform to traditional gender roles and prefers to wear male clothes. Her choice of dressing made her gain recognition from the LGBTQ+ community. Where is Shiloh Jolie Pitt now? Is she transgender?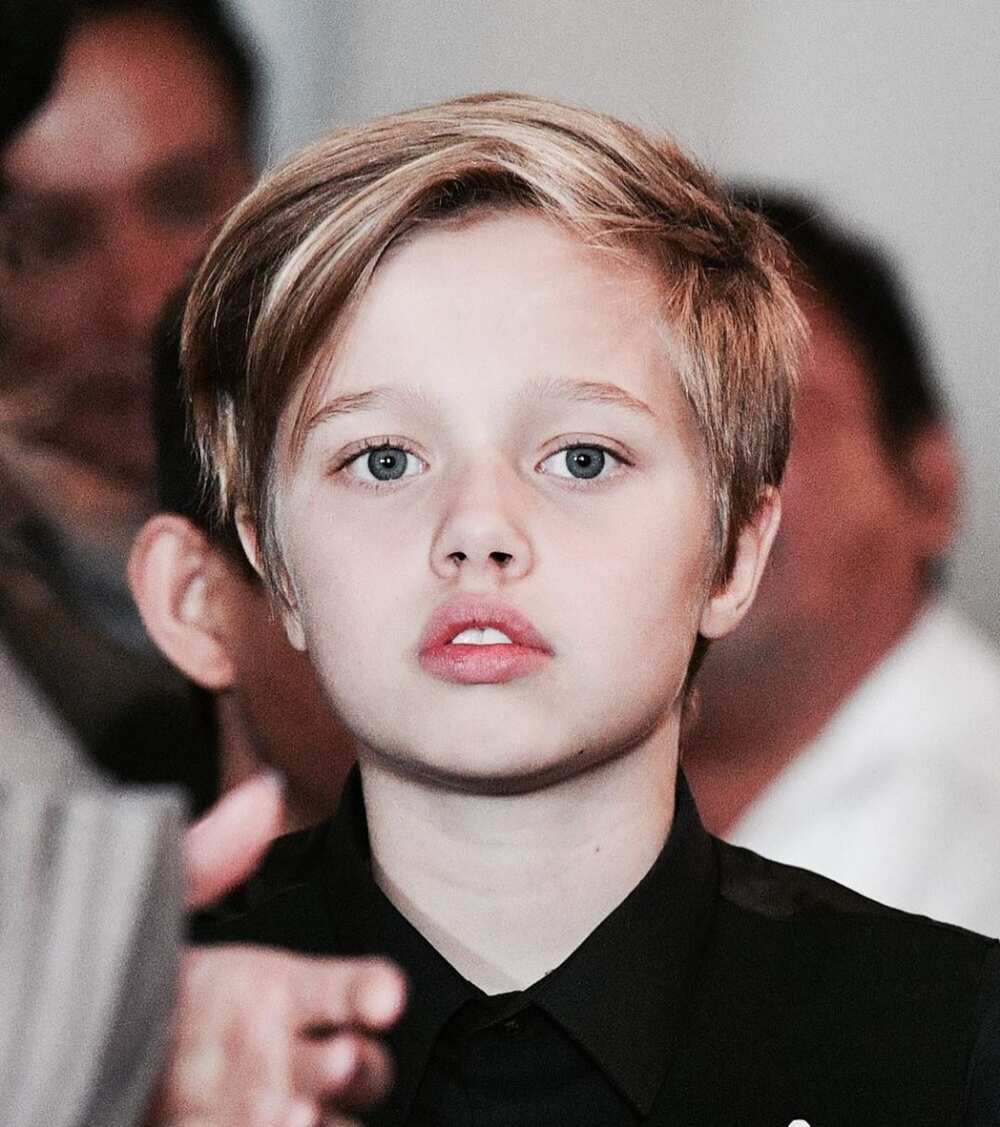 Shiloh's birth was anticipated by many fans who could not wait to see who she would resemble. As she grew, she developed a striking resemblance to her celebrity dad. At eight weeks, she went down in records as the first infant to be re-created in wax by Madame Tussauds.
Profile summary
Full name: Shiloh Nouvel Jolie-Pitt
Place of birth: Swakopmund, Namibia
Date of birth: May 27, 2006
Ethnicity: White
Height: 5 feet 5 inches (1.65 m)
Body measurements: 35-26-36
Eye colour: Blue
Parents: Angelina Jolie, Brad Pitt
Siblings: 5
Birth sign: Gemini
Early life
How old is Shiloh Jolie-Pitt? She was born on May 27, 2006, in Swakopmund, Namibia. She is 13 years old. Angelina Jolie and Brad Pitt opted to deliver in Namibia to ensure the privacy and protection of their first biological kid.
The decision was also partially influenced by Angelina's love for Namibia's epic countryside where she spent some time as a UN refugee ambassador. The Brangelina couple sold Shiloh's first pictures through Getty images to People magazine for $4.1 million and to Hello! magazine at $3.5 million. The couple donated the proceeds to charity.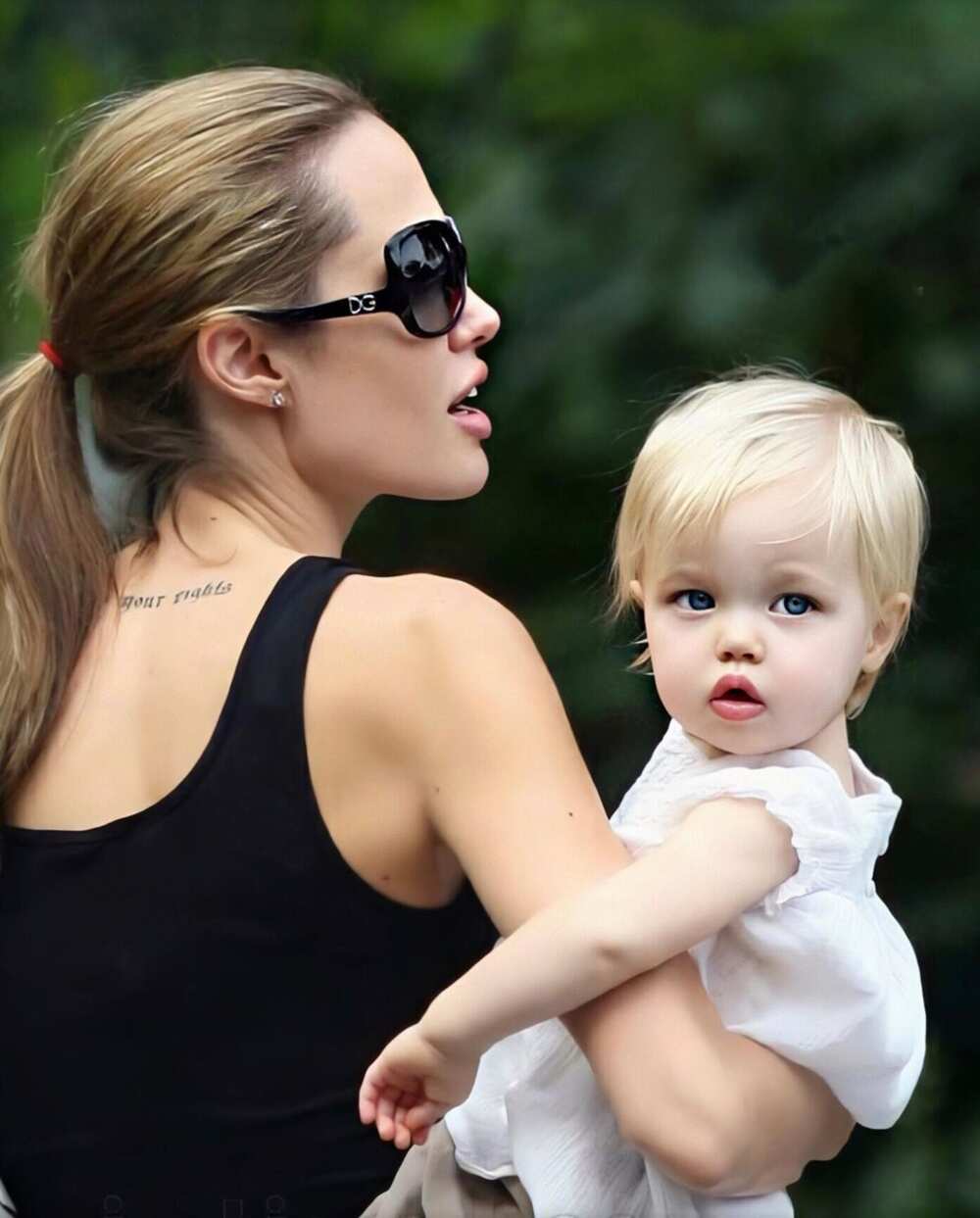 Shiloh Pitt transformation
As a baby, her blonde hair and blue eyes were her distinguishing features. Her picture was taken each time she was seen out with either Jolie or Brad. As she grew up, she was seen in casual t-shirts, shorts, and baggy pants. Her choice of dressing raised questions about her sexual orientation.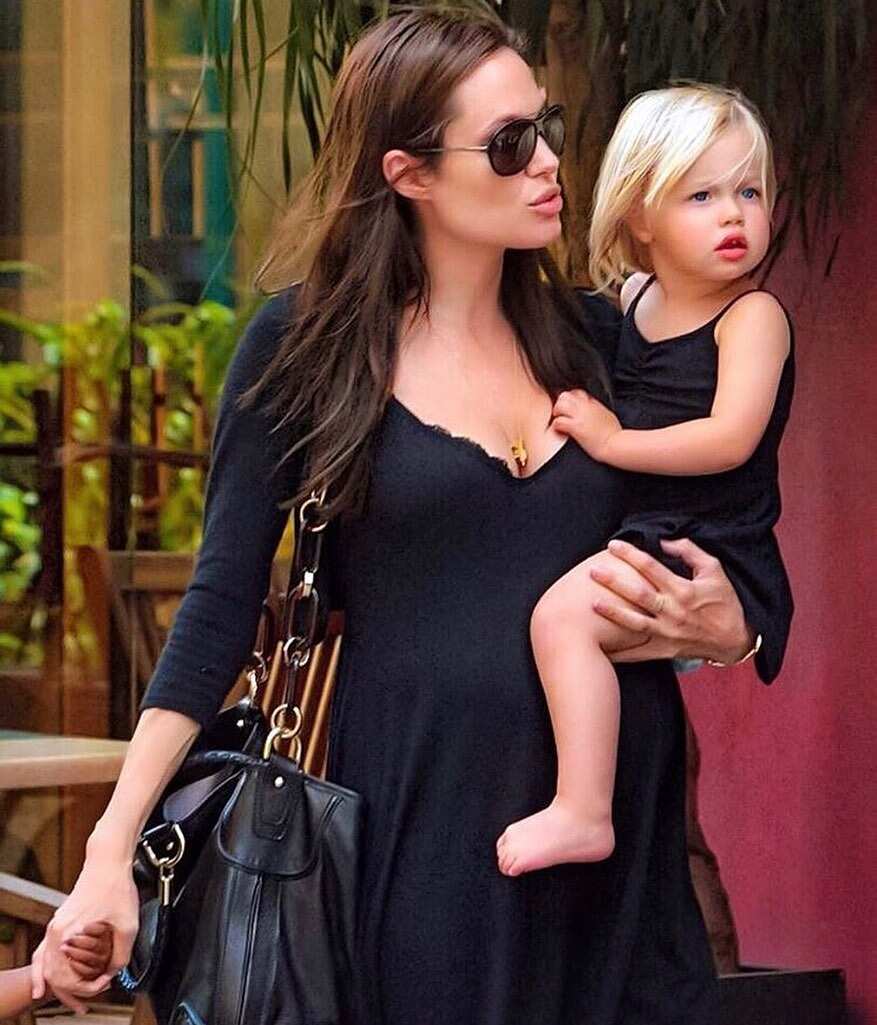 Jolie and Brad were aware of the buzz surrounding Shiloh's dressing. In an interview with Oprah, Pitt revealed that Shiloh liked to be referred to as John or Peter. Her free-willed parents did not seem to have any problem with the kind of clothes she chose to adorn.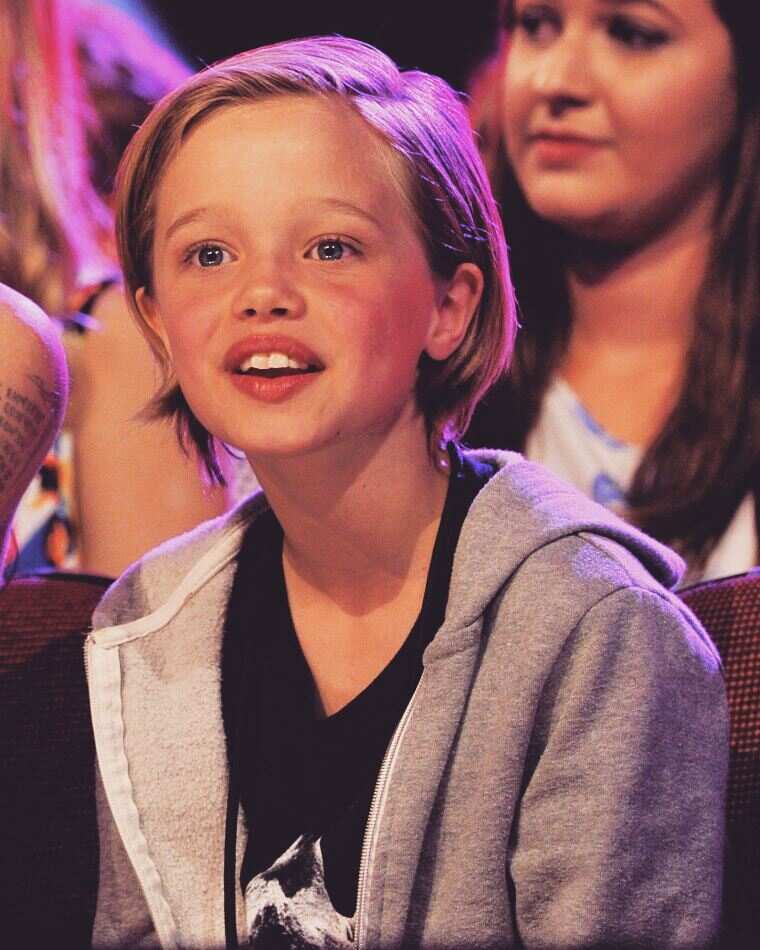 While her mom and sister Zahara show up to events in fancy dresses and feminine clothes, Shiloh has a unique sense of style. She prefers her father's style, putting on mini suits.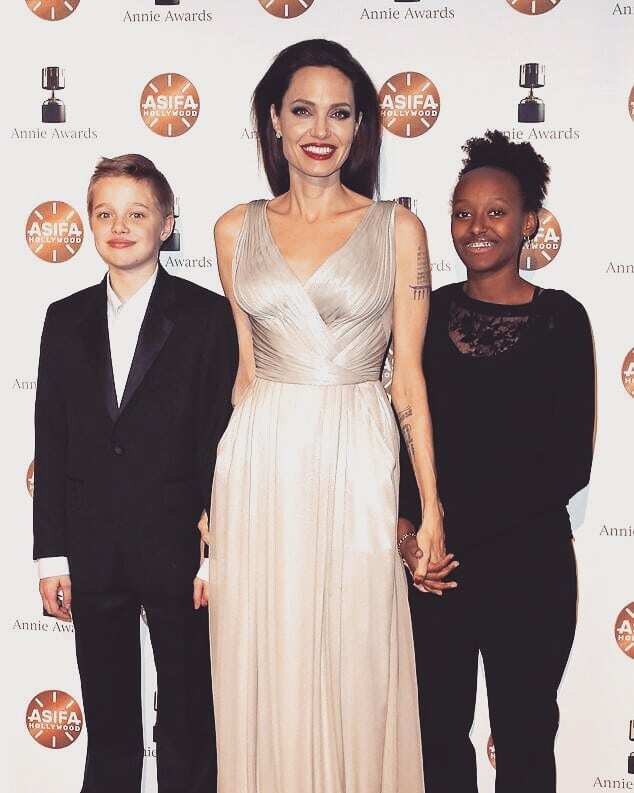 Is Shiloh Jolie Pitt transgender?
As she continued to wear male clothes, speculations that Shiloh might be transgender began doing rounds. While others thought it was a phase she would quickly go through, others were convinced that she was transgender. According to Angelina Jolie Shiloh always wanted to be treated as a boy. She told Vanity Fair:
She likes to dress like a boy. She wants to be a boy. So we had to cut her hair. She likes to wear boy's everything. She thinks she is one of the brothers.
She does not conform to the assumed gender roles and expectations.
Brad Pitt and Angelina Jolie kids
Angelina is a humanitarian and a lover of kids. Before her marriage to Brad, she had adopted two kids, Maddox and Paxx. The couple, now going through a divorce, has three biological and three adopted kids. Here are Angelina Jolie children and Shiloh's siblings:
Maddox Chivan Jolie Pitt- He is the first of Angelina Jolie kids. Maddox was adopted in 2002 when he was seven months old. The 18-year-old was born in Cambodia. He enrolled at a university in Seoul, South Korea.
Pax Thien Jolie Pitt- He was born on November 29, 2003, in Vietnam. He is 16 years old. He was adopted from Tam Binh Orphan Center in 2007.
Zahara Marley Jolie Pitt- She was born on January 8, 2005, in Ethiopia and was adopted in the same year. The 15-year-old is an actress and jeweller. Jolie wore one of her pieces while attending the premiere of Maleficent: Mistress of Evil. She worked with the renowned jeweller, Robert Procop, to launch the line, Zahara Collection. Earnings from the collection will be donated to charity.
Knox and Vivienne- The twins were born on July 12, 2008, in Nice, France. They are the youngest Jolie Pitt kids. They are 11 years old.
Brad and Angelina kids are often kept away from the cameras. The paparazzi are constantly on their case, taking photos even when they were on errands. Brad Pitt children are also seen attending movie premieres and award ceremonies.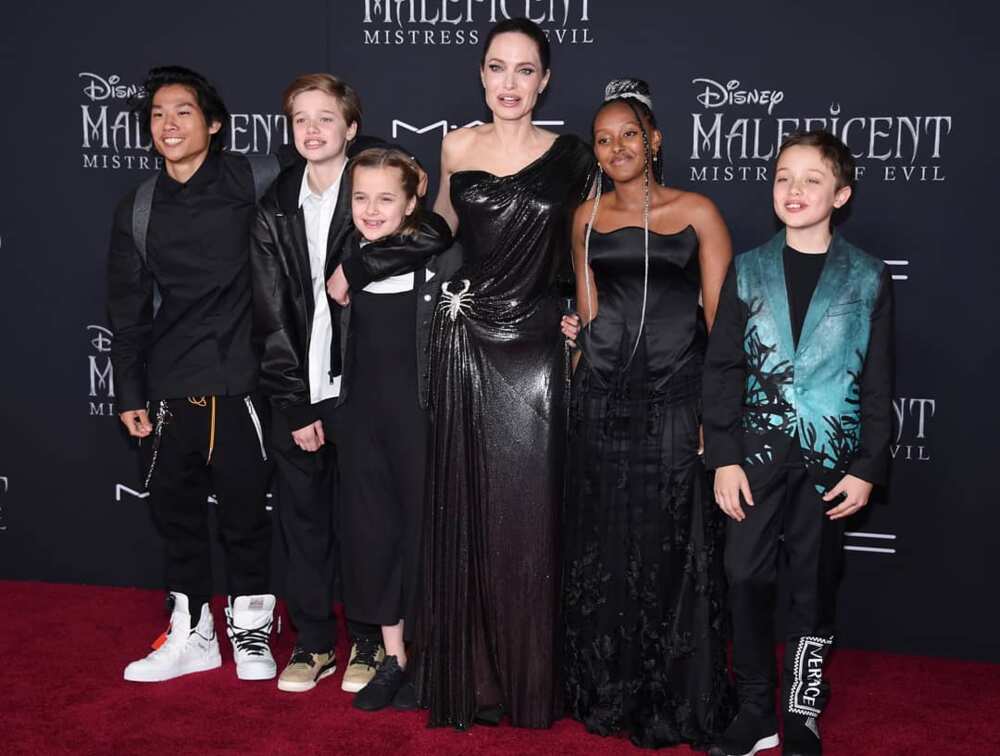 Long before she was born, Shiloh Pitt had hit the headlines as the first biological kid to Hollywood stars Angelina Jolie and Brad Pitt. She drew attention to herself due to her unique sense of fashion. Her transformation throughout the years has led curious fans to question her sexual orientation.
Source: Legit