Ariston Thermo Group visits Little Saints Orphanage to show support
A team from Ariston thermo, a global leader in the thermal comfort industry with its Origin from Italy, recently visited Little Saints Orphanage at Ogudu GRA, Lagos State during the Christmas holiday to show support and care.
It was a memorable and engaging timeout for both the kids and the representatives from Ariston thermo as the kids freely interacted with the representatives of Ariston Thermo by taking pictures, sharing their aspirations in life and their schedules in the orphanage.
The Ariston team got to learn about the history of the foundation whilst the kids and their caregivers also better understood the numerous advantages of hot water for domestic and commercial usage.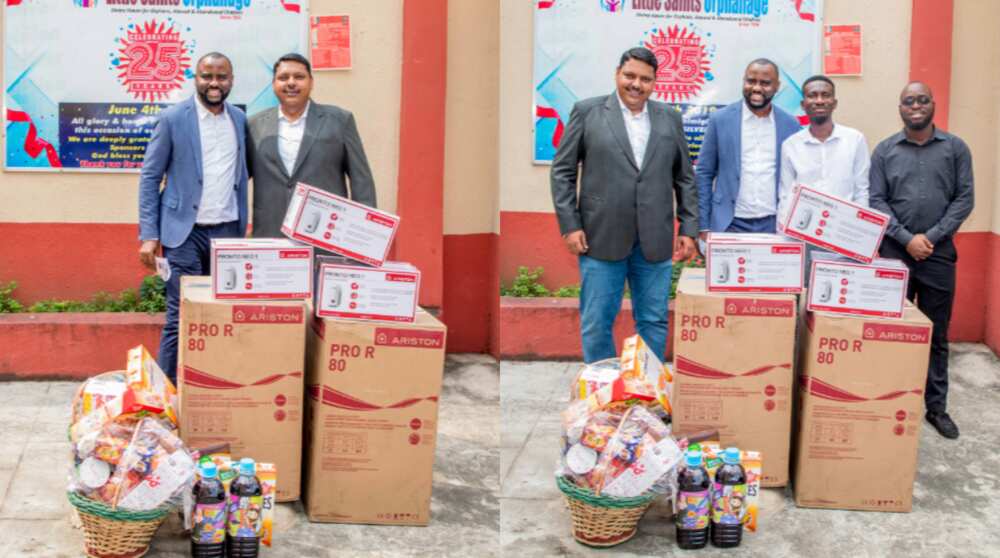 During the visit, Gaurav Bisaria, the Country manager, and Solomon Umoh, the Marketing Manager were elated to have the opportunity to engage with the kids whilst also sharing the vision and history of Ariston Thermo Group to everyone.
Ariston Thermo is proud to be synonymous with this cause over the years and will continue to create maximum awareness for the benefits of hot water in Nigeria whilst touching lives.
The Ariston representatives will forever cherish every moment spent with the beautiful minds at the Little Saints Orphanage, Ogudu.
The brand pay-off of Ariston Thermo is "Comfort Always On" and this pledge has inspired many thermic innovations by Ariston that has touched many individual and family lives.
All over the world, Ariston Thermo is synonymous with comfort, energy efficiency and respect for the environment, thanks to its high efficiency products, its plants in compliance with the most advanced production standards and excellent pre- and after-sales customer support services.
The 1.57 billion group Euro employs 7,000 people worldwide and manufactures over 7m products per year, and over 36m components. With 26 state-of-the-art production units in 15 countries, Ariston Thermo Group has a global presence in 150 countries with Ariston as its flagship brand.
Over 6 million households choose us every year and more than 250 million people experience the comfort of Ariston Thermo products. The company invested over €79m across 23 R&D centers in 15 countries.
The company has significant presence in Europe and Asia, with production sites in Belgium, Canada, China, France, Germany, India, Italy, Netherlands, Russia, South Africa, Switzerland, Tunisia, U.S.A, Uzbekistan and Vietnam. There is now a major thrust on Renewable energy, through solar water heaters and systems. By 2020, the group aims to have 80% of its business coming from high efficiency and renewable solutions.
For more about Ariston Water Heaters, Solar Systems and Heater Pumps, kindly visit our
website: www.ariston.com/ng
Also, follow us on:
Facebook: Ariston Nigeria
Instagram: @aristonnigeria
[SPONSORED]
Source: Legit.ng