Armed Forces Remembrance: US-based Nigerian celebrates troops
Editor's note: A Nigerian based in the United States of America, Mark Bolaji, has written a poem in honour of the Nigerian Armed Forces with particular emphasis on the sacrifices of the Army in the fight against Boko Haram.
The poem titled "Gallant Nigerian Army; Our petals of daffodils" echoed the sacrifices of the gallant troops on the frontlines.
Bolaji recalled the havoc-wrecking era where Boko Haram enjoyed a seamless ride in the north east but thanked the gallant troops for finally ensuring "salvation came banging hard and hard".
The Houston Texas-based poet cheekily described the Chief of Army Staff (COAS), Lieutenant General Tukur Buratai as "Shagaban Shoja," who climbed atop the Limankara Hills in bold and blustery affront" to lead the assault on insurgents.
Disclaimer: The views and opinions expressed here are those of the author and do not necessarily reflect the official policy or position of Legit.ng.
Your own opinion articles are welcome at info@corp.legit.ng— drop an email telling us what you want to write about and why. More details in Legit.ng's step-by-step guide for guest contributors.
Contact us if you have any feedback, suggestions, complaints or compliments. We are also available on Twitter.
Read the full poem below:
Darkness reigned, anguish and agonies,
Were crowned kings,
In the famed land of the El Kanemis,
The kingdom of ancient warriors,
And of reverence!
Deaths, and blood and destructions; mid-night
Arsons punctured the serenity of the land of promise,
As the spirit of forebearers, armour bearers and multitudes alike,
Voyaged into the swamps and mesh of the hinterland,
In depressing searching for water to quench their thirst,
Food to fill empty bellies and starving souls,
Wrecked souls, begged for succour on bended knees.
The Shekau boys visited the Northeast lands,
Oh yes! The Boko Haram demons,
Brutal campaigns of annihilation,
In satanic service of paymasters in foreign lands,
Bowing to bizarre and opaque doctrines of extremism,
With slavish and unconscionable candour,
Energized by the might of swords, guns and bombs,
Caused devastating atrocities and ruinations.
In the fury of unrestrained bloodletting,
Wailing children broke the hearts of dying mothers,
Aged adults squirmed in dark tunnels and gulags,
Of Haram captors, slaving and labouring in resigned fate
Only reminiscent of the slave trade of yore.
Survivors sought asylum in familiar and strange lands,
Starved to the marrow and slaughtered,
Like animals laid on the slaughterers' slap,
As Al Barnewi armed gangs nourished freely,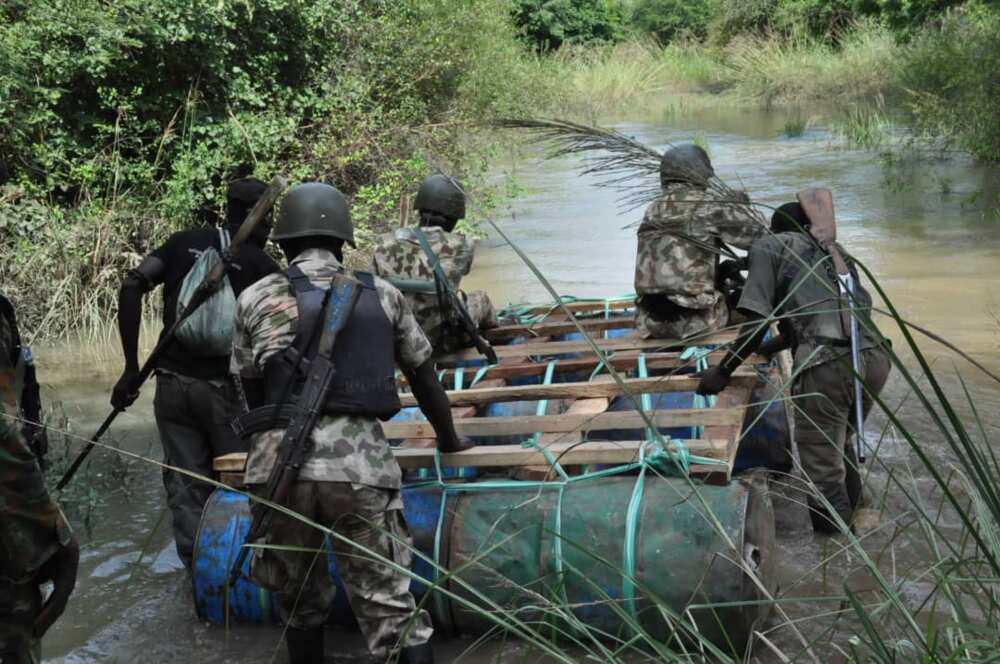 By alien paymasters, in distant lands,
From the greens and oils of the Lake Chad,
Feasted and feasted on human blood,
With sacrilegious impunity on souls and blood of kins.
Fractured social and economic lives,
Spared no foe or enemy,
All were united in grief and sorrows,
Despaired over deaths, abductions and bloodbaths;
The fisherman, crop farmer, cattle rearer,
Or student, traders and kings all soaked in misery.
Northeast forlorn enclaves, communities, villages,
Yearned for familiar faces and shadows,
As Gwoza, Bama, Mongonu and others,
Played host to unwanted hegemonic landlords,
In darkened chambers,
As extremists of the swords, regaled in undulating ambience;
Insurgents made burnfires and carnivals,
Celebrating demoniac victory,
Over children, women and the aged.
Confusion reigned, ennui amplified,
Aso Rock shuddered, and Nigerians bemoaned,
Lonely chirruping birds hovered on deserted lands,
Domestic animals' foraged,
Empty homesteads, in vain search for Amina's grains chaff.
But at last, salvation came banging hard and hard!
On the manacled doors of Northeast,
As soldiers clad in vexation and armoury,
Thrust poisonous arrows and guns at terrorists,
Dispossessed many, grabbed their evil arsenals,
In weeks and months of fierce combats,
Compelling dozens of insurgents,
To forcefully transit their cursed souls into graves,
Gallant Soldiers reclaimed Nigerian territories,
Occupied by the ragtag Armies of the evil sect.
Caged Al Barnewi beckoned to his Iranian masters,
ISWAP arrived on menacingly,
On war chariots, with machine guns and bombs,
But suffered humiliating repression and defeat,
In Tens and thousands of numbers.
Fearful remnants of insurgents,
Reclined into the obscure fortified mazes,
Of the swampy Lake Chad Basin, gasping for breath,
Licking wounds of a mission unfulfilled and doomed.
Yesterday, a dove hovered on the skies,
Flapping its exciting wings in inviting radiance,
On Gwoza, Madagali, Pulka and Bama,
As "Shagaban Shoja," Gen. Buratai,
Climbed atop the Limankara Hills,
In bold and blustery affront and assault on insurgents,
Signalling IDPs to repossess their liberated ancestral lands,
As Royal fathers walked in majestic royalty,
From palaces to soldiers in the frontlines,
In hearty appreciation of gallant Nigerian troops.
Expectedly, scared residues of terrorists,
Recoiled and recoiled and recoiled,
At the sight of Buratai and troops,
On mountain Limankara,
Into the remotely innermost chambers of rugged Lake Chad,
Mission soldiers would have easily cracked,
With a final "kill," and lightning speed, with handy Army helicopters.
But sadly, Army airspace approval is still,
Enmeshed and ensnared by boardroom politics;
Though, there is a season for everything;
Its time would certainly come soon!
We keep a vigil on the pearly gates,
Awaiting this gracious day,'
Of soldiers' final onslaught on terrorists,
PAY ATTENTION: Download our mobile app to enjoy the latest news update
In the land of the famous El Kanemis!
NAIJ.com (naija.ng) -> Legit.ng: Same great journalism, upgraded for better service!
Buhari should put an end to banditry, unrest in Zamfara - Nigerians cry | Legit TV
Source: Legit.ng