Legit.ng weekly price check: Traders in Lagos market reveal new year expectations
- Whilst the border closure is still intact, prices of some goods remain stable amidst trader's expectation this New Year
- A recent survey by Legit.ng at Mile 12 market, the traders lament hard times and economic hardship in previous year
- Presently, there's been no significant improvement in the general price of goods due to the grappling economy as observed in the market
- Buyers and sellers are hopeful of an improved economy this 2020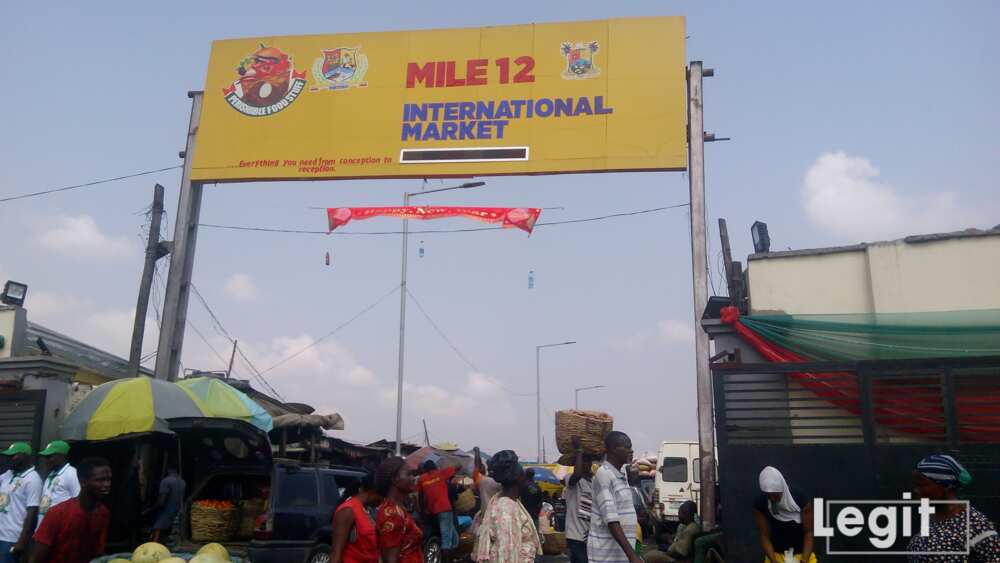 It's a New Year but for some traders in the market, there's been no much difference in the market environment as fluctuation of food prices persists. Some people start the New Year with joy and gladness while others started the New Year in pain, swimming in the pool of lack and financial discomfort but are still hopeful of better days ahead.
Festivity is over and everyone is back to reality but they are still presented with; the high cost of goods in the market and poor market condition due to border closure. In view of this, Legit.ng visited a popular market in Lagos to inquire from the traders their expectation this New Year even as the border remains closed totally.
At the market, some traders are hopeful ahead of the year even as others lament poor inadequate funds, insecurity, bad roads and grappling economy that has resulted to fluctuating prices of some items in the market and increment in others.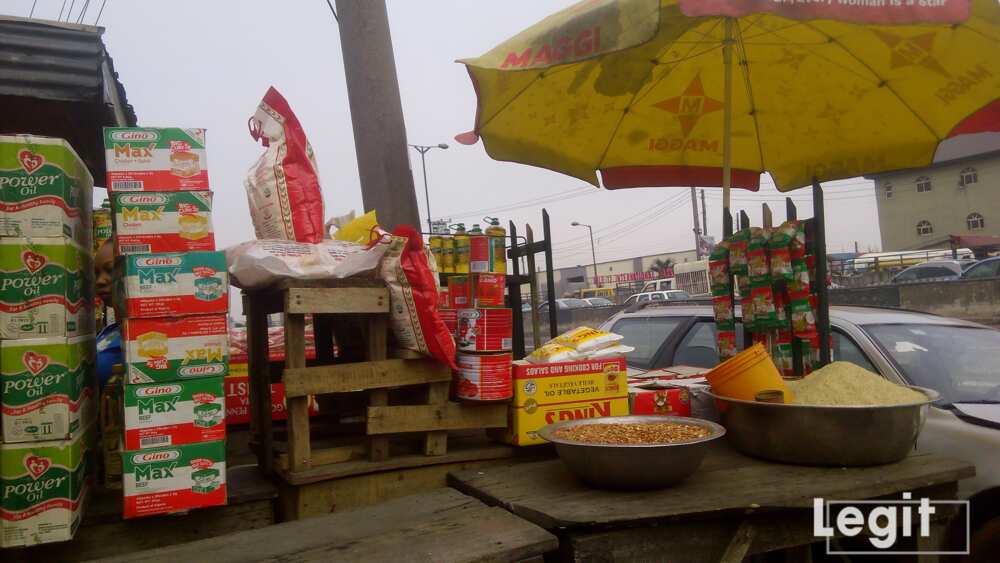 A vegetable seller at the market in a chat with our correspondent revealed the increment in the cost price of vegetable but expects an improved economy.
She said: "Just recently, the cost price of vegetable increased. The ones we purchase for N1,500 now goes for N4,500 while the ones we purchase for N6,500 before has risen to N10,500 now. We are surprised at the increment in the cost price of vegetables especially pumpkin leaf.
"The economy is very weak, the roads are bad, the market environment is dull and we are faced with impoverished people in the land as a country; the government needs to step-up their game this year. People are suffering. There is hunger in the land. We are aware of their efforts so far but it just now adding up with reality. Right now, we are selling below our daily target so we would not run at a loss, yet buyers still lament over the reduction in the quantity being sold.
"This New Year my expectation is for us to have a good economy that would influence the cost price of goods positively that would aid healthy diet in turn promote good life. Also, a favourable weather condition as opposed to the one we had last year and lastly, increase sales so I can be able to expand my business."
For foodstuff dealers, the stability in the cost price of goods has led to increased sales which also double their profit after daily sales.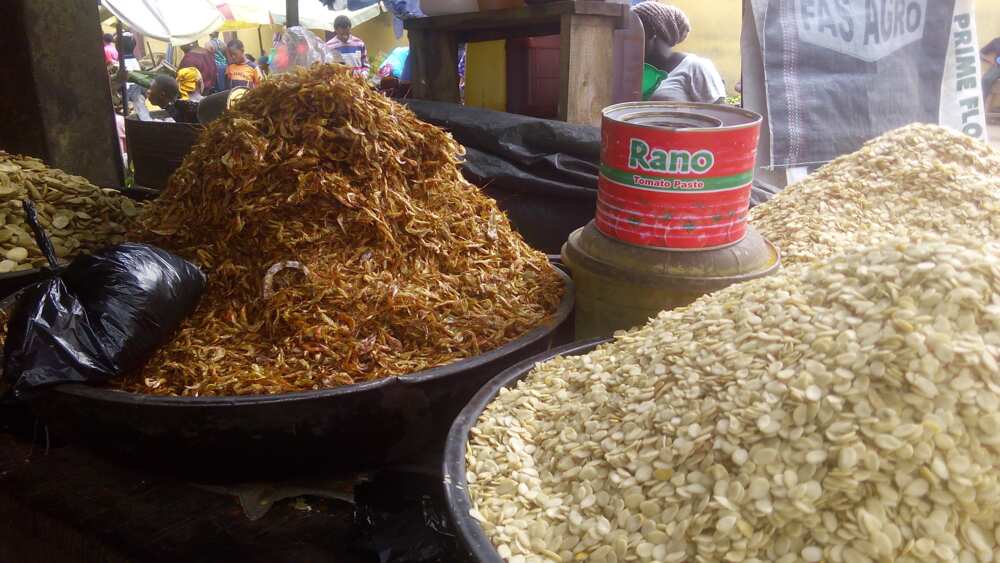 Speaking with Legit.ng, a trader who sells goods like ogbono, crayfish, egusi and dry pepper express satisfaction over the level of sales and shared his expectation for the New Year.
"This government is working and we would not stop encouraging them. From the moment the border was closed, we have seen differences in the availability of goods like ogbono, dry pepper and egusi; they have become very much available leading to a reduction in their cost price; Although, some businesses have suffered major setbacks but for foodstuff dealers, we are not complaining.
"The closure of the border by the government last year till date was a laudable decision and the authorities should be commended because we our business is running smoothly than before. So far, patronage is encouraging and I am sure it will get better each passing day. The year has just begun and we are making good sales already; this is a good sign but one important thing I hope for this year is a better economy; because if the economy is growing, other sectors in the country would be transformed. And for traders, we would make good sales because patronage would increase.
"We have different types of egusi; we have the Igbo egusi, we have the Yoruba egusi, we have the Ijebu egusi and so on. A bag of egusi that was sold from N75,000 before now goes for N60,000, while a bag of Ogbono that was sold from N95,000 upwards now goes for N80,000; this is for the one that draws well and tastes good. Crayfish and dry pepper as well as Cameroon pepper are very affordable and available in various markets," Mr. Ikenna to Legit.ng.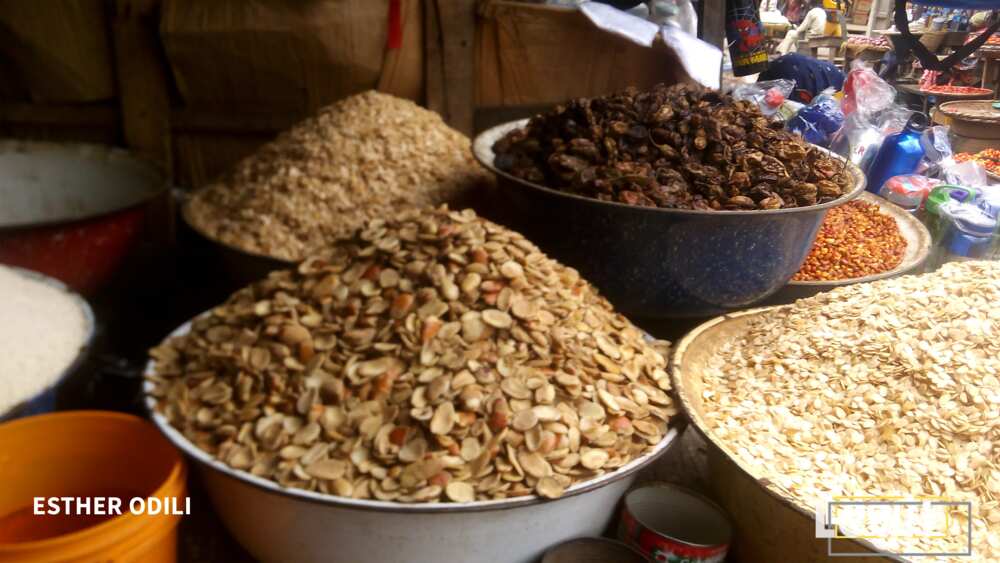 For rice sellers, the market condition is pathetic, as the price of rice remains static and patronage low but they are hopeful. A rice seller, who owns over two shops at the market, revealed the level of sales recently and his hope this New Year.
The rice seller told our correspondent that: "The demand for beans and garri is more than that of rice as the price still remains high. Most buyers still prefer beans and garri to rice considering its price difference. The border closure has affected our business negatively because most of the goods that are banned are still brought into the country. I don't really have expectations but as a trader; three things are important for the growth and survival of my business.
"First, I expect the government to work towards improving the economy. We can see that the economy is very bad and we are yet to see any change so far promised by the present administration since 2015; people are lamenting on a daily basis while traders are only trying so hard to sell off their goods below cost of purchase. But we are sure things would get better. Secondly, this New Year, I expect to make bumper sales and record huge profit so as to keep my business up and running and thirdly, I expect reduction in prices of locally manufactured goods in Nigeria, so patronize us well.
"Now, a small bag of beans goes for N15,000 while a big bag of beans is sold from N20,000. Garri is a bit expensive now and we don't really know why. This week, our suppliers sold to us at a higher rate. A bag of white garri cost N6,500 as against its old price of N4,500 and N5,000 while a bag of yellow garri cost N9,000 as against its old price of N7,000.
"For rice, our loyal customers who are mostly food vendors are the ones who patronize us well but as for other buyers, they buy in small quantity. A bag of Nigerian rice depending on the size and the content as well as the brand can be purchased from N16,000, N17,000, N18,000 and N19,000 while the most preferred Nigerian rice that looks like the foreign rice is sold from N22,000 and N23,000 respectively. Our suppliers still supply foreign rice to us and a bag of foreign rice depending on the brand is sold from N25,000 upwards."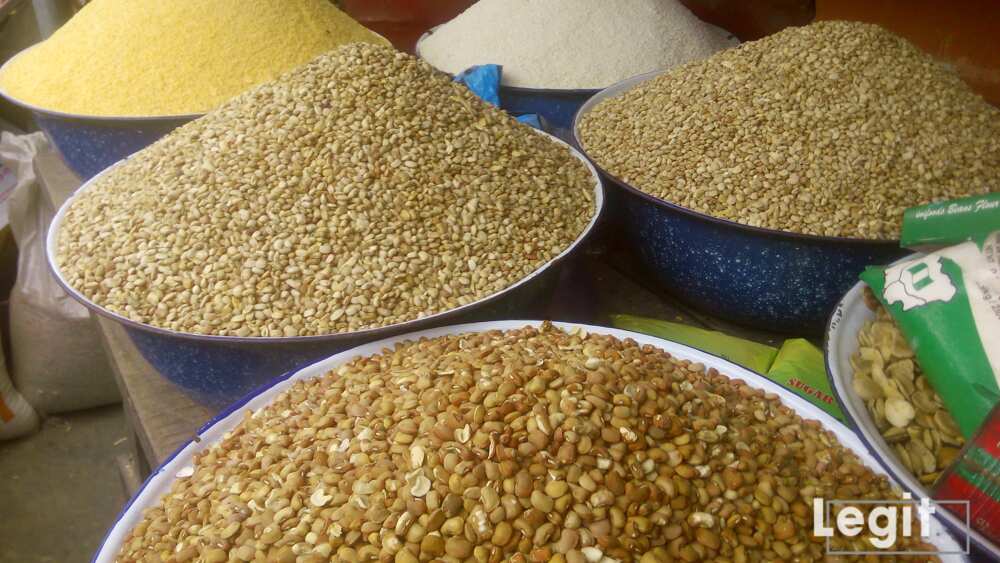 There is fluctuation in the cost price of perishable goods like onion and tomato but pepper is quite affordable. A trader explained to our correspondent the rise in the price of onion and how markets influence the cost price of perishable goods.
She said: "It is not a surprise to us whenever we experience fluctuation in price of tomato and onion because their prices are never fixed and stable but they are still sold at reasonable amount; same with the price of pepper. A big bag of fresh pepper sells from N6,000 , N7,000, N9,000 and N10,000 upwards. While a big basket of fresh and big-sized Hausa, Jos or Benue tomato is sold from N10,000 and the watery tomatoes are sold from N8,000 per basket.
"This week, perishable goods are expensive at Mile 12 market while at Ile-Epo market it is quite affordable. A bag of dry onion cost N25,000 as against its old price of N18,000 but this prices are influenced by the choice of the traders and the nature of supply as well as the market visited.
"As a trader, one major thing I expect from the government this year is to make our roads better. Good roads aid good transport system; they should construct more roads so that transportation of our goods from other state into the market would be cheaper and safer. Also, I expect the government to intensify its efforts and make the economy better than before. More importantly, I expect higher patronage of my goods so I can be able to keep my business afloat. All in all, this New Year, the government should talk less and do more."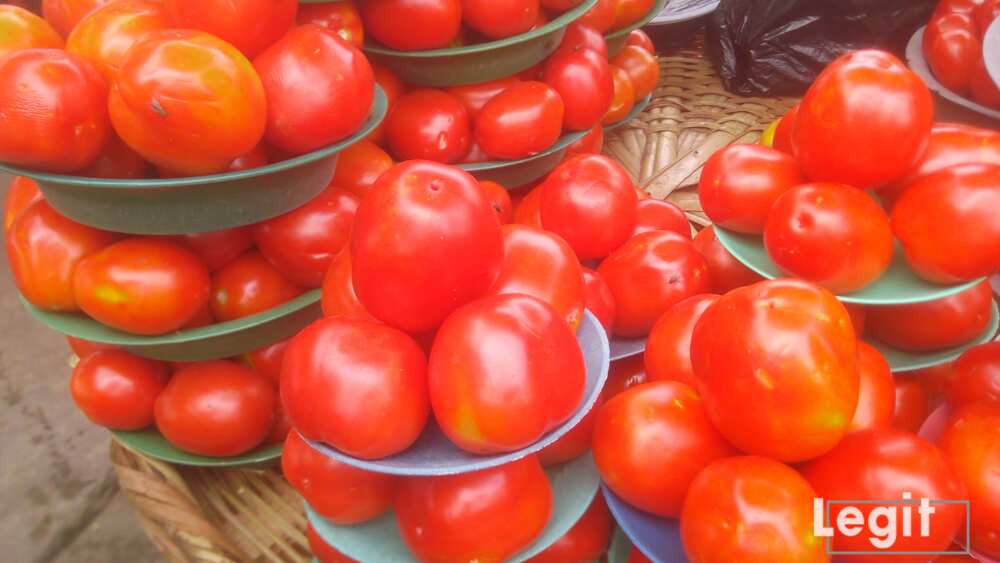 In another development, a trader who sells slippers, sandals and shoes at the market expressed dissatisfaction of sales in the past year but expect better sales this New Year.
Speaking with our correspondent, the trader who sells female items informed thus: "Things are really hard for us now and we only hope this year, things would be different and condition of living and lives would be better. Some of us who in previous years usually stock our shops with new goods during New Year are finding it hard to do so now because most of us didn't even sell off our old goods before the New Year began and we are left with little cash to get new goods.
"Right now, we had to sell our goods below cost price so we can sell fast and then go buy new items and designs for the New Year. As you know, money is very important in almost all aspects of our daily lives and in other for traders to make profit, patronage needs to rise; so the government should address properly the issue of minimum wage and as a businesswoman, I expect bumper sales in my business this year. I also would love the government to make life easy for the ordinary man on the street so they can be able to survive daily, when this is achieved, there would be reduction in insecurity and unemployment we are faced with as a country. "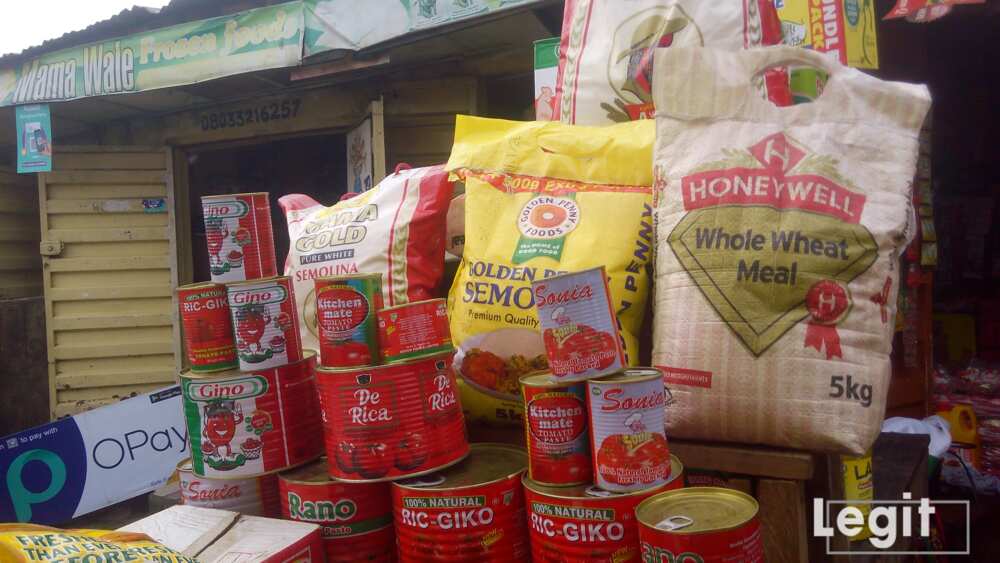 Making the preservation of their goods a priority, a Frozen foods dealer at the market told Legit.ng her great expectation for the New Year, according to her, a stable power supply is as important as life for the sustainability of her business.
She stated that: "This New Year, I expect the government to create an enabling environment for businesses to thrive and ensure adequate security. Another important expectation of mine this New Year is for the government to guarantee improved power supply in the country especially in business environments; we need stable power electricity to run our business smoothly, the government needs to work more on the power sector so that businesses would grow rather than collapse."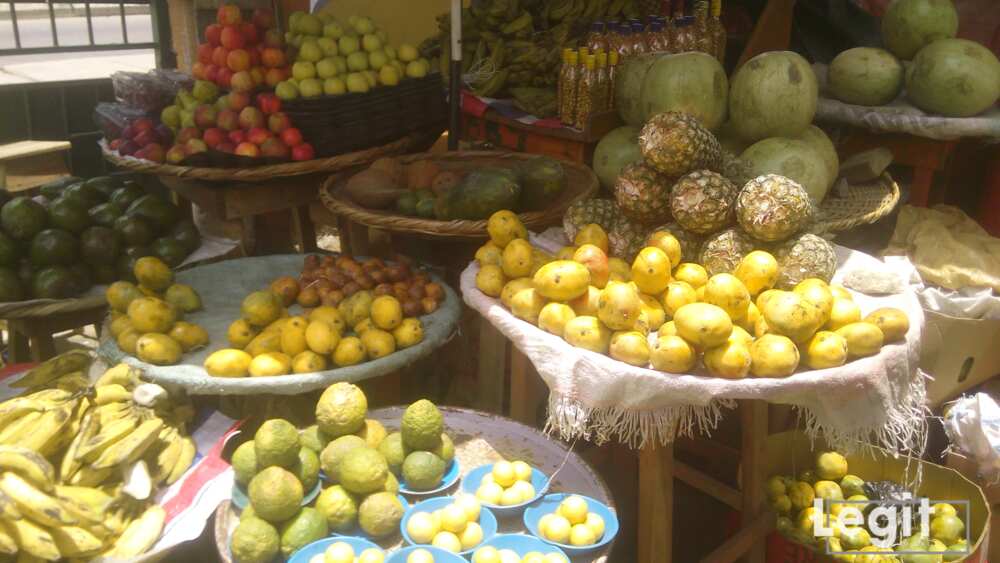 This period, life seems very tough and some families are finding it difficult to feed well, yet buyers and sellers are optimistic that the New Year will bring good tidings. Expressing their views, some traders who pleaded anonymity opined that the previous year was characterized by economic hardship. They concluded that this New Year, if certain steps are not taken by those in authorities, the hardship experienced before would be more and the general populace would be greatly affected.
At the moment, it is evident that the hard times faced by Nigerians last year has influenced their New Year hopes; now, whether their beliefs would be realized by the present day government or not, it is left to be seen how events will unfold in months ahead.
Nigerians share new year, vision 2020 expectations via Legit TV
Source: Legit.ng