Khaligraph Jones - Best Rapper in Nigeria: audio, lyrics, reactions
The brand-new record by Khaligraph Jones - Best Rapper in Nigeria aims to prove that the Kenyan artist is the best in his genre. Indeed, the track is of the highest quality. However, you are the one to decide whether the artist deserves the title.
Press the play button and enjoy the smooth flow and powerful beats of the record.
Khaligraph Jones - Best Rapper in Nigeria description
Release date: January 14, 2020
Format: mp3
Genre: Rap, hip-hop
Length: 3:49 min
Producer: Motif
With this track, the Kenyan rapper proves that he is definitely among the best artists of the genre in Africa. The steady beats and witty punch lines are above all praise.
Khaligraph Jones - Best Rapper in Nigeria reviews and comments
The fans of the artist are supporting him by leaving praising comments on social media. Here is what they have to say on YouTube about this track:
Nicolas Chege: This guy is a genius.
Calistus Vulinder: Best 3 minutes and 50 seconds of my life.
Tariq Aziz: This is what happens when you stand up to your Dad.
Raskidon hiphop: This is fire.
Lakeside Gee: OG shall be respected.
Jasper Ik: I like where this is going.
Khaligraph Jones - Best Rapper in Nigeria lyrics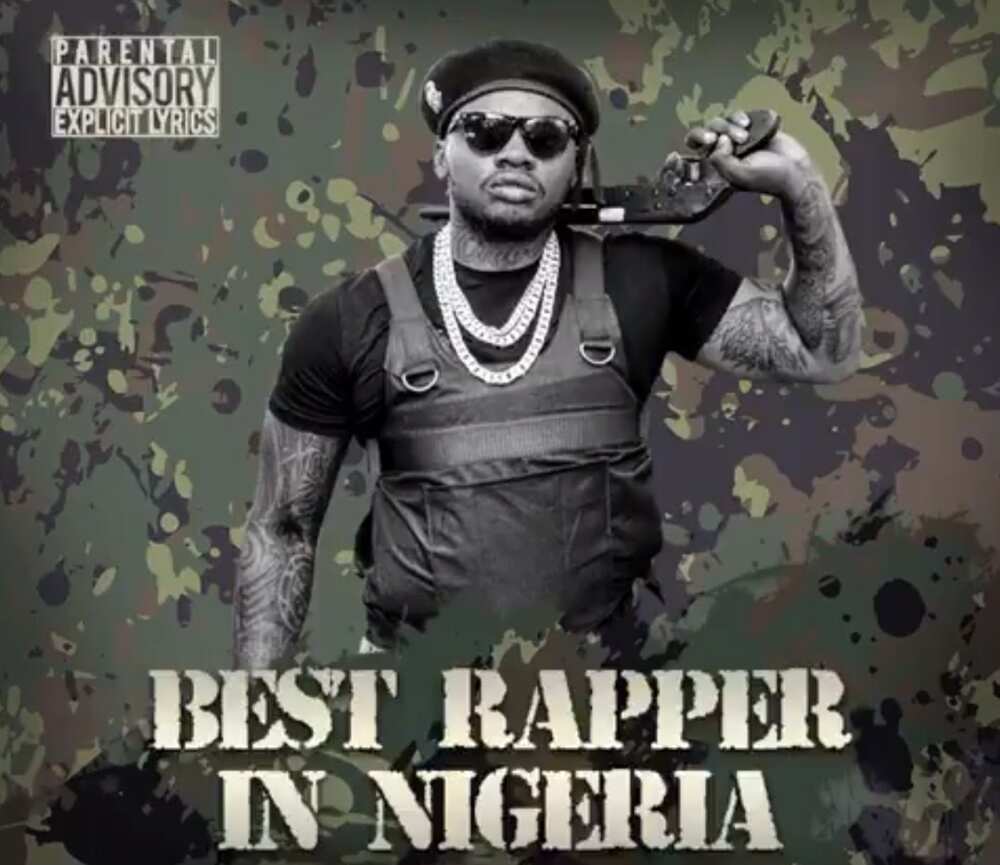 Would you like to sing along to the hit tune by Khaligraph Jones - Best Rapper in Nigeria? Here are the song's lyrics.
[Intro]
Hey
I'm the best rapper in Nigeria right now
I am Nigerian right now
And I'm the best rapper
Motif, what's up
[Verse]
Huh
Guess you the sacrificial lamb
Funny how you tryna get even
They already crowned the king
You should wait for the next season
Your family is about to be left grieving
You're 40 years old
But looking like you still breast feeding
You a snitch in a disguise
Me, I'm happy I'm an OG
I can see it in your eyes
You Tekashi wanna be
Lil Pump, p**sy gang
You a clown to say the least
Nigeria had to send a lesb**n to slay your beast
They told me not to diss you
'Cause nobody know you in your city
Last time you trended
You was in abuja flashing ti**ies
You a b**ch made ni**a
Emotional, learn a lesson
You the '05 Usher
When he was dropping confessions (hahaha)
I spotted you in Lagos
You were seen bragging
In an Uber cab
And I was cruising in a G-wagon
And I couldn't help but pity you
I'd leave it in the past
But it's unfortunate
Your own people treating you like trash (hahaha)
This how i murder handicap clones
Ain't no shame being a trani, Blaqbones (woo woo)
I don't give a f**k
Imma body Blaqbones
Don't ever think you can f**k with Khaligraph Jones
You ain't no lyricist ni**a
Your s**t is a joke
You wanted fire
Now you tryna get rid of the smoke
Best rapper in Africa
I'm considered the goat
Next time, pay your lazy fans
To get them to vote
Was in your hood doing a research
And getting mad answers
They never heard of Blaqbones
The've only heard of black panther (hahaha)
Bam
Tell me how you think you in my level clown
If I was you I would retire and settle down (woo)
Why you looking stressed my amigo
The purpose for this diss is to help boost your ego
Saw your interview, and how you claim to be the next Davido
Then I came and I beat you
Right in front of your people
Now you wearing wedding dresses
D**n, what a shame!
Nigerian rappers used to be hardest in the game
But along the way it changed
Then you stated chasing fame
Fix your lives up before you think of mentioning my name (huh)
Mode 9 and M.I.
Those will be the best (what?!)
Vector tha Viper, he got my respect (yeah!)
Ice Prince Zamani, he's the coldest in the west
The rest are doing afrobeats
Motherf***er, what a mess
It's not that I'm hating
But it's a fact
We see all the new dance moves
But who's doing the rap?
At least Ycee is rapping
And putting y'all in the map
90 percent of you new rapping ni**as sound wack
Now back to Blaqbones
Ni**a, you a done chapter (huh)
I'm taking the top 5
And the rest come after (yeah)
Imma pour gasoline
So I can make you burn faster
You a comedian
Eddi-coco, slushed turn rapper
[Interlude]
Somebody tell Khaligraph
That I was just joking
And his Nigerian brother
I didn't mean to provoke him
[Verse]
So now you wanna reach out
Tryna ring my celli
This is beef
Slim Shady versus Machine Gun Kelly
I was in Soundcity
Making out with some of your hoes
You was in Soundcity
Making out with some of your bros
And i almost approached you
But for real, I was confused
'Cause y'all look like bow wow in 2002
A bunch of skinny little dudes tryna mess with a G (hey)
Even John Cena could't wrestle with me (ha)
OG mother***er, rapping the east
I got conditions just incase you tryna settle this beef
'I wanna be a citizen in Nigeria, f**k a visa
A mansion in the island and about 10 divas
A Bentley and a Porsche
Since I'm coming for the crown'
'Cause I'm the best Kenyan-Nigerian rapper in town
So die ni**a, 'cause your casket closed (huh)
Your fraud a** ni**a, mhn
Your cat's exposed (d**n)
You can never match this flow
And the next time I see you
Imma smack you hoe (brrah)
All the lean and w**d you smoking
Got you hyper than a wh**e
Got the ratchet and a jacket
Leave you lifeless in a mall
Now you on Instagram
Acting righteous than before
Never dropped the ball
F**k, I'm like a sticker when he scores
Let me not see you again wearing those cheap a** suits
At Soundcity, mhn, I almost beat that dude
You weak a** goof mumble rapper
Hit that booth
And if you got some s**t to say
You better speak that truth
Motherfu**er!
The latest jam by Khaligraph Jones - Best Rapper in Nigeria is really impressive. What do you think about it? Tell us in the comments section below. Do not forget to share this article with your friends to keep them updated. Stay tuned!
Source: Legit