Larruso - Killy Killy Remix ft. Stonebwoy, Kwesi Arthur: video, lyrics, reactions
After several weeks of anticipation, you can finally enjoy the visuals for the killer hit by Larruso - Killy Killy Remix. The music video is so enticing that you will not be able to take your eyes off the screen.
This remix of the original track was created by the combined efforts of Larruso and giants of the African music industry, Stonebwoy and Kwesi Arthur.
Larruso - Killy Killy Remix description
Release date: December 21, 2019
Format: mp3, video
Genre: Reggae, dancehall
Length: 3:23 min
Label: Jadon Shatta Entertainment
Director: Abeiku Simonson
The official music video was definitely worth the wait. It matches the mood of the record perfectly. Moreover, the presence of a large number of people makes the visuals interesting to follow.
Larruso - Killy Killy Remix reviews and comments
The new music video and the track itself are causing a buzz in social media. Here are some of the comments people have left on the song's YouTube comment section:
Sani Abubakar Sadick: Stonebwoy really had a good time shooting the whole video. Kwesi Arthur surprised me on this one.
Seyram Sumah: This guy is on fire.
Nas Joe: Now we can't tell difference between Ghana and Jamaica.
Solomon Awamba: Kwesi Arthur is on the different level. Big ups to Stonebwoy for opening the way for this talented young guy.
Yusif Bilal: In fact, the track is a killer one.
Derek Sampong: The definition of the streets!
Christian Okyere: Dancehall song of the year.
Larruso - Killy Killy Remix lyrics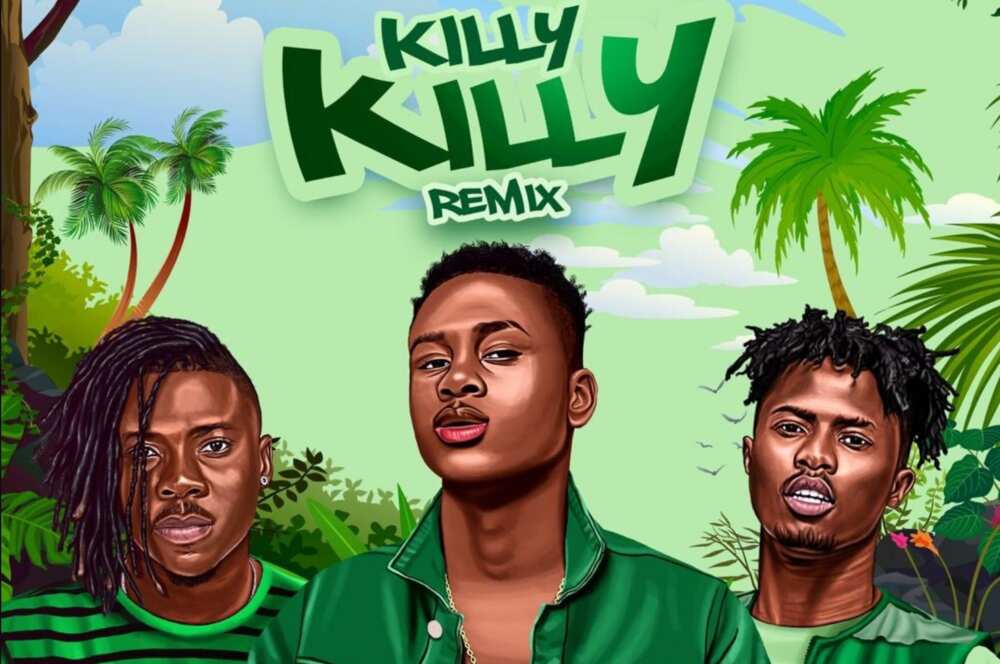 [Intro]
Killy (x4), Didadeee, Dem Dead
Larruso, 1 Gaaaad!
Welcome to Newtown
Eeerh right ya now mi ah go fi dem. Go fi deeeeeem. ah nuh joke you know
Alright then, remix
[Verse 1]
Ah we run de place silence
Dem go see grace and talk say e be clarence
Aaah
Try me then ah violence
Squady seh Killy Killy make we show them badness
Hey
Big men we dey dey cruze wagon
Hey
Chairman go dey foot wagon
Big up the man dem shook 1 don
Jegidi gidi yaabi jadon
[Chorus (x2)]
[Verse 2]
Aaaah we ah go
Kill em (5x)
Dem dead again
Dem dead again!
Larruso, Ashaiman thugs dem Killy Killy
Even the last killer go chop the kulli kulli
We never looooose
Stay winning winning
Ghetto youth stick borga gal
Inny inny init
We nah beg friend, we no get penpal
Wah, BHIM! Accidental
Bwoy violate the instrumental
Better know one God is ah real general
[Chorus (x2)]
[Verse 3]
I dey my side me nah like them at all
Don't you listen to the vibe e be lies dem ah talk
I still dey rise when they want make i fall
Susu pon still dey rise. I dey fly dem dey crawl
Check de settings
Tema wey me repping
Put the whole on me in front of me. Me nah forgetting
The circle you can get in
Larruso we go get de milli milli
Atanfo ny3 nyami dem go dead je gidi gidi
Don't go a place wey dem no know me
Keep pushing bro jee foodi
We all dey see all hypocrisy
Ofaa n3 otootoomi
[Chorus (x2)]
[Verse 4]
We just ah drop Killy Killy like popcaan
Badman
Tell the DJ put it pon ah rewind
Ina the ghetto everybody love me slogan, Mr Big Man, hol' on fi de youth star, hol' on
Make me show dem soo hmm
Seh small boi big god yh mi have so hmm, no chat
Make them know de small boi talking
Yung boss, young lord dem can't show me nothing
The street show me love and mi wan fi show them something
Aaa me dawgs dem strap out
Buss gun and make boy head drop down, quick
Splash fire like ah dragon
Ina them face dem just ah beg seh pardon
[Chorus (x2)]
Larruso - Killy Killy Remix download
If you can no longer imagine your life without this tune by Larruso - Killy Killy Remix, you can add it to your playlist easily by downloading it. Just follow the links provided below to access the track on your favorite streaming service.
The new track by Larruso - Killy Killy Remix and its official music video definitely deserve your close attention. Tell us what you think about them in the comments section below, your opinion is much appreciated. Do not forget to share this article with your friends and stay tuned for more updates about your favorite musicians.
Source: Legit.ng