- Catholic's John Cardinal Onaiyekan says Nigeria has continued to drift in the way the country is run
- Noting that the country's democracy is in danger, Onaiyekan notes that Nigeria is being held together by the prayers of the poor
- The top clergyman mentions five issues he would discuss with President Muhammadu Buhari if they meet
The emeritus Catholic archbishop of Abuja, John Cardinal Onaiyekan, has warned that Nigeria's democracy is in danger, especially with the way it is handled by the country's leaders.
Cardinal Onaiyekan said the country should be ashamed that it still carries out with anti-people policies and actions that retard its progress.
He added that Nigeria has continued to survive only due to the prayers of the poor innocent citizens, who God had listened to and who would bear much of the consequences should there be any unrest.
Onaiyekan further described the recent governorship election in Kogi as charade that should not happen in the country.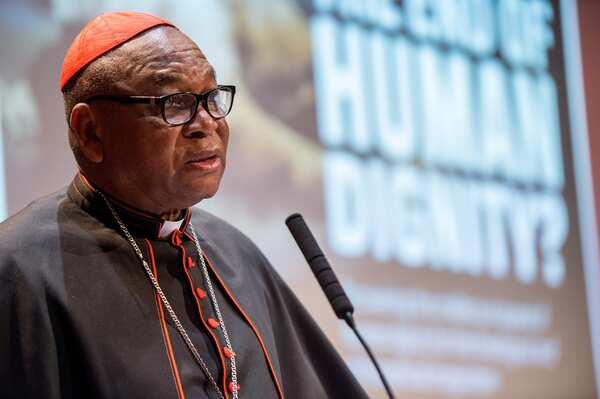 "As far as I am concerned, it has been one failure after the other. You referred to the Bayelsa and Kogi elections. I don't think there was any election in Kogi state that was as bad as that one.
"We can continue in denial, thinking that that is how things should be or that is the best we can do. This is not the best we can do; this doesn't represent us, Nigeria," he said.
He also stated four issues he would bring up if he has opportunity of a one-on-one meeting with President Buhari as outlined below:
1. The despite the Supreme Court judgement affirming him president through the 2019 election, many Nigerians do not believe the election was free and fair because the rules of governance and democracy are not properly followed. This is having a negative impact on the government.
2. Stop lamenting that Nigerians are always complaining, do the right thing. If the right things are done, there will be less complaints and government will move smoothly.
3. Nigerians are not difficult to rule. It is the rulers who are making things difficult for everybody.
4. Religion remains important in the scheme of things in Nigeria. "You cannot say it doesn't matter whether the person there is a Christian or a Moslem. You can't say that. You must include that in the way you distribute positions of authority just as they have put the federal character in the constitution. Despite what is written in the constitution, of course, we seem to be even still at a situation where a large chunk of the very sensitive positions in Nigeria are going in one direction."
PAY ATTENTION: Install our latest app for Android, read best news on Nigeria's #1 news app
5. Let him know that those who are accusing him all this time are not talking for no reason at all. The fact that we are not saying those things loudly because we want a little, minimum of peace to reign in the land, does not mean that the country is at peace.
Legit.ng earlier reported that President Buhari recently promised that he will not relent in running his office in line with the dictates of the Nigerian constitution.
The president said that he will continue to do his best to see that his administration utilises the nation's resources to build infrastructure for the people.
NAIJ.com (naija.ng) - Legit.ng. We have upgraded to serve you better.
Man vows to vote President Buhari for a third term in office | Legit TV