- Former vice president, Alhaji Atiku Abubakar is concerned about the endless borrowing by the Nigerian government
- Atiku warned that the consistent borrowing by the government will lead to endless sorrowing if not addressed
- Nigeria has taken almost as much foreign debt in the last three years, as she had taken in the thirty years before 2015 combined
Former vice president, Alhaji Atiku Abubakar, has warned that endless borrowing by the Nigerian government will lead to endless sorrowing if not addressed.
Atiku, the Peoples Democratic Party presidential candidate in the 2019 general elections, stated this on Tuesday, December 17 in a post on his Facebook page.
Barely two weeks ago, Atiku had warned that Nigeria had taken almost as much foreign debt in the last three years, as she had taken in the thirty years before 2015 combined.
He said the situation is frightening, "not just because of the amount, but because after such unprecedented borrowing," adding that "we have emerged as the world headquarters for extreme poverty and the global capital for out of school children."
"It begs the question: what were the funds used for?" he queried.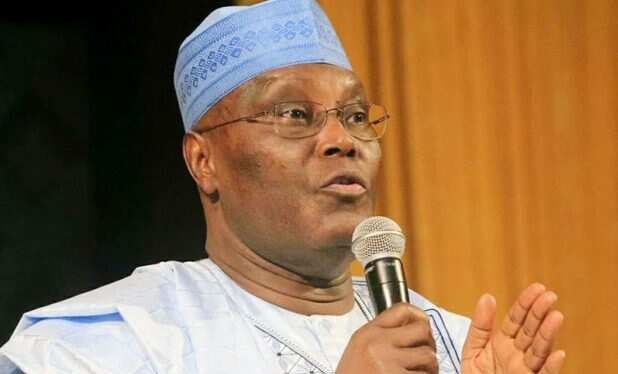 PAY ATTENTION: Download our mobile app to enjoy the latest news update
He continued: "We must all ask questions because if they throw away the future, it is not going to be their future they are throwing away, it will be all our futures.
"The fact that Nigeria currently budgets more money for debt servicing (₦2.7 trillion), than we do on capital expenditure (₦2.4 trillion) is already an indicator that we have borrowed more money than we can afford to borrow. And the thing is that debt servicing is not debt repayment. Debt servicing just means that we are paying the barest minimum allowable by our creditors.
"And while spending 50% of our current revenue on debt servicing, this administration wants to take further loans of $29.6 billion! To say that this is irresponsible is itself an understatement.
"Even if this administration borrows $1 trillion, it will never be enough because their challenge is one of capacity. They are not using the funds they already have wisely. They do not need more debt. They need more intellectual capacity."
He stated that rather than profligate borrowing, what Nigeria needs to do is restore investor confidence in the economy.
"Key to that is respecting the independence of key institutions, such as the judiciary and the Central Bank of Nigeria. Both of these institutions are now the captives of Buhari and his cabal, and though they are loathed to admit it, they cannot take one step without watching their backs," he added.
He also noted that foreign investors leaving Nigeria for Ghana because, unlike Nigeria, Ghana has learnt how to divorce key institutions from politics.
"I was part of a team that paid off Nigeria's entire foreign debt. I, therefore, cannot sit and watch an administration without vision squander our children's future by taking and wasting loans that they do not even have the capacity to utilise properly.
"President Olusegun Obasanjo and I paid off this nation's debt, and I will not stand idly by and watch while Nigeria is plunged into second slavery by those who only know how to reap where they have not sown.
"Our youth must have something better to inherit from us than unsustainable debt-fuelled by insatiable greed. That is why I call on the Senate of the National Assembly to show loyalty to Nigeria and reconsider its decision with regards to approving Buhari's $29.6 billion loan request," he concluded.
Recall that the International Monetary Fund (IMF) recently warned that Nigeria's debt to gross domestic product (GDP) ratio at 28% had increased but is still below average in the sub-Saharan Africa and Africa region.
Amine Mati, the IMF senior resident representative and mission chief for Nigeria made the disclosure in Lagos on Wednesday, November 27, during a public presentation.
He urged the federal government to increase its drive to create more new jobs and revamp its fiscal consolidation, noting that the country's GDP was low.
NAIJ.com (naija.ng) -> Legit.ng: Same great journalism, upgraded for better service!
How Nigerians should fight corruption - civil society group | Legit TV