Nigeria is a country with many prophets, prophetesses and general men of God. These clerics on a yearly basis reveal 'God's mind' to their followers and the year 2019 was not exempted as these God sent men made a series of prophecies in the name of God.
In this report, Legit.ng examined some of the failed prophecies of these men of God especially in the area of politics.
Legit.ng also wants you to know that this report is not to disparage or discredit any individual cleric.
Legit.ng understands that most of these clerics add caveats to their prophecies, something like - Let us pray against this and that not happening. According to them, prayers can avert these prophecies from coming to reality.
Prophet Emmanuel Omale
Prophet Emmanuel Omale is the Founder of the Divine Hand of God Prophetic Ministry, Abuja. According to PM news, the man of God made the declaration as part of his 36 prophesies for the year 2019.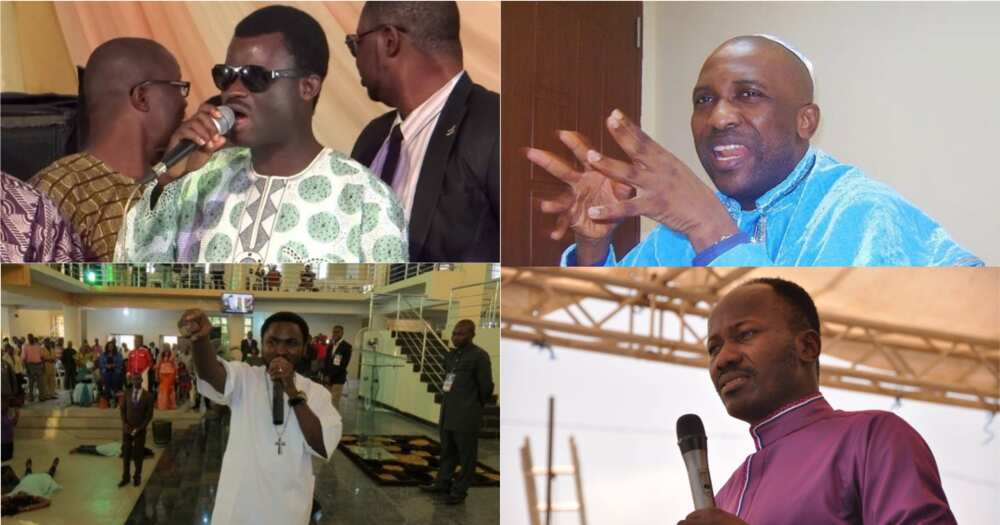 1. All service chiefs will be changed to avert a likely mutiny.
This is a failed prophesy. The president has not changed his service chiefs. And above all, there is no mutiny in the Army.
2. The fight to eliminate and discourage corrupt practices will get a boost as I see the current chairman confirmed, but he must exercise care among his trusted lieutenants against sabotage
By this prophecy, we believe that the cleric is referring to the acting chairman of the Economic and Financial Crimes Commission (EFCC), Ibrahim Magu. (A note here) The 8th Senate under Bukola Saraki refused to confirm him as the chairman of the anti-graft agency.
Going back to the prophecy - This prophecy is a failed one because Ibrahim Magu, as 2019 draws to a close, has not been confirmed as EFCC boss.
3. The government should handle the Shiite uprising carefully as I see the balls of fire in various cities in the country as a result.
Though there were protests here and there, largely in Abuja, there were no balls of fires in various cities.
So, this prophesy failed.
4. We should pray for the military. I see the junior officers killing the generals. A lot of them will run away from the force.
Except if it is prayers that stopped the mutiny, junior officers did not kill generals. The prophecy failed.
5. An ex-governor may be jailed, a serving governor will be impeached
A curious prophecy. It was partly true and partly false. An ex-governor of Abia, Orji Uzor Kalu was jailed 12 years for diverting state funds for his personal use. But the false aspect of the prophecy is that no serving governor was impeached in the year 2019. Only, a serving deputy governor was impeached.
6. The APC leader, Asiwaju Bola Ahmed Tinubu requires urgent and fervent prayers against an illness that can incapacitate him.
As far as 2019 is concerned, Bola Tinubu is not incapacitated. In fact, according to his supporters, the APC national leader is even dreaming of the presidency in 2023.
This prophecy is fake... or maybe prayers changed it - who knows!
7. A party chairman and his wife should pray against sexual scandal
Here is another curious prophecy. A party chairman. what kind of party chairman? National chairman? State party chairman or local government party chairman?
Anyway, this prophecy is a failed one. No party chairman was involved in any publicised sexual scandal in the year 2019.
8. Atiku will show amazing efforts in the coming elections but I see President Buhari ruling again. However, President Buhari would require serious prayers for his health as this could be an avenue to sway a judicial victory in favour of Atiku.
Using the word 'curious' for this audacious and brilliant prophecy will be an 'under kill'. Moreover, we cannot rightly define the amazing efforts Atiku was meant to show during 2019 presidential election so we will leave it at that.
But, one fact stands out, President Muhammadu Buhari, before, during and after the 2019 presidential election, was in fantastic health condition.
In fact, the president visited all the states in the country including the federal capital territory to campaign for his reelection.
This prophecy deserves an Oscar.
9. Dogara, the House of Reps speaker needs to work harder to return to the National Assembly.
This is a failed prophesy. Dogara not only won Bogoro-Dass-Tafawa Balewa constituency of Bauchi in February, he even played a key role in the emergence of the state governor.
10. Adamawa is still APC while Taraba is PDP
Interesting prophesy! The PDP won Adamawa and the PDP also retained Taraba. Half true, half false.
Prophet Moses Muyideen Kasali
Moses Muyideen Kasali is the general overseer of The Mountain of Mercy (aka Ori-Oke Alaseyori Church) of Moniya area of Ibadan, Oyo state.
10. According to him, if President Buhari opts to seek re-election, he would be defeated.
This is a failed prophesy. President Muhammadu Buhari was not defeated.
Apostle Joshua Mone
11. The general overseer of Voice of Liberty Intercessors Ministry in Delta state, Apostle Joshua Mone says: "I see the nation Atikulated in 2019."
This is a failed prophesy. Nigeria was not articulated. In fact, Atiku is not coming. The Supreme Court stopped his journey in a controversial but landmark judgment.
Johnson Suleman
Suleman is the senior pastor and general overseer of Omega Fire Ministries International.
12. 2019, a shock for governors
No "shocking shockers" for Nigerian governors in 2019. Maybe in 2020. Who knows!
13. Muhammadu Buhari needs prayer, please sir, go and rest
Is this a prophecy? No! Opinion, yes.
Primate Ayodele
Ayodele is the founder, INRI Evangelical Spiritual Church.
14. PDP will win in Kwara
False. APC won Kwara.
15. There will be a mutiny in Army
False. There was no military mutiny in the Army in 2019
16. California will break from the US
California is still part of the United States of America. Maybe next year.
PAY ATTENTION: Download our mobile app to enjoy the latest news update
Meanwhile, Legit.ng reported that a cleric, Pastor Isaac Ogbah, advised churches across the country to put in place security measures that will check incessant attacks by insurgents.
NAIJ.com (naija.ng) -> Legit.ng. We have upgraded to serve you better
Primate Ayodele releases 2019 prophecies, says B/Haram will infiltrate the army on Legit.ng TV