Cardi B reacts after fan said her parents won't allow her attend her show
American rapper Cardi B has reached out to young Nigeria lady who took to social media to cry her eyes out over not being able to see the international star.
According to the young lady, her parents wouldn't allow her go for the superstar's show because where she is from, they do not allow women express themselves. She went on to say how huge it is to have Cardi B, her favorite rapper in Nigeria and she can't still see her. This she revealed in a video as a social media post.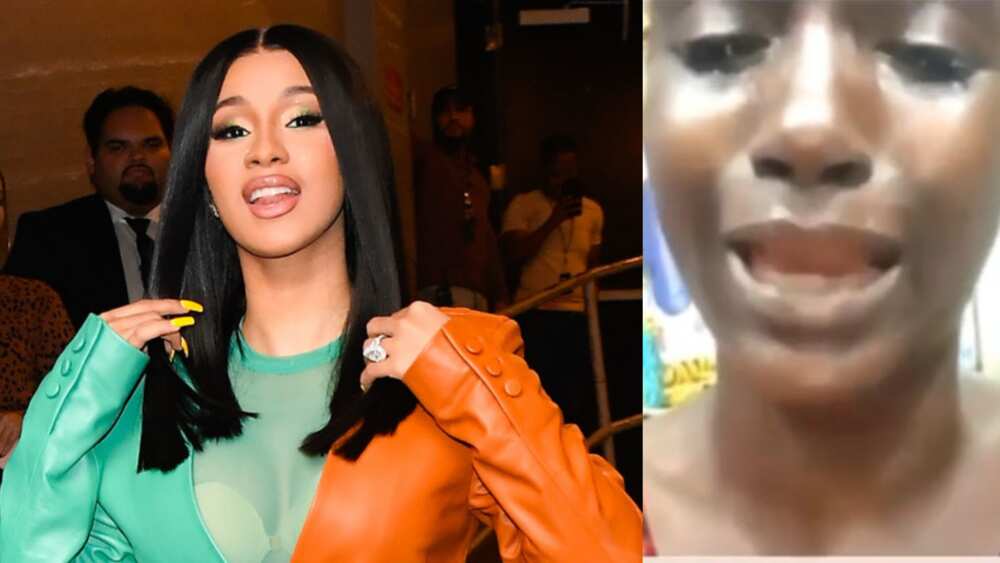 The delectable 27-year old mum of one has now reacted to the young lady's public outcry on her instastory. She publicly begged her parents to allow her come to her show and then went on to promise she will be back home safely. She also said she will treat her l;ike she treats her little cousins.
READ ALSO: Cardi B rocks Nigeria's green and white colors from head to toe during her performance (photos, video)
Cardi B wrote:
"This makes me sad. Please parents let her come to my show. I understand why parents are strict with their children it's only for protection but I'II make sure she'II get home, don't get in trouble and don't leave my sight. I'LL treat like I treat my Lil cousins and I'm very tough on them. I'll give her 5 tickets to the concert, including the parents."
Since the rapper's arrival in Nigeria, she has been dazzling onlookers. First, she took up a Nigerian name, Chioma B, which got fans laughing. Then, she decided to storm a supermarket in Lekki, bought Children's daily needs worth millions of naira and then donated it to an orphanage. Kudos to her!
Slimcase at Star Chat - Expect my Collaboration with Cardi B | Legit TV
Source: Legit.ng