Ajebutter22, BOJ, Falz - Ronaldo: video, reactions
Wondering what the latest buzz in town is all about? Then, you have probably not heard about the brand new track by Ajebutter22, BOJ, Falz - Ronaldo. Waste no time and catch all the latest details about the record and possibly add it to your playlist.
What comes to mind when three top musicians join heads to come up with a hit? This cannot go wrong in any way. The banger by Ajebutter22, BOJ, Falz - Ronaldo is no doubt a great one because the combination brings on board creativity, style, and character. If you love pop music, then this one will not go unnoticed.
Ajebutter22, BOJ, Falz - Ronaldo description
Release date: November 28, 2019
Format: Audio/Video
Genre: Pop
Length: 3.43 minutes
Producer: Ladder, Lex and Booker
The song's video portrays the lavish lifestyles of the musicians in Oko Town, Nigeria. It shows different activities they engage in to earn a decent living and lead a luxurious lifestyle. Credit goes to the video producer for the excellent visuals and powerful beats of the song.
Ajebutter22, BOJ, Falz - Ronaldo reviews and comments
Going by the comments on YouTube, this track is fabulous. Fanatics are quick to point out their best lines of the song and praise the artists. Here is a sample of the comments on YouTube.
Dudulewami DLM: BOJ's gentle husky voice, Ajebutter and his talk-singing voice, Falz with the creativity, talent and much more.
chinedu obuekwe: "Me, Ajebutter, Boj, what a collabo" what a collabo indeed
Agama Peter Lucky: I see the triple exploding the entire music world with their genius styles just like Burna boy.
Alimoh Adeola: Mr falz... this ur New customized look is poster of who want to see 2020 o
Desola Williams: Boj's voice is so soothing...The three of them sound like a cocktail of sweet voices! Lov 'em all!
Emmanuel Faith: Falz has deep metaphorical lyrics, And the use of outfit in this video is classic. Kudos to their wardrobe manager.
Onuwaje Tuale: The beat is dope, they all killed it
Ajebutter22, BOJ, Falz - Ronaldo download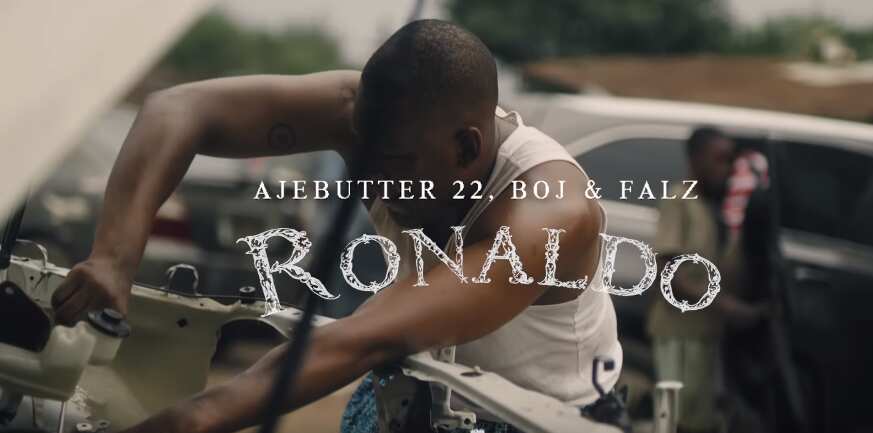 Are you interested in adding this fabulous song to your playlist? Well, it is already available for download on different reputable sites. Use the following links to download the song.
This latest track by Ajebutter22, BOJ, Falz - Ronaldo is truly amazing. Everything about it is marvelous. What is your opinion about the track? Does it meet your expectations? Do not hesitate to express your thoughts in the comment section below. Share this post widely with friends.
Source: Legit.ng