- Nigerian artist John Amanam is one person who is taking practical steps towards assisting people who have missing body parts
- Amanam is a sculptor who creates realistic body parts
- The brilliant artist is a graduate of fine and industrial art from the University of Uyo
A talented Nigerian artist identified as John Amanam has invented a method to create hyper-realistic body parts which he says can be used for people with missing body parts.
Amanam who hails from Akwa Ibom state is a creative sculptor with a myriad of mind-blowing oeuvres to his credit. Apparently borne out of his avidity to add value to lives, he recently launched his prosthesis for people who have lost their body parts.
The young brilliant artist is the first Nigerian to produce this cosmetic art. According to Amanam, he faced difficulty in getting the machines he uses to create his art which actually solves a problem for millions of people in the country. However, the difficulty did not deter him and now, he has perfected making realistic body parts for people who need it.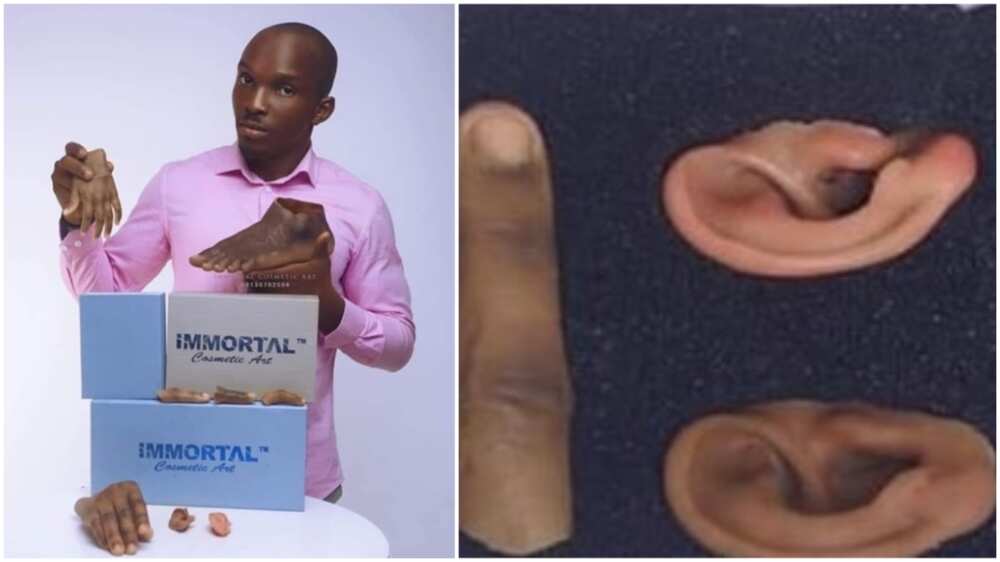 While speaking with Legit.ng, Amanam revealed that he can make a replica of any lost body part ranging from ears, nose, arms, fingers to toes and even legs. According to him, he also makes artificial hair for bald persons. He also takes the tenacity in making matches to any skin colour to suit his clients' specifications.
His creations are also affordable compared to other places in the world. It costs between $10,000 and $100,000 to get prosthetic limbs anywhere in the world, but according to Amanam, his clients can pay as low as N250,000 to get artificial legs or arms and a paltry sum of N35,000 for other minor body parts that look and feel exactly like a real human body.
John Amanam intends to open a factory in Akwa Ibom state from where he would produce the prosthesis in large quantity for exportation to other countries.
Meanwhile, a man with multiple learning disabilities successfully graduated with a PhD from the Wilmington University in New Castle, Delaware.
He is reported to have been bullied several times due to his disabilities. However, he went on to thrive against all odds and The Dr wrote a book on his life story titled In A Class Called Special
PAY ATTENTION: Read best news on Nigeria's #1 news app
Do you have news to share? Contact Legit.ng instantly
Meet 19-year-old student of medicine and surgery who is also a super-talented painter on Legit TV: