The new hot record by Davido - Sweet in the Middle will make your body move to the catchy beat. The track's powerful beats are utterly irresistible, especially for lovers of the Afrobeat genre of music.
The brand-new jam comes from the latest album by the artist called A Good Time. The track was created in collaboration with different stars, among them Wurld, Naira Marley, and Zlatan.
Davido - Sweet in the Middle description
Release date: November 22, 2019
Format: mp3
Genre: Afrobeat
Length: 4:08 min
Label: Davido Worldwide Entertainment LLC under exclusive licence to Sony Music Entertainment UK Limited
Producer: Shizzi
The track is pure fire. Everything in it, from the beats to the lyrics, is well done. This record undoubtedly deserves to be the next ultimate banger in Africa and beyond.
Davido - Sweet in the Middle reviews and comments
If you would like to know what others think about this song before making your own opinion, here is what YouTube users say about it:
zeelover vevo: Best song I ever heard this year.
Odus Aiguobs: I just can't wait to see the video.
Omotoyosi Joyce: This album got me mad, I love it.
Kefe Tjey: This song is lit.
Oracle Israel: Another brilliant tune. Good job.
Akande Jubril: Naira Marley gets manners on this one, I swear.
Bigjob E: They all murdered the song.
Okpala Chidubem: All the tracks on A Good Time album are well made.
Davido - Sweet in the Middle lyrics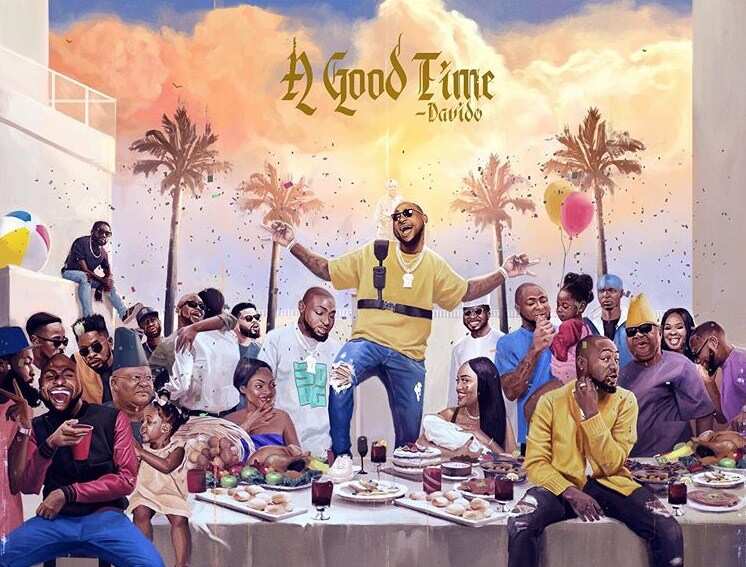 [Intro: Wurld]
Ma pami o my baby o
This one na waterfall
Ma pami o my baby o
In the middle I fall
[Verse 1: Davido]
Malole
Maloleoti wole
It's 5 only swing my way
Henny dey o, for vibes only o
You're doing things I've never seen before ah
Way you put on me all night long ah
You're the one I've been wishing for (Oya o)
[Bridge: Davido]
Tell your friends we're going for a ride (Oya o)
The party's at my crib it's starting now (Oya o)
Our bodies do the talking all night long
You can find me in the middle
I go die for the middle, cause e dey...
[Chorus: Davido]
Sweeter for middle you know (You know, you know)
Come to the middle you know
Make I kiss am for middle you know
All the boys pon de middle you know
Sweet in the middle, come for the level
Sweet in the middle, no other level
Come in the middle
[Verse 2: Naira Marley]
Sweet in the middle
Can you do a split in the middle?
Sit in the middle
I just wanna chuk you like needle
I get money, can you tell?
World boss, Vibez Cartel
Who me? Of course I care
After party you can share my bed
Party time 30BG (Gang)
Pull up MBG (Gang gang)
Gave me the p**sy cause I'm such a G
D**k so good she don' wanna leave
Baddest!
[Bridge: Davido and Wurld]
[Verse 3: Zlatan]
Ayii!
Astalavi, Give them
Ah Say
You no go kill person (Kill person)
Laleyi you go learn lesson
Woni kini abe yen owa juicy gan
Timi de shey wayi mowa tasty gan
Jekin gbenu si jor jekin penetrate
Wolo yummy yummy
Lemme have a taste
Ishe toki todun biti Gelato
Ma bother boh baby owo wa l'opa
Nowo nowo lawa nibi ti wa
Olosho de yapa t'emi tila
Ashanatu timba t'emi ti sha
Sugbon ojo timo tiri ee bayi loju mi ti ka
Kori kosun
Ife yi kpoju
Padi dami lohun o baby o poju
Kamakazi on a ketro level
Won le ti fe erei
This one na another level
[Chorus: Davido]
[Verse 4: Wurld]
Do it with the lights on
Wanna see you with the lights on
Don't wanna start the vibes wrong
I'm on your case till the tides come
You are my sweet potato
Gimme your love I gentle
Say make we meet for middle
You want my full attention
You know that I like it
And you know I never fight it
Hope you don't mind if I bite it
Don't wanna get too excited
Hope you don't mind if I bite it
Don't wanna get to excited
[Bridge: Davido]
Davido - Sweet in the Middle download
If you like the record and want to add it to your playlist, you can download it easily by following the links provided below.
The new track by Davido - Sweet in the Middle is a hot banger that will conquer your heart. What do you think about it? Tell us in the comments section below. Do not forget to share this article with your friends. Stay tuned for more updates about your favorite musicians.