Numerous people across the world are familiar with the long-running reality television show, Keeping Up with the Kardashians. Khloe Kardashian is one of the stars in this reality show. She is an American reality television star, media personality, model and socialite. Most of her life is in the public eye.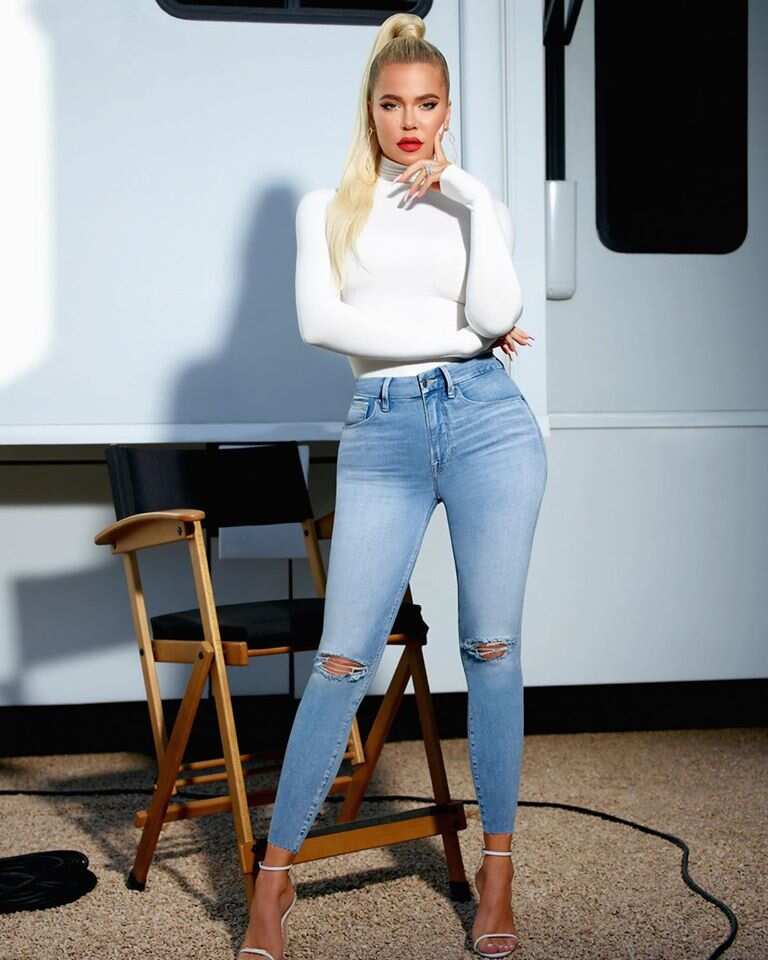 Khloe Kardashian was born to Kris Jenner and her late first husband, Robert. How old is Khloe Kardashian? She was born on the 27th of June 1984, in Los Angeles, California, United States of America. Presently, Khloe Kardashian age is 35 years. Her zodiac sign is Cancer, and her nationality is American.
Profile summary
Name: Khloé Kardashian
Nicknames: Baby K, Khlo, Kokes, KoKo
Age: 35 years
Date of birth: 27th of June 1984
Place of birth: Los Angeles, California, United States of America
Zodiac sign: Cancer
Nationality: American
Father: Robert
Mother: Kris Jenner
Sisters: Kourtney and Kimberly
Brother: Rob
Half-sisters: Kendall Jenner and Kylie Jenner
Step-brothers: Burton, Brody and Brandon Jenner
Step-sister: Casey Jenner
Daughter: True Thompson
Marital status: Divorced
Profession: Reality television star, media personality, model and socialite
Net worth: $40 million
Khloe Kardashian's family background
The socialite is the third child of Kris Jenner, who is currently her children's manager, and her late ex-husband, Robert, who worked as an attorney. Her older sisters are Kourtney and Kimberly. She also has a younger brother named Rob. Kris is of Dutch, Irish, English and Scottish ancestry. Her father was a third-generation Armenian-American.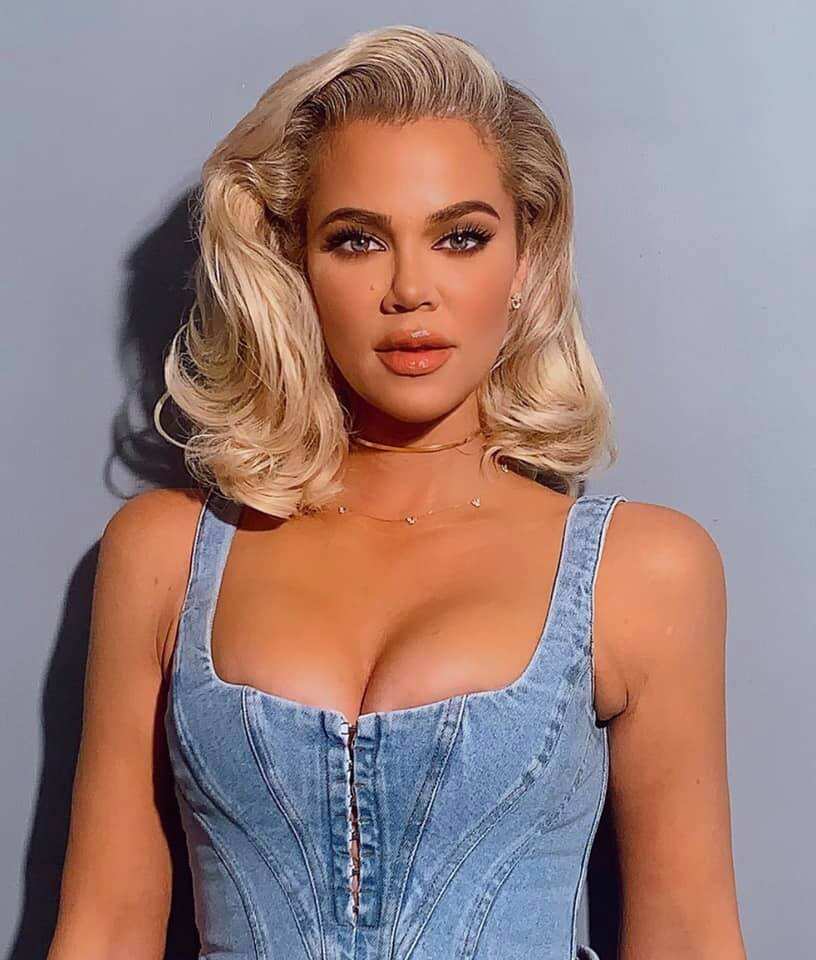 Kris and Robert got divorced in 1991. She got remarried to Caitlyn Jenner (formerly Bruce Jenner). Together with Caitlyn, Kris gave birth to Kendall and Kylie Jenner, who are Khloe's half-sisters. She also has step-brothers Burton, Brandon and Brody, and a step-sister, Casey, from Caitlyn's previous relationships.
Khloe Kardashian height & other body measurements
The socialite is quite tall. Her height is 5 feet 9.5 inches (1.77 metres/ 177 centimetres). Her weight is hard to establish because she is often on a weight loss journey. Her body measurements are 35, 28 and 41 inches for her bust, waist and hips, respectively. Khloe Kardashian hair is light brown in colour, and her eyes are green. She wears shoe size 10 (US), and dress size 12 (US).
Education
The socialite went to American schools. In her teenage years, she went to a Roman Catholic school, Marymount High School, which was for girls only. She was in the institution for a short while before she enrolled in a home-based school. She earned her GED at the age of 17 years.
Career
In early 2007, a sex tape that was made by her sister, Kim, and her former boyfriend, Ray J, was leaked online. This thrust the socialite and her entire family into the limelight. Later in the year, the family was commissioned for the reality television show, Keeping Up with the Kardashians, which has been running from 2007 to date. The family also cashed in on product and brand promotions such as Coca-Cola, waist-slimming pants and different beauty products.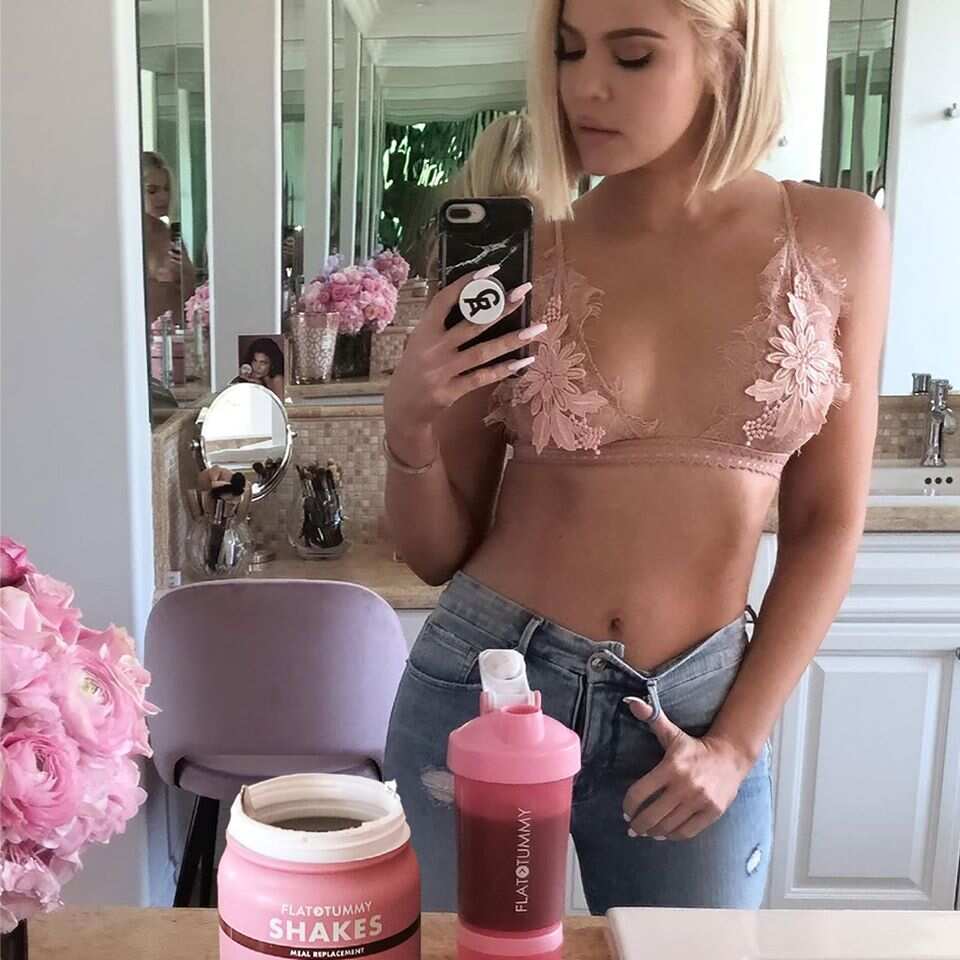 The family reality show became a huge success. It even had spin-off series, such as Khloé & Lamar and Kourtney and Khloé Take Miami (2009-2010). The latter was announced following the decision to launch a store, D-A-S-H, in Miami, Florida. In late May 2009, the socialite joined Miami Top 40 Mainstream, a WHYI outlet, where she was part of the team that talked about entertainment issues. The show was co-hosted with Terrence J.
Together with her sisters, Kourtney and Kimberly, the socialite teamed up with Natural Products Association for a teeth whitening pen, Idol White. In March 2010, the sisters released a jewellery line, and later, a clothing line. The trio also released Kardashian Glamour Tan, a fake tan consumer product.
In November 2010, the trio released the book, Kardashian Konfidential. In 2011, the socialite, together with her then-husband, released a unisex perfumed called Unbreakable, and in 2012, the couple released another fragrance, UnreakableJoy.
In early 2012, the socialite hosted a one-hour radio show, The Mix Up With Khloé Kardashian Odom. She took fan requests and chatted with her celebrity friends in the show. In October that year, she became the new host of season 2 of The X Factor, alongside Mario Lopez. She co-hosted the show for one season only.
In 2014, she starred in Kourtney & Khloé Take the Hamptons, which was also a spin-off of the family's reality show. In December 2018, the reality show star became the new ambassador of Burst Oral Care.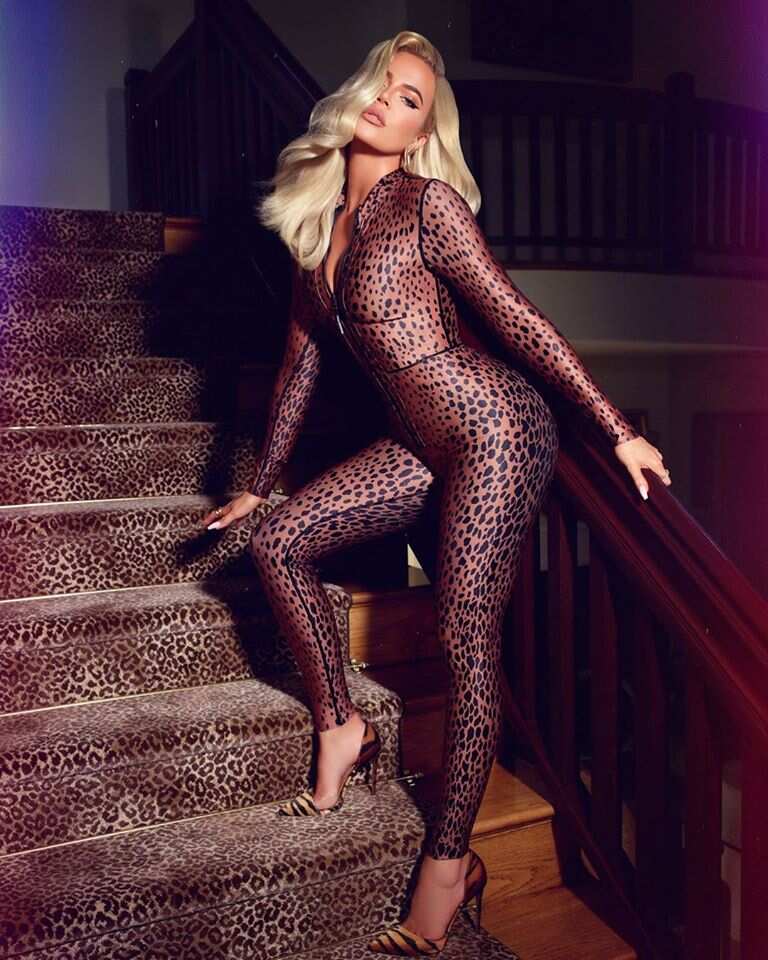 Acting credits
The reality television star has several acting credits. She has featured in the following television shows and films:
Psychotherapist (2010): She portrayed Dannii Hillman.
90210 (2010): She appeared as herself in the episode, Senior Year, Baby.
Law and Order: LA (2011): She appeared as herself.
Real Husbands of Hollywood (2013): She made an appearance as herself.
Royal Pains (2014): She appeared as herself.
Other shows in which she has appeared as herself are;
MADtv (2008)
The Celebrity Apprentice (2009)
When I was 17 (2010)
Kourtney and Kim Take New York (2011- 2012)
Punk'd (2012)
The X Factor (2012)
Kourtney and Khloé Take The Hamptons (2014- 2015)
Royal Pains (2014)
I Am Cait (2015)
Dash Dolls (2015)
Kocktails with Khloé (2016)
Flip It Like Disick (2019)
Khloe Kardashian net worth
The socialite has an estimated net worth of $40 million. Her half-sister, Kylie Jenner, is already a self-made billionaire. On the other hand, the estimated net worth of her sisters are;
Kourtney - $35 million
Kendall Jenner - $40 million
Kimberly West - $350 million
Marriage and relationships
In 2009, the socialite met professional basketball player, Lamar Odom, at a party for Metta World Peace. The two hit it off and Odom became Khloe Kardashian boyfriend. In exactly one month, the new lovebirds got married. At the time, Odom was playing for the Los Angeles Lakers. The couple's wedding ceremony was held on the 27th of September 2009. She adopted her husband's name.
Who are Khloe Kardashian kids with Odom? The couple did not have any children together in the marriage. However, Odom had children from previous relationships. The socialite became the stepmother to Odom's kids.
On the 13th of December 2013, the socialite filed for divorce from Odom and also asked for her name to be restored as was before marriage. In July 2015, both she and Odom signed their divorce papers. In October 2015, the divorce was withdrawn after Odom was found unconscious in a Nevada-based brothel. The two had not reconciled, but the case was withdrawn to allow the socialite to make medical decisions for him. The divorce was finalised in December 2016.
Other relationships
Who else has the socialite dated?
Rashad McCants: Before meeting her ex-husband, Lamar Odom, she was in a relationship with this professional basketball player from June 2008 to January 2009. The two first met at an anniversary celebration event for 944 Magazine.
Derrick Ward: The two briefly dated in mid-2009.
Rapper The Game: The socialite dated Jayceon Terrell Taylor, alias The Game, around October 2013.
Matt Kemp: The two allegedly dated from November 2013 to December 2013. The relationship was rumoured, and neither of them confirmed or denied the speculations.
French Montana: She started dating the Moroccan rapper from April until September 2014. The two later rekindled the relationship briefly in 2015.
Rick Fox: There were rumours that she dated the Canadian basketball player in 2015.
James Harden: The two started dating in June 2015 and took a break after Lamar Odom was found unconscious. They then went their separate ways in February 2016.
Odell Beckham Jr.: The two had a fling in May 2016.
Trey Songz: There were rumours that she dated this American singer from July to August 2016.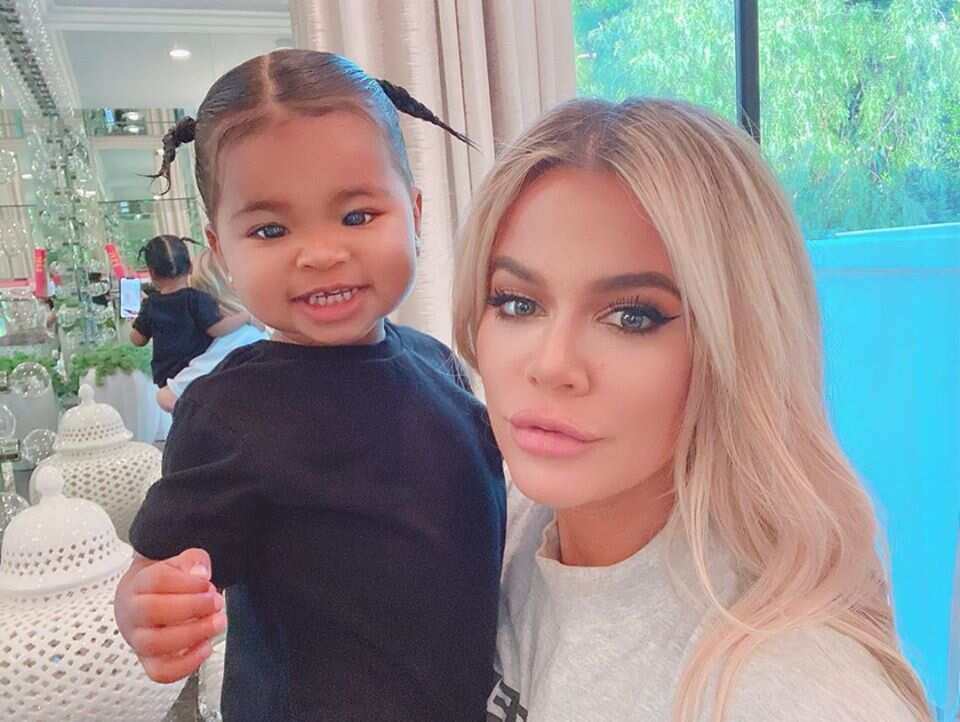 Khloe Kardashian Tristan Thompson
The latest romantic association that attracted much attention was the Tristan Thompson Khloe Kardashian relationship. Khloe Kardashian and Tristan started dating in September 2016. Tristan is a professional basketball player. Together, the two were blessed with a beautiful daughter.
Khloe Kardashian baby is named True Thompson. She was born on the 12th of April 2018. Khloe Kardashian and Tristan Thompson had an ugly breakup. The socialite dumped her baby daddy after evidence emerged that he was cheating on her. The relationship ended moments before their daughter was born. It was alleged that the basketball player was cheating on her with multiple women, including Jordyn Woods, who was Kylie Jenner's best friend.
Khloe Kardashian sex tape
Kimberly's sex tape drove the entire family into the limelight. Did Khloe also have a sex tape? In a past interview, she admitted that she and her now ex-husband, Lamar Odom, recorded a sex tape. The tape was, however, not leaked unlike her sister's.
Khloe Kardashian weight loss
Since the family came into the limelight, Khloe was always singled out as the "fat-sister". Khloe Kardashian before and after photos are evidence that she has undergone a massive transformation. Her weight loss journey came after people bashed her, including her family, who said that she was damaging the family's brand with her body weight.
Her weight loss journey started after her marriage to Odom collapsed. At the time, she wanted to gain more control over her life. She gave up junk foods and started making healthier dietary choices. She also started hitting the gym and has been doing so since then. She lost two and a half stone within the first few months of working out.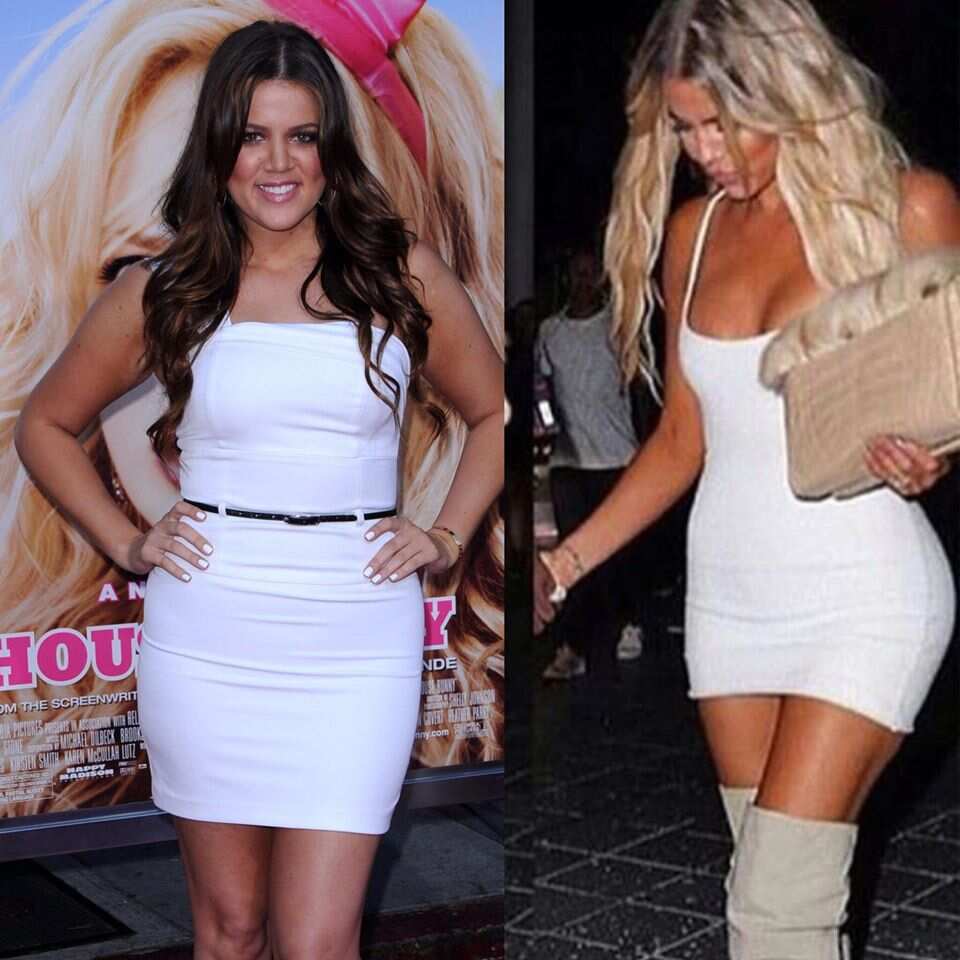 During her pregnancy, she tried her best to keep fit. Three months after the birth of True Thompson, she went back to the gym and had lost three stone by July 2018. After she succeeded in getting the body she desired, the socialite got her own show, Revenge Body with Khloe Kardashian.
In the show, she assists women who are struggling with bodyweight issues. She, alongside her team of fitness experts, works with the women towards weight loss and regaining their esteem. In the course of their journeys, there is always some drama that unfolds. The show began in 2017 and has been running to date.
Khloe Kardashian plastic surgery
Fans and followers who have been following the socialite for years can tell that she has undergone a notable body transformation. Although the change on her face is evident, she maintains that she relies on makeup and contouring tactics to look the way she does now. She is yet to confirm whether or not she has been under the knife for cosmetic reasons.
Social media
The socialite is very active on various social media platforms. She has a Facebook page with over 18 million followers. She also has a Twitter account and an Instagram account. Her followers are over 100 million in the latter and over 27.6 million on Twitter. Her fans and followers get to see amazing photos of both her and her family on these platforms.
Khloe Kardashian is the third child of Kris Jenner, and the sister of Kim, Kourtney and Rob. Her famous half-sisters are Kendall Jenner and Kylie Jenner. The entire family has been in the limelight for years now. She was particularly singled out for being the "fat sister," but the mother of one has now transformed her physical appearance by working out.