Famous feminist quotes to inspire you
The first wave of feminism happened in the late 1840s when women fought for their right to vote among other political rights. Now, in 2019, we are on the fourth wave of the movement and more women continue to join in the struggle for recognition and equality. Feminist quotes are a big part of this movement as they tell what it is all about, urge more to join in and encourage participants to continue their work.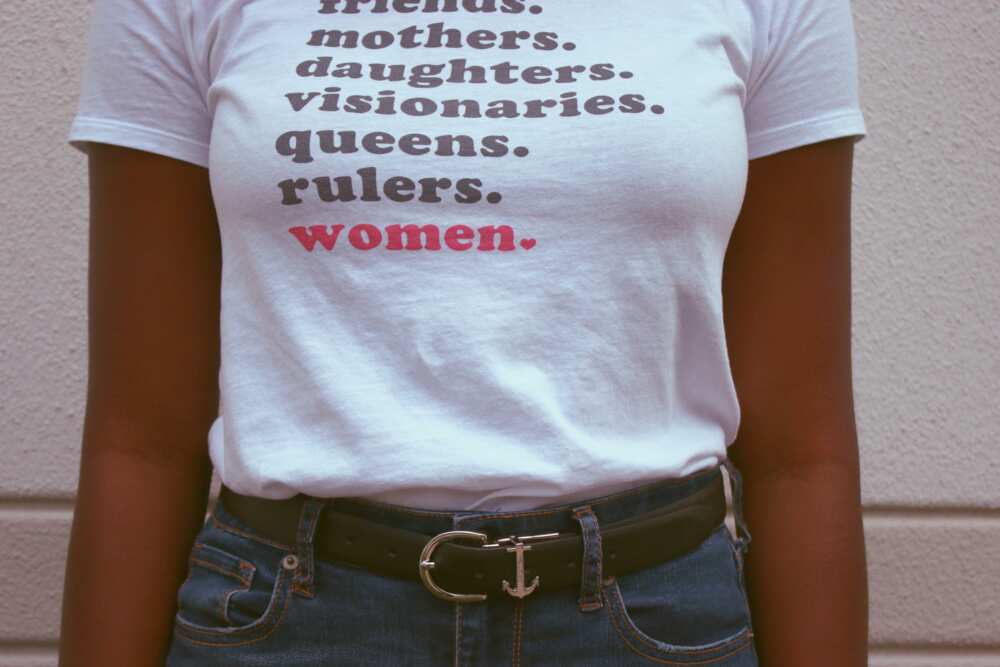 To those who do not understand what feminism is, "feminism" is described as the theory of the political, economic, and social equality of the genders or organized activity on behalf of women's rights and interests.
Here are some badass feminist quotes that encourage and inspire us all to stand up and fight for equal rights for both genders.
Famous feminist quotes
Human right are women's rights and women's rights are human rights - Hillary Clinton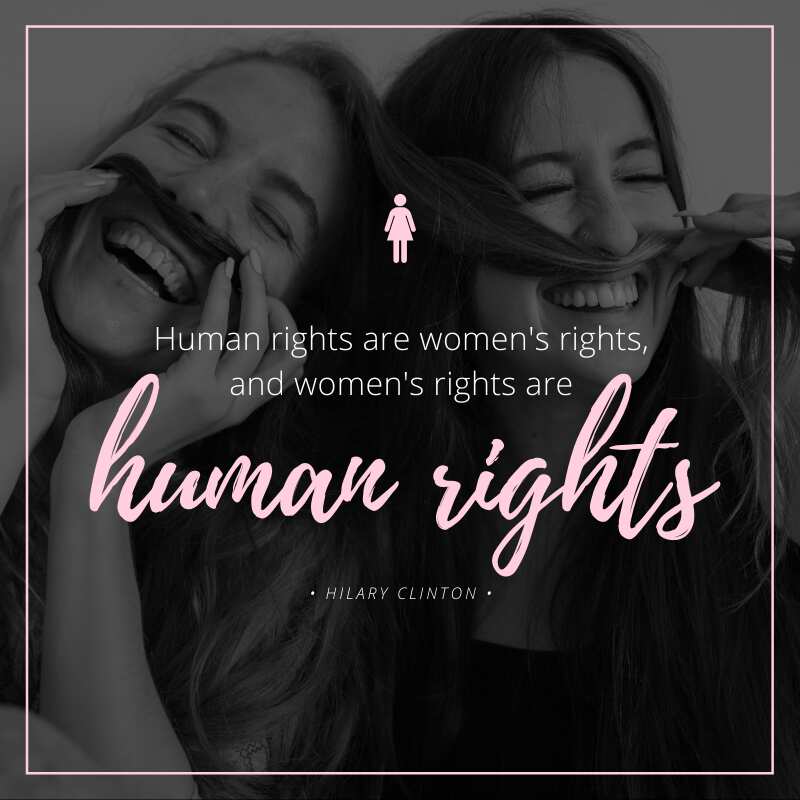 Feminism is hated because women are hated. Anti-feminism is a direct expression of misogyny it's the political defence of women hating - Andrea Dworkin
I am a feminist. I've been female for a long time now. It would be stupid not to be on my side - Maya Angelou
I think the degree of a nation's civilization may be measured by the degree of enlightenment of its women. - Helen Keller
We want rights. The flour-merchant, the house-builder, and the postman charge us no less on account of our sex; but when we endeavour to earn money to pay all these, then, indeed, we find the difference. - Lucy Stone
If you want something said, ask a man; if you want something done, ask a woman. - Margaret Thatcher
I hate to hear you talk about all women as if they were fine ladies instead of rational creatures. None of us wants to be in calm waters all our lives - Jane Austen
We need to reshape our perception of how we view ourselves. We have to step up as women and take the lead. - Beyoncé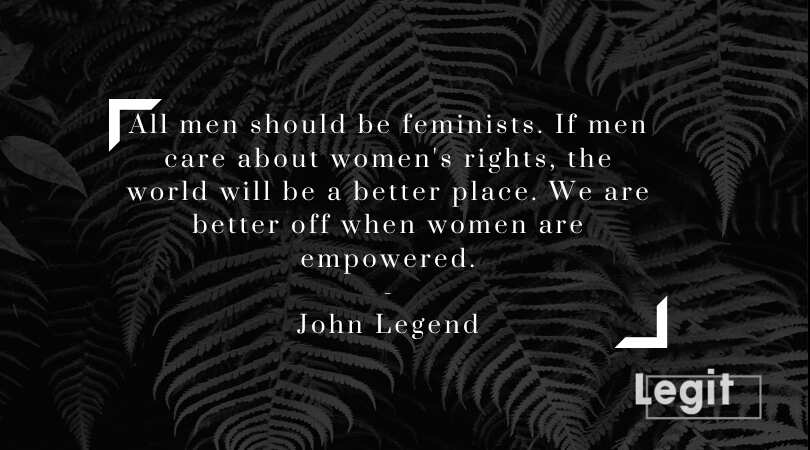 All men should be feminists. If men care about women's rights, the world will be a better place. We are better off when women are empowered. - John Legend
The subject of equal pay has always been a touchy one when it comes to feminism. One can even dare to say that it is at the forefront of what feminism is about. While things have improved, we are not yet where we need to be seeing as women still make only $0.79 for every dollar their male counterparts make
Empowering feminist quotes
These are some of the best feminist quotes that exist today.
I am tough, I am ambitious and I know exactly what I want. If that makes me a b*tch, then I'm okay with it - Madonna
The world has never yet seen a truly great and virtuous nation because, in the degradation of women, the very fountains of life are poisoned at their source. - Elizabeth Cady Stanton.
Do not live someone else's life and someone else's idea of what womanhood is. Womanhood is you. - Viola Davis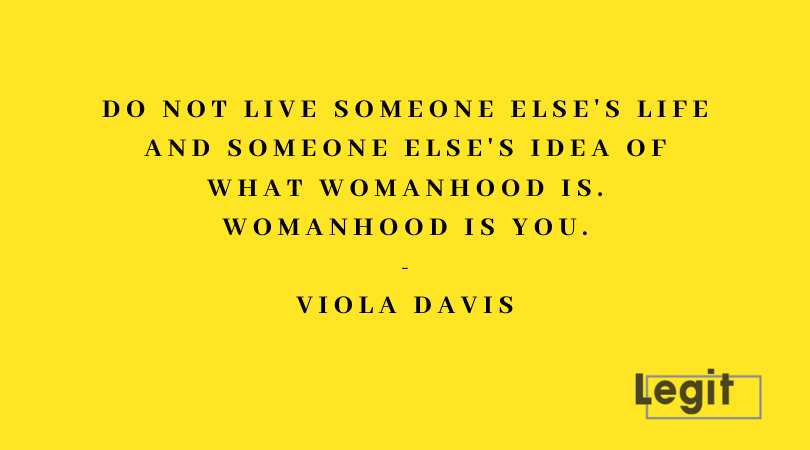 One person's version of empowerment is not another's version of the same. We should not copy what is empowering to some in a bid to be like them. One might be empowered by wearing a hijab and another might find that removing it is empowering to them. Another might think marriage and children are what womanhood is to her while someone else abhors the same thought.
This movement for liberation is not cut and paste. As girls and ladies, we should be able to express our empowerment in what feels right to us.
I am my own muse. I am the subject I know best. The subject I want to better - Frida Khalo
Teach her that the idea of 'gender roles' is absolute nonsense. Do not ever tell her that she should or should not do something because she is a girl. 'Because you are a girl' is never a reason for anything. Ever. - Chimamanda Ngozi Adichie
You deserve to be here. You deserve to exist. You deserve to take up space in this world of men - MacKenzi Lee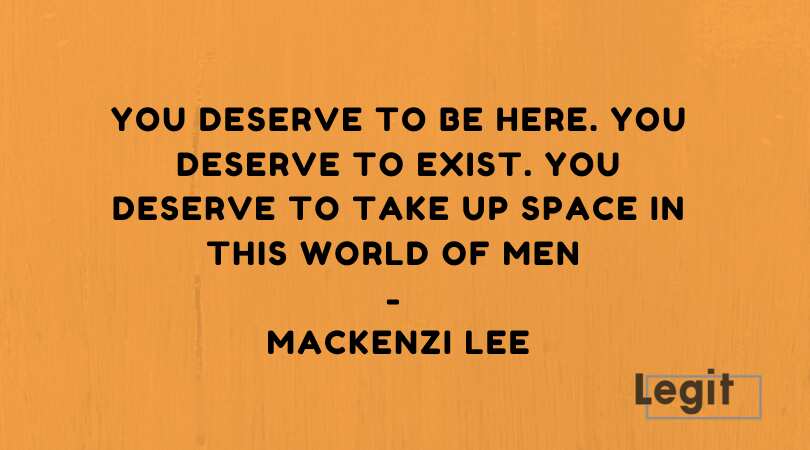 The emerging woman ... will be strong-minded, strong-hearted, strong-souled, and strong-bodied ... strength and beauty must go together. - Louisa May Alcott
Feminism isn't about making women stronger. We are already strong, it's about changing the way the world perceives that strength. - G.D. Anderson
Women belong in all places where decisions are being made. … It shouldn't be that they are the exception. - Ruth Bader Ginsburg
Feminist inspirational quotes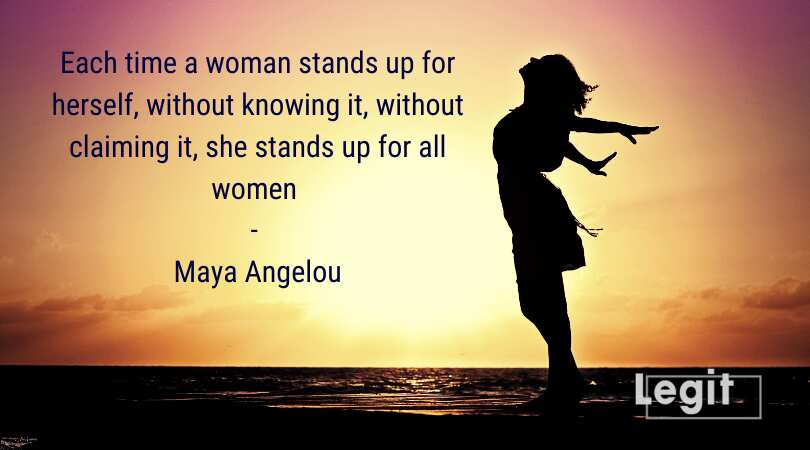 Each time a woman stands up for herself, without knowing it, without claiming it, she stands up for all women - Maya Angelou
Life is not a competition between male and female. It's a collaboration - David Alejandro Fearnhead
I have never been able to find out precisely what a feminist is. I only know that people call me a feminist whenever I express sentiments that differentiate me from a doormat. - Rebecca West
Ladies, if the soul of the nation is to be saved, then we must become its soul - Coretta Scott King
To all the little girls who are watching this, never doubt that you are valuable and powerful, and deserving of every chance and opportunity in the world to pursue and achieve your dreams. - Hillary Clinton
You don't have to be pretty. You don't owe prettiness to anyone. Not to your boyfriend/spouse/partner, not to your co-workers, especially not to random men on the street. You don't owe it to your mother, you don't owe it to your children, you don't owe it to civilization in general. Prettiness is not a rent you pay for occupying a space marked 'female'. - Erin McKean

I am not free while any lady or girl is unfree. Even when her shackles are very different from my own - Auder Lorde
I am trying to unlearn many lessons of gender I internalized while growing up. But I sometimes still feel vulnerable in the face of gender expectations. - Chimamanda Adichie
These inspirational feminist quotes are very important. They help encourage anyone who supports this movement. They can also encourage young girls and ladies to speak up and stand up for themselves.
Feminist quotes short
Sayings do not need to be long to pack a punch. These short feminist quotes spread the message and inspire in just a few words.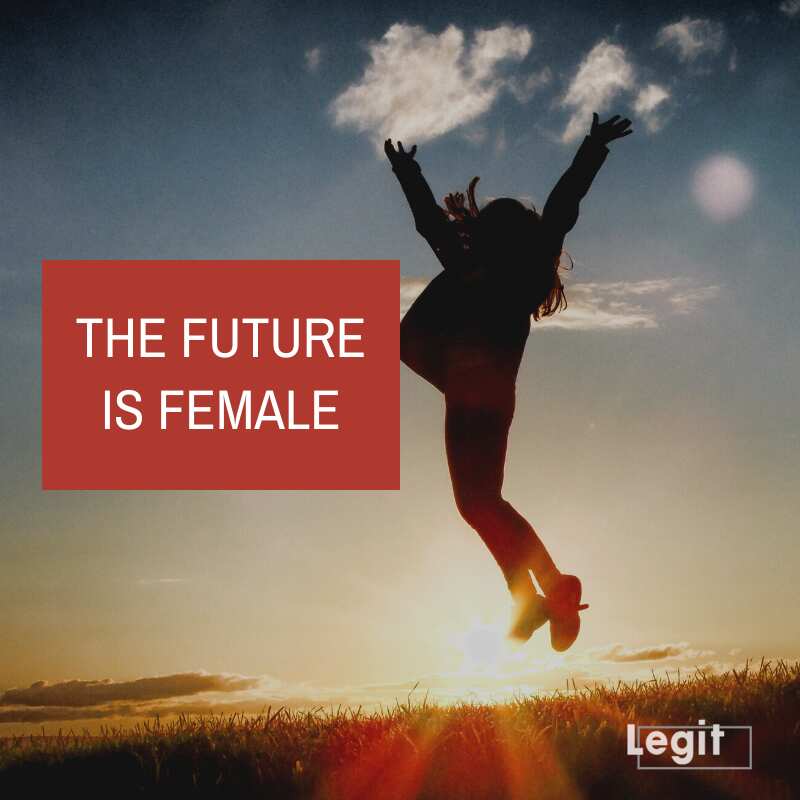 There is no limit to what we can do as women - Michelle Obama
A lady without a man is like a fish without a bicycle - Gloria Steinem
To those accustomed to privilege, equality feels like oppression
When a man gives his opinion, he's a man; when a woman gives her opinion, she's a b*tch. - Bette Davis
The future is female
Where there is a woman there is magic - Ntozake Shange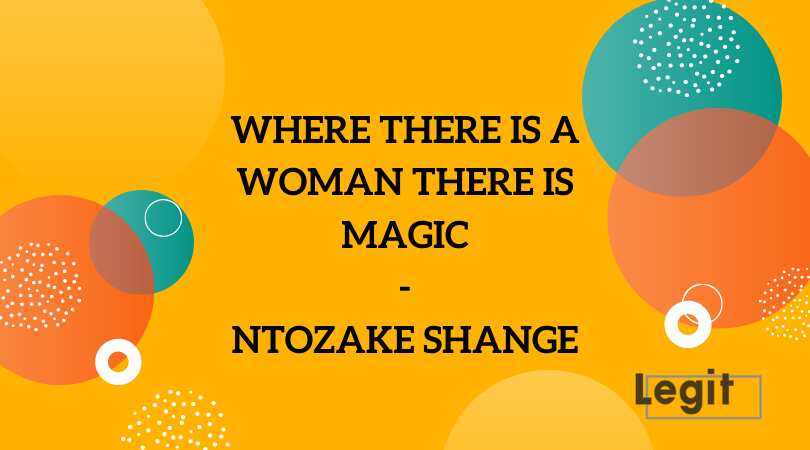 She believed she could and so she did
Subservience of any kind is death to the spirit - Alice Walker
Be the heroine of your life, not the victim - Nora Ephron
We do as much, we eat as much, we want as much. - Sojourner Truth
Feminists and feminism shall not die down until the subject of equal pay is properly dealt with. Unlike earlier years when women took care of the home while men worked, today, both sexes put in the same hours at work and require the same basic needs. This should be reflected in their paychecks as well
Independence is happiness - Susan B. Anthony
Powerful feminist quotes
I raise my voice—not so that I can shout, but so that those without a voice can be heard. … We cannot all succeed when half of us are held back. - Malala Yousafzai
It took me quite a long time to develop a voice, and now that I have it, I am not going to be silent. - Madeleine Albright
Of course, I am not worried about intimidating men. The type of man who will be intimidated by me is exactly the type of man I have no interest in. - Chimamanda Ngozi Adichie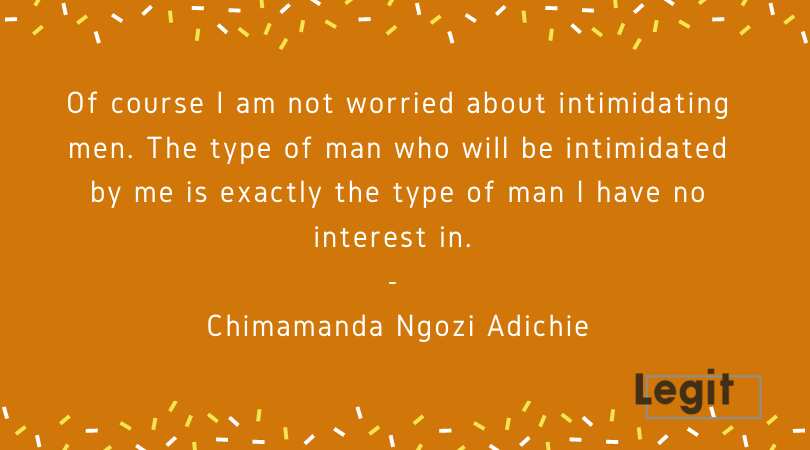 There's something so special about a lady who dominates in a man's world. It takes a certain grace, strength, intelligence, fearlessness, and the nerve to never take no for an answer. - Rihanna
I do not wish women to have power over men, but over themselves - Mary Wollstonecraft
My mum said to me, "You know, sweetheart one day you should settle down and marry a rich man". I said, "Mum, I am a rich man" - Cher
Some ladies being empowered does not prove the patriarchy is dead. It proves that some of us are lucky. - Roxanne Gay
We are complete with or without a mate, with or without a child. We get to decide for ourselves what is beautiful when it comes to our bodies. That decision is ours and ours alone. We don't need to be married or mothers to be complete. We get to determine our own "happily ever after" for ourselves. - Jennifer Aniston
We need to live in a culture that values and respects and looks up to and idolizes girls as much as men. - Emma Watson
Feminist quotes are not meant to bash men or show that females are better than their male counterparts. They just show us all how we should support and uplift those of us who are marginalized and oppressed. Share these quotes with everyone you know to inform them about this important movement.
Source: Legit.ng