Best Anthony Bourdain quotes on life, food and travel
Even though Bourdain passed away, many people will attest to the fact that Anthony Bourdain quotes still live on and continue to inspire people in various dimensions. He was a renowned chef, bestselling author and TV personality, and he used the vast experience in his profession to make quotes that continue to change the lives of many. Without a doubt, he was a blessing to the world because of his exceptional culinary skills which he used to inspire people in matters beyond cooking.
By the mention of the name Anthony Bourdain, many people will remember a man who had no boundaries and went out of his way to blend with different cultures of the world. He traversed various parts of the world to socialize with people of diverse backgrounds, bringing them together with the one thing he cherished the most - food. Notably, he was a dynamic person who went from place to place in search of adventure as he lectured people on different topics of food, living and adventure. Take a moment and read some of Anthony Bourdain best quotes
Anthony Bourdain quotes on life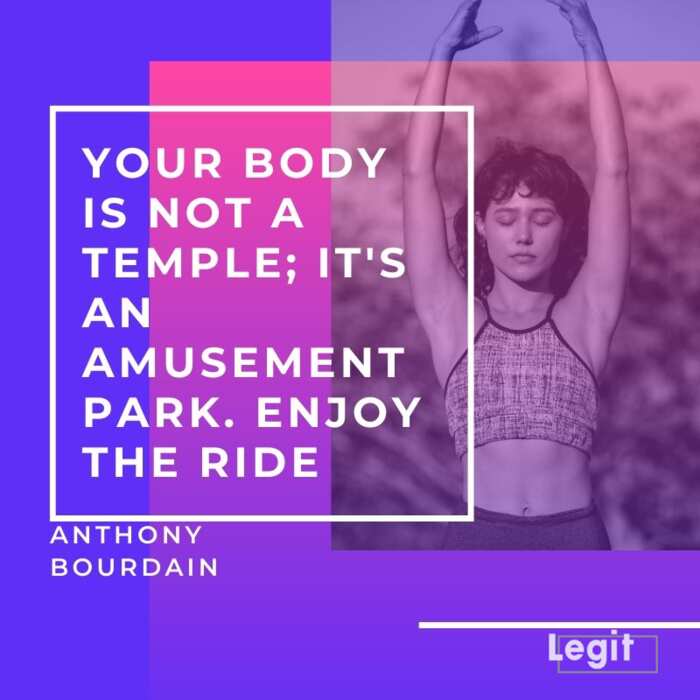 Life has its share of challenges, and if not well approached, you might end up losing a lot. Therefore, you can benefit from the following Anthony Bourdain quotes about life and change your perspective of life and how to go about it.
"Your body is not a temple; it's an amusement park. Enjoy the ride."
"Luck is not a business model."
"Skills can be taught. Character you either have, or you don't have."
"I don't have to agree with you to like you or respect you."
"I'm not afraid to look like an idiot."
"To me, life without veal stock, pork fat, sausage, organ meat, demi-glace, or even stinky cheese is a life not worth living."
"Don't lie about it. You made a mistake. Admit it and move on. Just don't do it again. Ever."
"Without new ideas, success can become stale."
Anthony Bourdain quotes about food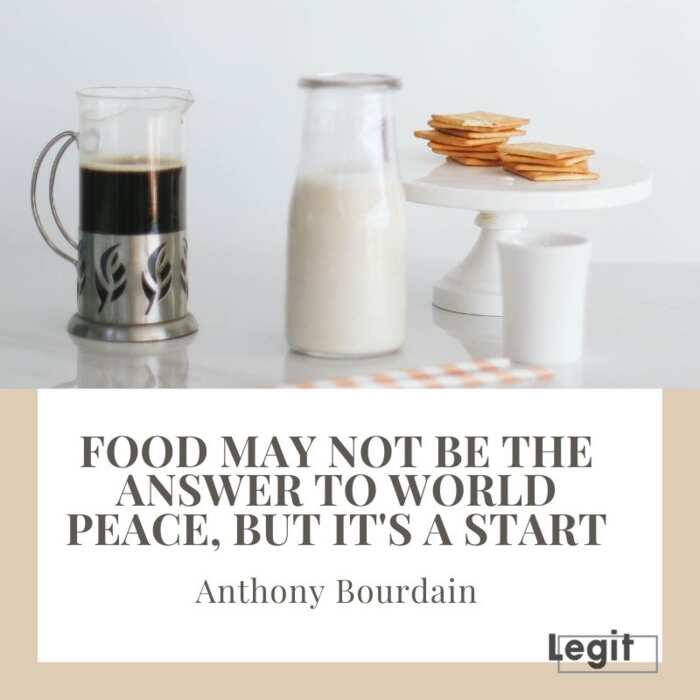 Anthony Bourdain quotes food as a glue that binds many societies because people unite during mealtime to celebrate and in a unique way, he used it to inspire people. He made everyone realize that there is much more to eating food by sharing nuggets of wisdom from this unlikely source. Savor the following Anthony Bourdain food quotes;
"You learn a lot about someone when you share a meal together."
By sharing a meal with someone, you get the chance to interact and know the person even deeper than you thought.
"The way you make an omelet reveals your character."
There are a plethora of ways of cooking, and a particular cooking style defines how good or bad the chef is.
"Food may not be the answer to world peace, but it's a start."
Sharing a meal is a simple message of peace and love.
Anyone who's a chef, who loves food, ultimately knows that all that matters is: 'Is it good? Does it give pleasure?
Cooking does not have to be complex and the chef should have a simple objective of serving nice and tasty food.
"Context and memory play powerful roles in all the truly great meals in one's life."
Anthony Bourdain travel quotes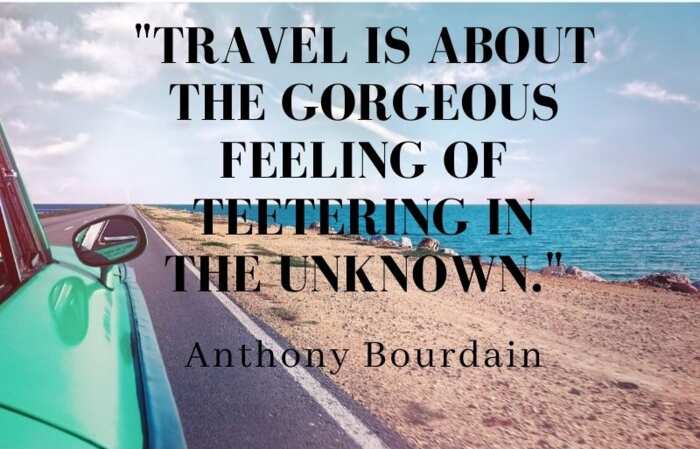 Being an adventurous person, the great chef travelled a lot to experience different cultures and interact with people. Anthony Bourdain quotes travel as one of the most exciting things one should partake to enjoy life in the best way. He learnt a lot of things about travelling, and if you fancy traveling, then you will be glad to learn from the following quotes.
"Travel is about the gorgeous feeling of teetering in the unknown."
"When dealing with complex transportation issues, the best thing to do is pull up with a cold beer and let somebody else figure it out."
"The journey is part of the experience - an expression of the seriousness of one's intent. One doesn't take the A train to Mecca."
"Sometimes the greatest meals on vacations are the ones you find when Plan A falls through."
"I travel around the world, eat a lot, and basically do whatever I want."
"Plans should be ephemeral, so be prepared to move away from them."
"Drink heavily with locals whenever possible."
Have you been inspired by the best Anthony Bourdain quotes? Other people within your circle may be in search of such quotes to change their mindset and improve their lives. You can make a difference and impact their lives by sharing these quotes by Anthony Bourdain.
Source: Legit