Kwesta - Run It Up ft. Rich Homie Quan: video, lyrics, reactions
The highly-anticipated song by Kwesta - Run It Up is out. He features the American hip hop artist Richie Homie Quan in this hit. Listen and enjoy the fantastic banger.
When the South African artist revealed that there was something new coming featuring the American hitmaker, it was evident that he was breaking boundaries with his incredible talent. He has collaborated with international artists before, and going by his hit alongside Wale 'Spirit', he definitely does the most with such collabos.
Kwesta - Run It Up description
Release date: November 14th, 2019
Format: Video
Genre: Hip hop
Length: 4 minutes 28 seconds
Director: UncleScrooch
South African hip hop superstar Kwesta combines forces with his American counterpart Rich Homie Quan on his latest number tagged 'Run It Up'. The song is a banger that you will keep listening to over and over again without getting bored.
Kwesta - Run It Up reviews and comments
What is the reaction of fans toward this song? Check out the reviews and comments below.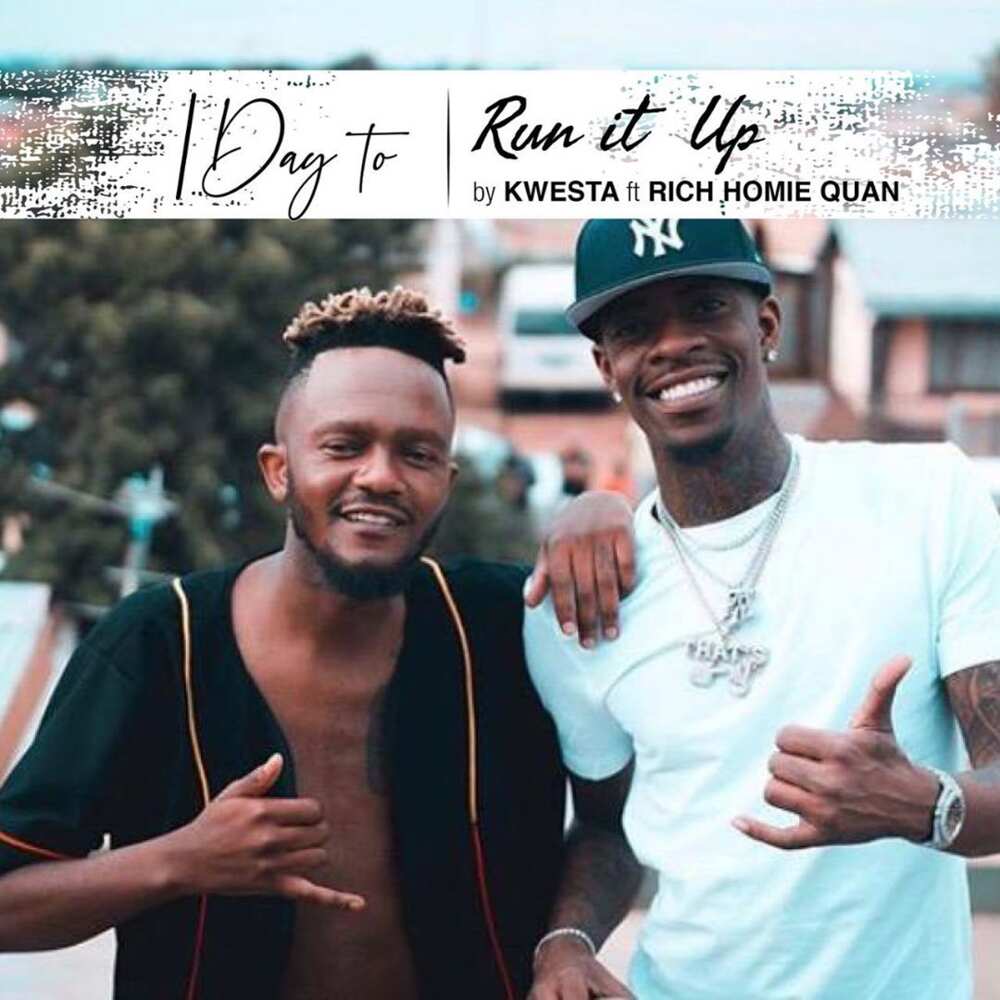 Reasonboy _rsa: I feel blessed by how Kwesta respects South Africa , a man who always respect ikasi lakhe and ulimi aluncela kumamakhe , I respect you bro blessed, I am humbled and got hope that my zulu rap still gonna take over in the industry.
NYAMEKO GIVEN DYASI: Kwesta knows exactly how to represent us as a country. Legendary!
Sinegugu Mhlungu: I hope we do not start to appreciate Kwesta only when he's gone. May we give him his flowers while he's still alive. He is such an impressive singer.
Siphiwe Rasmeni: Kwesta quietly having the greatest impact in South Africa's hip hop music.
Dardly official: The South African music industry is gradually growing towards the states?
Kwesta - Run It Up lyrics
Here are the correct lyrics of this particular song
[Chorus]
Put a ring on it baby girl let me show you
Something different
Lips broken now on the real
Looking like am ho*e kissing
We was in the hood, we was still broke
We was on a mission
Did a lot of good good
But they still consider me a villain
(I was just tryna run it up
I was tryna run it up) x 2
[Verse one]
Hey, run it up, run it up, run it
Count it up, count it up, count it
Stack it up in my closet
Sh*t starting to look like mountain
I was on a strip in Miami
Rented me a room at the fountain
Keeping niggas around me who gon shoot some
But I dont like bro codes around me
Top shawty she ain't speaking my language
I dont do fancy words 14 hours yeah it took me
To get to Johannesburg (word class)
Lot of hoe face but in reality
I want her panties first
I beat her shoulder when she cry cause
I know damage hurts
Cuts the lights off born to shine like a chandelier
I ran it on they more jealous all in Mandela square
I ran it up they wanna revenge us
You superman imma avenger (pheth izinja)
[Chorus]
[Verse two]
Sifika la snyise kwasan
Izinja ey qhith umhlangano
K!ll sh!t shintj istandard 6-6-6 skhiph usatan
Godly, nkosi sthandaz
Cautious conscience
AngNayo Gorgeos lona angfanaye
Ngay khohlwa i quart ye savanna
Okay I'm litty, I'm litty
Sometimes you gotta admit it
Ntwana I get it, I get it
But you bout to get it delivered
High Q on the switch
Gods thats the sh*t
Awthi ng thathe i sip
Ang Dakwa ngbizisa nje izitha
K1 till my death
Day ones in my set
Basic chicks get lazy d*ck
I gotta cut some cheques
Sacala Baslarha
Saspana saphanda
Van daar siyazDala
Bheka nje ikasi lphakama
[Chorus]
Kwesta - Run It Up download
You can download the number from any of the reliable sites suggested below
This song is another addition to the South African's growing list of international collaborations. He features the popular American rapper Rich Homie Quan who has impressively come through.
Do you believe that the latest hit by Kwesta - Run It Up will meet the expectations of his fans? Leave your views in the comment section below.
Source: Legit.ng News