A story of love and patience: Couple marry after 13 years of friendship
One of the beautiful mysteries of love is that it can find you anywhere at any time and most interestingly, in unexpected packages. While many go to the ends of the earth searching for their soulmate, others are lucky to have had them by their side all along.
This was the case for a beautiful Nigerian couple identified as Goodness and Chibuna. The couple who got married in a captivating and scenic outdoor wedding ceremony, has left many people in awe with their love story.
Speaking exclusively with Legit.ng, the beautiful bride revealed that she had been friends with her husband for 13 years. Having attended the same secondary school, they remained in touch long after graduating to go study in different varsities. Goodness admits that even though they were far apart, Chibuna was always there for her.
PAY ATTENTION: Personal letter from the Editor-in-Chief of Legit.ng (former NAIJ.com)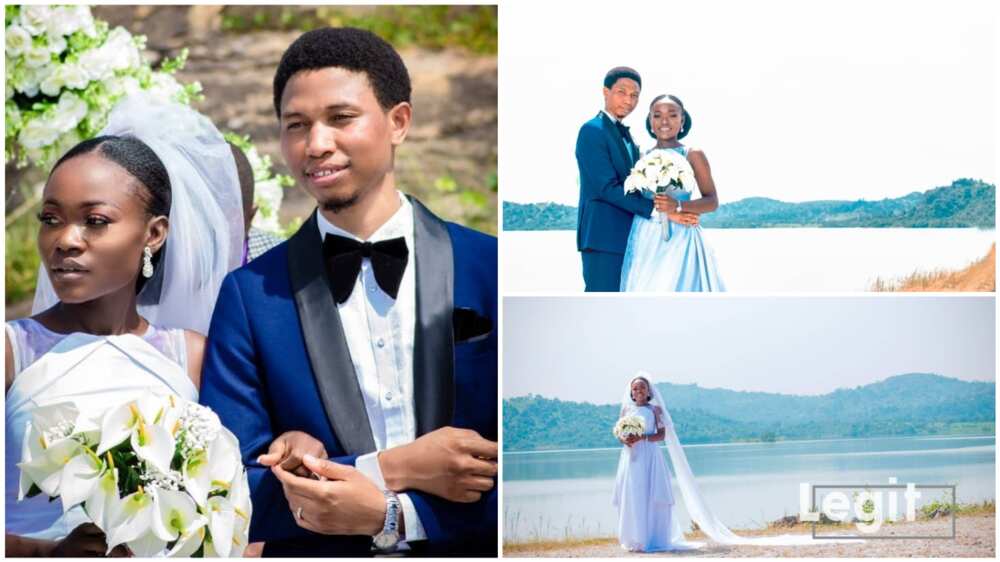 Goodness and Chibuna became friends in 2006 but officially started dating ten years after. On when and how they started dating, Goodness had this to say:
"2016. He was always there. But on December 23, 2016, he simply told me that he'd like us to become more than just friends. I asked what he meant. He said he has always seen me as his wife. He said he'd do nothing to hurt me and that he'll always be there. It was the most difficult decision of my life. He didn't have a stable job at the time. A job came a year later and we began plans not just for the wedding but the life after. And here we are today."
The couple who had their white wedding on November 9, 2019, left many people stunned with their choice of location for the exchange of vows.
Having a strong penchant for the outdoor life, Goodness chose the Usuman Dam in Abuja, as the spot for their union as husband and wife, a location with a beautiful and captivating view of the waterside and the hills.
Speaking of what she loved most about her wedding, she stated that the exchange of vows and the moment some hikers began to cheer from the top of the rock, were the most memorable for her.
PAY ATTENTION: Get the Latest Nigerian News on Legit.ng News App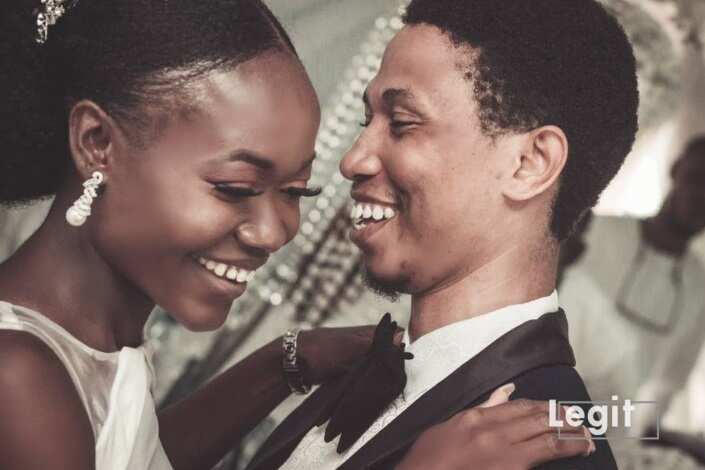 The couple who stole loving glances at each other as they shared their sweet story, spoke about the qualities they admire in each other.
Goodness: "He supports my career goals, he's good planner, intelligent, his love for God amazes me. He's everything I've ever prayed for and more."
Chibuna: "She's intelligent, focused, hardworking, supportive, beautiful, homely and most importantly, she's my friend and I can tell her anything."
Goodness who hails from Benue state, revealed that there were more of personal character clashes than cultural ones considering Chibuna is from the eastern part of Nigerian. While Chibuna is an introvert, Goodness is the opposite.
In her words: "The clash was more with our lifestyles; there was a huge gap. He can stay indoors listening to jazz music and watching movies for days while I love going out with friends, hiking etc. Had to start liking his kind of music, movies (sometimes ) and going out with him more."
On a final message to single ladies looking to settle down, the beautiful bride had this to say: "Pray, look out for certain signs and character that you desire in your spouse (looks should be secondary) and begin to plan towards the future. Communication is key. Talk about everything from finances to chores. Be yourself and do not pretend. While dating, don't start what you won't sustain. If you won't be going to his family house to cook when you get married, don't start it. Always pray."
PAY ATTENTION: Do you have news to share? Contact Legit.ng instantly
Top 5 Nigerian couples proving love does exist in this world | Legit TV
Source: Legit.ng