Sarkodie x Mugeez - Regular: video, lyrics, reactions
Sarkcess Music boss Sarkodie has just released a video of his latest song. The new tune by Sarkodie x Mugeez - Regular has been trending fast, thanks to the artists' vocals and the fantastic production work of MOG Beatz.
The immense vitality and confidence in this song will keep you listening to it over and over again without getting tired.
Sarkodie x Mugeez - Regular description
Release date: November 11th, 2019
Format: Video/audio
Genre: Rap/Hip hop
Length: 3 minutes 12 seconds
Producer: MOG Beatz
Label: Sarkcess Music
In this number, the award-winning Ghanaian artist employs the assistance of Mugeez of R2Bees to serve you with a beautiful hit. The production credit goes to his preferred producer, MOG Beatz.
Sarkodie x Mugeez - Regular reviews and comments
Most of their online fans and followers were quick to notice the smothering impact of this banger assessing from the comments and reviews below.
Bernard Velveteen: Who else notices that Sarkodie has now gotten to the highest level... He keeps rising each and every day. Big up bro! Keep doing it, you are dope!
Richie Dinho: Where is my (Sarknation)? Let's me see your hand for our King and favorite singer.
Prosper Mawuli: This should not even get a feature... You did it all alone king. You are brilliant.
Kazaf Nash: We are proud of our King SARK to the world. If you love it hit like button. He is dope!
Lawrence Adjetey: Listening to this hit, I honestly think R2bees is an underrated group.
Samuel Ambany: This is the dirtiest song I've heard from Sarkodie
Aikins ofori: Allah King #Sark I love that deep voice already
Prince Boakye: The rough texture of Sarkodie's voice is not regular. He should give us more of that.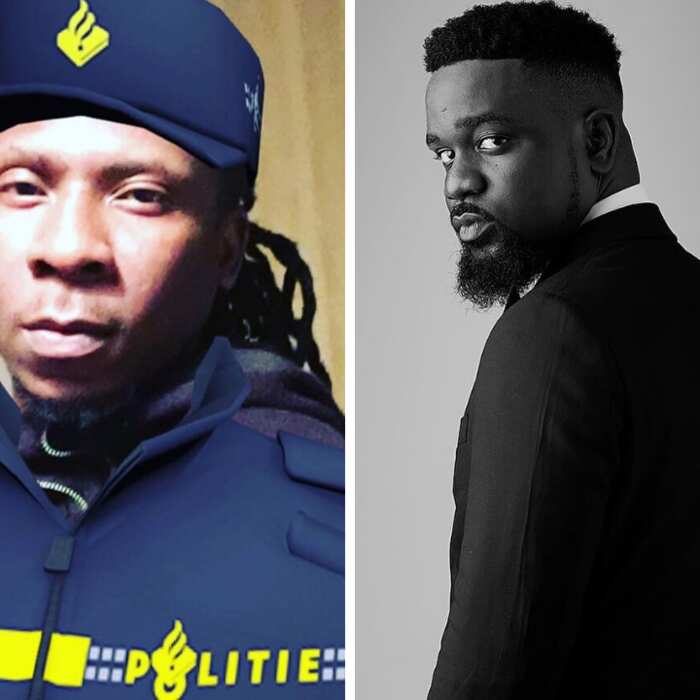 Sarkodie x Mugeez - Regular lyrics
Here are the perfect lyrics of the song.
[Introduction]
Yer
Mhhh
Yer you know
Yeahhhhhh
Yer yer
Yer yer (yeahhhhh yer yer)
[Verse one]
No bi every baller 24/7 we dey hustle for the dollar
Promise on my honour
Nea w'adamo bia no
Se opie a otete corner
Only wey we dey order
Akesesem nkoaa nti enhye woho a ma brother
Obaa no koraa ennye adea neho befo da
No second hand
Ahano yetete robber
Off white Jean's
Gucci white top
No slim things
Thick like ***
Fresh bling bling
Wobehia eye
Champaign King
Nti mombre me
Ice block
Make money nnye saawo girl no
Yebema she go make horny
Bisa no se wetin she won take for me
Endora ohye me dan wu
Nti why you put the blame on me
huh!!!
[Chorus]
Wey dey confirm on a regular
Blow money on a regular
Wey dey control on a regular
Big butty girl on regular
See the watch eno bi regular
Your machines no dy cruice
eno bi regular
Tema boy how we fi be regular
Forget everybody regular get your girl on a cellular
[Verse two]
Ohemaa make you twerk for me
I Just let the money do the work for me
Wombe ka sikasem a meye dead body
Girl wei nkoaa na etumi mame best pokki
Anytime I pull up in a place
Sika a yebetoto no we bi like we dey crazy
W'aye lucy se
Wo girl no nnye me taste
Kokoda if you no go fi
Keep up with the pase
We dey stock money
We dey live large
We bi big baller
Act funny you go chop slap
In a thick forest
Call the waiter for me na me n tip-e 46 dollars
Ech and every week we dey ship orders
Let the champagne flow
Where the girls girls areh
All drinks on me
(On me On me)
This is low life show
Wey dey blow more stacks
More boys on heat her
[Chorus]
[Verse three]
And when we talk about money
Scratch my body
Golden doors like Egyptian mummy
Abrakadabra
We dey charm that money
Wetin you girlfriend taken
Unlikeness feeling horny
Get close make I miamia your bobby
Oh baby wind am grind am like gorge gorge
Ten toes
Make it to the lobby
Make I tear you like azongoli
All black Jean's and Jordan sneakers
If you no dey talk sense you no go get features
All of ma people dem dey talk like preachers
(They flow dey make we shout we shout Jesus) x 2
[Chorus]
It's MoG baby
What do you think of this latest release by Sarkodie x Mugeez - Regular? Leave your opinion in the comment section below. As you do so, also remember to share the article on various social media platforms to keep the song trending.
Source: Legit