Fuse ODG - Timeless ft. Kwesi Arthur: video, lyrics, reactions
Fuse ODG has just released the much-anticipated video of his latest song "Timeless," in which he features the award-winning musician, Kwesi Arthur. Have you had the opportunity to watch the video of this awesome hit by Fuse ODG - Timeless?
Fuse ODG teams up with Ghanaian rapper Kwesi Arthur to entertain their fans with this fantastic song. The two artists treat their fans to great lyrics, killer beats, and exceptional visuals that will make you watch it over and over again.
Fuse ODG - Timeless description
Release date: November 7th, 2019
Format: Video/audio
Genre: Afro-pop
Album: Road to Ghana
Length: 3 minutes 35 seconds
Producer: Lex
Mastered by: Mikey G
Video director: Salifu Abdul Hafiz
Fuse ODG and Kwesi Arthur sing for the ladies in this comforting Afro-pop song. This song is off Fuse's upcoming collection called "Road to Ghana", and the production credits go to Lex.
Fuse ODG - Timeless reviews and comments
This latest number has so far been received well by fans, assessing from their comments and reviews from different social media platforms.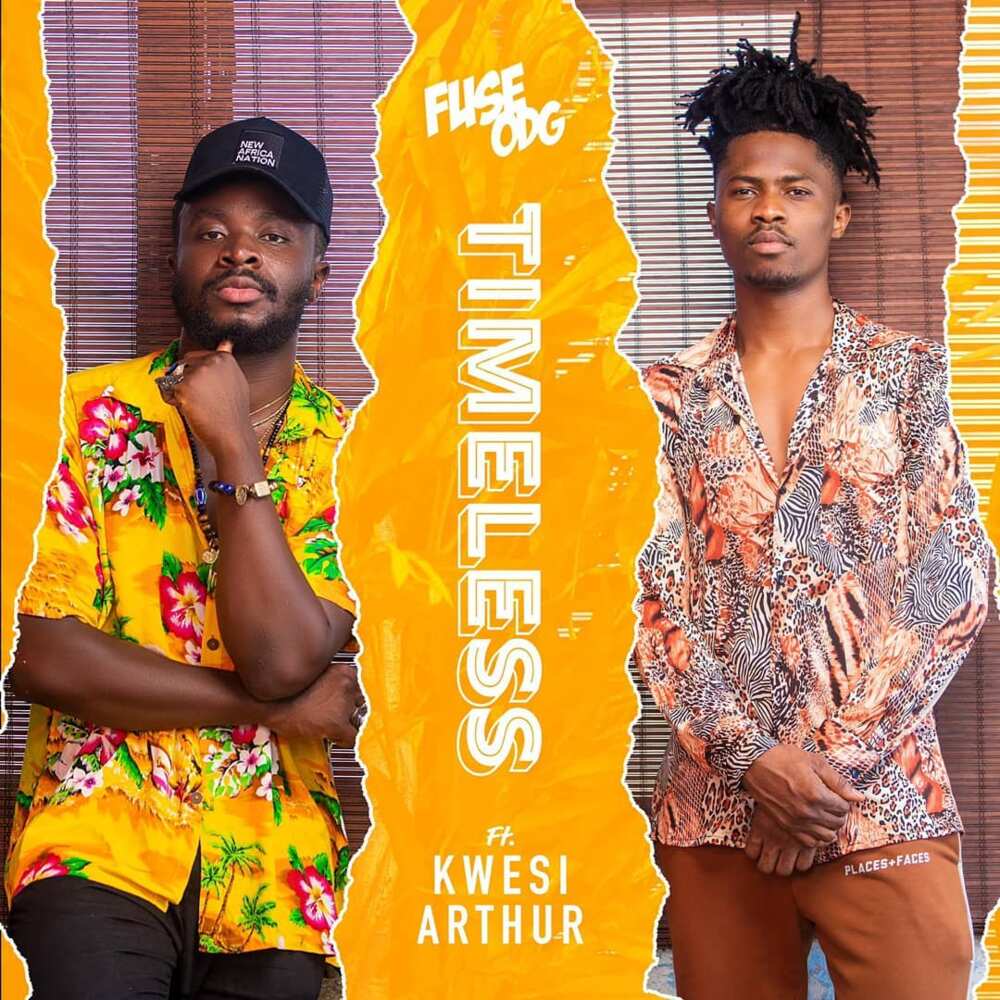 Asonaba Kwabrafoso Obuasi: Good music always comes with beautiful videos. This is one of them
Khouphi Davis: Kwasi Arthur never disappoints, (Who else loved his part, show by hand)
Eddie Bob: Africa is the home of music, let's gather for Africa
RAS BARRIER Official: This beautiful song and dope video needs an award. If you're with me hit the like pole
Prank Africa: Something fresh and hot at the same time
RICHIE AGYEMANG: Fuse ODG making hits upon hits!!! Kwesi Arthur is a national treasure
Becky Barker: YES!!! FINALLY!!! This is what I have been waiting since "Dangerous" for Fuse to come back with some proper bangers! I can tell that this is going to be huge! Now all he needs to do is to put more Afrobeats, Dancehall and Azonto dancing in his videos
Fuse ODG - Timeless lyrics
Being an excellent single, you will undoubtedly find yourself humming along. Below are the verses of this song.
[Introduction]
I love it when you make something about us
Can I hear it again?
[Chorus: Fuse]
Make Marvin Gaye sing sexual healing
Make Michael Jackson want to beat it
Make Bob Marley sing 'No Woman No cry'
Woman your loving be timeless
Way back, way back
Christ oh Jesus
Your loving transcends to every season
Ever since I met you, girl you don't change my life
Woman your loving be timeless oh Aaarha ooh
Woman your loving be timeless ooh Aaarha eeih
Woman your loving be timeless oh Aaarha ooh
Woman your loving be timeless oh Aaarha eeh
Woman your loving be timeless
From time, long time
Girl you give me the maddest love, the baddest touch
From time to time
Them go for put you for the calender for your timeless love
And as she turning around
Then back to loving my face
I told her baby slow down we going back to my place ei
I will never slack you my waist
But Angelos got me lost got me stock in her lane
Ah gyei ooohh aarhh my girl I won't surrender
Eeeii aarhaa this will be one night to remember
[Chorus: Fuse]
[Kwesi Arthur]
I no go fit live with myself if we part ways again…
Girl I even wanna see you talk to another man…
I no want to control you
I just wanna set you free, free
You bring out the best in me
Badman me no watch that
You know I like your way
They should have told you
Me no get bad intention no no no
Real Men don't pretend no no no
What I feel no be intense
Don't let me go
Girl never lower your standard
Don't do it fi dem
You setting the pace
And you setting me trend
You are a starlight, you know starlight
Woman me twirewo sɛ ɛban prrrrr (Woman I lane on you like a wall)
[Chorus: Fuse]
What do you think of this latest song by Fuse ODG - Timeless featuring Kwesi Arthur? Does the song meet the expectations of their fans? We would like to hear your opinion about the tune. Feel free to drop your views in the comment section below.
Source: Legit