Samsung Galaxy A9 price, specs, features
Samsung Galaxy A9 is a perfect device for anyone whose focus is on aesthetics. Being the first Samsung quad-camera smartphone counts for something. As a potential buyer of the device, you need to watch out for other factors that make the gadget stand out, especially if you are looking for an all-rounder.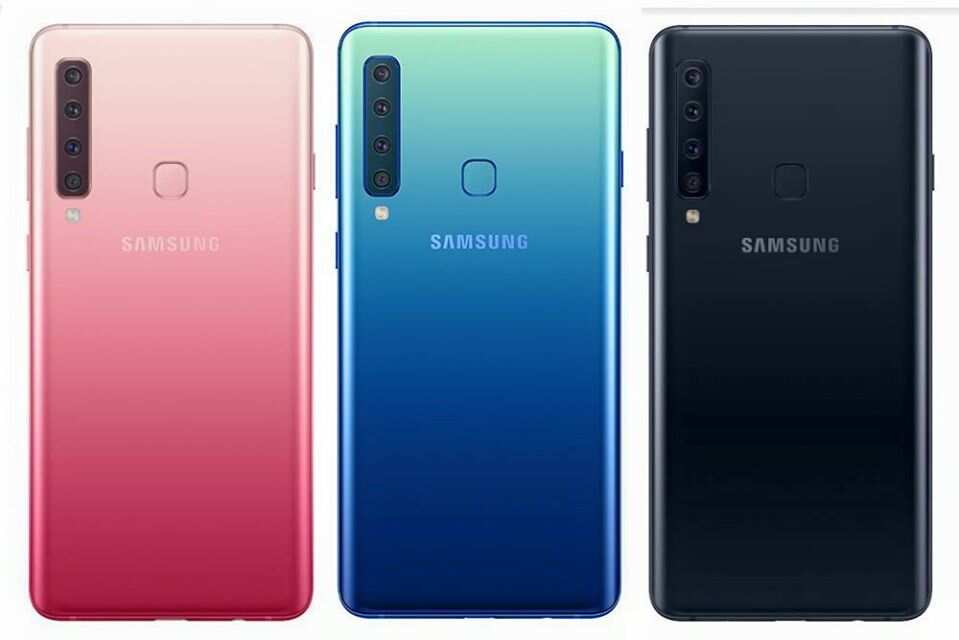 When it comes to a classy look and an unbeaten display, Samsung Galaxy A9 takes the lead. The device has a hyper-mobile look with a 6.3-inch Infinity Display as well as a Dolby Atmos surround sound.
Overview
To fully appreciate the device and learn about Samsung Galaxy A9 all details, check out the aspects that are for and against it. Consider the pros and cons below:
The good
Has an excellent display.
It comes with a long battery life.
It has a powerful chipset, adequate internal storage as well as a dedicated microSD slot.
Comes in a variety of colours so you will always have options. Samsung Galaxy A9 all colors include Caviar Black, Lemonade Blue & Bubblegum Pink.
The bad
It can be disappointing when considering image quality, especially because it is advertised for its camera prowess.
It does not run on the latest Android version.
It is considerably expensive.
Samsung Galaxy A9 specs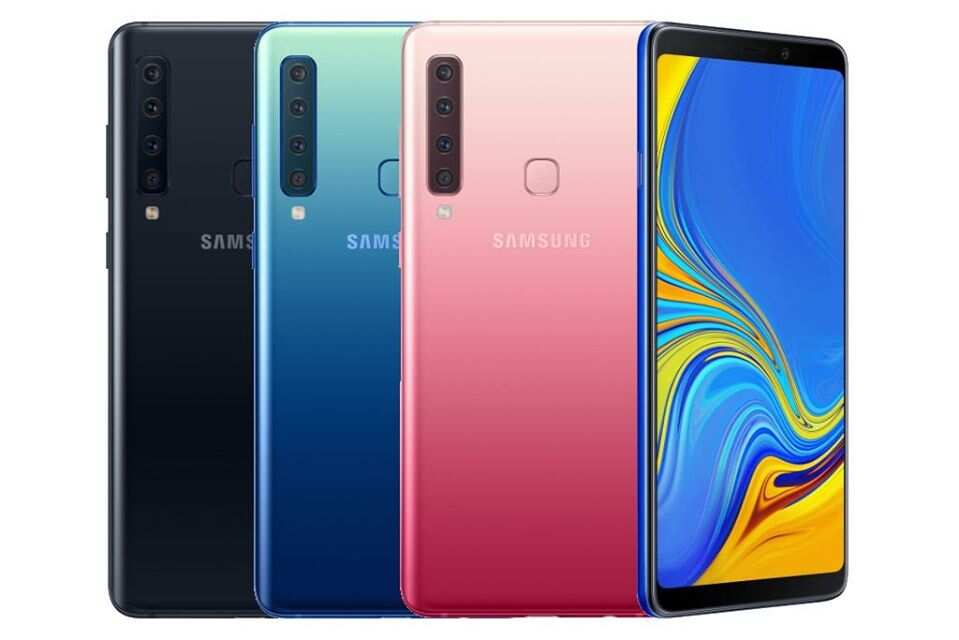 Here are the specifications of the phone at a glance.
Display: 6.3-inch FHD+ Super AMOLED display
Chipset: Qualcomm SDM660 Snapdragon 660 (14 nm)
CPU: Octa-core (4x2.2 GHz Kryo 260 Gold & 4x1.8 GHz Kryo 260 Silver)
RAM: 6/8GB
ROM: 128/64GB
Card slot: Yes, expandable up to 1TB
OS: Android 8.0 Oreo
Primary camera: 24MP(f/1.7 aperture) primary sensor; 10MP ( f/2.4 aperture ) telephoto sensor; 8MP(f/2.4 aperture ) ultra-wide sensor; 5MP (f/2.2 aperture) depth sensor
Secondary camera: 24MP selfie camera
Wi-Fi: 802.11 a/b/g/n/ac (2.4/5GHz), VHT80 MIMO
Bluetooth: v 5.0 (LE up to 2Mbps), A2DP
USB: 2.0, Type-C 1.0 reversible connector
GPS: A-GPS, GLONASS, BDS, GALILEO
Battery: 3800mAh, fast charging
Hardware
The beauty of the Samsung Galaxy A9 lies in its hardware components. Consider the details below.
Design
This phone is easily recognizable due to its quad cameras. It has 4 cameras at the back. The quad-cam array comes positioned in the top left corner. Its four modules come in a row as opposed to a 2x2 square arrangement.
This setup makes them convenient and less in-your-face. Also helpful is the fact that they all tend to peek at you from a shared window as opposed to Huawei's 2+1 configuration on the P20 Pro. The only downside may be that Samsung couldn't squeeze in the flash.
The phone's fingerprint reader is conventionally located on the device's back. The reader may seem high if you are moving from a smaller device and may need some getting used to. However, if you are switching from another 6-inch+ phone, then this would be as expected. You will also like the fact that Samsung did not put a text on the back except for the logo, hence the look is perfect.
Just like the back, the phone's front is also clean. Its 6.3-inch Super AMOLED naturally makes the sides thinner. The company still refers to it as an Infinity Display even though it is less 'infinity' when compared to the S9s and the Note9S. Interestingly, some people love it that way, especially those who prefer large and flat screens.
The top bezel has all the usual elements. It has the earpiece in the middle, the selfie camera to the right, and ambient light and proximity sensors that share a cutout. Nothing is located below the display.
The phone's frame is made of metal, which keeps together the glass sandwich. Towards the bottom, a USB-C port, a single loudspeaker, a 3.5mm jack, as well as the primary mic are located. On top, there is the secondary mic pinhole and a card slot. The card slot takes two Nano SIMs and a microSD card which is a plus
Display
The phone comes equipped with a 6.3-inch Super AMOLED display. Its resolution is a FullHD+ in a stretched up 18.5:9 aspect ratio, translating to 1080 x 2220px, which works out to a 393ppi pixel density.
Tests on brightness resulted in 400nits in manual mode and 600nits in auto with the ambient light sensor exposed to bright light. These are similar to what the A7 yielded. Without any measurable illumination of the blacks, the contrast was rendered infinite.
The minimum brightness of 1.8nits was also measured. It also has excellent sunlight legibility.
Processor, storage, and performance
The device comes with enough storage capacity as it is supported by 6GB/8GB RAM and 128/64GB of ROM. This makes it capable to handle all kinds of workloads without interfering with its performance. Its real-life performance is quite acceptable and adequate. You can comfortably play high-end games with moderate heating.
The device makes use of a Qualcomm SDM660 Snapdragon 660 (14 nm) chipset, an octa-core CPU, and an Adreno 512 GPU.
Samsung Galaxy A9 battery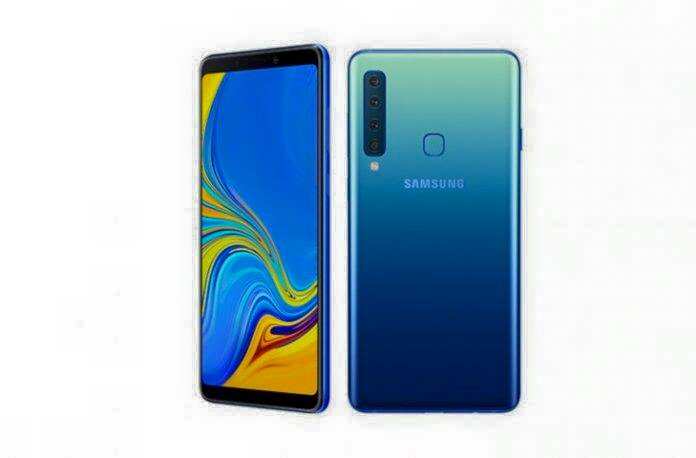 As already mentioned, this device comes packed with an excellent battery which is a 3,800mAh battery that matches the display size and its more powerful/power-hungry chipset.
Performance-wise, the Galaxy A9 battery is predictable in the sense that it posts a significantly longer time in a video looping test compared to web browsing. This is an observation made on AMOLEDs.
The 15+ hours in the video test yield impressive results. 11 hours on web browsing script is still pretty good. It also records 22 hours when on a 3G voice call but this is not record-breaking either, but rather what you would consider reasonable.
When you consider the standby battery draw, then you get an overall endurance rating of 88 hours which is okay. The phone ships with its usual Samsung Adaptive Fast Charge adapter that is rated at 5V/2A and 9V/1.67A. A full charge from flat will take a very reasonable 1:47h, with a 30-minute stint giving you a 35% charge.
Speaker and call quality
The device comes with a single loudspeaker that is located on its bottom edge. It may be categorized as very good if loudness counts but it helps to note that other competitors are louder. It also lacks in the lower register with no bass expected from it.
It delivers a nicely loud audio output that has an active external amplifier with great accuracy. When using headphones, there is a moderate amount of stereo cross-talk experienced coupled with some inter-modulation distortion. However, those last two are not high enough to be significant. The volume remains high, beefing up the solid overall performance.
Software
A good phone is determined by its software. Here are the software specs for the Galaxy A9.
OS and features
The device runs on Android 8.0, upgradeable to 9.0. The experience UI on the Galaxy A9 is based on Android 8.0 Oreo.
The phone supports Dual SIM Dual VoLTE. Its phone call quality is also quite good. Its fingerprint sensor is also fast and reliable. The Face Unlock feature may be a bit slow but it is still within the range of what you would get on Vivo, Oppo, or OnePlus devices.
Samsung Galaxy A9 camera
The cameras are probably the main features that make this device attractive. It is the first Samsung phone to pack 4 cameras on its back, something that remains unmatched.
You should note though that one of the cameras is not a standalone hence you cannot take actual pictures with. Instead, it is a depth camera that is used for Live Focus. The depth camera uses a 5MP sensor with an f/2.2 aperture lens which is what makes it thorough.
The other three modules are, however, self-sufficient and they form the trifecta of cameras you want and need in your smartphone. The primary one is flanked by an ultra-wide angle and a telephoto on either side when you consider the focal length, and not necessarily the actual arrangement.
The primary camera comes at the second module from the bottom, just above the depth module. It has a more-than-necessary 25MP resolution sensor behind the fast f/1.7 lens with a focal length of 27mm. There is also the telephoto camera that makes use of a 10MP sensor coupled with an f/2.4 lens and delivers the field of view of a 52mm lens in 35mm camera terms. You may want to note that this is actually the only telephoto camera on a Samsung mid-ranger as of now.
The ultra-wide module is located on top with an 8MP sensor behind an f/2.4 aperture lens that delivers a 120-degree field of view. This technically corresponds to a ridiculous 12mm equivalent. This module has no autofocus, and it may not need one at this focal length.
Unfortunately, the image quality is somewhat disappointing. It is observed that strong purple colour is cast in all outdoor shots, and sometimes in indoor ones when there is too much incoming natural light. The primary camera suffers from this challenge.
Samsung Galaxy A9 review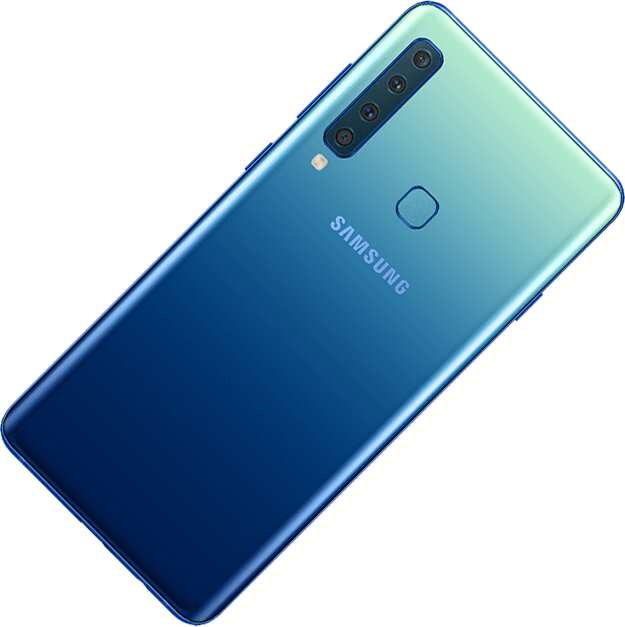 People have had a chance to try out the phone and here is what they are saying about it on YouTube.
DuckBerry: Who cares about the back? The phone itself looks AWESOME!!!!
Bogdan Paun: What's next? Canon and Nikon will add a phone to their cameras?
Aga Khan: LG V40 is doing all these with 3 cameras. 4 camera is a marketing gimmick.
Ser Humano: Very soon I'm gonna need clamps to hold my phone to avoid covering the camera when taking pictures
Dimitrology: Honestly, this is getting ridiculous... 4 cameras, really!?
Samsung Galaxy A9 price
According to naijatechguide.com, the approximate Samsung Galaxy A9 price is between N80,000 to N100,000 based on one's location in Nigeria. The phone goes for a cost of 599 Euros in Europe and 549 Pounds in the U.K, according to Android Authority. It is worth noting that an upgrade to Samsung Galaxy A9 Android 10, if possible, would mean better features and higher prices.
Samsung Galaxy A9 accessories
Upon unboxing the phone, you will find the following:
A bumper case
A Quick Start guide
USB cable
Charging adapter
A pair of headphones
Verdict
On paper, this device shows where smartphone technology is headed. However, practically, the cameras it is advertised for are a letdown, especially in low lighting. While there is no expectation for a mid-ranger to have a top-notch image and video quality, Samsung Galaxy A9 could have done better.
Well, the price of the Samsung Galaxy A9 does not make things any better as it is very high. If you are interested in being a quad-camera smartphone owner and not worried about the quality of images, then you can purchase this gadget. Otherwise, there are other alternatives to go for.
Source: Legit.ng