Wonderful beauty quotes to inspire you
Prettiness is relative, and it means different things to different people. When one feels attractive, they are happier in life. Attractiveness is an essential quality that the human soul desires. Without it, the soul runs into despair. These beauty quotes inspire every human being to become attractive both on the inside and outside.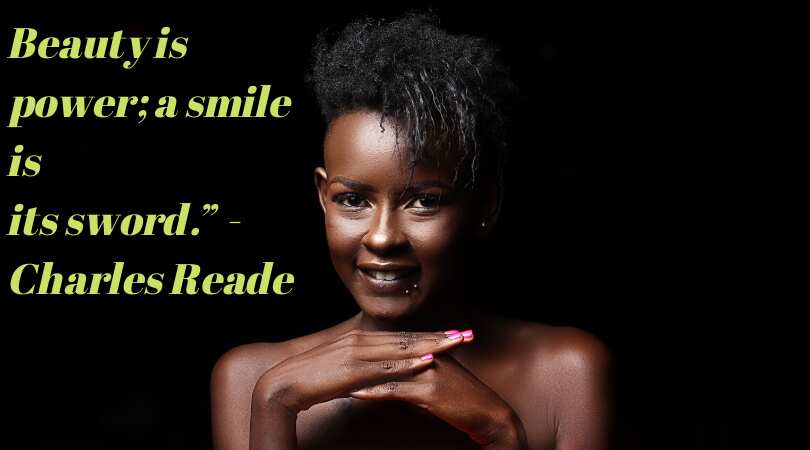 Everyone needs to appreciate all the splendour that surrounds us. There are a lot of appealing things and people that we often overlook. These beauty quotes are full of wisdom, and they remind us all to appreciate all the loveliness that is found in our environment. When did you last appreciate the attractive and lovely people and things that surround you?
Wonderful beauty quotes to inspire you
Did you know that appealing people are not only physically attractive? A lovely and attractive human being is one who is genuine, passionate about good causes, optimistic, and one who is willing to make a positive impact in the lives of others. What are some of the top quotes about beauty that inspire and challenge us to be grateful for the people, things and nature that surrounds us?
Famous quotes about attractiveness
Some of the famous quotes about attractiveness and loveliness are;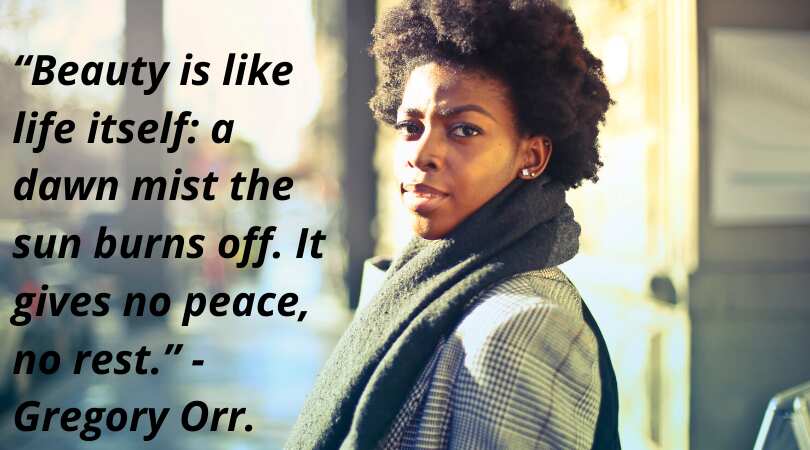 "There is certainly no absolute standard of beauty. That precisely is what makes its pursuit so interesting." - John Kenneth Galbraith.
Everyone is attractive in their unique way. What is appealing to one person may be different from the next.
"Beauty is certainly a soft, smooth, slippery thing, and therefore of a nature which easily slips in and permeates our souls." – Plato.
Attractiveness is not always there. It is fluid and dynamic.
"The beauty of the world which is so soon to perish, has two edges, one of laughter, one of anguish, cutting the heart asunder." - Virginia Woolf.
Nothing lasts forever.
"Beauty is something we can affirm and intend to have more of. What happens then is our perceptual ability, no matter where we are, expands in that direction." - James Redfield.
Everyone can define what attractiveness is and strive to become what they have defined.
"Beauty is like life itself: a dawn mist the sun burns off. It gives no peace, no rest." - Gregory Orr.
"Beauty just keeps coming into the world and passing away, coming in and passing away. You can't blame beauty. Beauty doesn't know what else to do." - Glen Duncan.
Attractiveness comes and goes, so we must all appreciate it when it lasts.
Short quotes on beauty
Are you looking for a perfect quote about beauty? Here are some amazing ones to choose from;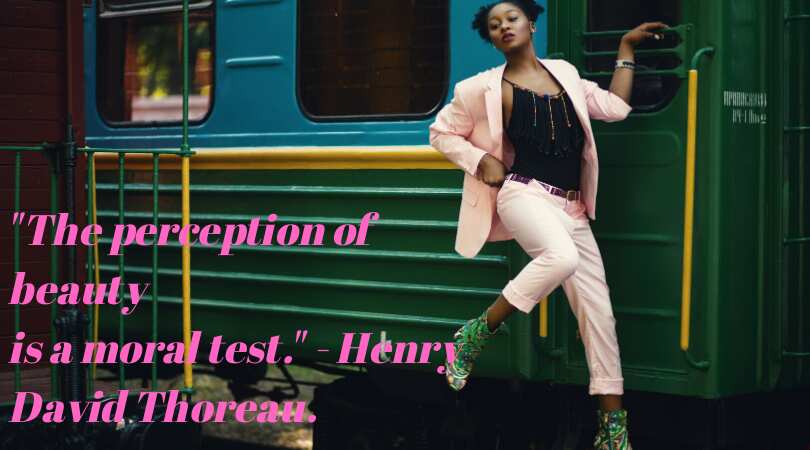 "The perception of beauty is a moral test." - Henry David Thoreau.
"Beauty is not in the face; beauty is a light in the heart." - Kahlil Gibran.
We often limit attractiveness to being physically appealing. However, a lovely heart is worth more than physical attractiveness.
"Beauty pleases the eyes only; sweetness of disposition charms the soul." – Voltaire.
The human soul should be more attractive than a person's physical appearance.
"The beautiful is always bizarre." - Charles Baudelaire.
What is appealing to one person may be bizarre to another.
"Beauty is power; a smile is its sword." - Charles Reade.
Loveliness and attractiveness are incomplete without a smile.
"Everyone deserves to believe they are beautiful." - John Lennon.
Although there are certain standards of attractiveness that have been set by the fashion industry, it is important for every human being to know that they are attractive in their own way.
Inspirational quotes
Everyone needs some inspiration to get through the curves and swirls of life. Get inspired by these quotes today;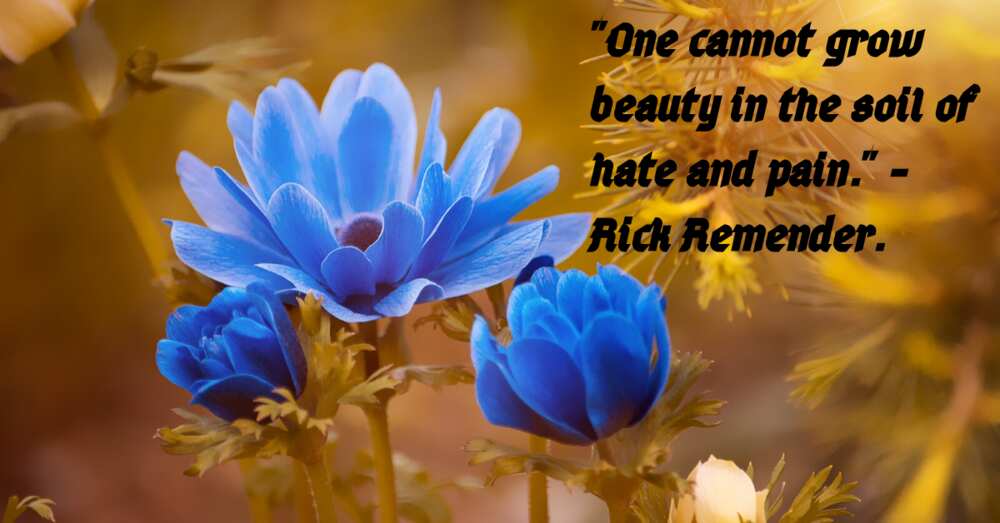 "For beautiful eyes, look for the good in others; for beautiful lips, speak only words of kindness; and for poise, walk with the knowledge that you are never alone." - Audrey Hepburn.
Loveliness is a quality that we must all strive to have. We should be good human beings who are kind and who see the good in other people.
"One cannot grow beauty in the soil of hate and pain." - Rick Remender.
Loveliness is not born out of hate or pain. It is built on love.
"Beauty comes from a life well-lived. If you've lived well, your smile lines are in the right places, and your frown lines aren't too bad." - Jennifer Garner.
Living a peaceful, honest, and happy life in harmony with both nature and people is the epitome of beauty.
"When a person has gone through the journey of finding and pursuing their most authentic self, and shares that gift, for me, that's beautiful." - Geena Rocero.
A person who is authentic and not fake is the most attractive.
"I believe I'm beautiful because I'm me. I also believe that if you can find beauty in everything, you can allow that to change your mind-set, and doing so makes you a happier person." - Philomena Kwao.
Being yourself and finding beauty in others and in life not only create a happy life but also makes you a lovely and attractive person.
"The most beautiful people we have known are those who have known defeat, known suffering, known struggle, known loss, and have found their way out of the depths. These persons have an appreciation, a sensitivity, and an understanding of life that fills them with compassion, gentleness, and a deep loving concern. Beautiful people do not just happen." - Elisabeth Kübler-Ross.
There is something appealing about being vulnerable and acknowledging all the struggles that one has gone through in life. Pain makes human beings more appreciative of the loveliness that surrounds us.
Thought-provoking quotes
Attractiveness is relative. What may seem appealing to one person may be ugly to another. Some of the top sayings that remind us about this relativity are;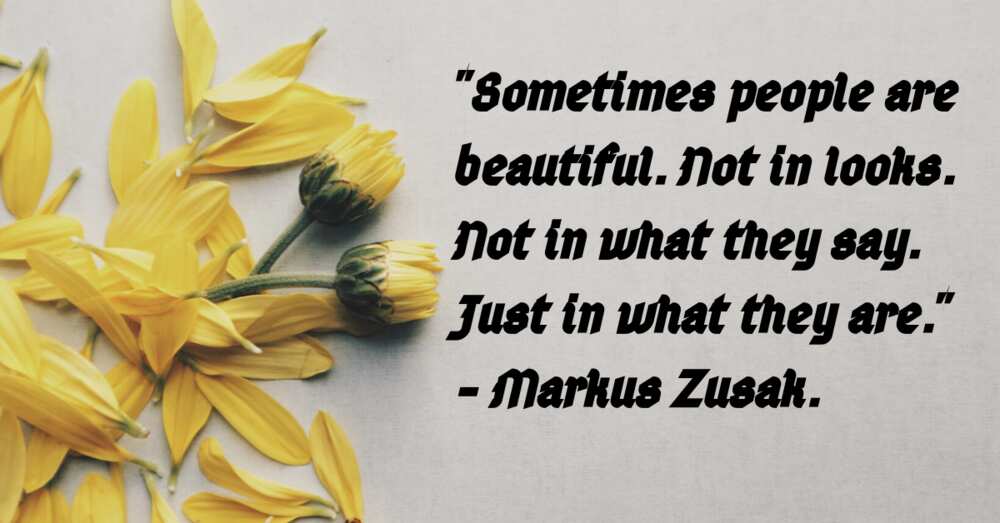 "No object is so beautiful that, under certain conditions, it will not look ugly." - Oscar Wilde.
In the same way everything and everyone has an appealing side, they also have an aspect that is ugly.
"Beauty is no quality in things themselves: It exists merely in the mind which contemplates them; and each mind perceives a different beauty." - David Hume.
Each human mind is unique. Every unique mind has its unique definition of the words appealing, attractive. and lovely.
"Though we travel the world over to find the beautiful, we must carry it with us, or we find it not. The best of beauty is a finer charm than skill in surfaces, in outlines, or rules of art can ever teach, namely a radiation from the work of art, of human character." - Ralph Waldo Emerson.
It takes an appealing soul and mind to attract another appealing person.
"We delight in the beauty of the butterfly, but rarely admit the changes it has gone through to achieve that beauty." - Maya Angelou.
We often see appealing things and people. Very often, we forget the process they underwent to achieve that beauty. It takes hard work and a lot of effort behind the scenes to become an attractive person.
"I think preetiness is the pursuit of an authentic self. Some a**hole told me that I would never be happy because my life is all about 'becoming'—but what are your options as a transgender person in transition? I think everyone is in pursuit of themselves, and trans folks happen to wear it on their sleeves. The people whom I find most beautiful are the people whom you can't compare to anyone else—people who do what works for them. 'Dare to be different' is a cliché, but in my experience it's the best thing you can tell yourself. Beauty is survival, especially survival against the odds." - Hari Nef.
This quote reminds us that every human being who is true to themselves, regardless of their sexual orientation, is an attractive person.
"Sometimes people are beautiful. Not in looks. Not in what they say. Just in what they are." - Markus Zusak.
When last did you take time to appreciate that your fellow human beings have some lovely traits?
Quotes about self-love
Today, many people struggle with low self-esteem due to many reasons. We all need something to remind us that we are worthwhile and attractive. For you to prosper in life, you have to love yourself as you are. These top quotes will inspire you to love yourself more;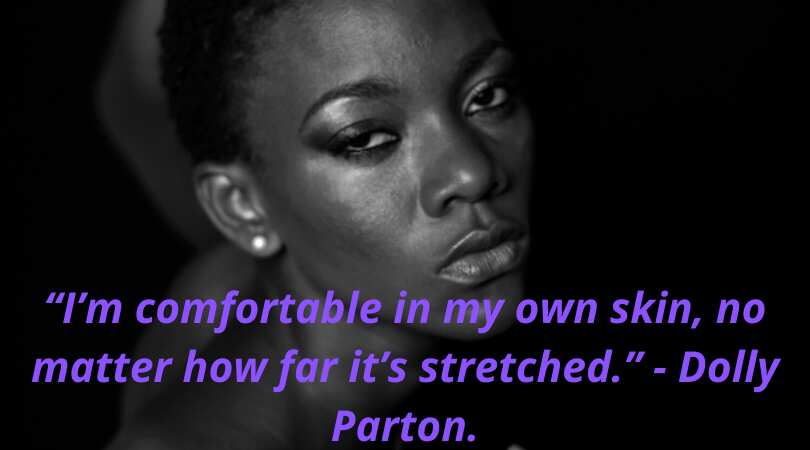 "Beauty has so many forms, and I think the most beautiful thing is confidence and loving yourself." - Kiesza.
It is sad to observe numerous people living fake lives. In the process of keeping up with others, they lose themselves.
"Love yourself for who you are, and trust me, if you are happy from within, you are the most beautiful person, and your smile is your best asset." - Ileana D'Cruz.
More and more people are preaching about self-love. This is a crucial life lesson, especially for the younger generations. When one loves themselves, they attract positive things in life.
"I'm comfortable in my own skin, no matter how far it's stretched." - Dolly Parton.
What if more people appreciated their physical flaws? The world would be a better place.
"Confidence is the only key. I know a lot of people who aren't traditionally 'beautiful' — not symmetrical or perfect-bodied or perfect-skinned. But none of that matters because all that shines through is their confidence, humour and comfort with themselves. I can't think of any better representation of beauty than someone who is unafraid to be herself." - Emma Stone.
Confident people are attractive people.
"To me, beauty is about being comfortable in your own skin. It's about knowing and accepting who you are." - Ellen Degeneres.
If we all accepted ourselves as we are, we would achieve a lot more in life.
"At last I'm old enough to know that the collective points of view on what is beautiful will always be subject to the vicissitudes and whims of a generation. So will our own faces and bodies change over the course of a lifetime... The things that I find truly beautiful now are more subtle and rare but can access a depth of emotion that I didn't even know existed in me. My mother's hands scarred from years of pruning her own garden. The nape of my daughter's neck. My son's eyebrows, inherited from his grandfather. A selected line of a Mary Oliver poem. The way my husband looks at me as he enters our bed after we've survived another long day. My vanishing freckles." - Molly Ringwald.
Outer and inner attractiveness is relative. It changes based on different circumstances.
Natural beauty quotes
In a world where so many people are working extremely hard to look like someone else, it is essential to remind ourselves not to get carried away. We must not lose our authenticity. These quotes and sayings remind us that.
"Natural beauty takes at least two hours in front of a mirror." - Pamela Anderson.
"To me, beauty is natural beauty. If you're naturally yourself, you're beautiful." - Young M.A.
"Being natural is incredibly empowering for women because it's just who you are. You're embracing all the beautiful things about you from your head to your toes. Because when you mask so much of your natural beauty, people don't get to see that." - Rozonda Thomas.
"You can always enhance your natural beauty; you learn what works for your face because crazy make-up doesn't really suit anyone." - Caroline Winberg.
"When you are balanced, and when you listen and attend to the needs of your body, mind, and spirit, your natural beauty comes out." - Christy Turlington.
"What a rebellious act it is to love yourself naturally in a world of fake appearances." - Nikki Rowe.
Inner beauty quotes
Physical attractiveness may capture the hearts and attention of people momentarily. Attractiveness and loveliness from the inside always radiate to the world and never fades. These quotes remind us of the importance of inner attractiveness;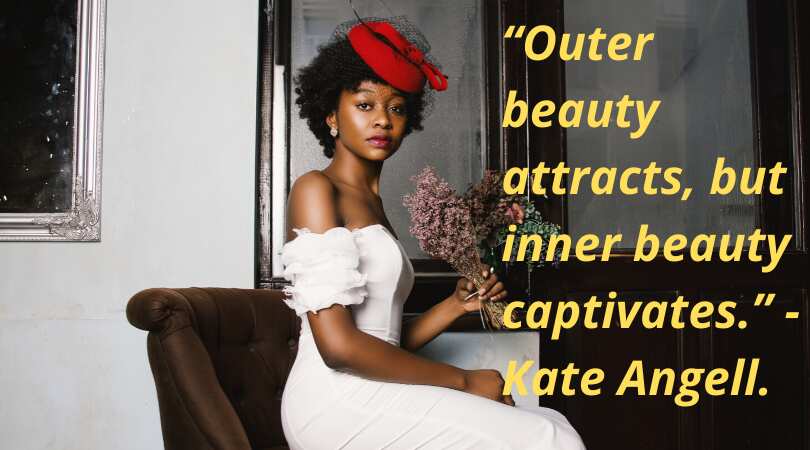 "Beauty is only skin deep, but ugly lies to the bone. Beauty dies and fades away, but ugly holds its own! Create and cultivate inner beauty that never fades away but grows and matures with time!" - Deodatta V. Shenai-Khatkhate.
This quote is one we should all live by.
"You are not born with beauty, your beauty is created by who you are. Your inner beauty is more important than how people see you on the outside."- Emily Coussons.
Everyone can turn themselves into more appealing people because positive behaviours, thoughts, and actions are learned.
"Outer beauty attracts, but inner beauty captivates." - Kate Angell.
"People are like stained-glass windows. They sparkle and shine when the sun is out, but when the darkness sets in, their true beauty is revealed only if there is a light from within." - Elisabeth Kubler-Ross.
"Beauty is how you feel inside, and it reflects in your eyes. It is not something physical." - Sophia Loren.
"Inner beauty, too, needs occasionally to be told it is beautiful."- Robert Brault.
This quote reminds us all that we all need affirmation to appreciate our physical attractiveness and our appealing attributes.
True beauty quotes
In today's world, the truth has become elusive. Many people are living a lie while others can barely go a day without telling a lie. An attractive person is one who is ethical. They are truthful. Below are some of the top true quotes that remind us all about the relationship between truthfulness and being appealing;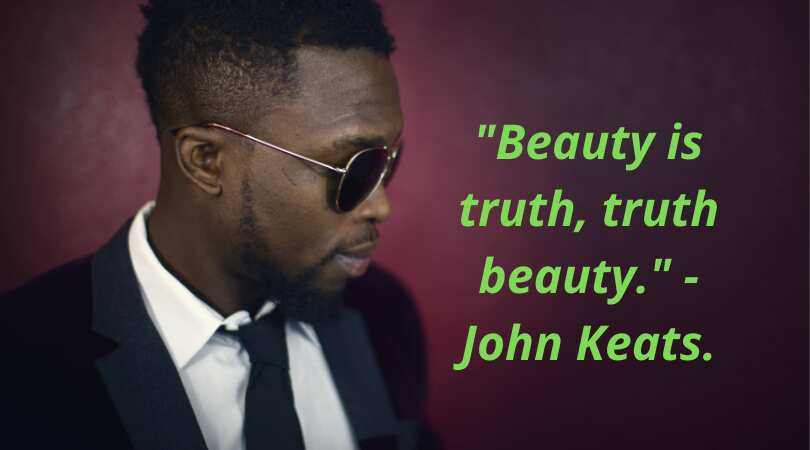 "No matter how plain a woman may be, if truth and honesty are written across her face, she will be beautiful." - Eleanor Roosevelt.
There is always something appealing about a person who is honest.
"Though beauty is, with the most apt similitude, I had almost said with the most literal truth, called a flower that fades and dies almost in the very moment of its maturity; yet there is, methinks, a kind of beauty which lives even to old age; a beauty that is not in the features, but, if I may be allowed the expression, shines through them. As it is not merely corporeal it is not the object of mere sense, nor is it to be discovered but by persons of true taste and refined sentiment." - Fulke Greville.
Physical attractiveness is fluid, it passes with age. Every human being should, therefore, strive to be attractive from the inside.
"But the beauty of all kinds gives us a peculiar delight and satisfaction; as deformity produces pain, upon whatever subject it may be placed, and whether surveyed in an animate or inanimate object. If the beauty or deformity, therefore, be placed upon our own bodies, this pleasure or uneasiness must be converted into pride or humility, as having, in this case, all the circumstances requisite to produce a perfect transition of impressions and ideas. These opposite sensations are related to the opposite passions. The cuteness or deformity is closely related to self, the object of both these passions. No wonder, then our own beauty becomes an object of pride, and deformity of humility." - David Hume.
"Truthful words are not beautiful; beautiful words are not truthful. Good words are not persuasive; persuasive words are not good." - Lao Tzu.
The truth may sometimes hurt, but it takes a courageous and appealing person to say the truth.
"Of life's two chief prizes, beauty and truth, I found the first in a loving heart and the second in a labourer's hand." - Khalil Gibran.
Beauty quotes for her
Women love being appreciated. Most women place their value on their physical attractiveness. However, this should not be the case because they have a lot more to offer in life. The modern woman needs to be reminded that being attractive is not limited to physical appearance. She can be lovely and attractive both on the inside and outside. Here are some of the best quotes that you can send to her to make her day brighter;
"A woman whose smile is open and whose expression is glad has a kind of beauty no matter what she wears." - Anne Roiphe.
A woman who smiles is an attractive woman.
"It's important for all types of women to know that you don't have to fit a prototype of what one person thinks is beautiful in order to be beautiful or feel beautiful... People think, sexy, big breasts, curvy body, no cellulite. It's not that. Take the girl at the beach with the cellulite legs, wearing her bathing suit the way she likes it, walking with a certain air, comfortable with herself. That woman is sexy. Then you see the perfect girl who's really thin, tugging at her bathing suit, wondering how her hair looks. That's not sexy." - Jennifer Lopez.
Every woman, skinny or curvy, is attractive in their own way. They are even more attractive when they own and embrace their authentic selves.
"The angel beauty walks her radiant way: O, follow her! She never leads astray." - Albert Laighton.
A lovely and attractive soul attracts happy and positive things. It does not misguide others.
"There should be, methinks, as little merit in loving a woman for her beauty, as in loving a man for his prosperity; both being equally subject to change." - Alexander Pope.
"The beauty of a lovely woman is like music ... the rounded neck, the dimpled arm, move us by something more than their prettiness--by their close kinship with all we have known of tenderness and peace." - George Eliot.
"For one to admire a woman merely for her beauty, is to love the building for its exterior; but to love one for the greatness of her soul, is to appreciate the tenement for its intrinsic value." - William Scott Downey.
Quotes for him
We often forget that men are appealing and lovely human beings too. They too need appreciation. Here are some top quotes for him that remind him that he is a human being who is valued and cherished.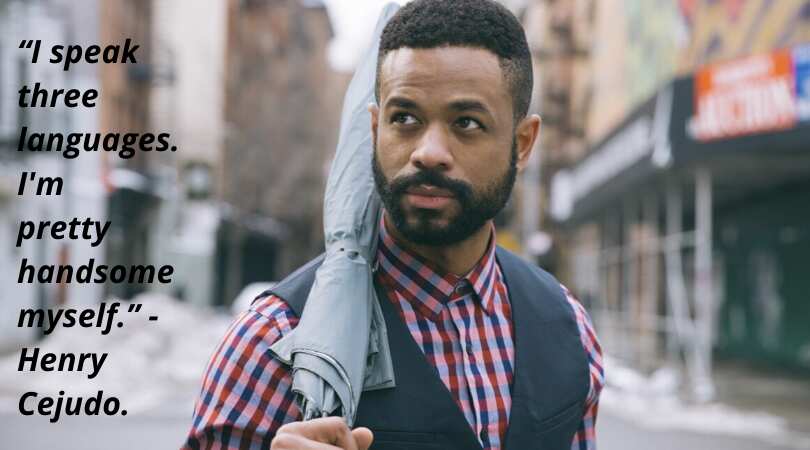 "It is part and parcel of every man's life to develop beauty in himself. All perfect things have in them an element of beauty." - Henry Ward Beecher.
Being attractive does not happen overnight. It is a process that takes time, patience, and hard work.
"In every man's heart, there is a secret nerve that answers to the vibrations of beauty." - Christopher Morley.
Man cannot resist attractive people and things.
"Nature had squandered an unreasonable quantity of male beauty on this undeserving creature." - Lisa Kleypas.
"I want to tell people that there are more ways to be beautiful; there are more ways to be handsome." - Rain Dove.
There is always something that we can do to become better and more attractive people.
"I really like writing heroes who aren't necessarily 'Hollywood handsome.' Personally, I think men who are self-confident, intelligent, and funny are outrageously attractive - and my heroines tend to think that, too!" - Suzanne Brockmann.
Do you want to know the secret of being attractive? It is in being confident, having humour and wit, and being courageous.
"I speak three languages. I'm pretty handsome myself." - Henry Cejudo.
What is more appealing than a man who believes that he is handsome?
Quotes about nature's attractiveness
Nature is stunning. It has breathtaking scenery, flora, and fauna. However, we often forget to recognise this. Human activity is continuously detroying and eroding the loveliness of nature. Now is the time to be mindful of our environment. Some of the quotes that remind us to appreciate and take care of our natural surroundings are;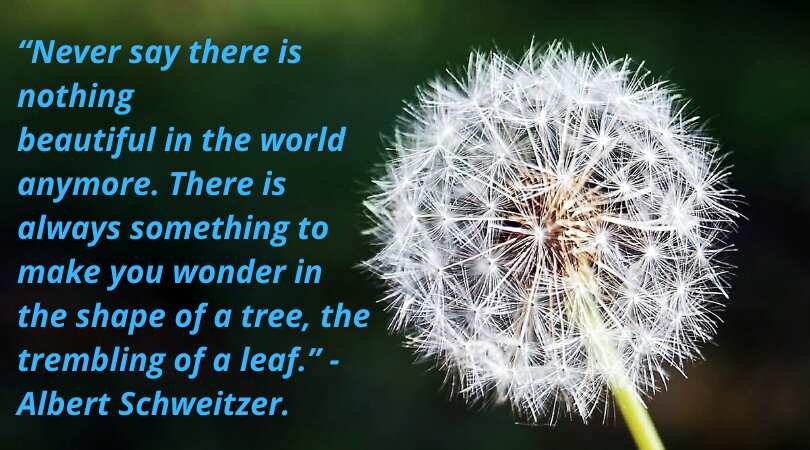 "At some point in life, the world's beauty becomes enough. You don't need to photograph, paint or even remember it. It is enough. No record of it needs to be kept, and you don't need someone to share it with or tell it to. When that happens -- that letting go -- you let go because you can." - Toni Morrison.
We all need a reminder to live in the moment and to appreciate the seasons that we find ourselves in at particular times.
"The beautiful is a manifestation of secret laws of nature, which, without its presence, would never have been revealed." - Johann Wolfgang Von Goethe.
We must all be conscious about nature and appreciate it.
"Think of all the beauty still left around you and be happy." - Anne Frank.
When one has happy and lovely thoughts, they are able to see all the positive and appealing things that surround them.
"If you are in a beautiful place where you can enjoy sunrise and sunset, then you are living like a lord." - Nathan Phillips.
No one can dispute the fact that sunrise and sunset are some of the most wonderful acts of nature.
"Never say there is nothing beautiful in the world anymore. There is always something to make you wonder in the shape of a tree, the trembling of a leaf." - Albert Schweitzer.
This quote reminds us to see the positive things in life. There is always something stunning and mind-blowing to observe.
"The more often we see the things around us - even the beautiful and wonderful things - the more they become invisible to us. That is why we often take for granted the beauty of this world: the flowers, the trees, the birds, the clouds - even those we love. Because we see things so often, we see them less and less." - Joseph B. Wirthlin.
This quote by Joseph B. Wirthlin is one we should try to keep in mind. It is a good reminder that we should always appreciate the flora and fauna that surrounds us.
Affirmation quotes for the younger generation
Many young people do not believe that they are appealing because of the way people have defined attractiveness and prettiness. They need affirmation to believe that they are gorgeous. Here are some quotes that prove to the younger women, and even the older ones, that they are enough and worth loving;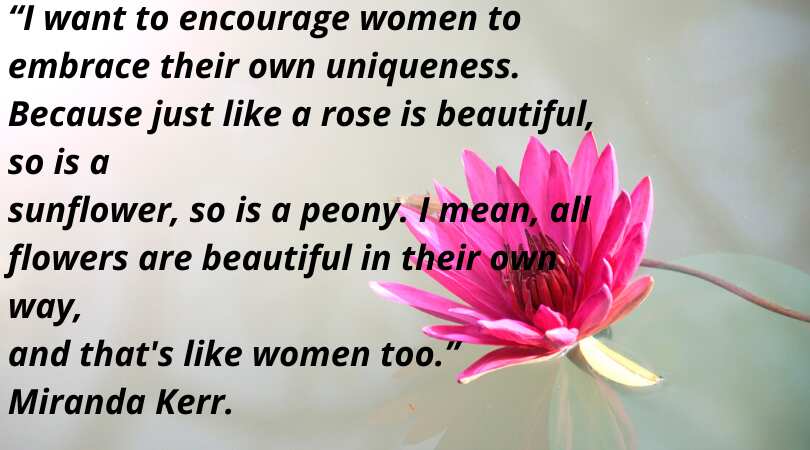 "No matter what shape or size you are, you should feel confident in your own skin. You should feel like a beautiful woman, no matter what!" - Joanna Krupa.
You are attractive in the shape that you are.
"I know who I am. I am not perfect. I'm not the most beautiful woman in the world. But I'm one of them." - Mary J. Blige.
Yes, you are attractive just as you are. You have to own your loveliness, be proud of it.
"I need to see my own beauty and to continue to be reminded that I am enough, that I am worthy of love without effort, that I am beautiful, that the texture of my hair and that the shape of my curves, the size of my lips, the colour of my skin, and the feelings that I have are all worthy and okay." - Tracee Ellis Ross.
You are worth good things in life. The shape of your body is no limitation.
"Nobody knows what really a beautiful person is, so don't worry. If you have pimples today, it's nothing. If you have a bad hair day, it's nothing. Feel beautiful. Feel sexy, and it will shine. It will show outside." - Leila Lopes.
Be happy in who you are, even on your bad days.
"Knowing yourself, and learning to love yourself as you are, is the beginning of beauty. I think the most important thing is to show off what's most beautiful about you and to hide what's less beautiful." - Sonia Rykiel.
Just like you have many positive things, you also have aspects that are not very appealing. Work on your positive attributes and capitalise on them.
"I want to encourage women to embrace their own uniqueness. Because just like a rose is beautiful, so is a sunflower, so is a peony. I mean, all flowers are beautiful in their own way, and that's like women too." Miranda Kerr.
We must all learn how to embrace our uniqueness and the positive things that come with being unique.
In today's world, most people focus on physical appearance and attractiveness. We often fail to realise that there are many marvelous things and people in life that we ought to appreciate. These beauty quotes remind us to appreciate both inner and outer attractiveness.
Source: Legit.ng