Best Dalai Lama quotes on life and love
His Holiness Dalai Lama is an incredibly wise person, and his sayings are shared by many people who want their life to be peaceful and happy. A lot of wisdom from this man has helped people to stay true to themselves and understand things about life. These beautiful Dalai Lama quotes will inspire and encourage you.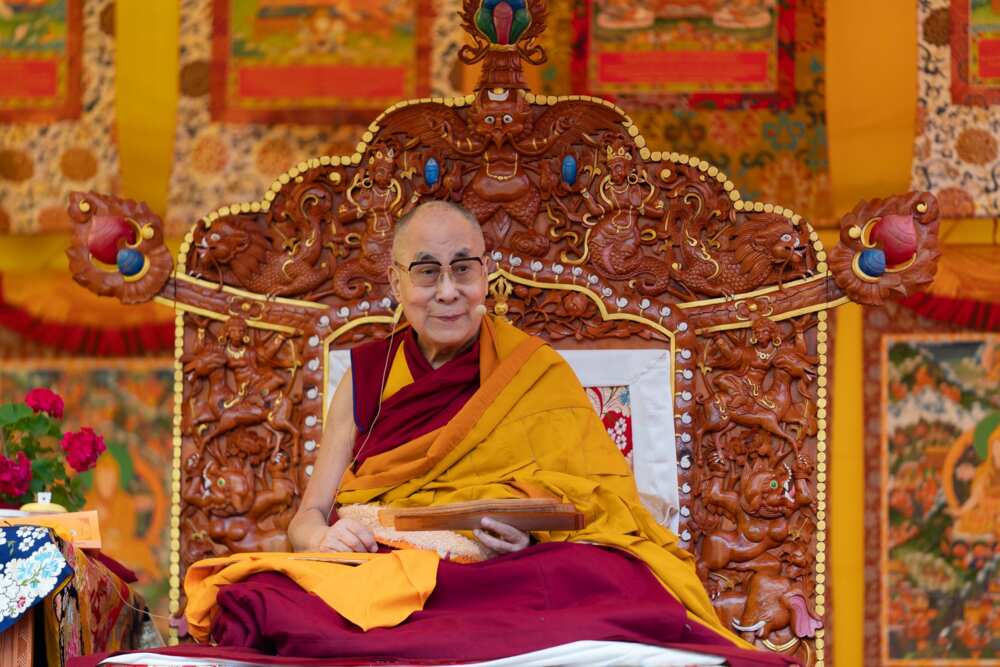 Out of all the living spiritual teachers, Dalai Lama is undoubtedly one of the greatest. He has helped myriads of people to change their lives and achieve inner peace. This man's philosophy centres around kindness, love, and compassion, which will guide a human to living a peaceful and fulfilling life.
His meaning of life quotes have become remarkable, and people still enjoy pieces of his wisdom whenever they are going through a hard time and need some spiritual advice. The words of this remarkable teacher can give people strength even in their darkest hour.
Dalai Lama quotes on life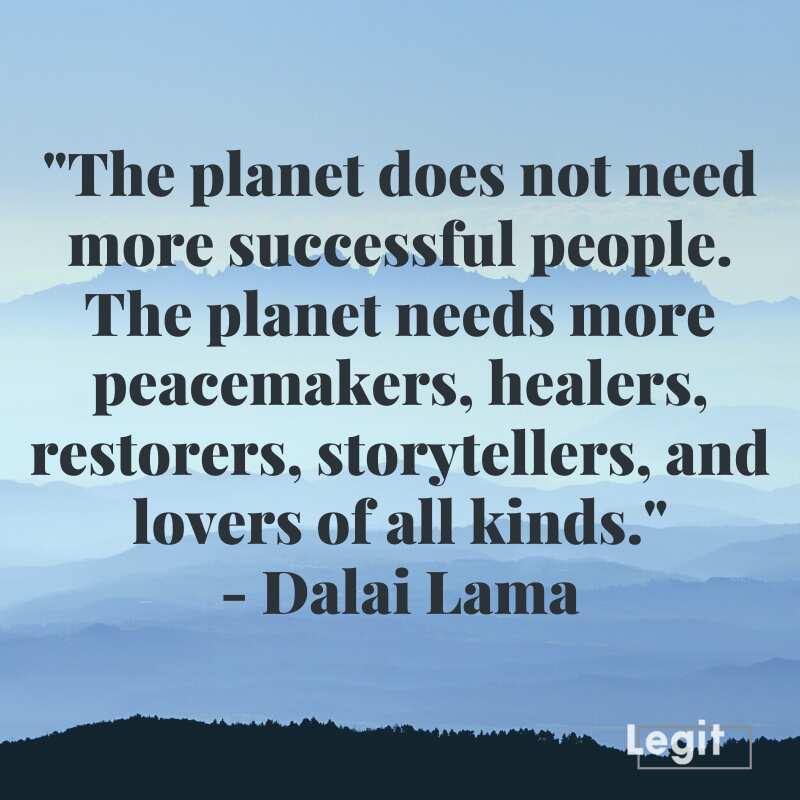 "Our prime purpose in this life is to help others. And if you can't help them, at least don't hurt them."
This famous Dalai Lama quote indicates how each one of us has to be a positive contribution to the world.
"My philosophy is kindness."
The wise man thinks that kindness is key to everything.
"If you think you are too small to make a difference, try sleeping with a mosquito."
The Dalai Lama quotes remind us of how annoying mosquitoes are, but also inspires us to make a difference no matter how small we might be.
"The planet does not need more successful people. The planet needs more peacemakers, healers, restorers, storytellers, and lovers of all kinds."
This saying makes a lot of sense - after all, there are a lot of successful people in the world, but success does not equal being kind and compassionate.
"I find hope in the darkest days, and focus in the brightest."
Dalai's peace of mind quotes make it clear that it does not matter how dark your day might seem - you should always focus on hope.
"Be kind whenever possible. It is always possible."
When we think about it, there are no excuses for not showing kindness to each other.
"Never give up. No matter what is happening, no matter what is going on around you, never give up."
Giving up is an easy option, but it will not achieve anything. Even in the darkest hour, you should keep going.
"You have to start giving first and expect absolutely nothing."
The kindest people with the biggest hearts are those who do nice things without expecting anything in return.
"In order to carry a positive action, we must develop here a positive vision."
There are no positive actions if your heart is still darkened with negativity.
"There are only two days in the year that nothing can be done. One is called yesterday, and the other is called tomorrow. Today is the right day to love, believe, do, and mostly live."
This is a reminder for us all to focus on the most beautiful and precious day, which is today.
"Live a good, honourable life. Then when you get older and think back, you'll be able to enjoy it a second time."
Everyone should live their life to the fullest so it can be enjoyable to look back and reminisce when you are older.
Dalai Lama quotes on love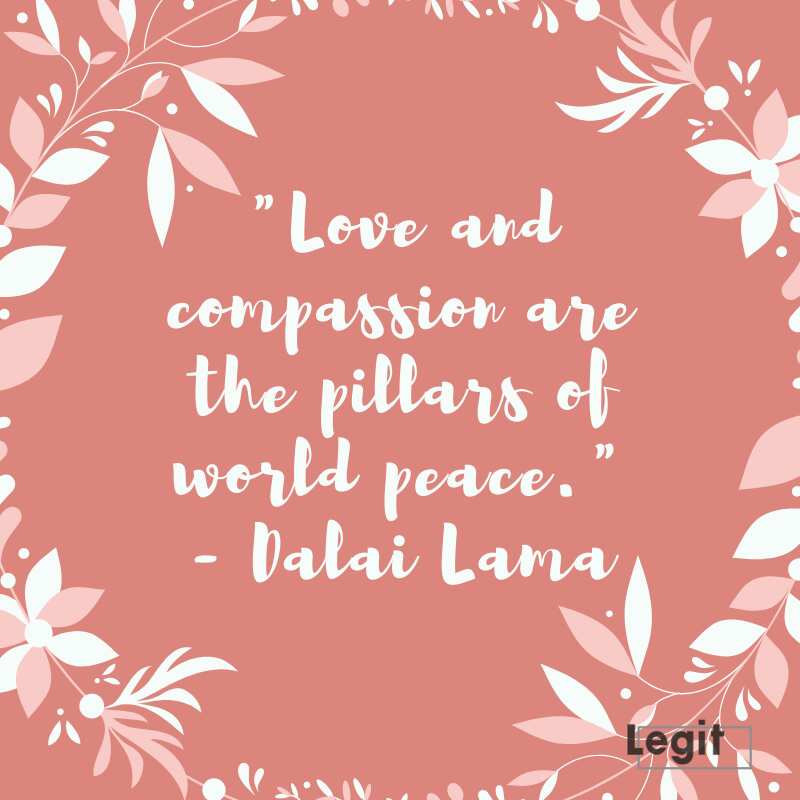 "Give the ones you love wings to fly, roots to come back, and reasons to stay."
Some of the teacher's enlightenment quotes teaches that supporting those who are precious to you and giving them freedom is the biggest indication of caring for them with all your heart and soul.
"Love is the absence of judgment."
This is a simple truth that everyone needs to hear from time to time: when someone is important to you, and you are equally important to them, there will be no judgment from either side.
"Love and compassion are necessities, not luxuries. Without them, humanity cannot survive."
Every person needs to be loved, even if they deny it. In the end, this feeling can really save the world.
"Live with an open heart."
Being open-minded to each other's differences is a trait that mature people possess.
"The more you are motivated by love, the more fearless and free your actions will be."
The wise man reminds us that sometimes motivations can be corrupt, which results in wrong actions. However, when you have the right motivation, everything will go smooth.
"Remember that the best relationship is one in which your love for each other exceeds your need for each other."
Neediness and unconditional love are two completely different things.
"If you don't love yourself, you cannot love others. You will not be able to love others. If you have no compassion for yourself, then you are not able of developing compassion for others."
Dalai Lama gives us a reminder that loving and treasuring yourself comes above everything else.
"When we feel love and kindness toward others, it not only makes others feel loved and cared for, but it helps us also to develop inner happiness and peace."
Kindness is like a boomerang: when you show it towards someone else, you will remain content and happy yourself.
"It is lack of love for ourselves that inhibits our compassion toward others. If we make friends with ourselves, then there is no obstacle to opening our hearts and minds to others."
Here is another beautiful quote from the wise philosopher about what it means to be compassionate to yourself.
"Love and compassion are the pillars of world peace."
If people were understanding and tolerant of each other, maybe there would be a chance to establish peace.
Inner peace quotes from Dalai Lama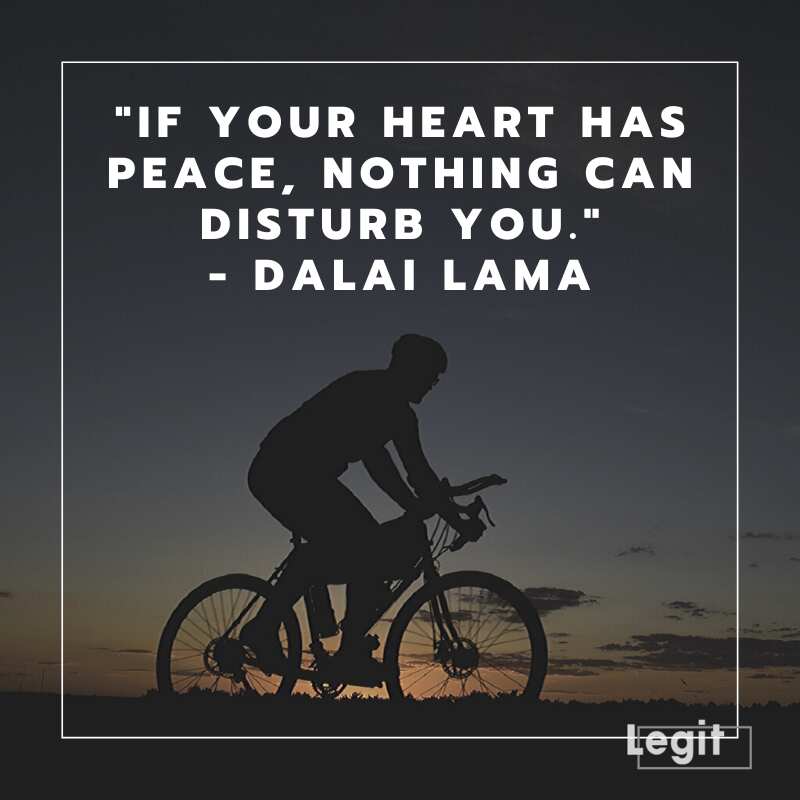 "Do not let the behaviour of others destroy your inner peace."
Other people's personal problems and how they treat you should not take a toll on you, because you are your own person, and your mental health matters the most.
"A disciplined mind leads to happiness, and an undisciplined mind leads to suffering."
Disciplining your mind is perhaps the most important part of the way to understanding yourself and switching to a positive mindset.
"Sleep is the best meditation."
Have you noticed that your worries often vanish after a good night's sleep?
"Silence is sometimes the best answer."
Things do not always need to be said: sometimes, silence may be just right for the moment.
"As you breathe in, cherish yourself. As you breathe out, cherish all Beings."
Cherishing both yourself and other living beings is what everyone should aspire for.
"To conquer oneself is a greater victory than to conquer thousands in a battle."
Most of the time, self-development is more beneficial than competing with other people.
"Anger and hatred are signs of weakness, while compassion is a sure sign of strength."
There is a common misconception that kind people are weak, but in fact, they are the strongest and the most mature.
"If you want others to be happy, practice compassion. If you want to be happy, practice compassion."
Compassion is the answer to everything.
"Each one of us is responsible for reducing the negative potential of every situation we have to face."
Some people are so negative that they can make a huge problem out of every situation. It is important to have a positive outlook on everything, no matter what it is.
"If your heart has peace, nothing can disturb you."
Peace is the biggest power because it means that you are invincible to all kinds of hardships and difficulties.
Dalai Lama quotes are very powerful and contain great wisdom. Everyone can find a part of themselves in his words.
Source: Legit.ng