The latest track by Kwaw Kese - Bottles is a jam you cannot ignore. It is a song with a story behind it. Take a look at how gracefully the artist reacts to the unpleasant event that has occurred recently.
Following the recent incident with bottles during the artist's performance at the Reign Concert, everyone was wondering what his reaction would be. Here it comes in the form of a new banger.
Kwaw Kese - Bottles description
Release date: October 25, 2019
Format: mp3
Genre: Hip-hop, rap
Length: 2:55 min
Label: 989283 Records DK
Producer: Skonti
The jam was created in collaboration with Quamina Mp. The two musicians made a record that deserves to be the next ultimate banger. This track emanates confidence and power. Its rich tune and elaborate beats will leave you wanting more.
Kwaw Kese - Bottles reviews and comments
If you would like to know what others think about this song before making your own opinion, here is what YouTube users say about it:
Louis Tene: Mad creativity... Taking advantage of the incident to make a hit is just marvelous... Nice one.
Princess Lene: I knew he was going to make a song with bottles.
GANJABWOY RANKING STYLE: Masterpiece! Mastermind! This guy really understands the game.
Richie Hill: Quamina Mp is the right person for this beautiful tune.
Clearn hearted Fast thinking: Talent over hype.
ciara jackson: Creativity at its best.
Stephen akenyah yankey: Mad.
Kwaw Kese - Bottles lyrics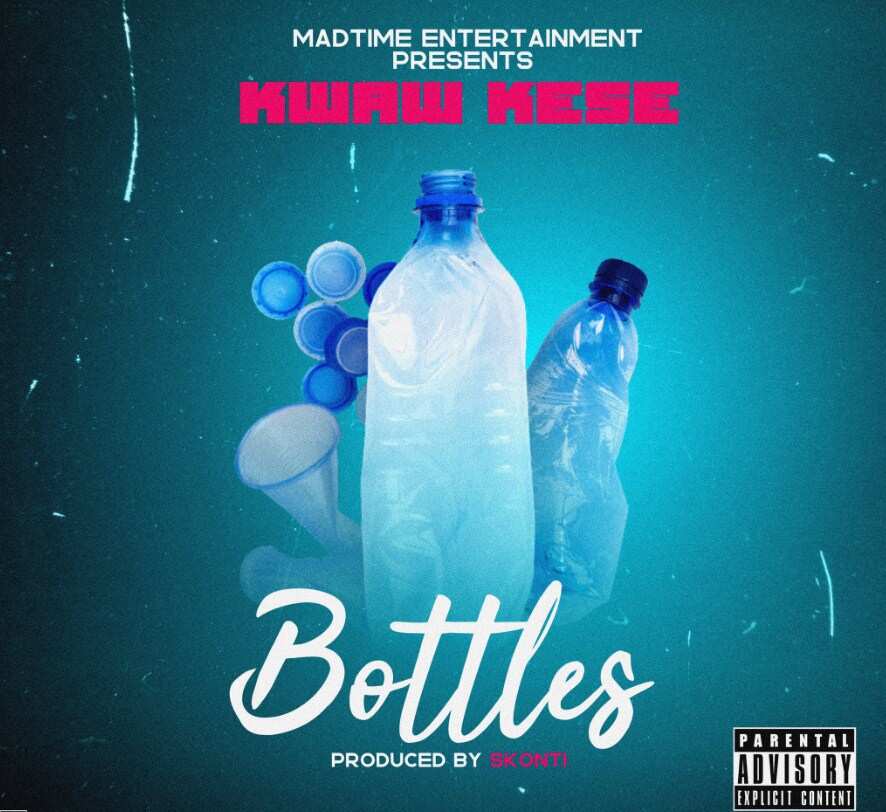 [Hook]
Bo-bo-bottles
Bɔdam bɔ ee (bottles) (x4)
Me enya me sika wo nam keka
Bɔdam bɔ ee
Yɛ sei a di wo to-to-toa
Bɔdam bɔ ee (x4)
Yɛ gye yɛ ni a, yɛn pɛ ntɔkwa
Bɔdam bɔ ee
Wo di me ka a, me kɔ
[Verse 1]
Antowah Bɔdam bɔ ee
Stress nti sɛ boys yɛ hyeehyɛ mu a, yɛ pappi bottles
Ayoo, cash a bɛ hyɛ wo hoa yɛ pappi, bottles
Sister Akos wa yɛ ma me di atweli ayɛ wo turtle
Ayoo, boys edru Kenya, we still dey hustle
Put on your dancing shoes
Ndwom na akye tisɛ Jolly juice
Bɔdam is passing through, nti
[Hook]
[Verse 2]
Yeah, me den my boys yɛ si town oo
Yɛ bɛ paappi
We reach Obogor a you for run oo
Yɛ bɛ crackie bottles Ɔdɔ na ntobuasi, hmm
Hmmm, Kwame Kwakye, hmm
Why you came I pull your girl
Waiting for the meal
Wo di ka nso a,
Dɛbiala yɛ gye ani oo
Maame bɛ hwɛ na me na me nia oo,
Ma sei ho, ma kye dada,
Wo bɛ ti bobolibobo,
You gonna hear "bobolibobo"
[Hook]
Kwaw Kese - Bottles download
If you like the record and want to add it to your playlist, you can download it easily by following the links provided below.
The new tune by Kwaw Kese - Bottles should be in your playlist. What do you think about it? Tell us in the comments section below. Do not forget to share this article with your friends. Stay tuned for more updates about your favorite musicians.