Juls - Angelina ft. Falz, Oxlade: video, lyrics, reactions
The newly released hit song by Juls - Angelina is the hottest in town. The Britain based artist features Falz and Oxlade in this one. Have you watched the video of this particular track? It is undoubtedly a video you cannot afford to miss.
The colorful and eye-catching video is all music lovers are talking about. The lyrics also take the song to a whole new level.
Juls - Angelina description
Release date: October 25th, 2019
Format: Video/audio
Album: Colour
Length: 3 minutes 32 seconds
British Ghanaian DJ and producer Juls has released a new banger titled "Angelina". He features the Nigerian hitmaker Falz and Oxlade in this hit. Listen to the song and remember to share the article so that someone else gets the opportunity to watch the video as well.
Juls - Angelina reviews and comments
Since its publication on YouTube, the video has so far attracted comments and reviews across various social media platforms. These are some of the comments from fans and followers.
Frederick Togba: Who's enjoying this song as I do? Hit the like button.
Ayodeji Aiyegoro: Oxlade is the new Wizkid peeps
Victunez Bright: "Babes don dey mark us like Rashford" So creative.
Prince Hagan: My favorite track from the colors tape.
David Gold: 'Oxlade' the next BIG thing! Like if you agree.
Juls - Angelina lyrics
This is undoubtedly a fantastic song, and you may feel the urge to sing along. Below are the lyrics of this particular song.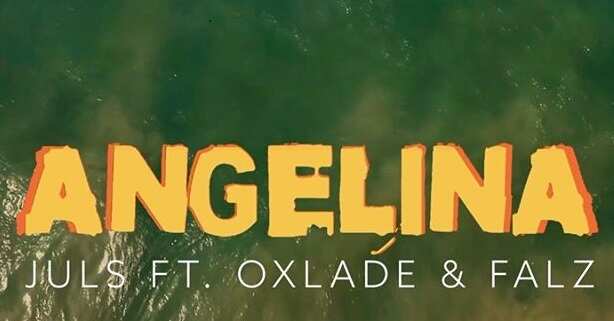 [Introduction]
Fine wine rotate
That your low waist
You make a boy relocate
Make my bone dislocate
[Verse 1]
Angelina ahn
Orimiloke no no no
Angelina ahn
Make I give u luck oh luck oh
Baby, I'm loosing it (im loo)
I'm loosing it (I'm loosing control)
Baby girl I'm loosing it
I'm loosing it (I'm loosing control)
Angelina Biko see (no dey far take away)
Come and go home take me away (that is to say baby take away)
Baby Biko please (Baby girls I don dey go astray)
Go astray, no dey far come and take me away
[Verse 2]
Omo you make I run mad
Shawty looking mad in all black
Bad girl, she know she get the front back
When I tell am we go dey she say wo stop that
How I sure say u dey talk fact
How many babes now wetu don knack
Fine boy wet hold enough stacks
Rap star wey go get some more plats
She say make I wait she dey Gage vibes
Omo this your figure 8 episode dey slay guys
If I ball 16 you go change mine
Oh baby take time too
Take it easy make u no dey play bard oo
See I'm going on tour you for take part oo
That your waist line i for take charge oo
But u dey shy come mu mansion
Cos babes don dey mark us like rashford
And pop bought snapbus fro taplord
Moti like e ju maamaa shako
Juls baby
Ah
[Repeat verse 1]
Juls - Angelina download
If you like the hit, you can download it from the site suggested below.
The new hit by Juls - Angelina is now here with us. Is it exactly what you expected from the multi-talented artist? Let us know what you think about the song in the comment section below.
Source: Legit Newspaper