Samsung is working on new mid-range devices such as the Galaxy S11 Lite, Galaxy Note 10 Lite, and recently, the Samsung Galaxy A91. It is confirmed that the latter will feature the Qualcomm Snapdragon 855 processor with 8GB of RAM and 128GB of storage. It will also support 45W Super Fast Charging, which lacks in the Galaxy A90 5G.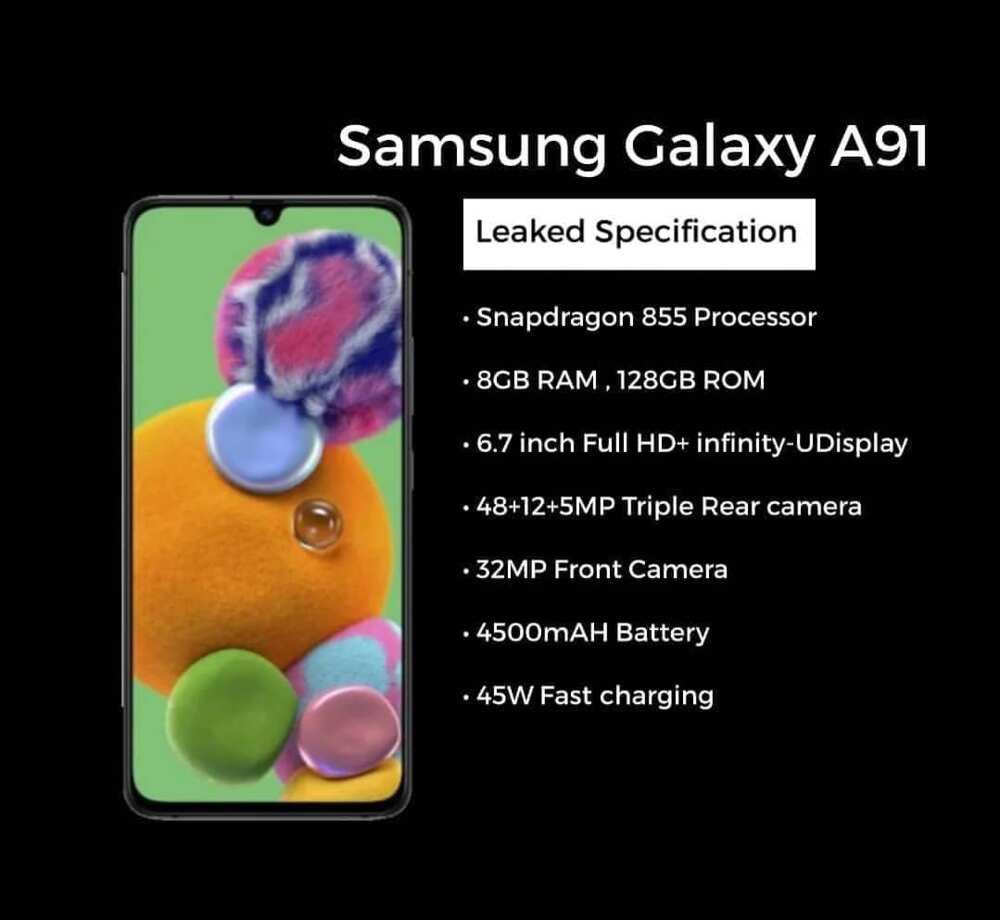 As part of Samsung's 2020 Galaxy A series, this device may be released at the end of this year or the start of next year. It is expected to be the most advanced phone in the series with the best features overall. As the Samsung Galaxy A91 price has not yet been revealed, we can approximate its price based on its predecessor. As the Galaxy A90 costs around $828, we can assume that the A91 will also be priced around that figure.
Overview
These are some of the noted pros and cons of this yet-to-be-released device.
Pros
The smartphone will run on the latest Android version, which is Android 10.
An impressive Full HD + Infinity-U display.
It is equipped with a 45W super-fast charging solution.
Cons
It will not support 5G as its predecessor did.
Samsung Galaxy A91 specs
Presumed Samsung Galaxy A91 release date: Early 2020
Size: 6.7 inches
Display: Full HD + Infinity-U
Display resolution: 1080 x 2400 pixels
SIM card: Dual SIM
SIM Type: Nano SIM
Back camera: 48MP + 8MP + 5 MP
Selfie camera: 32 MP
Internal memory: 128 GB and 8 GB RAM
Expandable memory: Up to 512 GB
Operating system: Android 10
Processor: Qualcomm Snapdragon 855
Battery: 4500mAh, supporting 45W fast charging
Sensors: Face unlock, fingerprint, accelerometer, gyroscope, compass, ambient light, and proximity
Bluetooth: 5.0, USB Type-C
Assumed price: Around $828
Hardware
Here are the Samsung Galaxy A91 leaks on hardware components.
Design
It is rumored that the device will feature a waterfall design with nicely curved edges. The screen to body ratio is also said to be more than 100%. With no doubt, this is the future of smartphones. By next year, it is likely that competitors will also adopt similar designs.
Display
Similar to the Galaxy A90, it will come bearing the same 6.7-inch Full HD + Infinity-U display with a drop notch.
Processor, storage, and performance
The phone will be powered by a Qualcomm Snapdragon 855 processor. It will come with an internal storage space of 128 GB and 8 GB of RAM. The expandable storage card slot will available for a microSD card of up to 512 GB.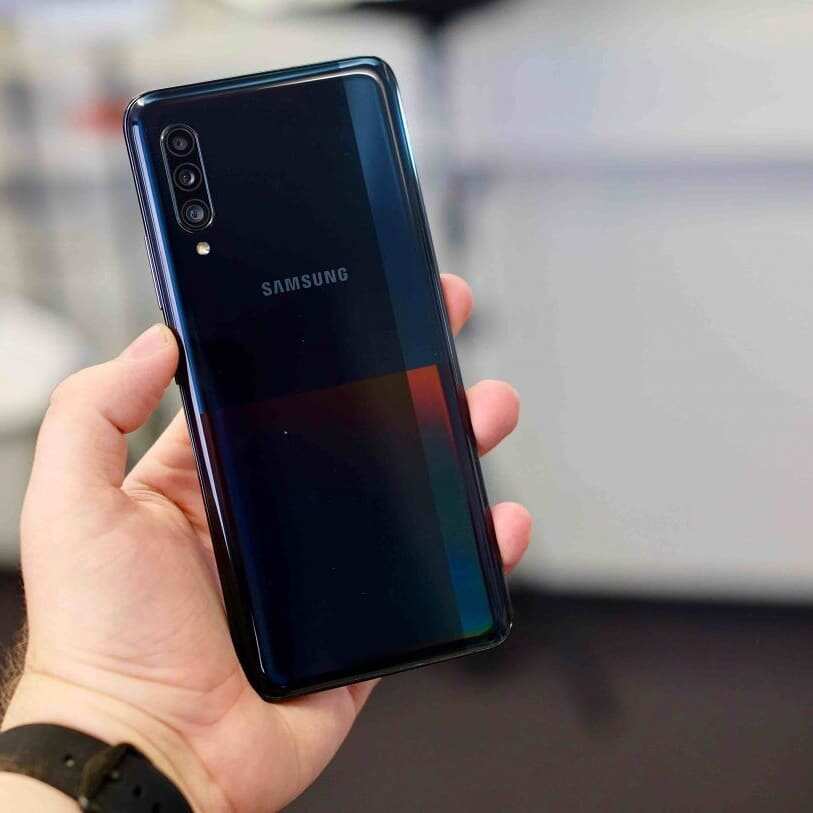 For now, prospective buyers can only hope that the phone runs smoothly while carrying out both light and heavy operations, as it has not yet been put to action for this information to be disclosed.
Battery
This device will be kept running by a 4500 mAh battery, similar to the Galaxy A90 5G. However, it will come with a 45W super-fast charging solution. Using the phone's original charger, users will be able to acquire full charge within 45-50 minutes.
Speaker and call quality
It will produce amazing audio quality, both from the loudspeaker and call speaker.
Software
What does the software of the Galaxy A91 entail?
OS & features
The device is being developed with Android 10, which is the latest Android version available today. There are rumors bearing news that this phone may be released in some countries, such as India, before the end of 2019. However, if this is true, that model is believed to run on Android 9 Pie rather than the Android 10.
Samsung Galaxy A91 camera, video, and image quality
Now, let us get into the most exciting part for the photographers and selfie lovers. This device will feature a triple primary camera, which will be made up of 48 MP + 12 MP + 5 MP lenses. It will also feature an f/2.2 aperture 32 MP front camera.
The video and image quality are yet to be confirmed, but with the stated camera specs, it is safe to say that there lies a high possibility that the phone will not disappoint users.
Comments
As the phone is not yet out in the market, people have not yet reviewed this device. However, the leaked details have led to a few people giving their opinions concerning the Galaxy A91. Here are some of the comments from phonearena.com.
Be_Mine: Saturate the market. And hoping that confused customers will just buy at least one of them out of frustration. Maybe? At least that is what Chinese OEM Realme seems to be doing. :D
kabiluddin: Looking forward to it.
redmd: 120hz refresh rate?
alligator: Even as a Samsung fan, I don't understand why they release so many similar phones. Just little differences between S10, Note10, and A91 lines.
Pricing
As the cost of this phone is still unknown, we shall give it an estimated price of $828, derived from its predecessors' selling point.
Verdict
This device comes with powerful features such as 45W super-fast charging, an outstanding Full HD + Infinity-U display, as well as Android 10 OS. These are pretty impressive specs that you will not find in just any other smartphone. However, the price is expected to be quite on the high side, but as it is said, you get what you pay for.
The Samsung Galaxy A91 is a device that many of the brand's fans are looking forward to. It will probably be the best phone in the A-series, and Samsung users are eager to see what it has in store for them.