Nigerian indigenous hit-maker Zoro has released a remix of his song "One on One." He features his Nigerian counterparts MI and Vector. The new hit by Zoro - One on One Remix has so far gotten the attention it deserves. Have you listened to the song? Do not be left out, listen to it below.
Zoro seems to have taken advantage of the beef between the two on this classical hit and just as any music lover would anticipate, they were not a disappointment because the lyrics are red hot.
Zoro - One on One Remix description
Release date: October 16th, 2019
Format: Audio
Genre: Hip hop
Length: 4 minutes 20 seconds
Producer: Camo Blaizz
Label: TBA
After weeks of beef between Chocolate City rapper Mr. Incredible and Vector The Viper, the two combined forces with Zoro to come through with a remix of Zoro's single hit "One on One" released about a year ago. Despite featuring together, the two still carried their beef along as they threw jabs at each other in the song.
Zoro - One on One Remix reviews and comments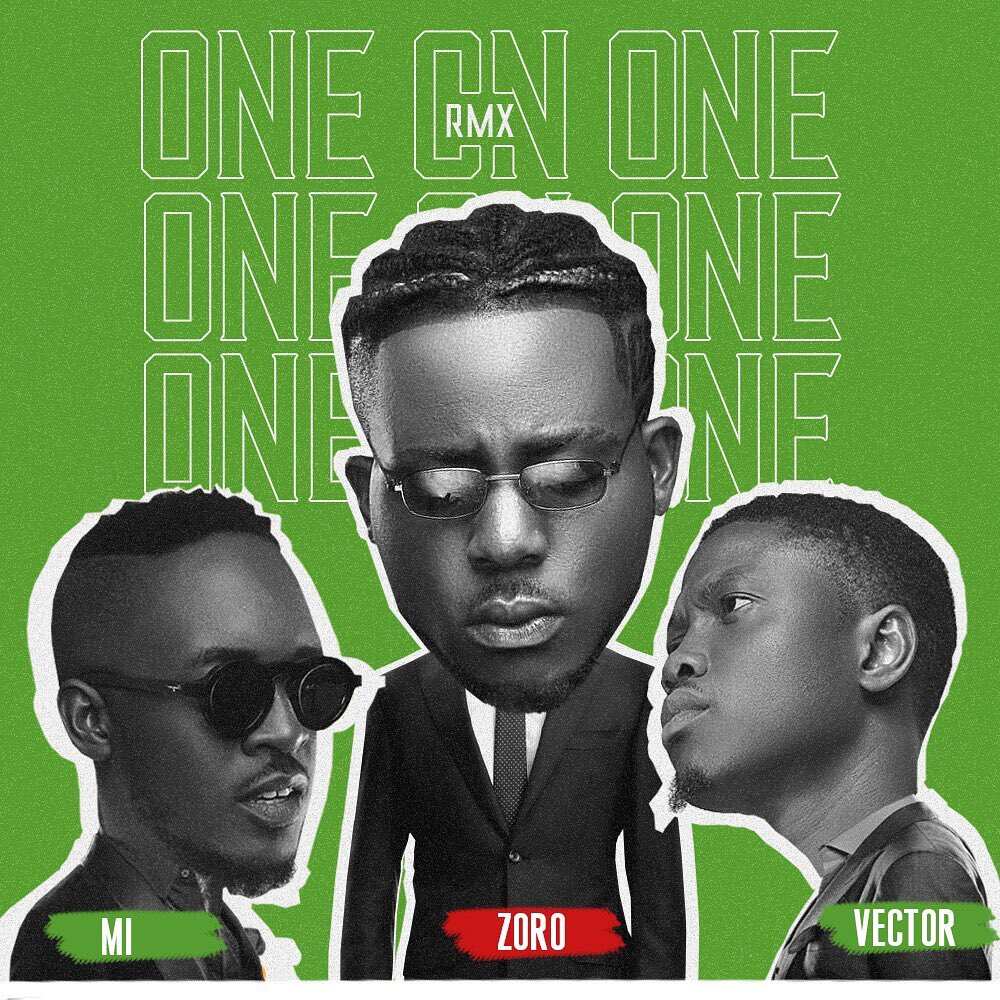 A song featuring the two kings of rap in Nigeria would, without a doubt, lure the attention of both their fans. The last time they did a project together was in "Define Rap I". Below are some of the reviews and comments from YouTube and other social media platforms.
Promise Ani: Vector please on no occasion should you disrespect someone who gave up his height for RAP!! MI. Abaga!
Chukwu Philip: Mr. Incredible was flowing with the title of the song but VEC did well too, he was just playing with the beat
NWANI IKECHUKWU WILLIAMS: MI Abaga, no disrespect to Vector, but MI killed it like.
Anne Mtukug: Wow! Am feeling the rap from Vector. MI was so hot. Zoro u are the best. You did what we all wanted. Having the two together.
Reye Yinkore: People with hard feelings. This is just rap culture on display, no hard feelings. Enjoy the ride...
ARINZE EZEUGWU: For real this beef is beginning to seem like a fixed match..... if MI & Vector want to keep it real... make them see one on one.
Clement Kebriu: Nigeria is the best country in Africa when it come to Hip hop . We keep moving on.
AFRICANS IN DIASPORA: I don't trust this MI and Vector beef. Probably a scam to hype up Hip hop and make money too. It is paying off sha!
Now that you have listened to the latest banger by the talented music genius Zoro - One on One Remix, what do you think about it? Is it a hit? Share your thoughts with us today in the comment section. Share the article too on your social media platforms to keep it trending.