- A bride identified as Lyndsey Raby has gone unconventional in picking flower girls for her wedding
- Rather than pick young, cute girls, she chose her four grandmothers to make her day unique
- The grandmas looked excited and joyful as they ushered in the bride on the wedding day
It is common practice for a bride to pick young girls as flower girls and close friends on her wedding train to make her day more vibrant. However, newly-wedded bride, Lindsay Raby decided to be unconventional and do the most adorable thing ever.
Blessed to have four of her grandmothers alive and well, she chose the to be the flower girls at her grand wedding. The beauties, 90-year-old great grandmother, Kathleen Brown; the groom's 70-year-old grandmother, Joyce Raby; Lyndsey's 76-year-old grandmother, Wanda Grant; and her 72-year-old grandmother, Betty Brown all dressed up in lovely blue dresses and jacket, bearing a bucket of flowers.
They marched down the aisle individually, ushering the bride to the altar to exchange vows with the love of her life. Not only were the ladies filled with joy to be a part of the wedding, the guests present at the wedding had smiles as they watched the aged ladies contribute to the special day, Metro reports.
The happy bride also posed in the cutest photo with her flower girls and advised other people to think of going unconventional for their own wedding too instead of following age-long traditions that may or may not mean anything.
For Raby, she was blessed and happy to have her flower girls by her side, giving their blessings.
See below: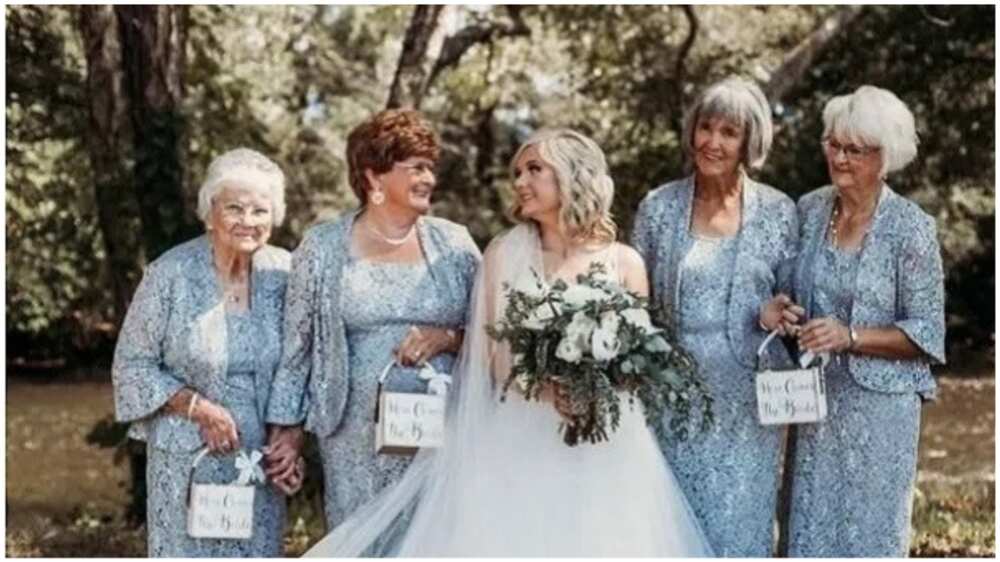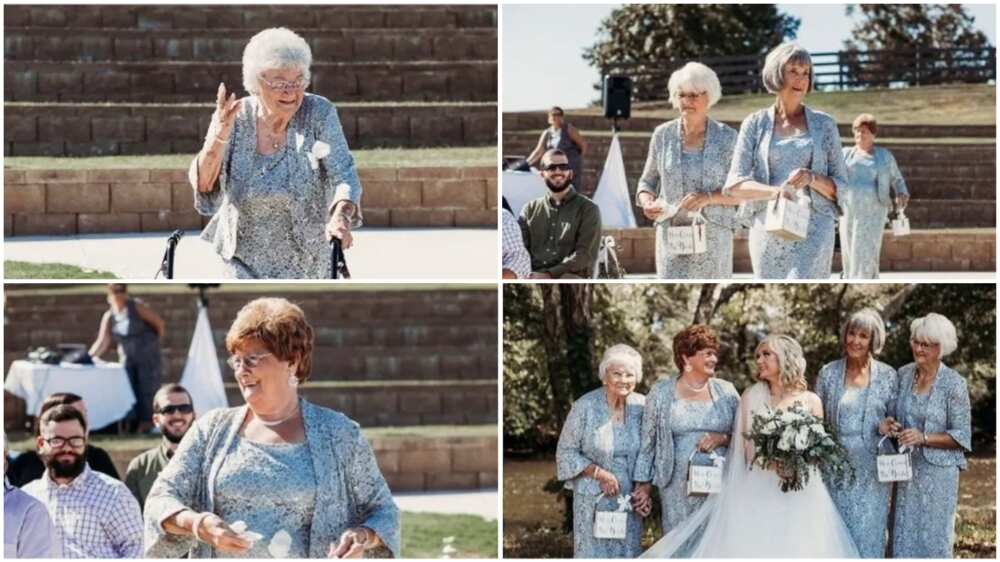 Meanwhile, a 30-year-old woman claims to be in love with an aeroplane and wants to marry it. The smitten woman says she's been in a five-year relationship with the plane.
Michele Köbke from Berlin in Germany claims to be dating a Boeing 737-800 passenger jet and even refers to it as "darling".
Speaking to Sun UK, the woman said she finds the plane attractive. However, Michele admitted that being in a relationship with the flying machine can be quite difficult at times.
PAY ATTENTION: Read best news on Nigeria's #1 news app
Do you have news to share? Contact Legit.ng instantly
Jare Ijalana: The most beautiful girl in the world is from Nigeria on Legit TV: