If you enjoyed the original audio, then this followup by Ecool x KiDi - Personally Remix will make you dance even more. The remix is catchy and comes with an improved flair as Ecool features Ghanaian artist, KiDi.
If you love great music, then you can be sure that the quality of this remix is on point and the artists won't be disappointing you any time soon. It is possible that you will be hitting the replay button severally as you won't get enough of the track.
Ecool x KiDi - Personally Remix description
Release date: 11th October 2019
Genre: Afrobeat
Format: Audio
Length: 3:02 minutes
Producer: Specroach Beats
Label: DMW Records
While it is true that this track was first released a few months ago, the producer did not fail when it comes to giving it cool vibes. As his first solo single, Ecool actually did a great job. It is clear that he knows just what a track needs to sound even better. This explains why he brought Ghana's highlife artist KiDi to add his personal touch to spice things up in the remix. The idea seems to have worked as the track is on fire.
Ecool x KiDi - Personally Remix comments and reviews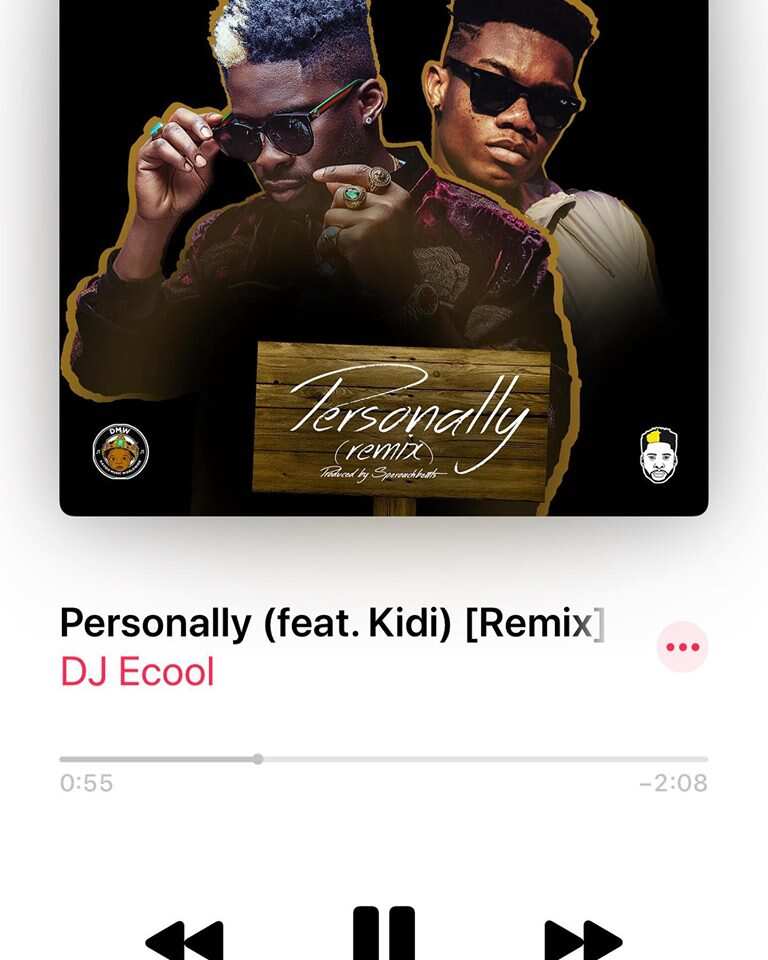 As expected, the song has already attracted a lot of attention as fans have a thing or two to say about it. It appears as though most of them love the remix even better than the original. Here are a few of their sampled views as left on YouTube.
Dj Destiny: Where is my Ghanaian people. Hit the like buttom
Kenyan Lamar: Had to represent East Africa like here
Gideon Amike: DJ ecool hit the like if you love him
P Awurama Kay: Love this vibe can't wait for the video. Personally luv KiDi, Ecool just got a new fan.
Dj Destiny: If you are waiting for the video of this banger let see your hand
Opoku Ofosu Prince: Where are my Nija and Nija brothers and sis? Let me see your thumbs up. We're are ruling Africa
Ecool x KiDi - Personally Remix download
If you loved the track as much as most fans do, you may want to save it as one of your favourites. To do so, you must download it from a reliable site. Here is an example to consider.
If you have checked out the latest tune by Ecool x KiDi - Personally Remix, then you probably have an idea of what Davido's disc jockey can do. What do you think about this track? Let us know in the comment section below. While at it, feel free to let your friends, especially those who love great music, know that Ecool featured KiDi in another banger and it is already trending.