Xiaomi Black Shark 2 Pro: specs, review, price
The recently released Xiaomi Black Shark 2 Pro smartphone has quickly become a must-have for a lot of users. It is modern, stylish and full of useful functions, especially for gamers. Is this device really worth having?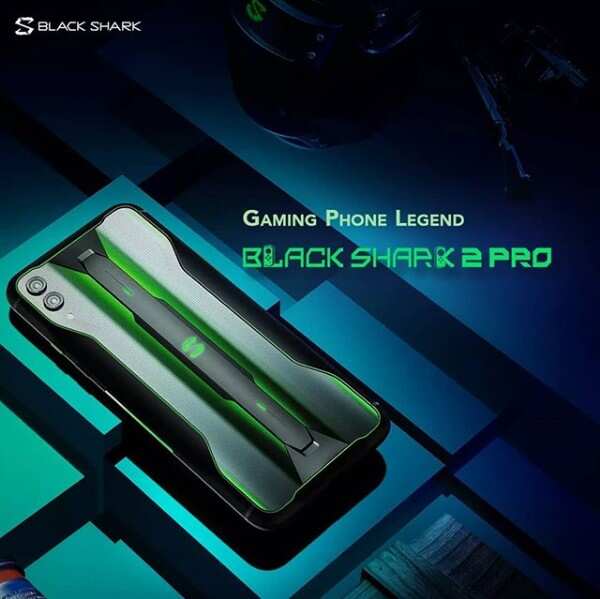 Xiaomi Black Shark 2 Pro was launched in August 2019, following three previous devices from the Black Shark series. Some of Xiaomi Black Shark 2 Pro features are greatly appreciated by the gaming community. For instance, the bold style of this device is something that might appeal to those who have gotten used to playing games. It has some excellent hardware features that will lead to smooth interactions, like the Snapdragon 855 Plus.
How much is the Xiaomi Black Shark 2 Pro? Xiaomi Black Shark 2 Pro price in Nigeria ranges from N169,543 ($469) to N191233 ($529), as stated on such websites as Aliexpress, Banggood, and Geekbuying. All these websites will ship your item to Nigeria. In most cases, you will have to pay additionally for shipping, though sometimes it may be free, depending on the choice.
Xiaomi Black Shark 2 Pro overview
Like every other phone, this one has both pros and cons that potential buyers should think about while purchasing the smartphone.
The good
Metal body design
Sufficient memory
Good front and rear cameras
It is fast charging-enabled
Long battery life
Runs on the Snapdragon 855 Plus
The fingerprint function
The bad
No wireless charging
Can be a bit heavy
No 3.5mm jack
Xiaomi Black Shark 2 Pro specs
Have a look at the most important phone specifications.
Screen size: 6.39″ Full HD+ AMOLED display with 19.5:9 Aspect ratio
Screen resolution: 1080 x 2340 pixels
Weight: 205 g (7.23 oz)
OS: Android 9.0 (Pie)
Rear camera: 48 MP, f/1.8, (wide), 1/2", 0.8µm, PDAF; 12 MP, f/2.2, (telephoto), 1.0µm, PDAF, 2x optical zoom
Front camera: 20 MP, f/2.0, 0.9µm
Processor: Qualcomm Snapdragon 855 Plus Octa-Core CPU
4G LTE: Yes
Xiaomi Black Shark 2 Pro hardware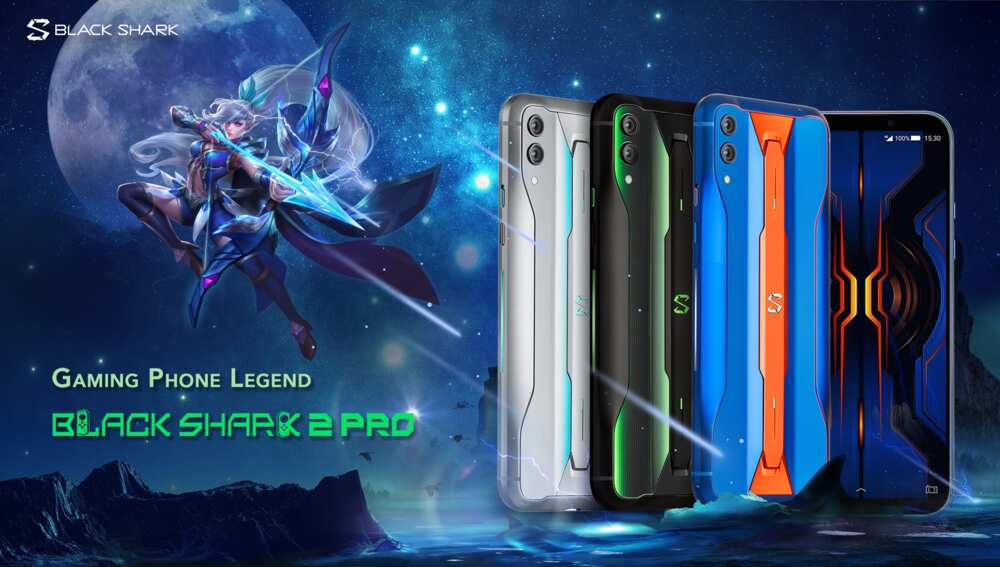 Design
The design of this new smartphone is not much different from its predecessor. However, there are a few minor differences between them. There are three colours that you can choose from, which are Gulf Blue, Iceberg Grey, and Shadow Black. Overall, it looks very modern and futuristic and fits the "gaming phone" description.
Display
The gadget has a 6.39" FHD+AMOLED display. The touch report rate is 240Hz, the touch precision rate is 0.3 mm, and the response speed is 34.7ms, which was specifically designed for gaming enjoyment. Besides, there are also a few touch zones that are situated around the hardware - they will simulate buttons on display.
Processor
Its Qualcomm Snapdragon 855 Plus chipset is probably one of the most convenient features of this device. The strong GPU and octa-core CPU of this new release offer a good gaming performance, which is a strong reason to purchase it for those who care about gaming the most.
Storage
Storage can be either 128GB or 256GB, while the RAM is 8GB or 12GB. The phone does not have a card slot; however, the offer of 128GB or 256GB of ROM is quite generous itself.
Battery
The new device comes with a non-removable Li-Ion 4000 mAh battery. It also has 27W of fast battery charging. Unfortunately, Xiaomi Black Shark 2 Pro battery does not have a wireless charging function, though it is a minor problem compared to the strong and long-lasting battery life.
Speaker
The phone has a loudspeaker with stereo speakers. Some people who are used to wired headphones may not appreciate the fact that there is no 3.5 mm jack. However, most of the modern phones nowadays are switching to wireless headphones, including this one.
Xiaomi Black Shark 2 Pro software
OS and features
This device runs on the Android 9.0 operating system, which is also known as Android Pie. Some of the interesting features that the gadget has to offer are a fingerprint sensor under display, compass, proximity, gyro, and accelerometer.
Camera, video and image quality
The phone has a dual-camera, 48 MP (wide) and 12 MP (telephoto). It includes such features as panorama shots, HDR and LED flash, as well as 2x optical zoom. There is also the possibility to shoot videos in 2160p, 1080p and 720p quality, with 30/60 fps, 30/60/120 fps and 1920 fps in each quality respectively.
As for the selfie camera, it has 20 MP and an HDR function. You can shoot selfie videos in 1080p quality with 30 fps.
Like most phone cameras, Xiaomi Black Shark 2 Pro camera takes better pictures in daylight conditions. If the light is very low, photos can turn out slightly darker. Even though the main focus is on gaming performance rather than a camera, the images still have decent exposure and clarity. Videos also come out in good colour mode and have nice dynamics and sharpness.
Xiaomi Black Shark 2 Pro reviews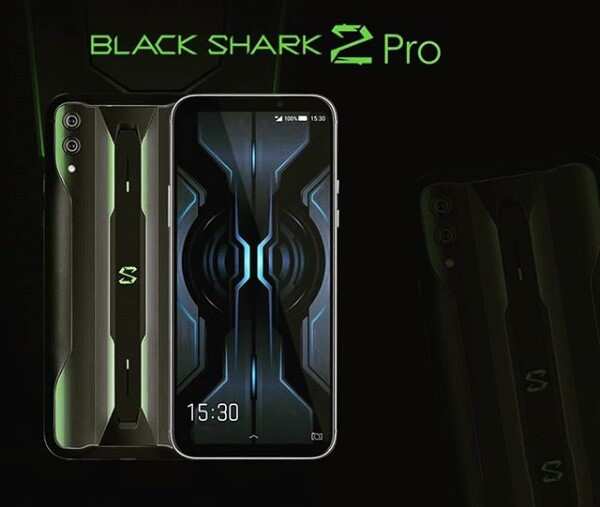 If you would like to have a phone that is focused on gaming, has a high-resolution screen and a powerful processor, then Xiaomi Black Shark 2 Pro will be worth the money.
Here is what YouTube users are saying about this device:
Theo Pegenia: Black shark 2 pro is so cool tho!!!! It's so affordable but super high specs just like rog phone!
Arjun Shah: I am in love with that phone already
Lloyd Patdu: A phone truly made for gaming, with a lot of extra quality features that will surely bring out your inner geek. In addition to that, your review was amazing, supported and well presented. Keep it up!
Matthew Aguilar: For the price, this is definitely the gaming beast
Danol123: Pretty much a ROG Phone II except the ROG Phone II is better.
JMichael Kyriøz: No headphone jack? Pass...
Kenjie Watanabe Villena: I was planning to buy this. But it has no earphone jack
People's opinions are different, but if you are thinking of buying this phone, you should consider all the factors and determine which are more important to you.
Verdict
So, is Xiaomi Black Shark 2 Pro a good gaming phone? Such a device would be an excellent choice for those who want to get something reliable - and the innovative Snapdragon 855 Plus processor together with a Full HD screen resolution are a sign of its reliability.
If you compare it to its predecessor Black Shark 2, you may notice minor differences - for instance, the processor is updated (855 against 855 Plus), and there is twice more RAM in the Pro version. It is quite possible that with the release of the Pro version, you can find and purchase a discounted original. Still, this decision is up to you and will depend on how much the processor and RAM differences matter to you. Hopefully, this review will help you figure out if this is the gadget for you.
Xiaomi Black Shark 2 Pro is a good phone for gamers and could be quite a nice deal for someone who enjoys smooth performance. If gaming is your life and you want an affordable device that runs your favourite games, then you should go for this one.
Source: Legit