- NBC news host, Courtney Kube, burst into laughter when her son interrupted her on live television recently
- While speaking on the serious Turkey-Syria situation breaking out in the Middle East, her four-year-old son Ryan waltzed into the set and appeared to want mummy's attention
- Professor Robert Kelly, American political analyst on inter-Korean affairs, also had the same fate a short while ago while he was having an interview with BBC
Live TV can be tough enough but when you have children waltzing into a professional moment, it changes everything. NBC correspondent Courtney Kube couldn't help but chuckle when she was delivering news and her four-year-old son, Ryan got on set and demanded a little attention from mummy.
Kube who was speaking on the serious Turkey-Syria situation breaking out in the Middle East was thoroughly shocked but still tried to act professional. She muttered "Excuse me, my kids are here, live television" before the screen turned to a map.
Everyone understands that parenting is a 24/7 job and kids never understand when daddy or mummy has to work - to them, life is a huge playground and fun they must have at every moment of the day. So when little Ryan walked in smiling at mummy on live television, it made for an adorable moment rather than reflect unprofessionalism.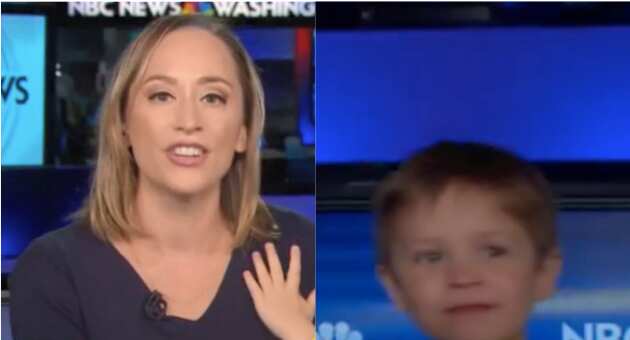 Watch below:
Recall that the internet went bonkers just a short while back when Professor Robert Kelly, American analyst on inter-Korean affairs was being interviewed on BBC News and his two children stormed into the room to have a moment with daddy.
Scared that he will never be asked on by the BBC, Kelly was left even more shocked when the clip went viral and he was interviewed again by the BBC.
The special moment was viewed over 86 million times on Youtube.
See below:
Meanwhile, Damilare King-David Akano, a six-year-old, has become the youngest Microsoft specialist as he emerged the winner in its international certification examinations.
Leadership reports that the examination was organised on Saturday, August 17. Damilare was the top winner for the Microsoft Office Powerpoint 2016 category with a whopping score of 871 out of the 1000 expected points.
PAY ATTENTION: Read best news on Nigeria's #1 news app
Do you have news to share? Contact Legit.ng instantly
Uchenna Okeigbo: God gave me quadruplets after 18 years of marriage on Legit TV: