King Kaka - Round 3 ft. Silverstone Barz, Frida Amani, Dyana Cods, She Flo, Tilly: video, lyrics, reactions
Greet the brand-new jam you will be playing on repeat. It is a powerful track by King Kaka - Round 3, and it is pure fire. If you want to know what real hip-hop sounds like, press the play button and enjoy this high-quality record.
To create this track, the Kenyan artist invited quite a bunch of prominent rappers. Thus, Silverstone Barz, Frida Amani, Dyana Cods, She Flo, and Tilly joined King Kaka in his work on Round 3.
King Kaka - Round 3 description
Release date: October 4, 2019
Format: mp3, video
Genre: Hip-hop, rap
Length: 6:43 min
Label: Kaka Empire
Producers: Provoke, The Other Guys
Director: Johnson Kyalo
The combination of talents of the six rappers made this track immensely diverse. You can enjoy the rapping styles of your favorite musicians in one record, which turns the song into a real gem of the modern hip-hop industry.
King Kaka - Round 3 reviews and comments
Such a powerful track could not be unnoticed by the fans of the artists. They are actively discussing it. Here is what people have to say about the jam on YouTube:
Klet The General: I love how the Kenyan musicians are growing.
LINDAH MWECHE: Tilly's flow is dope.
S CHACHA: Kenyan hip-hop is back. Silverstone is killing it.
I Dado: There have never been anything like this in Kenyan industry. One king and his queens.
maxwel Ochieng: The track is a game-changer.
Luke Oj: The whole crew was sick but I liked Tilly's flow more followed by She Flo... Replay mode!
ELIUD OLUNG'URU: These women are lethal.
King Kaka - Round 3 lyrics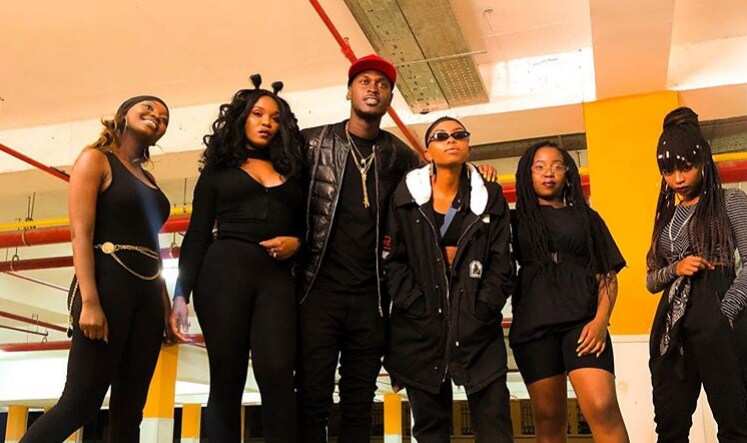 [Intro]
Walidhani Ati tunamalizia Round 2,
We Wachaaa
Sit back relax fam, we wachaa
Nina warembo on this Ayee
Aii Aii Basi Gettem
[Verse 1: Silverstone Barz]
He say I'm a 10, but I'm tryna get a 9, thas a nina
I'on have to talk to a b**h if I'on feel her
See I'm rocking real puma n I'm rocking Fila
Silverstone too good, everybody fill her
I mean y'all real, but I'm realer
Y'all a bunch of clients, b***h I'm really with the dealer
Y'all are taking hits, I be hitting up my hitter
I'm really with the s**ts, you're talking to the hip nigga
I talk s**t, f**k who care
If you ain't feeling this girl, you are too gay
I let 'em smash coz he sell ye!
You let 'em smash coz he gat w**d, and he gave you what? Like 2k
Everybody claiming bad b**ch, ok
I throw this a** backward like a bouquet
I ain't hungry for a deal, b***h I'm too paid
I get street money, got them pills from UK
It's the punchline queen whatchu mean
Bow down for the queen I make 'em lean like codeine
[Verse 2: Fridah Amani]
Hii ni rap without borders, I'm the queen take an order
First rule amma fly call me chopper, hip-hop ya TZ naivusha boda
I'd like to holla at u haters at the top
Sitaki shida ni shida kwao to keep up
Its hip-hop, niko na ego flow ni sick let me brag about it
I do it bigger I ain't cheap you should know about it
Since am the only rapper who can read a map in this rap
And I ain't a mumble rapper, acha niwe wa kwanza mnifate
Mweusi tii call me kante, I only fight for mkate
Kama ni likes you can have it
I was supposed to come to Nairobi as a queen but
I met King Kaka so I became king dada.
[Verse 3: Dyana Cods]
Am a spoilt matha***a
Baby boy I don't want you I want your father
Am in the same league as your mother
F**k with me na ntakupatia step brother
Am in the mix siezi kosa
Nayo haga biggie imenichosha
Hii ukidishi inasaucer
Nikupea unaezasota
Eastlando ndo place me nimetoka
Dey say dyana everywhere
Why your boyfriends wanna get inside my underwear
Am petty I don't really care
F**k beyt, xtatic n that b***h with no hair
Noti Flo still giving p**sy everywhere
Am a bad b***h still gat the coochie of the year
Nina dame ana chali wa runda
Nina game wanadhania dumba
Hii ni gang hii si clan ya boomba
Usiworry ka ni ngwai tunasunda
[Verse 4: She Flo]
Argh,
High maintenance
I stay dangerous
I'm a Blueprint you can only make a copy
Chasing a dream till I'm living it
Diddy with the moves never winging it
Got the swagger like jigga
Think I pulled up in a Bima
Mundu mumu nia kinya
Tega skio sikiliza
Counting money in my sleep
I be balling in my dreams
Chris Kirubi typa ish
Michael Jordan with the swish
You're girl She Flow put the rhymes on Streak
Self made sister got it tattooed on my wrist
Eyes on the price nadai tu mamita
Baddest plug in town ye, I'm the right dealer
Me haffi waste time on a tune I go killa
Nobody pon this rap game this iller
Wanapanic I be Godzilla
Dripping dripping in chinchilla
[Verse 5: Tilly]
Well I'm the underdog from underground, for you that's real tragic
I've been hungry for a minute, this my meal? Well fantastic!
Finna gobble all this meat, like I never had it, cause I never had it
O.D on this beat like an addict
Yeah I'm tiny but trust I'm a bulldozer
Step up on your scene, knock you s**t over
Nimekuwa nikitesa, giving headaches, Na si za Mara moja
Had to tell the game to chill, najua imekuwa ikiningoja
Nashare this stage with beautiful queens, so make the floor wider
I'm f**king it up with just the flow, I'm the flow-rider
They say they gunning for my flow but I'm the flow sniper
Nikichafua, wanasafisha, ninamafloor wipers
We don't live enough, y'all ain't real enough
Don't smoke w**d enough, all we do is puff
You don't believe enough, you don't believe in us
You see the future in them, well all I see is us
[Verse 6: King Kaka]
Hakuna Aibu ya kushuta ndani choo
Budangu alikuwa cleaner so Na learn as we go,
9 years later Bado ni Fiasco ka Lupe
Budahhh Ka unahara usishute
King Kaka Baba yao to the children
PA wangu got a PA , now that's a f**kin PA system
Haujui kusoma Bible Utapata jibu kwa pastor
Endelea kudanganya we ni King utapata Jipu kwa rasa
I am not dead Bado mdomo inapambana
Pesa zangu Serial Number UWa zinafuatana
Not kitui but nakaza kamba plus nakaza mkamba wakikaza rasa mi nakaza buti
Ngojeni ka verse ya Rick Ross kwa song ya Sauti
Bado mnatry kubuy Respect over kwa duka
Nunuliana tu wig na kabati ya mother
Inaanguka
Hizo ni fake grills fake drills sishtuki
Asubuhi ilikuwanga ugali imedoz na strungi
Wife AnaBake Leo Lazima nim Kate
Get it wife Bake mkate
Family is waiting basi we
Finish what we started
You can't be half gangster from Jimmy to Nucky
So mbona mnacompare Snail na Ducati
Mbona MnaCompare Gold na Mabati
Mbona MnaCompare King na tu Bwati
Imagine Hata fundi wangu hanipimi
Sahii unaishi kwa glass house weka mawe chini
Made my circle so tight na siongelei bikra
Niko four rounds ahead hauoni clear gap
Kunishika isa myth ka 1/3 ya clear kut
Explosive lines nilijua King ata Blow
Lines mob shinda meza ya Pablo
No fare Uber yangu ilikuwanga njumu
Sahii Ubaya yangu mi Uwa sumu
Ulimi contaminated hauskii flow sick
Ukigusa dogi yangu ntakam na John Wick
Nataka waskie Ebu punguza ka tempo
Na siongezangi maji hii si supu ya Central
Old ways hazifungui new doors
Kiswahili yangu inafungua new draws
Ngozi ya Njumu ni ngombe za kitale
Turtle neck, lullaby Rozay zilale
Mkono Ime Freeze ka weather ya Kinale
Na iseay Miyake inanukia kwa umbaleeee
Adam alishakula tunda hakuna kupewa chance tu
Haujui Dera bila tako ni Kanzu
Hadi kubadilike Ntabonga Toilet
MCSK by the way mkule Ndole
Na Bars zangu ziko tao ziko ocha
Sielewi mbona Bars zao ocha pombe inafika
Na Shule za ocha pads na vitabu ni Shida
70% of girls hawawezi afford pads
So inamaanisha hawatafika kwa class
Enda kwa BankOnMe.co.ke tupatie madem machance
hivyo ndio nimemaliza my verse
King Kaka - Round 3 download
If this jam has already conquered your heart and you are ready to add it to your playlist, follow the links provided below to download it quickly.
King Kaka - Round 3 is an irresistible track that you will play on repeat. You are welcome to tell us your opinion about this record in the comments section below. Stay tuned for more updates about your favorite musicians and do not forget to share this article with your friends.
Source: Legit.ng