Imagine reading amazing Yoda quotes that will motivate and pump some wisdom into your head! The experience will, without a doubt, be interesting to most people. For years now, Yoda quotes have been used around the world to draw inspiration and even challenge situations. They are made up of cautionary remarks and life predictions.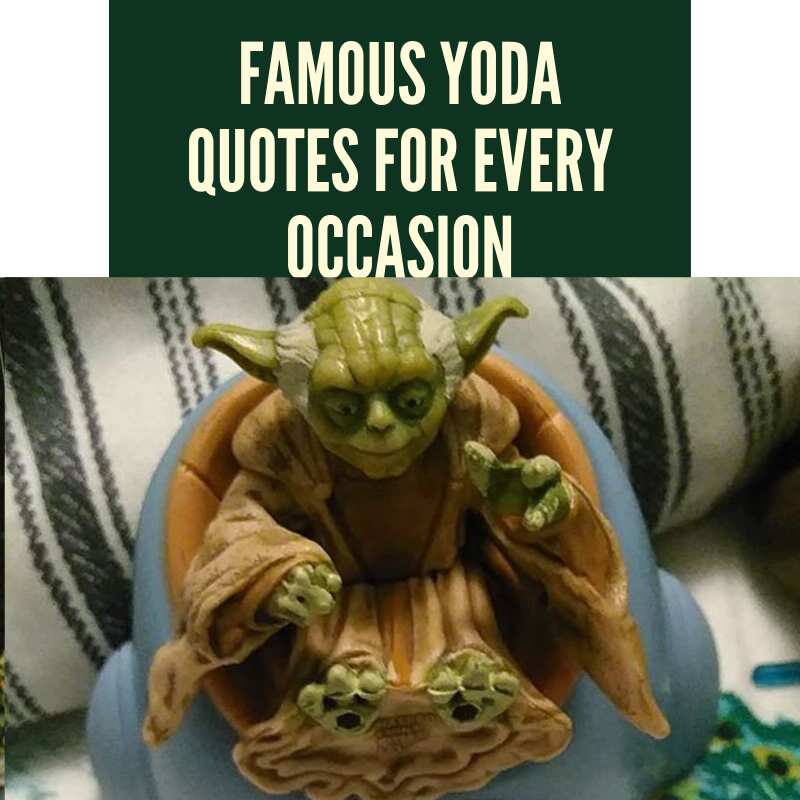 Yoda is one of the movie characters in Star Wars. He is inspirational and characterized as a life coach who can help you through some dark situations in life. A Yoda quote is a saying from this character who is well known for his dramatically poignant yet grammatically incorrect lines. Some of the famous Star Wars quotes are hilarious, but you can draw motivation and lessons from them.
Yoda quotes
Since his introduction to the world way back in 1980 through the movie 'The Empire Strikes Back,' Yoda has become a world symbol of wisdom. He is not only identified for his appearance in Star Wars movies but he is also referenced in other films. A Yoda quote try will make you concentrate and remain mindful, practice patience, and be optimistic.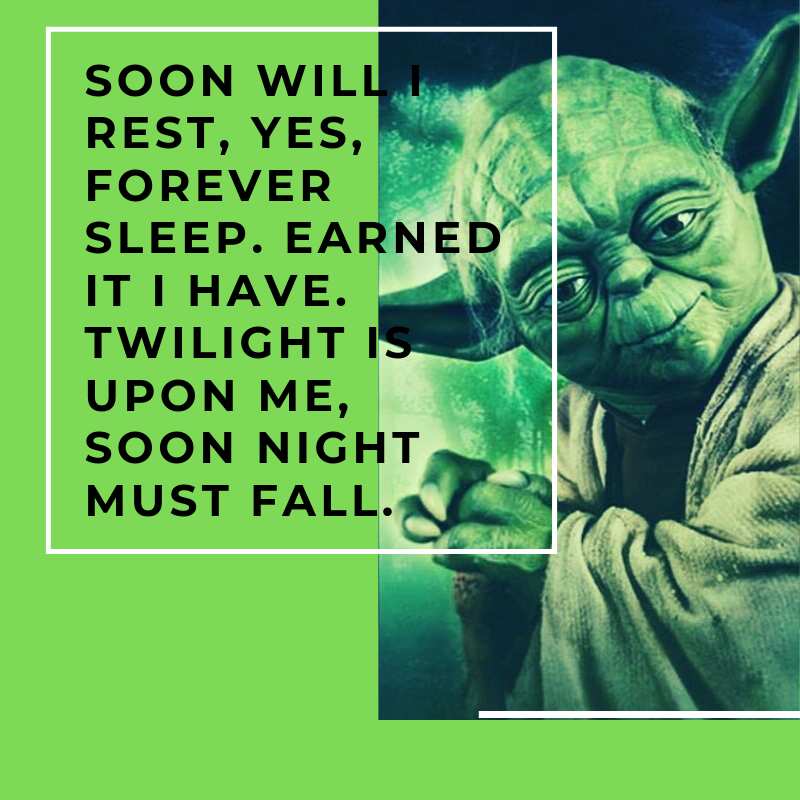 Famous Yoda quotes
You might be having a seminar and the guest speaker might seem to be talking gibberish, but what is important is your ability to connect the words from his mouth and understand what he is saying. This is not far from what we are going to encounter with Master Yoda quotes. Most of them are grammatically incorrect, but they convey a strong message. Here are some Yoda sayings that are famous.
Smaller in number are we, but larger in mind.
Luminous people are we… not this crude matter.
In a dark place we find ourselves and a little knowledgeable lights our way.
Control, control, you must learn control!
To be Jedi is to face the truth, and choose. Give off light, or darkness, padawan. Be a candle or the night.
Truly wonderful, the mind of a child is.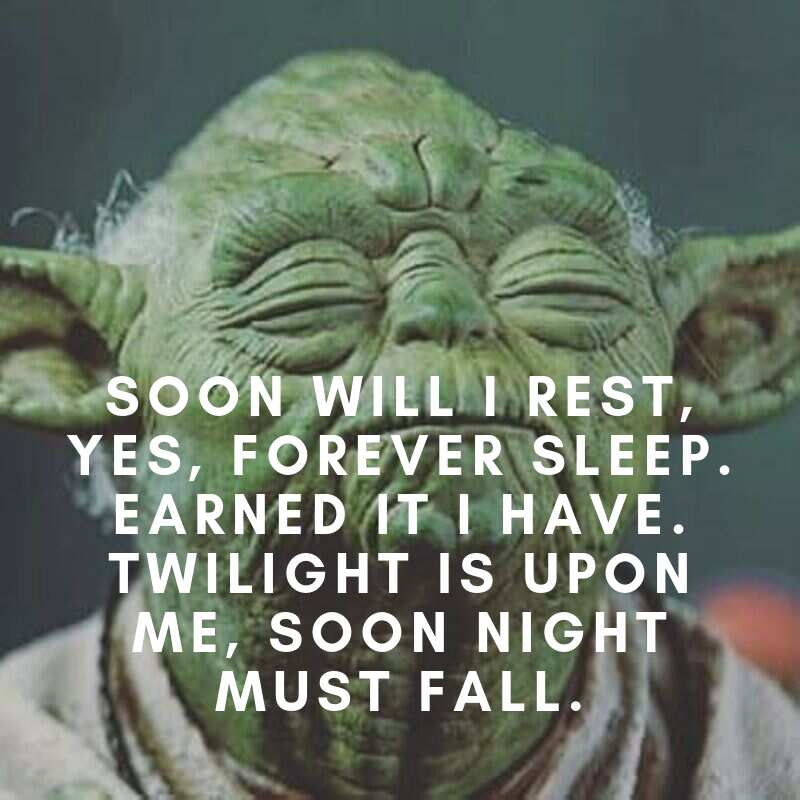 Always two there are, no more, no less. A master and an apprentice.
Reckless he is. Matters are worse.
Attachment leads to jealousy. The shadow of greed that is.
A challenge lifelong it is, not to bend fear into anger
Adventure. Excitement. A Jedi craves not these things.
Wrong? Hmm. A long time, fought I did. Consumed by fear, I was, though see it I did not – Yoda fear quote.
I was not strong enough to defeat him. Like his master before him, be destroyed, he must.
A Jedi uses the Force for knowledge and defense, never for attack.
You think Yoda stops teaching, just because his student does not want to hear? A teacher Yoda is. Yoda teaches like drunkards drink, like killers kill.
Soon will I rest, yes, forever sleep. Earned it I have. Twilight is upon me, soon night must fall.
Through the Force, things you will see. Other places. The future… the past. Old friends long gone.
You will know the good from the bad when you are calm, at peace. Passive.
Fear is the path to the dark side. Fear leads to anger. Anger leads to hate. Hate leads to suffering - Yoda fear quote.
Star Wars quotes
Some funny Star Wars quotes Yoda has said are popular and at the same time brainy. Have fun reading through some of them.
If you want to sound wise before your friends, pick a Star Wars quote that will make them think:
Do or do not. There is no try - Yoda try quote.
Size matters not. Look at me. Judge me by my size, do you? Hmm? Hmm. And well you should not.
Named must your fear be before banish it you can.
Let go of your hate.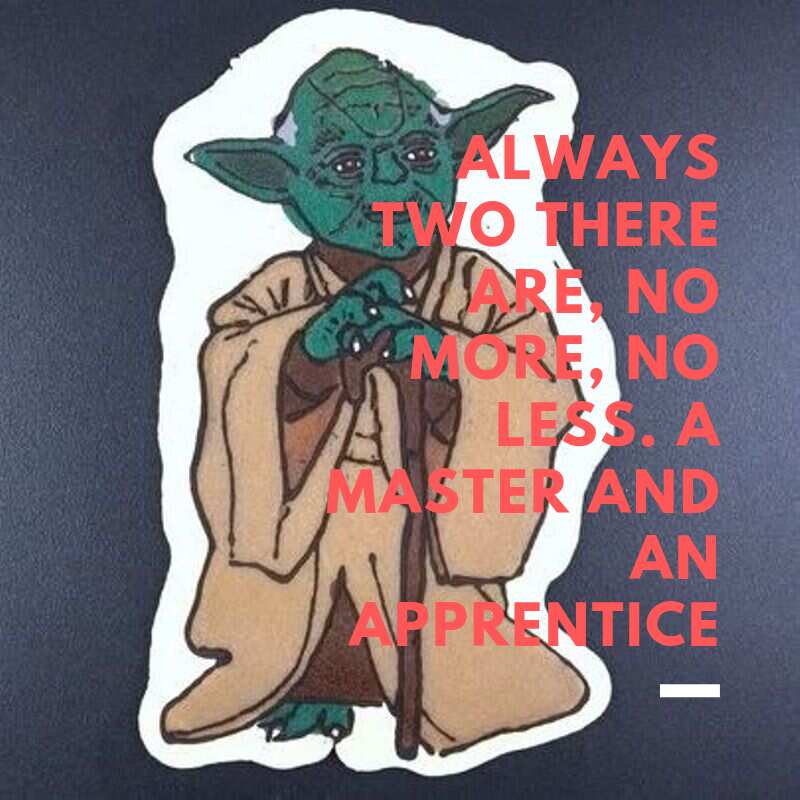 Difficult to see. Always in motion is the future…
Train yourself to let go everything you fear to lose.
Luke: What's in there? Yoda: Only what you take with you.
Use your feelings, Obi-Wan, and find him you will.
You must unlearn what you have learned.
The ability to speak does not make you intelligent.
This is a new day, a new beginning.
There is always a bigger fish.
Easy is the path to wisdom for those not only blinded by themselves.
Much to learn you still have… my old Padawan… This is just the beginning!
If into the security recordings you go, only pain will you find.
Many of the truths that we cling to depend on our point of view.
Already know you that which you need.
Decide you must, how to serve them best. If you leave now, help them you could; but you would destroy all for which they have fought, and suffered.
Patience you must have my young Padawan.
Early must I rise. Leave now you must!
Always pass on what you have learned.
If you end your training now — if you choose the quick and easy path as Vader did — you will become an agent of evil.
I cannot teach him. The boy has no patience.
Your focus determines your reality.
Blind we are, if creation of this clone army we could not see.
Yoda quotes have been used to shape the lives of many people across the world. In the article, we have picked several sayings by the character that are applicable in life. We hope that they will impact your life in a positive way.