Scooter Braun bio: age, height, net worth, wife
In today's entertainment industry, there are plenty of opportunities that strong-willed people can exploit to earn a living. For one to be an entrepreneur, they must be risk-takers, self-motivated, passionate, flexible and have a reliable business network. Scooter Braun possesses all these qualities. They have enabled him to be one of the most influential entrepreneurs in Hollywood.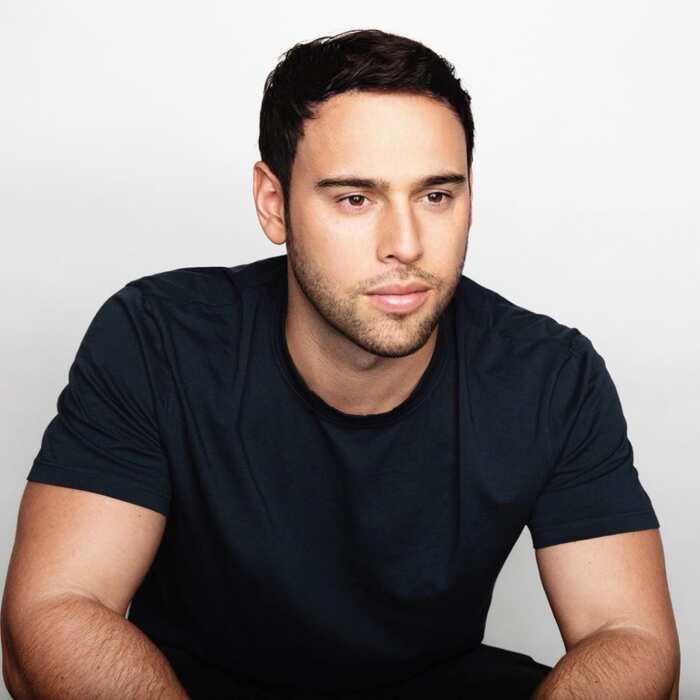 Who is Scooter Braun? He is a record executive, investor, entrepreneur, talent manager, record label owner and philanthropist in Hollywood. He was born on the 18th of June 1981 in New York City, United States of America, and was given the name Scott Samuel Braun at birth. His nationality is American, Gemini is his Zodiac sign, and his ethnicity is Jewish. How old is Scooter Braun? Presently, Scooter Braun age is 38 years.
Profile summary
Name: Scott Samuel Braun (commonly known as Scooter Braun)
Age: 38 years
Date of birth: 18th of June 1981
Place of birth: New York City, United States of America
Nationality: American
Zodiac sign: Gemini
Ancestry: Jewish
Height: 5 feet 11 inches (180.5 centimetres/ 1.805 metres)
Weight: 80 kilogrammes (176.5 lbs)
Eye colour: Dark brown
Hair colour: Black
Father: Ervin Braun
Mother: Susan Schlussel Braun
Siblings: Liza Braun, Adam Braun, Sam Mahanga & Cornelio Giubunda
Spouse: Yael Cohen (m. 2014 to date)
Children: Jagger Joseph (b. 2015), Levi Magnus (b. 2016), Hart Violet (b. 2018)
Alma mater: Greenwich High School
Profession: Record executive, investor, entrepreneur, talent manager, record label owner & philanthropist
Net worth: $400 million
Scooter Braun family background
Scott was born into a family of conservative Jews. His father's name is Ervin Braun while Susan Schlussel Braun is the name of his mother. He has four siblings whose names are Liza, Adam, Sam Mahanga and Cornelio Giubunda. Ervin's family escaped the Holocaust and fled to Hungary where they resided until 1956. While the Hungarian Revolution happened, his family fled to the United States of America.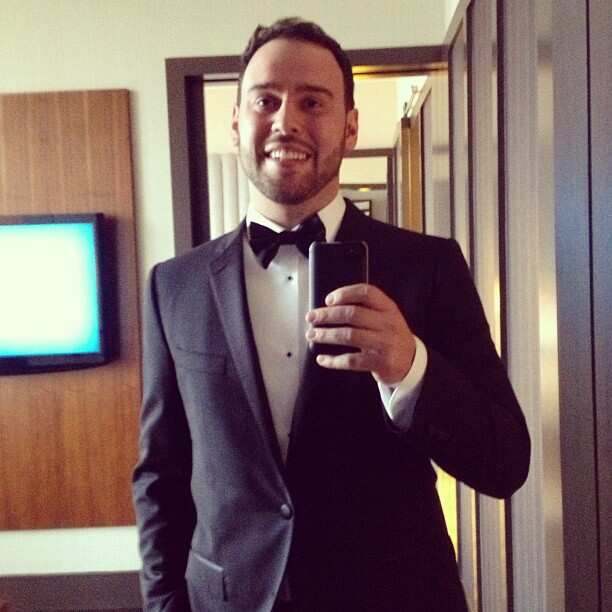 In America, Ervin studied hard and became a dentist. He married Susan Schlussel who was an orthodontist. Together, Ervin and Susan created a home in Greenwich, Connecticut, where they raised their five children. Adam, Scott's brother, is the founder of the charity organisation, Pencils of Promise. The organisation builds schools in developing countries.
Body statistics
Scooter Braun height is 5 feet 11 inches (180.5 centimetres/ 1.805 metres). He weighs about 80 kilogrammes (176.5 lbs). He has black hair and dark brown eyes.
Education background
Scott spent his childhood years in Cos Cob, Connecticut. He went to Greenwich High School, where his fellow students elected him the class president. During his teenage years, he played basketball. He was a member of the Connecticut Flame. He played many games with the team in the Amateur Athletic Union Campionships.
When Scott was 17 years old, his parents adopted his brothers, Cornelio Giubunda and Sam Mahanga. Both were players in the Mozambique junior-national team. Ervin enrolled all his sons in an all-star tournament. Sam and Cornelio also joined the Greenwich High basketball team, but people heckled at them. The heckling disturbed the entire family.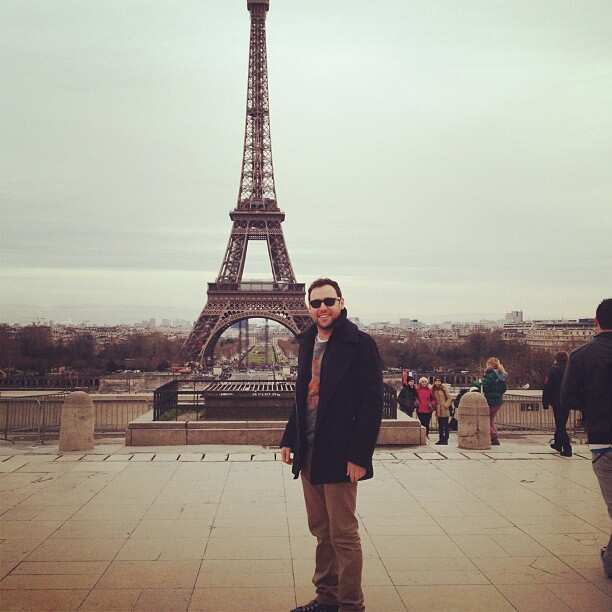 One of Scott's proudest moments as a teenager was when he submitted a video documentary for National History Day at his high school. The ten-minute video was titled The Hungarian Conflict. It explored the lives of Jews before, during and after the Holocaust. The documentary placed third in the state competition after ranking first in the regional competition.
The Hungarian Conflict was sent to Steven Spielberg, a seasoned film director. Steven submitted the film to the United States Holocaust Memorial Museum, a move that made young Scott and his family very proud
After Greenwich High School, he joined the Atlanta-based Emory University. He played college basketball. He dropped out of school after Jermaine Dupri offered him a job as the head of marketing at So So Def.
Career
Scott started his entrepreneurial ventures when he was still young. During his time at Emory University in Atlanta, he was a party organiser. In 2002, he got a contract to organise five after-parties in five different cities during the Anger Management Tour. The tour featured high-profile artists such as Eminem and Ludacris.
It was during his party planning activities that he met Jermaine Dupri who was the director of the label, So So Def records. When Scott was 19 years old, Jermaine offered him a marketing job in the label. The director named Scott the new executive marketing director when he was 20 years old. He became a working student who juggled between school, his party planning business and marketing the record label.
In 2003, he planned the mega party for the NBA All-Star Game. He also planned all the after-parties for the Onyx Hotel Tour by Britney Spears. After a while, he left So So Def Records to pursue his private businesses. His ventures of interest were running a music label and starting a marketing business. He also desired to do artist representation.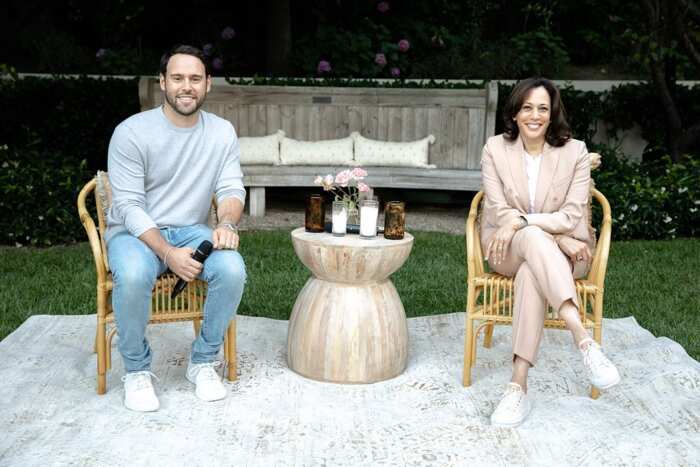 Early independent ventures
Soon after becoming an independent business person, he brokered a $12 million campaign contract between Pontiac and Ludacris. The agreement was that Ludacris would feature Pontiac in his music video, Two Miles an Hour. In return, Pontiac's commercials would feature in the video.
Later, Scott watched a YouTube video of a 13-year-old Justin Bieber. Bieber was singing Ne-Yo's song. He contacted Pattie Mallette, Bieber's mother, who agreed to accompany her son to Atlanta for a trial period. Bieber and his mother later relocated to America from Canada. He discovered the famous musician.
Through his guidance, Bieber became increasingly popular online. Scott then introduced the young singer to Justin Timberlake and Usher. Both the artists showed interest in the young man. Usher's mentor, L. A. Reid, in partnership with Raymond-Braun Media Group (RBMG), signed Bieber with Island Def Jam.
Producer credits
In 2011, Brown produced the documentary, Never Say Never. It was about the rising music star, Justin Bieber. The documentary became a mega-hit globally. It was created with a budget of $13 million and earned over $100 million.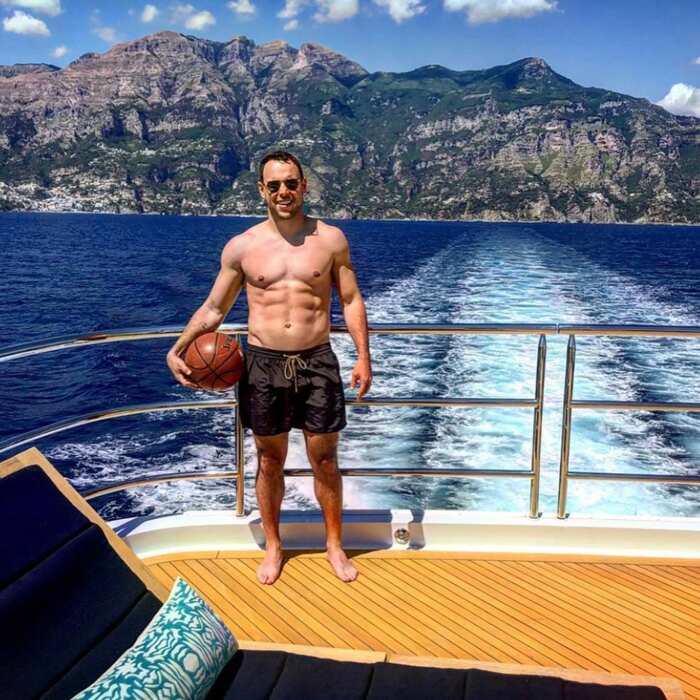 Scott was also the executive producer for the CBS drama, Scorpion, from 2014 to 2018. In 2018, he produced the pilot for a comedy show starring Lil Dicky and Kevin Hart. The title of the comedy is yet to be disclosed.
SB Projects
Scooter Braun Projects, commonly known as SB Projects, is the venture that Scott is best known for. It is a company that does marketing and offers full-service entertainment. The company comprises SB Management, Schoolboy Records and Sheba Publishing. The company works in partnership with RBMG.
Sheba Publishing deals with music writing. School Boy Records signed a contract for music distribution with Universal Music Group. In 2013, SB Management signed Ariana Grande. In 2016, the female star started her own label, Republic Records, and confirmed that Scott would still be her overall manager.
SB Projects is also involved in branding, television campaigns, tour sponsorships and issues related to music-licensing. The company facilitated the partnership between Adidas and rapper Kanye West.
Ithaca Holdings LLC
Ithaca Holdings LLC s is Scott's holding company. It includes SB Projects. The company raised a whopping $120 million for venture capital in 2013. It has investments in Spotify, Uber and Editorialist.
On the 30th of June 2019, Ithaca acquired Big Machine Label Group which was founded by Scott Borchetta. It acquired the label at a cost of over $300 million. The company also agreed to a first-look agreement with Amazon Studios in July 2019. The deal involves film and television scripts.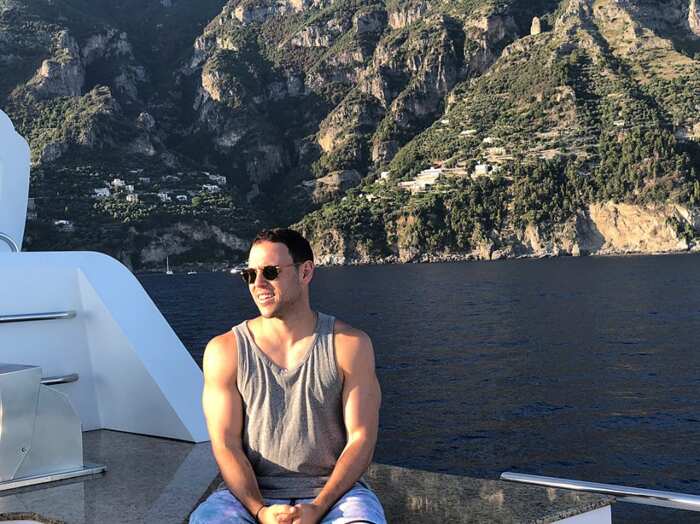 Mythos Studios
In 2018, the entrepreneur and investor had a sit-down with David Maisel. Maisel is the founder of Marvel Studios. The two great minds liaised to establish Mythos Studios, which is involved in the production of comic-book movies in animated and live-action formats.
Talent management
Presently, Scott manages over 20 famous musicians. They include;
Justin Bieber: He discovered Bieber when he was only 13 years old and has been his manager since then.
Ariana Grande: He started managing her in 2013.
Demi Lavato
J Balvin
Carly Rae Jepsen: He started managing her in 2012.
Black Eyed Peas: He started managing this group in 2015.
Ashley Graham: She signed with his talent management company in 2018.
Usher: He began managing Usher in 2016.
David Guetta: SB Projects started managing Guetta in 2017.
Zach Brown Band: He started managing this group in 2018.
Dan + Shay: The duo started working with SB Projects in 2018.
Karlie Kloss
Idina Menzel: She joined the team in May 2019.
Psy: Scott started working with the Gangnam Style singer in 2012.
Tori Kelly: She started working with the talent manager in 2012.
Lil Dicky: Scott is his co-manager
Steve Angello: He is a member of Swedish House Mafia.
Spencer Lee: Lee and Scott started working together in 2017.
Social House: Signed in 2018.
The Knocks: Signed in 2016.
Scott is also Kanye West's advisor. In addition to the above artists, he also manages a few others. He works closely with all his signees to ensure that people do not unfairly exploit their talents. He also advices and guides them on the direction to take in their careers.
Philanthropy
A crucial part of Scott's career is giving back to the community. He is actively involved in different charities, including the Braun Family Foundation. He supports Pencils of Promise, which was founded by his brother, Adam. Justin Bieber also supports this cause. Today, Pencils of Promise has built at least 200 schools in Latin America, Africa and Asia.
In 2017, the philanthropist, alongside his company and some of his clients, granted numerous wishes for the Make-A-Wish Foundation. The same year, he organised and produced the benefit concert dubbed One Love Manchester. He also planned and produced Hand in Hand: A Benefit for Hurricane Relief. In 2018, he teamed up with George Clooney for the March for Our Lives campaign. This was a demonstration which was led by students to push for stricter gun laws in Washington, DC.
Honours and awards
These are some of the awards and honours that Scott has received for his work;
In 2013, he featured on the Time 100 list.
In 2016, he received the Humanitarian Award during the Billboard Touring Awards for his enormous contribution to charity projects, among them, F*ck Cancer, Make-A-Wish Foundation and Pencils of Promise. The same year, he won the award of Best Talent Manager at the International Music Industry Awards. He was also nominated for a Grammy award.
In 2018, he was honoured to receive the Harry Chapin Memorial Humanitarian Award for his involvement in charity work.
In 2019, he was recognised at the Jefferson Awards for Public Service, an event that was held in New York.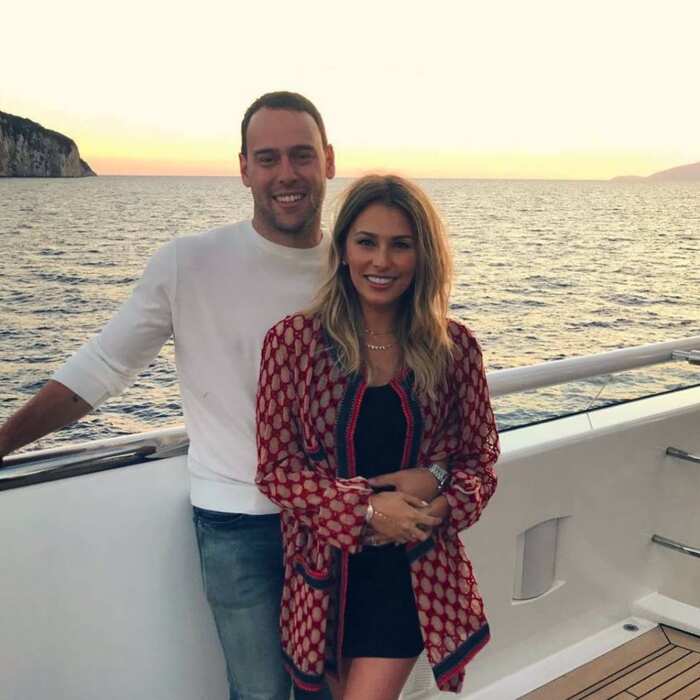 Scooter Braun net worth
How much is Scooter Braun worth? The successful entrepreneur and investor has many businesses. His current net worth is estimated at $400 million.
Marriage and family
In 2013, the entrepreneur and philanthropist began dating Yael Cohen. Cohen is a health activist and founder of F*ck Cancer from Canada. The couple exchanged their marriage vows on 6th July 2014. The wedding ceremony took place in Whistler, British Columbia.
On the 6th of February 2015, Scooter Braun wife delivered their first child, a son named Jagger Joseph. Jagger was born in Los Angeles. The couple welcomed the second son, Levi Magnus, on the 29th of November 2016. The third child, Hart Violet, was born in December 2018.
Scooter Braun house
Many people are curious to know how the wealthy entrepreneur uses his money. Well, he has invested in many personal comforts such as houses. His main home where he spends plenty of time is located in Brentwood, Los Angeles. In 2018, he gave Architectural Digest a tour of his mansion in Montecito.
The Montecito house is built on a five-acre piece of land and has a perfect blend of antique and ultramodern furnishings. The mansion has six bedrooms, occupies a space of 7,000-square-feet and features a separate guest room. Bay Area architect Bernard designed the estate in 1916.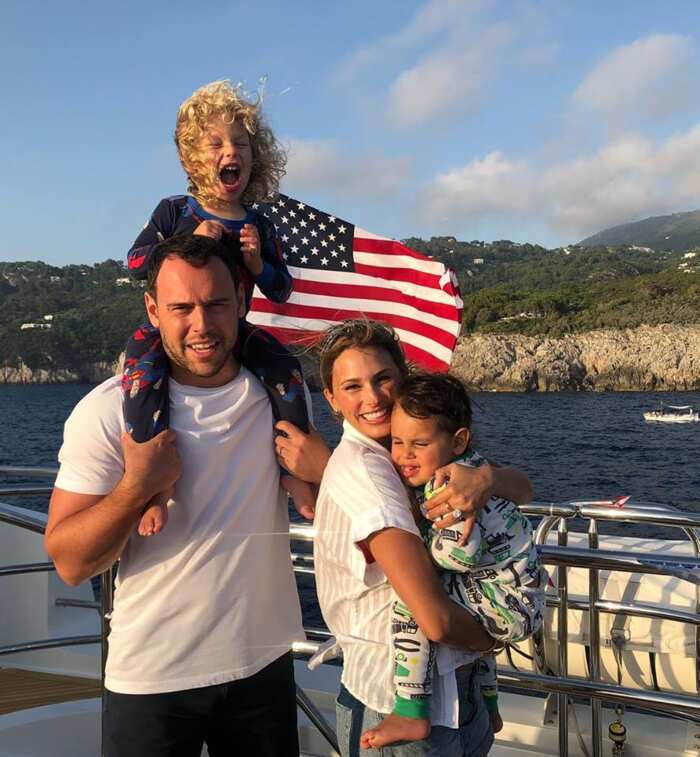 After purchasing the property, he enlisted the assistance of architect Marc Appleton and designers Tommy and Kathleen Clements. The team renovated the mansion to suit the family's tastes and preferences.
Scooter Braun Taylor Swift beef
The widely publicised Taylor Swift Scooter Braun beef came about after Scooter's Ithaca Holdings LLC acquired Big Machine. On the day this happened, Taylor ranted on Tumblr where she expressed her dissatisfaction and anger with the decision. She explained that the entrepreneur had repeatedly harassed her by being denied the chance to own her masters.
She felt that her life's work and legacy were in manipulative hands. She also said that she was planning to re-record all her masters in the coming year. Scooter came out to state that the acquisition was not made with any ill motive. He merely did what he thought was right. He further explained that his fall out with the famous singer was, in part, caused by her refusal to communicate with him. The music artists that Scooter manages came out to defend him.
Here are some of the opinions that people expressed on Twitter regarding the matter;
Social media
The entrepreneur, philanthropist and talent manager is very active on social media. He has a verified Facebook account. He also has a Twitter account with at least 3.8 million followers and an Instagram account with 3.2 million followers.
Scooter Braun is a critical player in the Hollywood entertainment industry. He is the renowned investor, entrepreneur and philanthropist who discovered Justin Bieber. He is the singer's talent manager and also managers more than 20 other famous music stars. He is also a family man who is married to Yael Cohen. The couple has three young children.
Source: Legit