Chisco Transport booking, contacts, price list 2019, terminal locations
Chisco is a transport company with the motto "Book, Pay, Travel: Your comfort, our priority". With the help of Chisco transport services, you can buy tickets and freely travel through Nigeria and beyond. There are plenty of opportunities to book a bus and secure a trip to your desired destination.
Booking a trip is easier than you think, and Chisco is one of the reliable companies that has been on the market for years. If you want to secure a safe and comfortable trip, perhaps you should consider researching the directions and destinations of this company.
About Chisco
As a company with global impact, Chisco specialises in transportation and integrated logistics. It was founded by Chief Dr. Chidi Anyaegbu in 1981 and was initially a micro auto parts retailer. Eventually, it grew into one of the main transporters in Nigeria and an established brand that delivers quality service.
The company functions not only in Nigeria but also in other West African countries. It is focused on meeting the expectations of the customers and providing solutions. The brand values discipline, excellence, passion, accountability, integrity, team spirit, and customer focus.
Chisco transport booking
Clients can book tickets online anytime and easily choose their destination. Booking can be made on the official website. Once you open the main page, a few options will be available that you can choose from.
Buy ticket
The first and default option will be buying a ticket to your preferred destination. You will only have to select your departure; then the option to select your destination will be available. Next, you will have to choose the time of your departure and optionally the time of your return. The final step is selecting whether you are an Agent or not. Once you click "Search", you will get the available transport options that you can pick from.
Manage ticket
You will need to enter your booking reference code and then click "Search" if you need to manage tickets.
Charter service
If you would like to use the charter service, you will need to fill in a little form. You will have to enter your full name, email, phone number, departure address, and destination address. Then, you will need to pick your travel and return date, select route type and enter bus capacity. The final step would be confirming that you are not a robot by ticking a box. Click "Submit" and wait for further instructions.
On the main page, you can also view the various types of buses that you can travel by if you choose to as well as the best travel and hotel deals.
Chisco Transport contact details
If you have any specific questions, it is advised to contact Chisco Transport customer care. There are a few ways to get in touch with the representatives, who will try their hardest to solve your issue.
Phone number: +234-810-651-7669, +234-808-927-3799, +234-811-379-8985
Email: customer.care@chiscogroupng.com
Additionally, you can contact the company through social media:
You can also use a special contact form which can be opened by clicking the blue "Contact us" icon at the bottom right corner of the official website. You will be asked to enter your first and last name, email, phone number, and your question. This icon also has an option to take you to the Twitter feed of the company if you wish to know any latest updates.
Chisco Transport price list 2019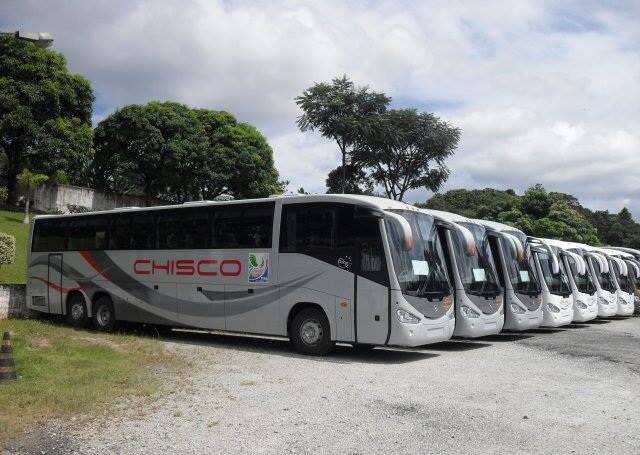 Below, you can find the current Chisco Transport fares per person, according to the official website's booking feature. The Chisco Transport FAQ states that you will pay the same price whether you use the terminal or buy tickets online, so you can choose the most convenient way for you.
Note that the fares are approximate and are subject to change at any time. The prices below are listed as of September 27, 2019.
Abia (Aba) – Abuja (Utako): N5,225 - N6,650
Abia (Aba) – Accra (Accra): N17,100
Abia (Aba) – Lagos (Jibowu): N4,275 - N5,700
Abuja (Nyanya) – Lagos (Oyingbo): N6,650
Abuja (Utako) – Abia (Aba): N6,650
Abuja (Utako) – Imo (Owerri): N6,650
Abuja (Utako) – Lagos (Jibowu): N7,600
Abuja (Utako) – Rivers (Port Harcourt): N6,650
Accra (Accra) – Lagos (Mazamaza): N15,200
Anambra (Amichi) – Lagos (Alaba): N11,400
Anambra (Onitsha) – Lagos (Mazamaza): N3,800
Imo (Owerri) – Lagos (Jibowu): N5,700
Lagos (Alafia 2) – Abia (Aba): N3,800
Lagos (Empire) – Abia (Aba): N5,700
Lagos (Empire) – Abuja (Utako): N7,600
Lagos (Empire) – Accra (Accra): N15,200
Lagos (Empire) – Akwa Ibom (Uyo): N6,175
Lagos (Empire) – Enugu (Enugu): N5,225
Lagos (Empire) – Imo (Owerri): N5,700
Lagos (Empire) – Rivers (Port Harcourt): N5,700
Lagos (Jibowu) – Abia (Aba): N5,700
Lagos (Jibowu) – Abuja (Utako): N7,600
Lagos (Jibowu) – Imo (Owerri): N5,700
Lagos (Jibowu) – Rivers (Port Harcourt): N5,700
Lagos (Mazamaza) – Abuja (Utako): N7,600
Lagos (Mazamaza) – Accra (Accra): N15,200
Lagos (Mazamaza) – Rivers (Port Harcourt): N4,750
Lagos (Oyingbo) – Abuja (Utako): N6,650
Rivers (Port Harcourt) – Abuja (Utako): N6,650
Rivers (Port Harcourt) – Lagos (Jibowu): N5,700
Chisco Transport terminal locations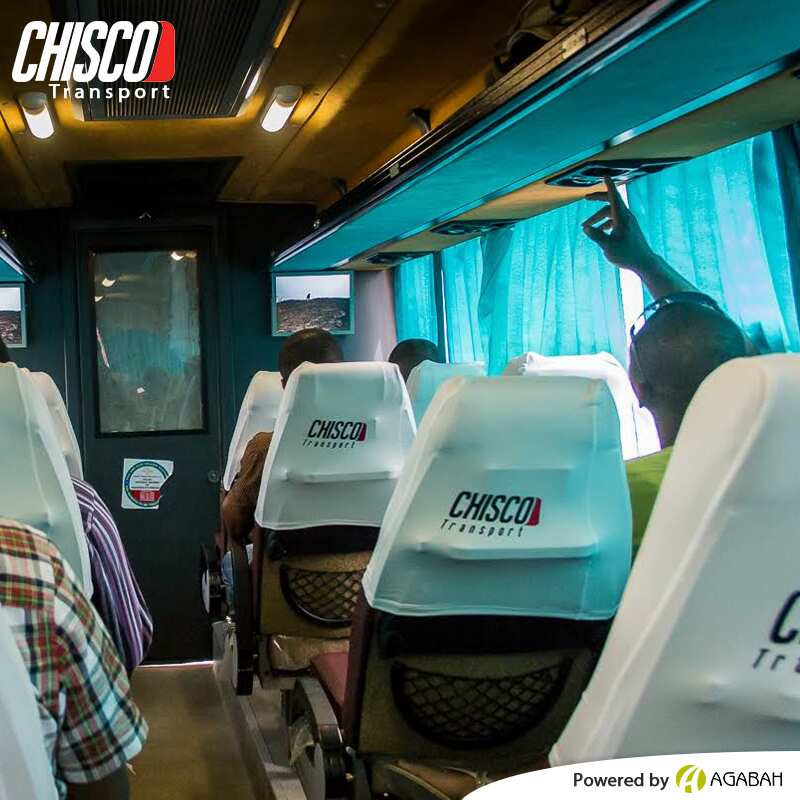 Here is the list of all the Chisco Transport terminals in Lagos and other cities. You can find their addresses here for convenience.
Abia, Nigeria
Aba: 30/32 Milverton Avenue, Aba, Abia State
Umuahia: 1 Nkwerre Street, Umuwaya Road, Umuahia, Abia State
Accra, Ghana
Accra: CHISCO Transport opposite to Neoplan Station, Circle, Accra, Ghana
Lagos, Nigeria
Alaba: 26 Ojo-Igbede Road, By Chemist Bus/stop, Alaba Int'l Market, Ojo-Alaba
Alafia: KM 3, Orile/Badagry Expressway, Alafia Bus/Stop, Orile
Empire: 3 Agege motor Road, Empire, Jibowu/Yaba
Ikeja: Suit 46A Asset Corps Plaza, 21 Obafemi Awolowo Way
Ikotun: 28 Ijegun Road, Ikotun
Iponri: 104 Funsho Williams Avenue, Iponri, Costain
Jibowu: 6 Ikorodu Road, Jibowu, Yaba
Lekki: Km 12, Lekki-Epe Expressway, Lekki
Magodo: Weigh Bridge, opposite to Motorways, off Lagos/Ibadan Expressway, Toll Gate, Magodo, Lagos
Mazamaza: 114 Ojo Road, Agboju-Amuwo
Oyingbo: 68 Market Street, Ebute-Metta
Surulere: Shop 4 Marsha Round About Plaza, By Adelabu Street, Surulere
Anambra, Nigeria
Amichi: Eko Market Square
Nnewi: 33 Agbo-Ezennewi
Onitsha: Lagos Park, Upper Iweka Roundabout
Enugu, Nigeria
Enugu: 13 Market Road, Ogbete
Abuja, Nigeria
Maraba: Maraba-Keffi Road, Beside Ecobank, Nasarawa/Abuja
Nyanya: AP Filling Station, Keffi Road, Nyanya
Utako: Plot 176 Utako District, opposite to MFM
Imo, Nigeria
Orlu: 3 Ihioma Road, Orlu
Owerri: 24 Egbu Road, Owerri
River, Nigeria
Port Harcourt 1: 38 Ikwerre Road, Mile 1, Diobu
Port Harcourt 2: 3 East-West Road, Rumuokoro
Akwa Ibom, Nigeria
Uyo: 187 Ikot-Ekpene Road
Chisco Transport offers a comfortable way of travelling that many Nigerians choose for their trips. We wish you a happy and safe trip.
Source: Legit.ng