Huawei Mate 30 Pro specs, review, price
Smartphone inventions and innovations continue to change the world in ways tech founders never imagined. Top in the industry is Huawei which takes pride not only in its 4G and 5G technologies but also a series of latest smart devices. Huawei has continually maintained a legacy of producing eye-catching gadgets backed with superior hardware and software capabilities. Huawei Mate 30 Pro is an irresistible handset that smartphone lovers are excited about, and it is worth stating that the phone is a master design of both aesthetics and software engineers.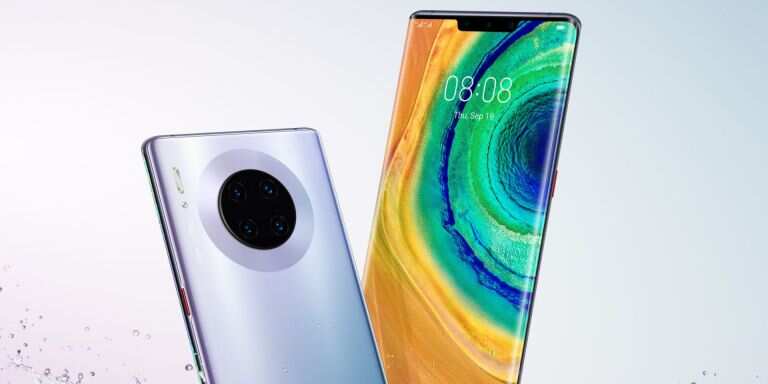 The need for high-performance computing devices is common among heavy phone users such as gamers and internet addicts. Interestingly, Huawei phones never come short of speed and reliability. Huawei Mate 30 Pro features are endless, unique, and notable, leaving many potential buyers throwing a wishful eye. Where can I buy the new Huawei Mate Pro 30? The device is now available in leading Nigerian smartphone stores and online shop outlets such as Jumia. The price range starts from 240,000 to 298,000 Naira.
Overview
Here is an overview of the phone:
The good
5G connectivity
Horizon display
Excellent camera with outstanding capabilities like slow-mo
The bad
Lack of Google Play Store
High pricing
Curves are reticulated. Some people find this not useful.
Huawei Mate 30 Pro specs
Not all people fully understand performance indicators in smart gadgets. We can, however, affirm that the handset has all the possible features that a smartphone consumer would love in 2019. There are indeed plentiful of admirable specifications that are exclusively accessible as tabulated below.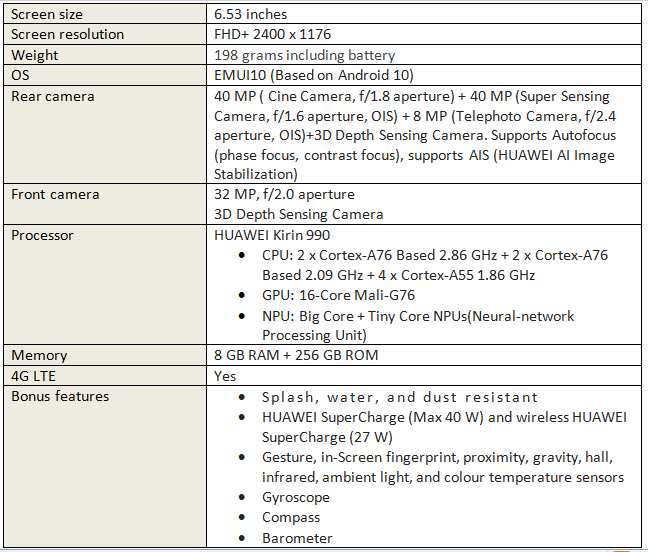 Hardware
The recently released device has the following features
Design
The Huawei Mate 30 Pro is now famous as a premium smartphone, and so it feels while resting on the palm. This specific handset comes in a sleek design that is generally appealing and portable. However, the 88-degree curved edges leave little room for physical buttons, therefore no volume rocker. Instead, to control the volume, you can double-tap on either side then run fingers along the edge.
Display
The phone feels cozy for its curved display and stylish edging. Users get to enjoy a wide screen measuring 6.53 inches having high clarity. The rear surface of the phone is glassed, giving it a shiny finish without compromising on strength.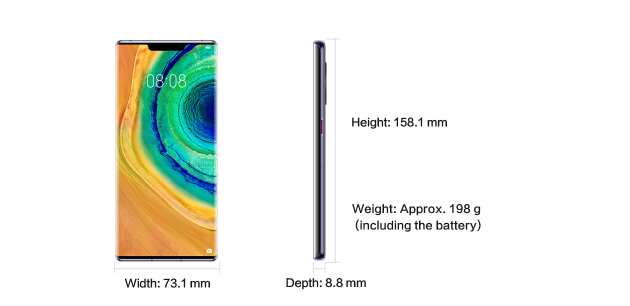 The phone comes in varied colors among them Black, Cosmic Purple, Space Silver, and Emerald Green. The phone also comes with a leather finish variation colored forest green and orange. Even better, the handset is dust and water-tolerant implying it can swim without becoming damaged. The phone's metal edges are a catch in its overall design.
Processor, storage, and performance
Memory is a make it or break it part of any device, regardless of its performance. Huawei Mate 30 Pro comes with a high capacity RAM of 8GB and a voluminous storage space of 256GB. These huge Huawei Mate Pro 30 memory allocations are advantageous for intensive program installations and gaming. The device is almost an equivalent of a full-sized computer in terms of memory and performance.
Battery capacity
The Huawei Mate 30 Pro battery is powerful with high-speed cable and wireless charging capabilities. The phone has a 4500mAh battery with a considerable standby timing. The gadget is super tuned to drain minimum power from the battery.
Connectivity
The phone comes with multiple connectivity capabilities found in other smart gadgets. The phone is available in dual versions; one with 4G capabilities and another with 5G capabilities. The company enjoys the latest internet technology and is not shy from demonstrating the same through its devices.
Software
Its software features include;
Operating system specifications
The phone is Android enabled, running on Android 10 operating system. Unfortunately, the phone does not support Google products and such may present itself as a challenge limiting buyers on what they would prefer besides Huawei applications. The phone, however, has an excellent connection to the Huawei app store.
Camera, video, and image quality
Which Huawei phone is the best camera? We now live in a selfie generation marked with high-resolution phone cameras. Luckily, this phone comes with three rear cameras having good focus eyes.
40MP f/1.6 wide-angle
8MP f/2.4 telephoto
40MP f/1.8 ultra-wide plus a 3D depth sensor
Huawei Mate 30 Pro camera specs are incredible. The front camera comes loaded with a 32MP sensor among other sophisticated sensors.
Pricing
Released on 19th September 2019, you have got to dig deeper into your wallet to own this phone. The Huawei Mate 30 Pro prices vary significantly but here are its approximate retail prices.
Huawei Mate 30 Pro 4G: $1, 200 / £970 / AU$1, 700
Huawei Mate 30 Pro 5G: $1, 300 / £1050 / AU$1, 850
Huawei Mate Pro 30 reviews
To some, the device is is classy and worth every penny for its premium feel and fast speeds thanks to its 5G connectivity. Also, the camera's functionality has been applauded.
Even without Google support, some find it worth the amount.
However, not supporting Google Play Store services is a major turn off for many people.
Verdict
The phone stands out as a powerful device rendering high speeds and more excellent performance than your ordinary smartphone. The handset ranks well against its close competitors, among them Samsung and iPhone. Huawei Mate 30 Pro is, however, likely to face competitive constraints outside the Chinese market for its lack of Google products among them Google Play.
Based on Huawei Mate Pro 30 reviews, the phone is a must-have gadget if you have a thing for new features and multi-tasking. Therefore, upgrade to the newest smartphone in town and share with us your experience in the comment section below.
Source: Legit