Samsung Galaxy A50 specs, review, price, where to buy
Samsung never disappoints when it comes to high-performance smartphones and tablets. Every one of its device releases comes with a unique blend of appealing features, not typical with its competitors. It is on this basis that the company has remained a premium brand, now taking it to another level with the release of Samsung Galaxy A50 that comes with a triple rear camera among other notable specifications. This 2019 smartphone has lit the marketplace introducing new design and software capabilities.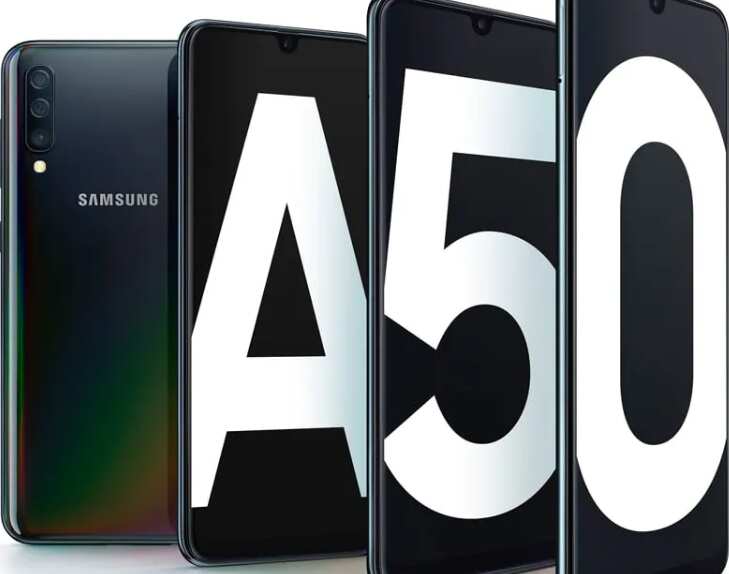 With thousands of gadgets now available on leading electronic store shelves, many people often experience difficulties making the right choice. It is overwhelming to choose between brands and devices themselves. While on that, it is good to select a mobile device that suits your needs. Samsung Galaxy A50 comes handy for people that are looking for a sleek device with the latest updates and features. Is Samsung Galaxy A50 good phone?
Overview
We can summarize the various advantages and problems with Samsung Galaxy A50 into the following notable categories.
The good
The phones come with a flagship design that makes it lighter and less costly.
High performance and impressive resolution for graphics-intensive content.
Large battery capacity and excellent fast charging capability.
Low priced but comes with premium features.
The bad
Camera blurrier compared to other Samsung devices.
The phone has premium features but feels way cheaper for some customers.
Battery life is lesser as many would expect from its capacity.
Samsung Galaxy A50 specs
The need for powerful smartphones is dominant in the 21st century. Samsung has taken a lead role in exploring new possibilities and branding them in every one of their latest releases. These exclusive details on Samsung Galaxy A50 about phone that discuss its hardware and software breakthroughs will blow your mind.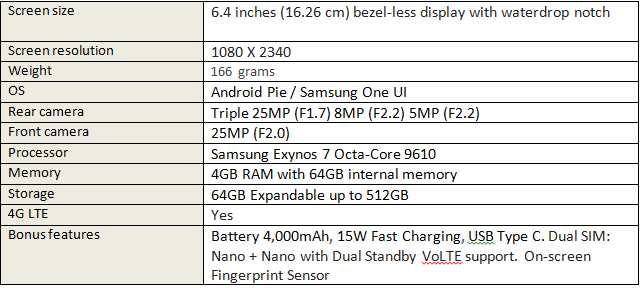 Hardware
Here are some of the external features of the gadget
A plastic design
This is one of the most outstanding Samsung A50 specifications because the phone looks and feels elegant when held on the hand. It is noticeably lighter considering its cover is primarily build from plastic. The device comes with cost-cutting design features without compromising on performance. Its sleekness, thinness, and colour are impressive.
Superior AMOLED display
Samsung has finally unveiled a 6.4-inch Super AMOLED display phone at a significantly reduced price. The gadget comes with full HD display capability rendering exciting display for gaming and browsing. The phone has mainly received higher ratings for its colour depth and OLED screen display. Samsung Galaxy A50 guarantees a more excellent resolution of 1080 by 2340 pixels. This resolution depth is powerful for watching HD videos and other graphic intensive materials.
This Samsung phone is highly portable, measuring 158.50mm by 74.70mm and is 7.70mm thick. Its super thin measurements make it light to use and carry. Galaxy A50 is now available in black, white, as well as colour variations like blue, pink, and silver.
Processor, storage, and performance
The handset comes with a rare Exynos 9610 chipset not found in many devices. This midrange system on a chip is highly robust, rendering the phone capable of multitasking and other complex functionalities.
Galaxy A50 has a RAM of 4GB that allows for the installation of resource-intensive applications. The phone has enough inbuilt storage of 64GB and 128GB with a micro SD expansion limit of 512GB. With such a large storage capacity, users can store their favorite media without running out of space.
Battery and charging
Samsung Galaxy A50 comes with a higher capacity and fast charging inbuilt battery. The phone is powered reliably with a 4000mAh battery which guarantees extended phone use. The phone delivers about 15 watts on the stock adapter, charges faster, and will get you going to places after powering it for a few minutes.
Speaker
The phone has a single loudspeaker located on the bottom with a loud sound that is not that clean or rich.
Connectivity
The phone comes with a range of connectivity capabilities among them v5.00 Bluetooth, Wifi, GPRS, 3.5mm headphones, USB type C, and dual SIM cards.
Software
Here are all its software's details:
OS and features
The device runs on Android Pie and comes with regular phone controls at the bottom of the large display. Galaxy A50's software is fast, making it a phone of choice for heavy smartphone users.
The device enjoys a wealth of intelligent access devices among them geomagnetic sensor, accelerometer, gyrosensor, hall sensor, proximity sensor, ambient light sensors, and fingerprint sensor.
Camera, video, and image quality
The device comes with three lenses allowing users to capture their favourite moments with clarity. The three rear lenses come with these features;
25-megapixel, ƒ/1.7 main lens
8-MP ultra-wide ƒ/2.2 lens
5-MP sensor purposely for measuring the depth
Besides, the phone has a front camera for taking those fancy selfies. The selfie camera comes with a 25-MP shooter for maximum clarity. Furthermore, A50 has a superior image processing software that renders eye-catching photos.
Release date and price
Samsung released this multi-featured device early this year (2019) in February. Samsung Galaxy A50 price in Nigeria varies between ₦91, 000 and ₦100, 000. This mobile phone seems to excite midrange customers suiting their needs at a low price. Samsung Galaxy A50 at Jumia costs about ₦ 92,900. The phone is equally available in the Kenyan market at an average cost of about KShs. 27, 000.
Reviews
Here are some Samsung Galaxy A50 reviews.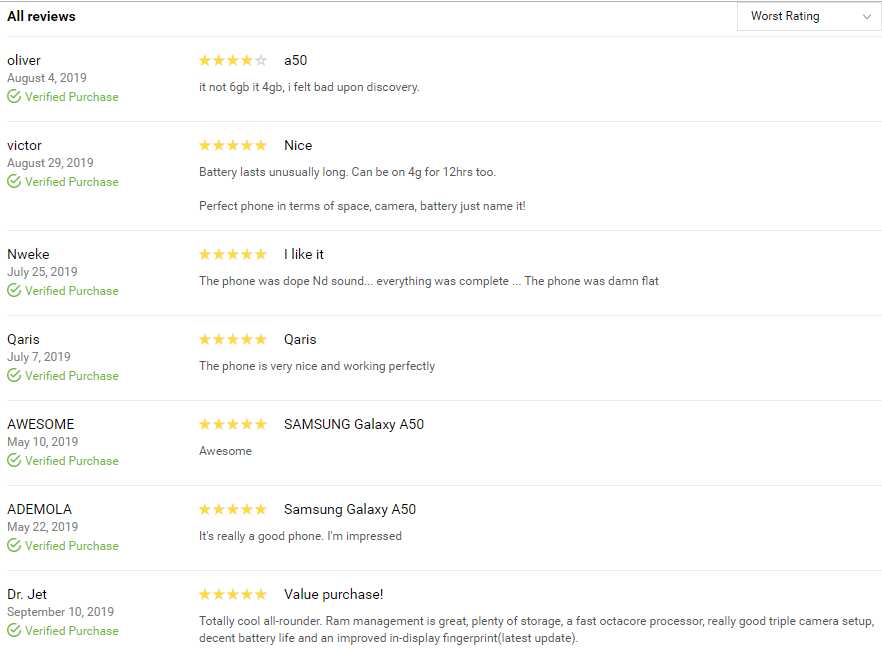 Samsung Galaxy A50 where to buy
Samsung Galaxy A50 is now available in leading electronic shop outlets across Nigeria. You can also acquire this premium device online through Jumia, and other leading e-commerce retail shops in the country.
Verdict
Samsung Galaxy A50 is a remarkable device that has proven that Samsung is conscious of its midrange market. The phone comes with distinct features also available in their best seller gadgets in the Note and S series.
It is broadly evident that customers have been waiting for the release of Samsung Galaxy A50 which has now become a best seller device across Nigeria and other leading markets across the globe.
Source: Legit Newspaper