Street Billionaires - Yoruba Ni Mi: Video, reactions
You have to listen to the latest video released by Street Billionaires - Yoruba Ni Mi to appreciate the tune even more. Everything, from the very addictive beats to the catchy visuals that showcase an African culture that is so rich and intense prove that this is the perfect African song you will listen to in recent times.
With the song's official video released, fans can finally take in the greatness of this tune. The visuals make the lyrics so much better too. The Afrobeat/hip-hop/pop group has outdone themselves in this brilliant showcase of their talents. You will love it!
Street Billionaires - Yoruba Ni Mi description
Released: 13th September 2019
Genre: Afrobeat
Format: Video
Length: 4: 16 minutes
Label: Chocolate City.
If you are a Youruba then you will definitely love this tune that puts the Yoruba culture out in the open for all to see. The official video showcases the indigenous group made of artists Candy Bleakz, Gbafun, Ijay, and Lemon Adisa as they embrace their roots and appreciate the wider Yoruba culture.
The video is made up of colourful fabric collages, tie-dye patterns, great African food, smashing artefacts and other crucial core elements of the Yoruba beauty. It also features several gorgeous overhead shots across Lagos state.
Street Billionaires - Yoruba Ni Mi reactions and reviews
The banger is already attracting a lot of views from listeners and fans. It is clear that it is one tune that is not only expressive but a perfect example of what musicians should do to promote African culture. Here are a few comments from YouTube users so far.
Miss Africa: I was born in the UK to Yoruba parents. I'm learning more about my Yoruba roots but unfortunately my parents want me to concentrate on England, I can't wait to visit my home towns Okemesi Ekiti and Ijebu Ode this year!
Musah Hassan: Why's this song not at 10million views already! I'm Hausa but I love it
Victordineromoreno ViDiMo: How many belives that the Yoruba(Oduduwas)can be one again let me see your for this love music?
Ibrahim Ramon: Proudly Yorùbá till i die even if I have to return to this world I want to return as Yorùbá.
World MultiConcept Solution: Stumbled on this by error, it's freaking beautiful, let's make it viral
Ace Abiankem: "Yoruba ni mi, mi o nki se DMX, bere lati Obalende titi de CMS"....I hope u guys did give props 2 d late DAGRIN for those lines(lyrics)Nice tune...
Concerned man: Proudly Yoruba,the people with strong tradition and value syste
lemon adisa: LEMONADISA ❣️ rewatch and share the video with friends and family... The STREET BORN EP on the way
andrea yeboah: Video and song soooo nice. Appreciation going out from Germany.....me love it...thx much
oyebamiji olalekan: Nice one bro. You for allow the talking drum to do the talking a bit at the end of the song.. This bring the beauty of our culture as well. Anyway good music is all I see here
Street Billionaires - Yoruba Ni Mi download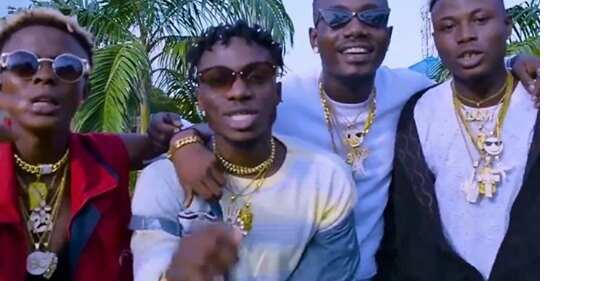 If you love how the tune and would love to save it, probably have it as one of the favourites on your playlist, consider getting a download. While it is possible to stream the song on YouTube, it is great if you had a copy. Check out the following reliable options for download.
Street Billionaires - Yoruba Ni Mi download on Google Music
Street Billionaires - Yoruba Ni Mi download on Apple Music
Street Billionaires - Yoruba Ni Mi is a great tune. Is this something you would agree with? Feel free to let us know in the comment section below. While at it, please let your friends know that a new hot video appreciating African Yoruba culture is trending. Enjoy!
Source: Legit.ng