JUPEB: registration, admission, requirements
What is JUPEB? JUPEB stands for Joint Universities Preliminary Examinations Board. It is an A level program that allows candidates to get direct entry admission (200 level) into universities in Nigeria and partner universities abroad. The minimum duration of the program is one academic session of two semesters. A candidate receives a certificate upon completion of the course.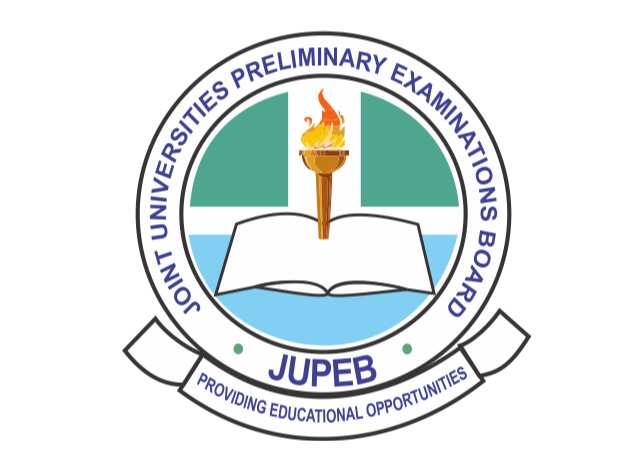 JUPEB 2019 is currently open for admission to various institutions in Nigeria. Find out if you qualify and how to apply below.
How to apply
Candidates who meet the entry requirements can obtain a JUPEB application form from any of the affiliated campuses. They may also enroll or register directly at the JUPEB official website.
Also, many universities have the forms online and a candidate can apply through the respective online admission portal if present. The process may be free or attract a fee depending on the institution.
JUPEB admission
To be admitted, one needs to meet the minimum entry requirements. The application for the 2019/2020 session is currently ongoing but closes on the 14th of October 2019. Inquire about specific dates from your preferred campus.
How do I register?
JUPEB registration is done on the official website. Note that registration on the website is to an affiliated study center and not to a university campus.
Fill in your details on the form given to generate a payment invoice and get an invoice number.
Pay a non-refundable registration fee of fifteen thousand two hundred and fifty Naira.
Validate payment by clicking on Payment Validation
Once payment is confirmed, click on the registration form to begin registration.
Print out the application slip and present it to the chosen study center for clearance.
JUPEB school fees
The fee paid on the site during registration is much cheaper compared to when paying in the specific campuses and study centres. The breakdown of costs an applicant should expect are;
Registration fee: 15, 000 Naira(250 Naira inclusive of bank charges)
Clearance fee: 20,000 Naira
Tuition and examination fee: 140,000 Naira
Laboratory fee (science): 10, 000 Naira- only for science students
Textbooks and past questions(optional): 15,000 Naira
Hostel accommodation(optional): 30,000-70,000 Naira
Result collection: 2,000 Naira
Who can apply for JUPEB?
The entry requirements for enrollment are a minimum of five (5) credit passes in at least 5 subjects at O'Level including English language and Mathematics at not more than 2 sittings.
To be eligible to take examinations leading to the award of JUPEB's Direct Entry certificates,
Each candidate must register, sit for Examinations and satisfy the Board in three subjects and a General Studies course relevant to the proposed course in any of the universities.
Each subject is to be broken into four courses to be taken, two per semester, by the candidate. The results in all the courses are to be merged at the end of the second semester to obtain the candidate's grade in that particular subject.
Each candidate is expected to take twelve (12) courses, six per semester, and a General Studies course.
Upon completion, the candidate is issued with certificates with the acquired grade in the subjects done.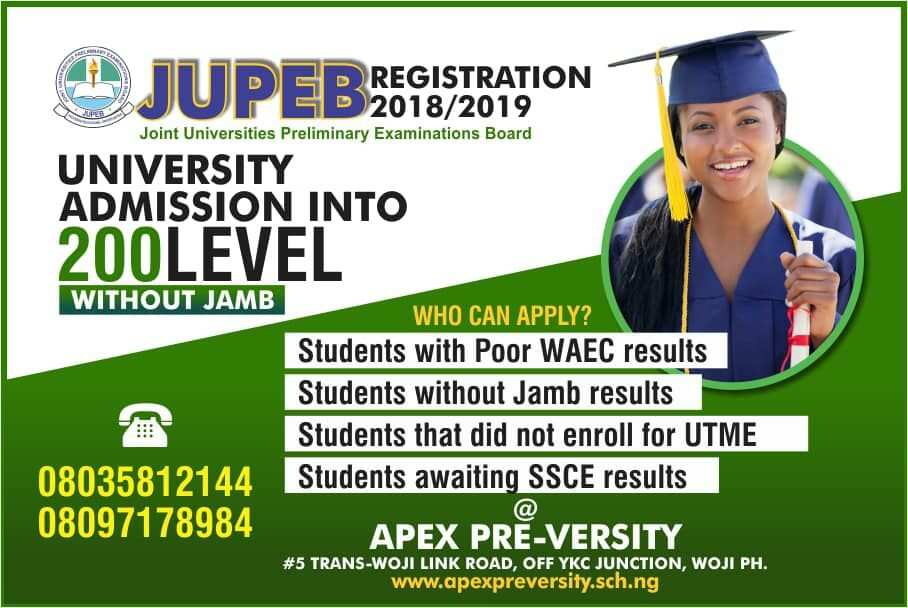 For a student to be admitted to the university, they need to pass the examinations and satisfy all other conditions required by their institution of choice.
JUPEB affiliated universities
There are many affiliated universities and study centers to enroll for the JUPEB program 2019. Here are a few of the options:
University of Lagos, Akoka - Lagos
Lagos State University
University of Benin
Obafemi Awolowo University, Ile Ife
Babcock University, Ogun State
Edwin Clark University
Caleb University, Imota
Can't find an affiliated university near you? Check out the JUPEB official website for a more comprehensive list of institutions and study centres.
JUPEB has made it easier for students to join campus. The registration and admission process is smooth with clear requirements. For further information and inquiries, head over to their official website.
Source: Legit.ng