Margaret Atwood biography: young life, net worth, new books
A good writer is devoted to their work. Margaret Atwood is one of the most famous writers and authors from Canada. She has a keen eye for detail, is disciplined, and she also has a strong vocabulary. Additionally, she has a way with words and is well-read about different issues that affect modern society. Over the years, she has proven her worth as a writer to the entire world.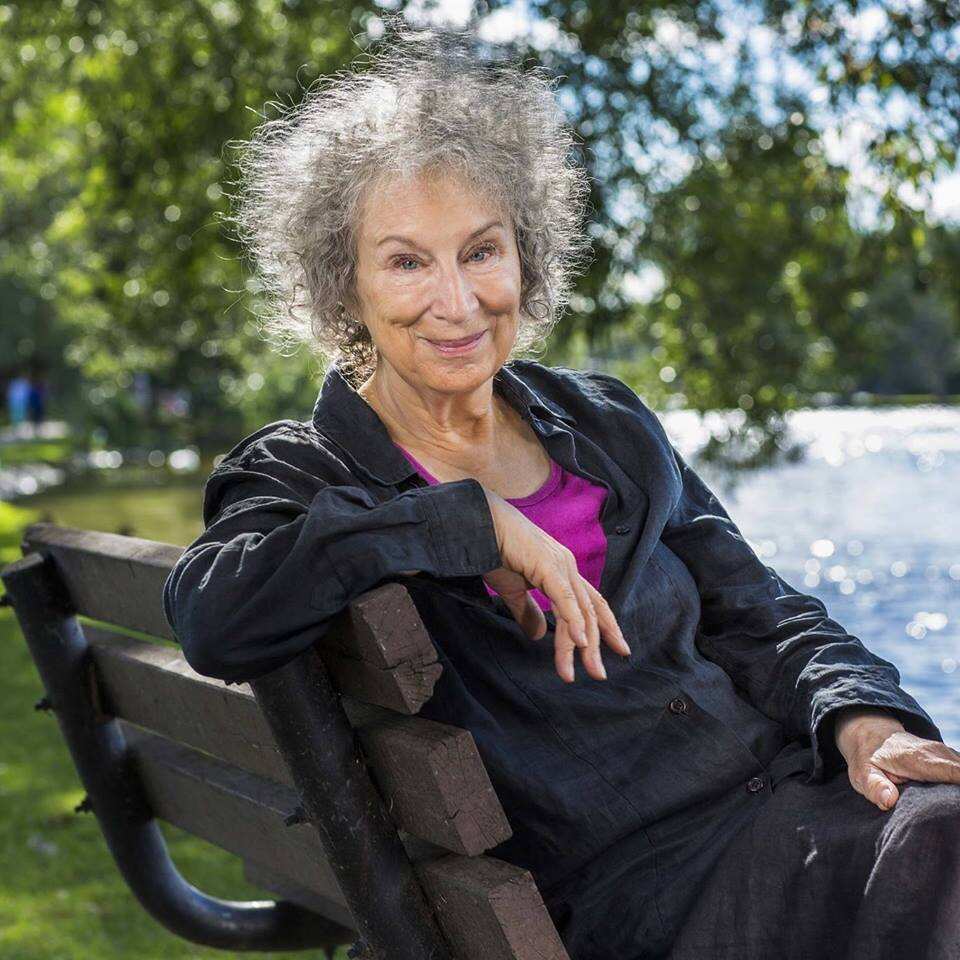 Margaret Atwood was given the full name, Margaret Eleanor Atwood, at birth on the 18th of November 1939. She was born in Ottawa, Ontario, Canada and now resides in Toronto, Ontario, Canada. Her star sign is Scorpio, and her nationality is Canadian. She is 79 years old. Today, she is a famous poet, teacher, essayist, novelist, inventor, literary critic, and environmental activist.
Profile summary
Name: Margaret Atwood (born Margaret Eleanor Atwood)
Age: 79 years
Date of birth: 18th of November 1939
Place of birth: Ottawa, Ontario, Canada
Current residence: Toronto, Ontario, Canada
Zodiac sign: Scorpio
Nationality: Canadian
Alma mater: Leaside High School, Victoria College- University of Toronto, Radcliffe College- Harvard University
Profession: Poet, teacher, essayist, novelist, inventor, literary critic, environmental activist
Marriage: Jim Polk (1968-1973)
Partner: Graeme Gibson
Child: Eleanor Jess Atwood Gibson
Margaret Atwood early life
Margaret Atwood was born in a family of three children. She was the second child. Her father, Carl Edmund, was an entomologist while her mother, Margaret Dorothy, was a nutritionist and dietician. As a forest entomologist, Carl Edmund conducted a lot of research in northern Quebec and would often travel to and fro Ottawa, Toronto, and Sault Ste. Marie. Margaret often went along with her father.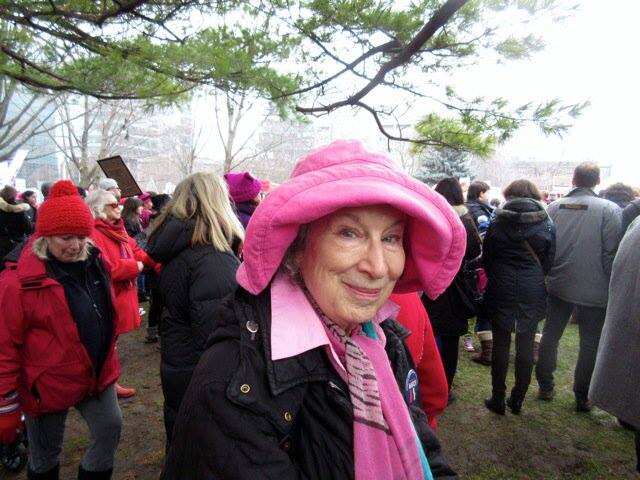 Education background
Due to the nature of Edmund's work, Margaret did not go to school on a full-time basis until she was 12 years old. As a child, she was an avid reader of literature, comic books, and fairy tales. She started writing poems and plays when she was only six years old. During her teenage years, she went to Leaside High School, Leaside, and graduated from high school in 1957.
By the time Margaret was 16 years old, she was sure that she wanted to become a professional writer. She joined Victoria College in the University of Toronto in 1957. As she studied, she often published articles and poems in the literary journal at the college, which was known as Acta Victoriana. She graduated from this institution with a Bachelor of Arts degree in English. She also had minors in French and Philosophy.
After her Bachelor's degree, the poet pursued her graduate studies. She joined Radcliffe College- Harvard University for her Master of Arts degree. She joined the institution with a Woodrow Wilson fellowship and graduated from the university in 1962. She also started her doctoral studies, but she quit after two years. She did not finish The English Metaphysical Romance, her dissertation.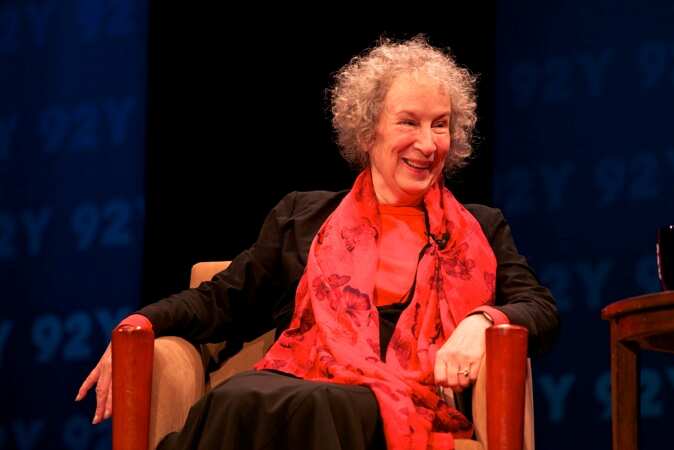 Career
Margaret Atwood young life was full of imagination. She enjoyed reading and writing. She has since written many poems, fiction and non-fiction novels, and articles. Her career timeline is as follows;
Writing career
The writer has published poetry collections, novels, non-fiction books and short stories.
Margaret Atwood poetry
According to Margaret Atwood biography, she started writing as a professional in 1961. That year, she published her inaugural poetry book, Double Persephone. Hawkshead Press published the book as a pamphlet. In 1966, she published her second collection of poems, The Circle Game.
After The Circle Game, she did other small poetry collections in the 1960s. These were;
Kaleidoscopes Baroque: a poem in 1965
Talismans for Children in 1965
Speeches for Doctor Frankenstein in 1966
The Animals in That Country in 1968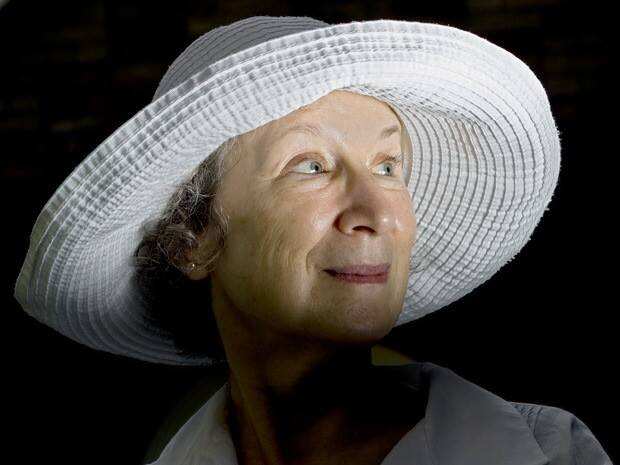 In the 1970s and the decades that followed, the poet published more poetry collections. These were;
The Journals of Susanna Moodie in 1970
Procedures for Underground in 1970
Power Politics in 1971
You Are Happy in 1974
Selected Poems 1965–1975 in 1976
Two-Headed Poems in 1978
True Stories in 1981
Love Songs of a Terminator in 1983
Snake Poems in 1983
Interlunar in 1984
Morning in the Burned House in 1995
Eating Fire: Selected Poems in 1978
The Door in 2007
Margaret Atwood novels
In 1969, Atwood published her first novel, The Edible Woman. The book was satirical, and it addressed the consumerism in North America. Her second novel, Surfacing, was published in 1972. Lady Oracle, her third novel, followed in 1976. In 1979, she published Life Before Man.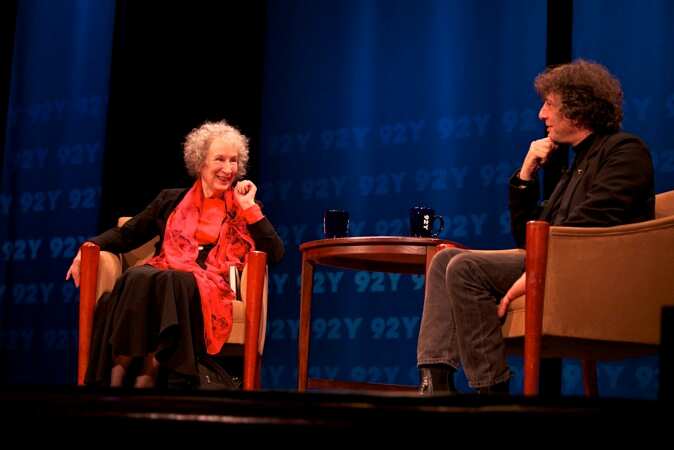 A notable characteristic of all the novels she had written by 1979 was the exploration of identity and the existing constructions of the sexes and their relationship with sexual politics and nationhood. In 1981, she published Bodily Harm. The book was well-received by her readers.
In 1985, she published The Handmaid's Tale, which is one of the best Margaret Atwood books in her career. The novel is categorised as a science fiction book. She won several awards for authoring The Handmaid's Tale. She then took a break during which she did not write a novel for several years. After the hiatus, she published The Robber Bride in 1993. In 1996, she published Alias Grace. The Robber Bride and Alias Grace explored morality using female villains.
The Blind Assassin was her next novel. It became an award-winning book. In 2001, her work was recognised when she got an induction to Canada's Walk of Fame. Oryx and Crake, which also became one of Margaret Atwood best books, was published in 2003. The book was the first in a series called the MaddAddam Trilogy. The follow-up books in the series were The Year of the Flood which was published in 2009, and MaddAddam in 2013.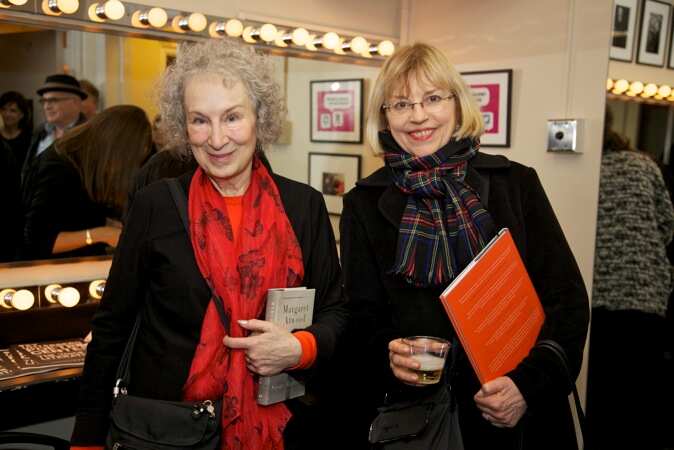 After the trilogy, she published The Penelopiad in 2005. This was part of her new series, Canongate Myth. In 2007, the book was made into a theatre production. Her next novel was published in 2016. It was titled, Hag-Seed. Hag-Seed is a contemporary re-narration of The Tempest by Shakespeare. In late November 2018, an announcement was made that the novelist would be publishing The Testaments in 2019. The Testaments, which is one of Margaret Atwood new books, was a follow-up of The Handmaid's Tale.
Margaret Atwood books (non-poetry)
In addition to novels and poetry collections, Margaret has written short stories and non-fiction books. These include;
The first non-fiction book that the novelist wrote was Survival: A Thematic Guide to Canadian Literature in 1972. The book was instrumental in her career because it gave her a voice in Canadian literature. In 2008, she wrote Payback: Debt and the Shadow Side of Wealth. The book was a collection of the best five lectures that she gave as part of the Massey Lectures.
Margaret's first collection of short stories, Dancing Girls, was published in 1977. Other short stories that she has published so far include;
Murder in the Dark in 1983
Bluebeard's Egg in 1983
Wilderness Tips in 1991
Good Bones in 1992
Good Bones and Simple Murders in 1994
The Labrador Fiasco in 1996
The Tent in 2006
Moral Disorder in 2006
Stone Mattress in 2014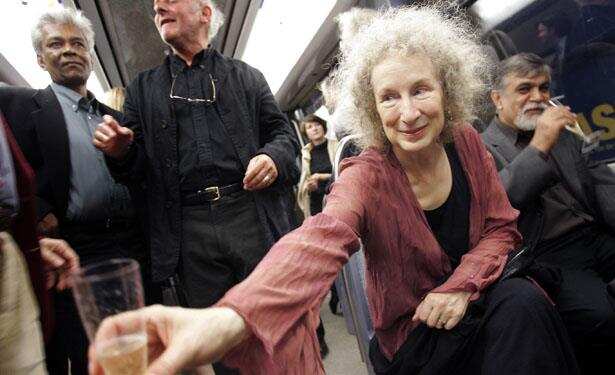 Teaching career
As she was writing, she also lectured English classes at the University of British Columbia. She was a lecturer in this university from 1964 to 1965. Between 1967 and 1968, she was an instructor of English at Sir George Williams University, Montreal. In 1969, she became a teacher at the University of Alberta until 1970.
In 1971, the poet joined York University, Toronto, as a teacher. She was in this institution until 1972. At the same time, she also served as a writer-in-residence during the 1972/73 academic year at the University of Toronto.
In the 1980s, Atwood was the University of Alabama's MFA Honorary Chair. In 1986, she worked as the Berg Professor of English at New York University. The following year, she became a writer-in-residence at Macquarie University in Australia. She later joined the Texas-based Trinity University as a writer-in-residence in 1989.
Career as an inventor
When Atwood was writing the novel Oryx and Crake, she came up with an idea of developing remote robotic writing. The idea would later be implemented as LongPen technology. LongPen allowed a writer to write remotely in ink via the Internet and PC.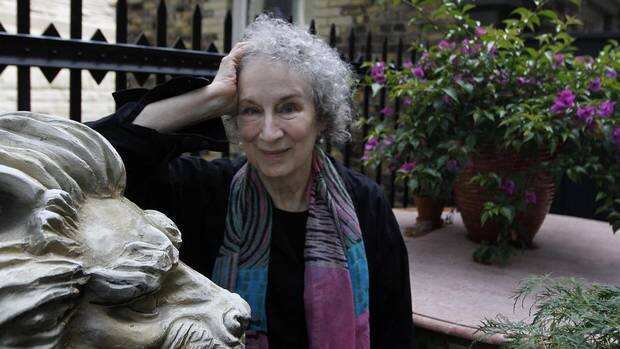 The LongPen invention allowed her to do her book tours without having to be physically present in each of them. She founded the company Unotchit Inc. to assist her in distributing the LongPen technology. The company later rebranded under the name Syngrafii Inc. where she is a co-founder and director. The company now offers many other writing applications, all of which are based on the LongPen invention.
Awards, honours, and recognitions
In her career, Atwood has been the recipient of many awards, recognitions, and honours.
Awards
Some of the awards that she has received are;
Governor General's Award in 1966 and 1985
Los Angeles Times Fiction Award in 1986
Author of the Year by Canadian Booksellers Association in 1989
Trillium Book Awards in 1991, 1993 and 1995
Booker Prize in 2000
Dan David Prize for Literature in 2011
L.A. Times Innovator's Award in 2013
New York City Library Lion in 2014
Golden Wreath Award in 2016
Peace Prize in 2017
Peace Prize of the German Book Trade in 2017
Companion of Honour Award in 2019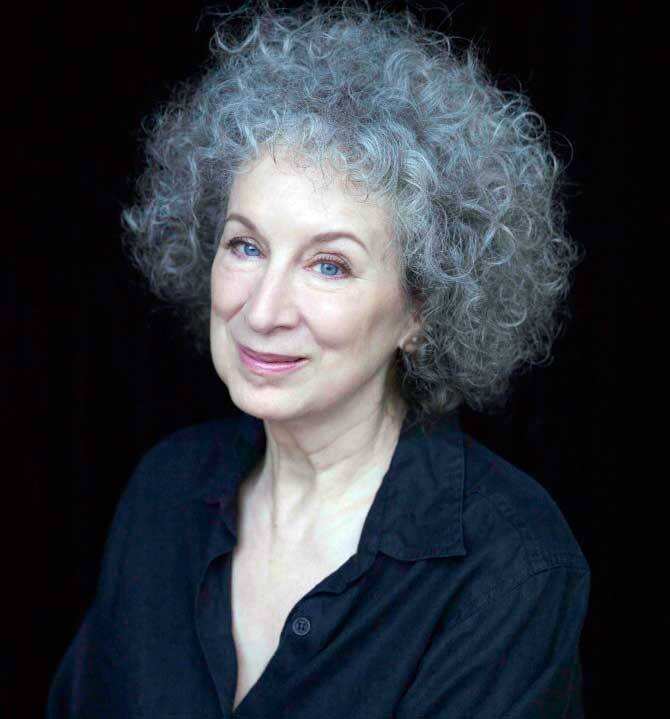 Honours
Atwood has received many honourary degrees from different colleges and universities. Some of them are;
Trent University in 1973
Concordia University in 1979
Smith College in 1982
The University of Waterloo in 1985
Mount Holyoke College in 1985
Victoria College in 1987
The University of Leeds in 1994
McMaster University in 1998
The University of Oxford in 1998
Algoma University in 2001
Dartmouth College in 2004
Harvard University in 2004
Université de la Sorbonne Nouvelle in 2005
The National University of Ireland, Galwa in 2011
The University of Athens in 2013
The University of Edinburgh in 2014
Margaret Atwood net worth
Throughout her career, Margaret has made a substantial amount of money. Although she is yet to disclose her net worth publicly, it is estimated to be $20 million.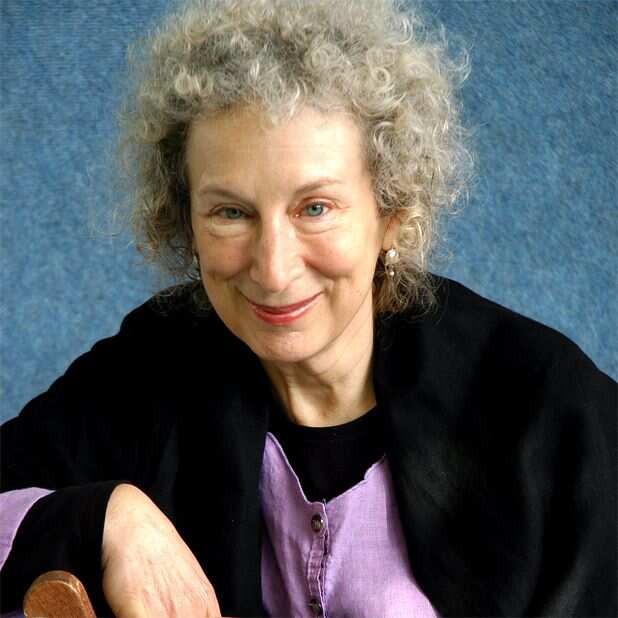 Marriage and family
The poet got married to an American writer, Jim Polk, in 1968. The marriage lasted until 1973 when the couple got a divorce. Soon after the divorce, she formed a new romantic relationship with Graeme Gibson, who was also a novelist. The couple relocated to a farm that was located near Alliston in Ontario.
The relationship between the poet and Graeme Gibson thrived. Together, the couple gave birth to a daughter in 1976. Her name is Eleanor Jess Atwood Gibson. The family of three later moved back to Toronto in 1980.
Social media
Margaret has a Twitter account with about 1.9 million followers and an Instagram account with 100k followers at the moment. She also has a Facebook page with over 274.4k followers. From the platforms, her fans and followers get updates about her projects and new career developments.
Margaret Atwood is a 79-year-old poet, novelist, essayist, teacher, environmental activist, literary critic, and inventor. She comes from Canada. She developed an interest in literature and poetry at a young age. She has since written and published numerous books, poems, novels, and articles. She is an award-winning writer who continues to inspire other young writers today.
Source: Legit.ng